San Diego, CA
San Diego
Monster Energy AMA Supercross Championship
Three more riders from San Diego that had reasons to be satisfied with their nights were Phil Nicoletti, Derek Kelley, and Dominique Thury. For Nicoletti, he was able to start up front and found out he's made the right choice with some bike changes (we won't harp on not jumping the jumps). Kelley turned an up and down day into a solid result on the night, and Thury made his first main of the year despite limping up to the post-race interview corral. We spoke with each of them to hear what they thought of their nights in San Diego.
Started up front. Looked good a little bit early on. You seemed to collect yourself halfway through the main event, but how did you feel about it?
Phil Nicoletti: It's kind of a double-edged sword. The first half was good. Second half I kind of fumbled a little bit. I kind of got stuck behind Oldenburg a little bit. He was going forward in the beginning, and then we kind of got into a little bit of a funk of just kind of trail riding around. So, I'm not sure what it was. Stilez kind of reeled us in and passed both of us. Not really happy about that. But the bikes were really good off the start today. Twisted [engine] did a good job. We did some mapping changes. Went back to an OG shock that I had last year, kind of brought some comfort back because I struggled at Anaheim pretty bad. But overall with today, it was all right. I'm kind of bummed. I missed some spokes halfway through the main. When RJ passed me, he kind of ran it in and didn't leave me much room and kind of screwed me a little bit. I heard some thiking with my spokes. I was kind of a little bit worried with that, but it ended up working out.
Could you feel it at all?
I couldn't feel it. I started getting a little bit of a wobble. It took three or four spokes out. He kind of screamed to let me know he was coming, but it was a little bit too late. I'll have to go say hi to RJ next week and be like, dude, what the hell? But it was okay. I need a little bit more to hang on. Kind of still get a little arm pump, a little bit tired. It's a lot to take in. Little kids got some speed.
Being able to start up there this time, was there anything that you learned that you can take away?
No, not really. I struggled with jumping some of the rhythms, the bigger ones that the other guys do. But I just do what I can for 15 plus one. I'm going to have to start kind of getting out of that a little bit and trying to bust it out. I've never been that type of guy to do that in practice, so when it comes to race time, I don't really want to pull the trigger then and kind of jack up my whole night. But when the gate drops, I always plan to be there and try and be in the race. My brain goes off when the gate drops, but practice I sit around, and I think all day. It kind of worked out okay, but we'll get ready for A2.
You had a little bit of extra time obviously after Anaheim because of the break, so I'm sure that you had some stuff that you worked on that you could test out coming in?
Yeah. Like I said, after Anaheim with the track and stuff, it's always hard because it was so gnarly. I went to a new shock setting this year, just to kind of help me with some three ins and stuff, kind of make me feel a little bit more comfortable. But it went away for my whoops, and I had always been better in the whoops. So, I kind of gained a little bit to do one and lost a lot in the other. So, I went back to my OG setup for them, 2022, and it felt a lot better today. Felt more comfortable in the whoops, more like myself race-wise. We did a pretty big mapping change today as well, so I think that helped with the bike off the start and out there. We'll see. Now I can ride this whole setting this week and get used to it. I just tried the shock today first practice. It's always hard to get used to it. You go out on a new track, new shock, and it's just like, what the hell is going on out here? But it happens a lot. People don't understand, but a lot of guys try forks and shocks throughout the day that they've never ridden before, so it's a lot to take in.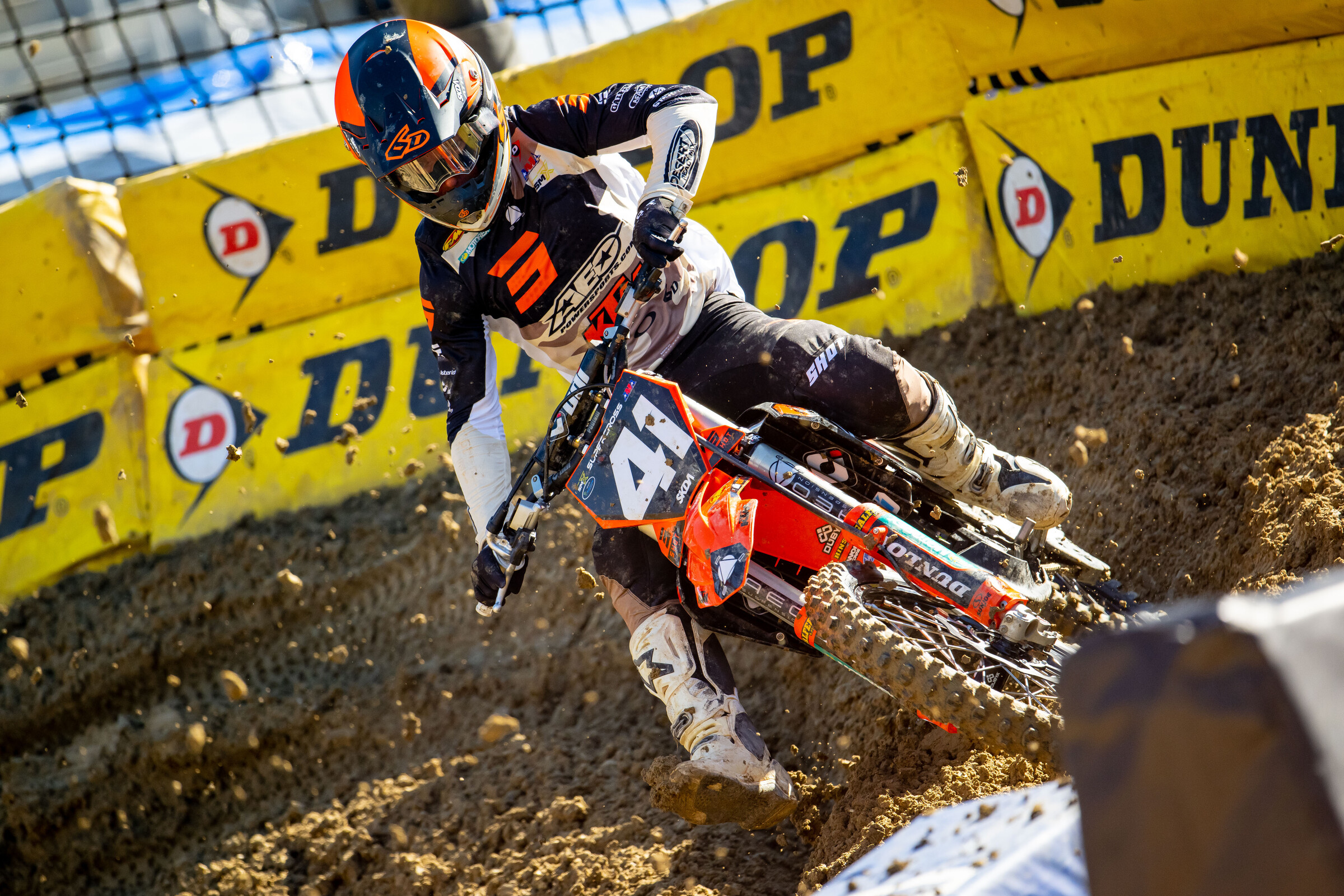 P9 in San Diego. Just kind of take me through the main event, how you felt out there and what you thought of it all.
Derek Kelley: I had a really good main event, realistically. I didn't have the greatest heat race, so I was, I think, eighteenth gate pick, way outside. And then there was some gnarly carnage coming in from the inside. So, I was just happy to get around it clean and then work my way up to the front. Or not towards the front, but you know what I mean. So, better than where I was on the start anyway. But I'm just happy to keep improving. I'm looking to try to crack that top five by the end of the year, hopefully. I just need to get a good start.
In terms of the riding going back to Anaheim versus now, how did you feel comparatively between the two? Did you feel a little bit better today?
Oh, I definitely felt a lot better with the track. The track held up really good. I think it came around really good for the main event. I did the sight lap, and I actually came back to the gate and I'm like, dude, the track is smooth. It was honestly the best it was all day. Like we had really good ruts and the whoops actually were pretty mellow as far as main event whoops go.
When that happens, and you see the track improve, I don't know if you make a settings adjustment during the day to compensate for rough and rutted it was, but were you a little bit like oh no, maybe we went in the wrong direction?
No we actually thought the track was going to be pretty tight. So, pre-practice we actually raised the forks up and put a little more weight on the front. And generally, when we go to a tighter track that helps me, but it was actually way too much. So, we went back to base and just rocked it all day.
You've been racing west coast the last few years, so these football stadiums are kind of few and far between. What do you think of them compared to the diamonds?
Yeah, I mean it had a little bit more space than, say Petco, but realistically, the track was fairly tight. Like, they had short lanes, and it really wasn't a wide stadium. Like, it wasn't anything like a Glendale or anything like that.
Did it race well or was it just too tight and narrow to kind of make passes?
I think it raced good. I was able to make passes. After the triple, there was that corner there where I made a couple passes, and then the dragon's back. So there was definitely places to make passes, but you couldn't force them because you would end up missing the rhythm or whatever.
So we obviously got that little bit of extra time with the postponement of Oakland in the break. So did you get some stuff dialed in that you feel a little bit more comfortable with today? Or are you still looking on some stuff?
No, I just need to keep plugging away. Like I found a little speed during the week. We actually had the great opportunity to go ride up at Mumford's place with a lot of the KTM and Husky and GasGas guys. So, being able to jump in with them has been great. I guess I need to work on my starts some more. I thought during the week that I feel good, and I've been doing it with other people, but when we get out there I just, I don't know, brain farts.
Looking forward to a triple crown, or no?
I like the triple crowns. I like not having to worry about a heat race, and I've been qualifying well thankfully this year. So, no worries about getting in and then just go straight to racing.
Let's go back to practice because unfortunately, you went down in practice. Just take me through what happened and then how you're feeling.
Dominique Thury: So, yeah, I had actually a pretty good practice and set some pretty good times. And then the last, might have been last, or second to last lap, I actually hit a really good lap and had my fastest first two sectors and then I just endoed off the dragons and I took a hard hit. Pretty banged up right now, but overall made it straight into the main through the heat. I mean, obviously that's not what I train for, but it's a step in the right direction especially being banged up. And then in the heat I never really found my rhythm. I mean, like I said, sixteenth is not what I work for. It's not my goal. But compared to A1, it's a step in the right direction. And we're kind of healthy. We're definitely in one piece. So, it is good. I have to take the positives out of it and just moving on to A2.
And in regard to taking those positives, unfortunately you have found the dirt a few times this year already. But you still made the main event. You still had a decent enough ride to get some good points. Is that something where you can kind of mentally feel that you've accomplished some good stuff here today?
Yes and no. I mean, like I said, step by step. And it was a good step after A1. A1 was really disappointing. And yeah, just take it day by day and just get the racing in. I feel like that's what I was missing over the summer and that's a little mistake on my part to not go racing everywhere I can find a race in the summer, so I learned from that. I feel like it's getting better every weekend.
Talking about being banged up a little bit, is it something where you think you might just take this whole next week off to rest and recover or are you still going to try to train?
No, we try to train. We have some stuff to test, and I know where I can improve. I can take a week off maybe after Oakland.
So now you finally got a main event under your belt. Is there something that you're looking to change this week and that you're going on to work on?
Yes, we're trying to work a little bit more on my suspension. I mean, the basics, it was pretty good but there are some small twists I want to try and make it a little bit better. But other than that, the bike is awesome. The bike is strong. It's basically just a little tweak on the suspension and then we should be really dialed.
A2 next week is a triple crown race. Do you think that because you're a little bit banged up, it might help to have those shorter races and not have to do a full fifteen?
It's a give and take. I mean, yes, it's not as long, but I feel like these triple crown races are always more intense than a normal day of racing, but also with three races you have three chances of doing good. but I'm looking forward to it. The track map looks pretty cool, and we should stay dry now.