Anaheim, CA
Anaheim 1 (A1)
Monster Energy AMA Supercross Championship
At the 2023 Monster Energy AMA Supercross season opener, it was Jett Lawrence talking the first 250SX main event win of the season ahead of the two heat race winners RJ Hampshire and Cameron McAdoo, respectively. Lawrence took some time throughout the day to find his groove (crashing in the morning qualifying session) but put it all together in the main event to lead every lap en route to the win. Hampshire and McAdoo both rode solid all night, with McAdoo's biggest mistake of mistiming a rhythm section slightly allowing for Hampshire to take over second.
After the race, all three riders spoke to the media during the post-race press conference, where they each shared their thoughts on the day.
Listen to the entire 250SX post-race press conference.
Jett, you were really happy across the finish line jump. I know you said had a love/hate relationship with Anaheim. How was the day in total? Just the hype around the opening round? It's been a while since you've been here. Just kind of take me through the entire day, the energy in the building, the energy in the pits, and then being able to get the job done in that main event when it mattered.
Jett Lawrence: Yeah, it's always nervous coming to the first round because I think I said it before, you don't know where everyone's at and that stuff. The big thing with today was always kind of like how the track was going to form up for the main. So, after practices it was really trying to survive and just not die. So, it kind of changed. Like, okay, we're going to come in, hopefully do good and that stuff, but then once the first practice, the first few laps, I'm like, okay, let's just try and keep it on two wheels and try and survive today. The joke all day was I just want to see Sunday. There's always a lot of hype around Anaheim 1, the first round so it's a little tough. It's so big. So obviously we had quite a bit of nerves. Had a bit of a rough one in the heat race at the start, was slipping and stuff. Just made sure I just focused on the main and ended up just doing what I need to do and made the safest way possible for me to kind of go out there and just do my laps.
Qualifying you had a couple falls. Did you feel discouraged at any point throughout the night, maybe before the night show, just second-guessing anything? Or was it just the nerves, practice, qualifying, get through it and get to racing?
No, those crashes never really wreck my confidence. So you make a small mistake, and most of the time I know what I did wrong there. So, it's like, just don't do that again. Today I was almost expecting a few crashes with how the track was. It just bit you so fast without even realizing. So, I was expecting a couple, but I'm just thankful I was able to walk out of here in one piece.
When you come in with so many eyes on you, so much expectation as the title favorite, when you manage a day like today and come out with the victory, is it a sense of relief at all to deliver at the opening round, especially Anaheim 1? It's a big one.
I definitely felt the pressure a lot, but the biggest thing I feel like is the biggest mistake would be to go and try to show it the whole day. I think that was where I was pretty smart. I just kind of took how it was. To be honest, I would have been happy with a second or a third. I was just really going for a podium today. I just wanted to make it out safe because the track was so sketchy. So, yes and no. The pressure was there a bit, but not much for me. I just kind of focused on what I was doing. I just knew tonight with the main event how the track was kind of forming, it was whoever was going to make the least amount of mistakes is going to just get bit by bit either a gap or just close the gap where you were at.
Feld did something really cool this year. They had some 250 guys in opening ceremonies, which I think you guys deserve. The crowd loves it. What'd you think?
Yeah, that was a really cool opportunity that I think Lucas helped a lot on with getting the 250 guys to do opening ceremony. We always though it was a little weird that the 450 guys would do it, but then you have some of the best 250 riders in supercross that don't do anything. So, I think it's a great opportunity for 250 guys to get more known, and that stuff. We might not be on as big a bike as the 450, but we're still doing the same stuff out there and a lot of the same rhythms. So, we're just out there doing the same stuff. So I think it helps our sport just grow a little bit more for the 250 guys and to get more known and know the riders a lot more. So, I'm pumped we get to do that. Hopefully it kind of brings up all the 250 a little bit more.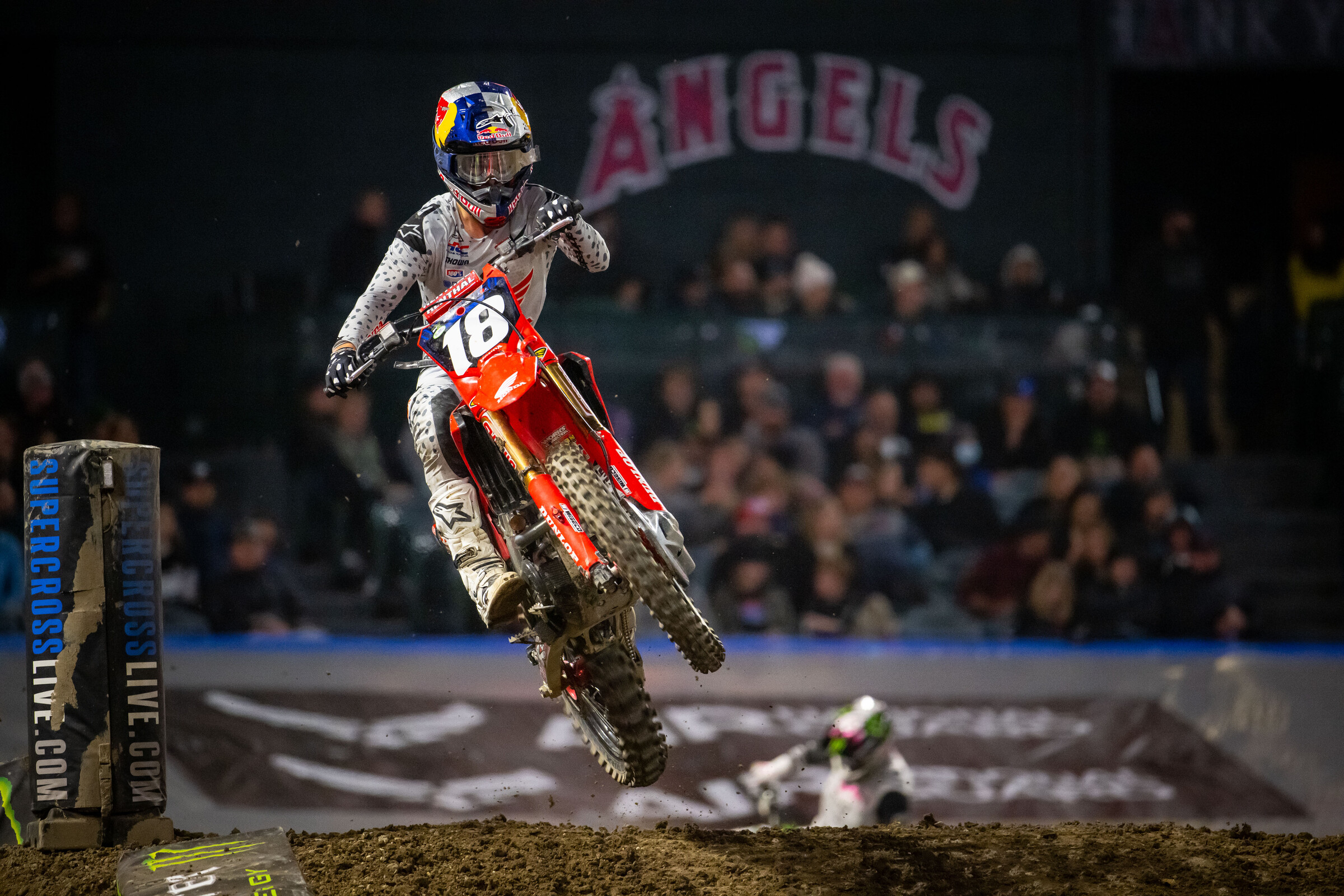 Your bike looks awesome. It seems like it sounds a little different than last year. Is it any different than last year? Is it any stronger or faster? I know the stock model stayed the same from '22 to '23, but your bike looked pretty fast out there. How was it for you? What changes did you guys make from supercross to supercross?
Yeah, I think one of the major ones was that we switched from Vortex ECU to GET. It was kind of late in December that we changed and decided to go with them. They've been awesome. This is the first time we'd start mapping their stuff with them. So, so far it's been really good with them. Let's hopefully keep it going with the good starts. But, that's probably the main thing. And we might have put a little bit of extra go-go juice in it, but besides that, it's the GET ECU that we've mainly changed. Besides that, the bike stayed the same. Even in testing the suspension, we've kind of just looped all the way back around to the same setting. So, the bike is handling great. The motor feels awesome. I'm just right at home on the Honda this year.
You're still young. I imagine you might still be growing. Are you any heavier than you were last year or any taller? Or are you the same size and weight? To me, you look a little bit bigger on the bike, but maybe it's just riding technique.
I don't think so. A lot of people have said I've gotten taller, but I think it's just people naturally think that because they haven't seen me in a while. All off-season I didn't post much, so when you see a kid without for a while, you come back and they look massive. I think I'm almost a little lighter than last year. So, I might have put a bit of extra muscle, hopefully. But besides that, I'm still fairly the same.
Is that facial hair coming in?
No, it's actually implants. I can't grow that yet.
RJ, you were pretty vocal last year about not being happy with the bike. You don't know until you get to the races if the changes are working or not. You were as good as I've ever seen you tonight. Are the changes where you want them, or was it just a good night?
RJ Hampshire: It's building, really. Each team, each manufacturer will go through it. I think we've seen that in the past and we went through it last year, 250 and 450. I've worked my ass off during the week and I know where I'm at on the weekends. So, that was just kind of where I was. I knew my speed was good coming in. I was a little bit worried. I didn't know really how my bike was going to be in the whoops. That's just kind of how it is right now. I know it's good on the rest of the track, and whenever they got ate out I was still blitzing most of the night. So, I think we're in a much better spot than where we were last year. It's not even just the chassis on this bike. They did a huge engine update for me, as soon as we finished outdoors. You could tell. My starts were good. I know that main event we kind of got tangled a bit and that messed up my main event start, but all day I was crushing my starts. Just having confidence and knowing that I have the bike to go out there and be able to battle for wins.
How much of round one is trying to win the race and manage the race, or are you just evaluating, trying to figure out where your bike is and how you feel and things like that?
I've never been in a situation where I could see the leader at a round one, so that was just kind of where I was. I wanted to get out of here healthy and be on the box. With the track that we had tonight, it was more just clicking off your laps, and that's what I did. My start in the main event wasn't great, but I was like, heck, let's get through this main event and do what I can do, not focus on anyone else besides myself.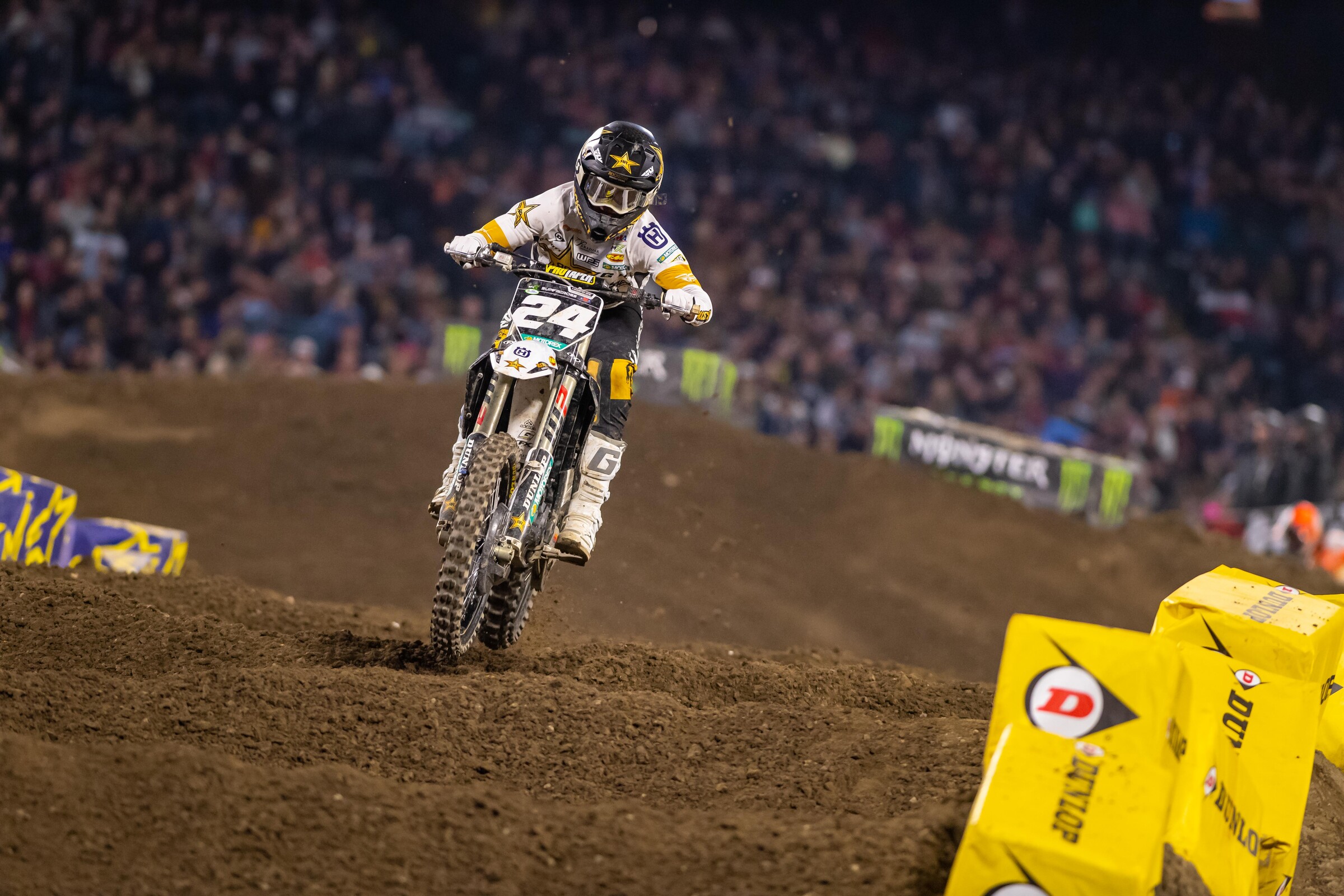 RJ and Cameron, the start we seen a bit of bunching there and unfortunately Austin Forkner went down Were either of you involved with that, the bit of bunching at the start? Did you guys see what happened there?
Hampshire: Yeah, I don't think either of us, it was either of our faults. He kind of leaned on me a bit to the left and there was a big gap to the right, and he went right and Cameron just happened to be there, and it's a left-handed turn. It's a bummer. I feel bad for him, but I don't think you can kind of blame either of us for that.
Solid race. You said that was the best race you've done in a while, maybe. Smooth, consistent. What do you have to do in the off-season to prepare yourself for racing? We know you're never able to get the same track, you're never able to get the same nerves, the same feelings. How did you change from last year to this year?
My riding partners are some of the best guys in the business. I ride with Malcolm and Coop, AP, Christian every day, day in and day out. I felt like I handled that heat race really well with Jett right on me and in times past I feel like I might have folded a bit. Even for the main event where you were saying, yeah, I didn't get a great start and I knew my speed was decent. Probably years past I might have rushed into something and made some mistakes. But I can't really recall many mistakes I made that entire main event. Just kind of focused on myself and click off the laps and be there in the end. That was kind of what my goal was coming in, giving myself a chance at being on the box, and we did that. Second is by far the best start I had to the season.
Follow up to that, your Husky looked quite a bit better than last year. You looked better than last year. Team has changed a lot over the years, with Nathan Ramsey now team manager. What's it like just the evolution of it? Malcolm Stewart was leading the 450 main event doing awesome. So Rockstar Husky, what's it like now?
Man, we got a really good group. I think there's love for all of us, from management, Murph, and our mechanics. I don't think there's one guy that doesn't get along on our team. I really can't say enough good things about it. Last year was very tough, and not just from the rider side but from the management side also. They got thrown into something that really they couldn't control, or we didn't really have options to go to. So, it was like, us riders just show up and do the best we can and know there's going to be a change. That's a pretty big risk that you're taking. I signed my extension deal last year whenever the bike was not where I wanted it to be, just because I knew I had to trust that Austria was going to figure this thing out, and we did it. That was huge for me tonight. I think there's going to be a lot more. We do have some other things coming. Just keep building and progressing and hopefully we're in this championship fight.
You've been talking a lot about all the work involved with you and the team, getting you guys to this point. I know you're not on the center stuff, but do you feel like this is a win being on the podium? And what are your next steps? What do you kind of foresee that team meeting on Sunday or Monday is going to look like for the month of January and what are you guys' goals to go after?
I felt like my bike handled pretty well all day today, and the conditions were some of the gnarliest that we've had. We're happy with where we're at. We made a lot of progress. Yeah, I didn't win, but we had a solid main event, solid day, really. We take that as a positive, move into next weekend, be ready and try to do the same thing. Like I said, I got second last year n the championship, but I wasn't in the championship. Jett just walked away with that. So, that's kind of my goal is just to be in this thing and have a shot at it. Same with Cam. We're going to be in this thing. Execute each weekend. Maybe next weekend we'll have a better start and then can battle up front, Cam, me, and Jett, and put on a little bit better of a show.
There's a lot of hype around Jett, and it's well-deserved, but do you use that coming into a season as motivation when the media and everybody picks Jett? He's the guy, he's going to be the winner? Do you use that for motivation?
No, I mean, look what the guy has done. He's won three championships in a row and completely dominated last year, so we expect that. I have one win and I've been at it a lot longer than him. So, like I said, I'm going to show up and do what I can do every weekend, whether I'm racing him or anyone else. Just control what I can control.
Cameron, the track was pretty tricky all day. The 450 guys said it got pretty gnarly towards the end of their main event. For you guys, they cleaned the track up before your main event. Towards the end, you had mentioned on the podium that you got tight. You made a few mistakes. Where were those mistakes and did you have to back it down, or were you able to keep going?
Cameron McAdoo: I made a really big mistake in the rhythm after the mechanics area, where we were going on, off, three. I cased that three pretty hard and kind of messed my elbow up a little bit, which my arms got really tight. I pumped up really bad. So with that, and then that was right when the track started deteriorating quite a bit and getting some big pockets. So, I didn't feel like I executed very well towards the end. That was where my frustration was, just with myself more so than anything. To answer your question, the track definitely deteriorated quick, even as much as they did fix it up.
RJ and Cameron, the start we seen a bit of bunching there and unfortunately Austin Forkner went down Were either of you involved with that, the bit of bunching at the start? Did you guys see what happened there?
McAdoo: I saw video but afterwards, I think I kind of had a wheel on it. So, I think I felt someone maybe hit me, maybe my back wheel or something, but I didn't know a whole lot. I just obviously came around in the whoops the first lap and saw him down. So, that was all that I really was involved.
Everyone has been talking about the track was super gnarly and you talked about kind of pumping up there at the end. Did lappers affect your race at all? Obviously, if it's gnarly for you guys, it's really gnarly for those guys as well.
Yeah, totally. I felt like that was pretty much what caused my mistake. I didn't feel that I executed navigating through the lappers as well as these guys did. So, that was a big part of it. They're racing too, and the track like you said it's just as tough for them. So, that's something that I want to maybe be better at is navigating through those guys and just doing my laps, even when we do get into the lappers.
The track was a little soft from all the rain, the weather this week. Next week the track will be a whole lot worse. How do you feel about a mud race? Jet ski maybe comfortable for next week?
We all have to race on the same track. Obviously, the track was extremely technical, extremely tricky for all of us, especially during the daytime today. That was like Jett had said earlier, it was getting through it really. I struggled really bad in practice, so I was really happy with how I was able to turn it around in the night show. But, if the weatherman is right, we're going to have some rain next week. So, it's going to be tricky and I'm going to do my best.