Atlanta Supercross Is a Day Race, Here is the Schedule [Update: One Practice Only]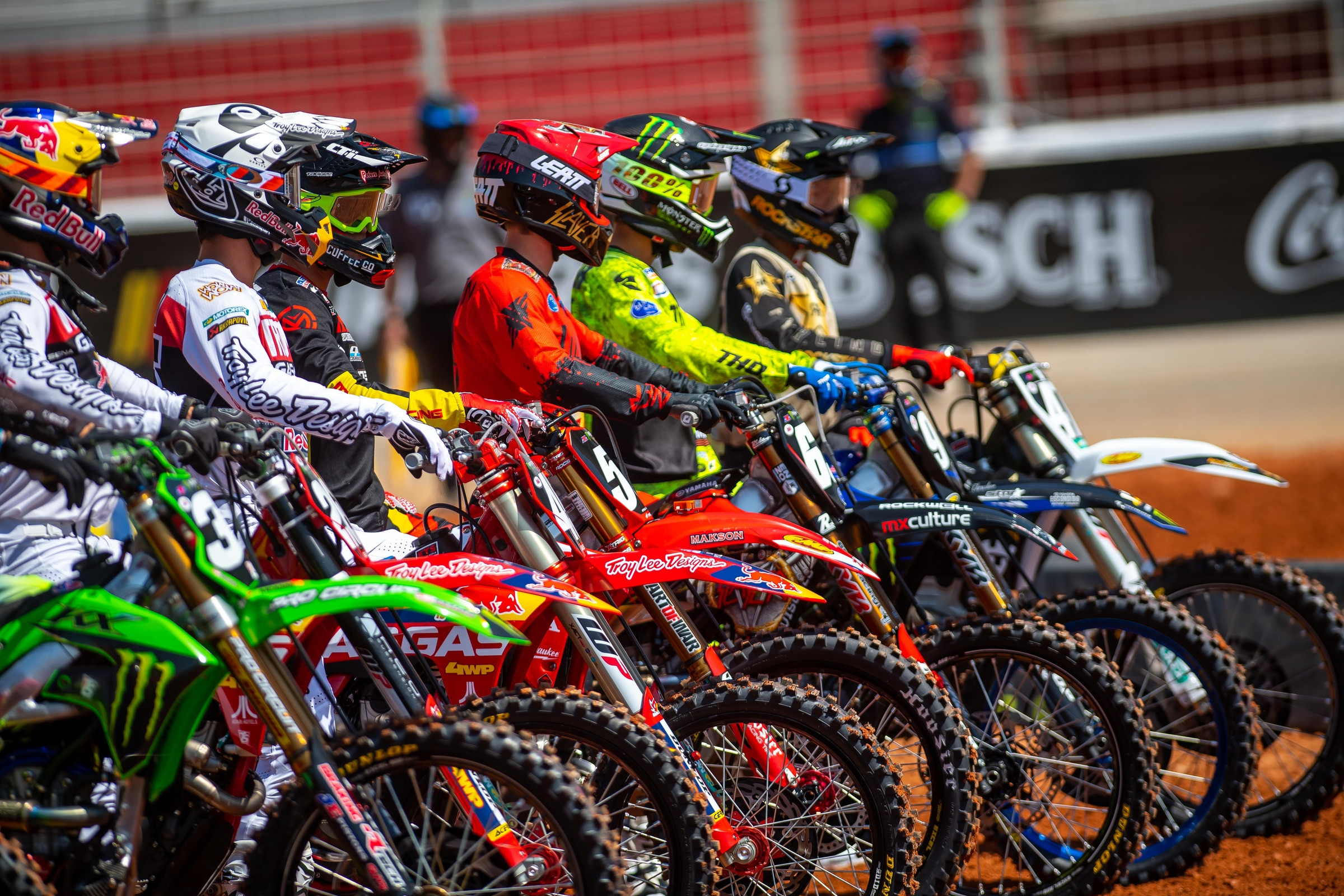 Atlanta, GA
Atlanta
Monster Energy AMA Supercross Championship
This weekend's 14th round of the 2022 Monster Energy AMA Supercross Championship on Saturday will take place at Atlanta Motor Speedway in Atlanta, Georgia. This is the only mid-season East/West Showdown round of 2022, but you'll want to set the DVR earlier than usual, as the Atlanta Supercross will be a day race on Saturday. Also note that the race airs on NBC this weekend. This round also features a 250SX Futures round as well.
What you need to know the most: heat races begin just after 3 p.m. Eastern/12 p.m. Pacific.
[Update: Saturday , April 16 at 8:45 EDT]
It indeed started raining hard at 5:30 a.m. Saturday morning, and it's not scheduled to stop until around noon. So the schedule has been adjusted accordingly, with each group having just one practice.
Qualifying will begin at 11 a.m. for Supercross Futures, then 250SX hits the track at 11:15.
The "night show" in this day race still begins at 2:30 p.m., as scheduled.
[Update: Friday, April 15 at 4:35 p.m. EDT]
Track walk for the riders will begin at 5:30 a.m. EDT, with the first free practice set for 7:20 a.m. EDT. The first qualifying session of the morning will take place at 9:20 a.m. EDT.
The AMA has adjusted the race day schedule due to possible weather. Track walk/viewing will now take place at 8:15 a.m. EDT and the free practices scheduled first thing in the morning from 7 a.m. EDT through 8:40 a.m. EDT are now gone. The first session on track Saturday will be the 250SX Futures qualifying gate selection session. The remainder of the day will proceed as regularly scheduled.
The 250SX Futures main event (6 minutes plus one lap) will take place at 12:50 p.m. EDT/9:50 a.m. PDT. You can watch the fifth 250SX Futures main event live on Peacock Premium.
Opening ceremonies will kick off the night program at 2:30 p.m. EDT/11:30 a.m. PDT and heat races begin just after 3 p.m. EDT/12 p.m. PDT. The 250SX East/West Showdown main event will take place at 4:53 p.m. EDT/1:53 p.m. PDT and the 450SX main event will take place at 5:48 p.m. EDT/2:48 p.m. PDT.
Qualifying can still be seen on Race Day Live beginning at 9 a.m. EDT/6 a.m. PDT on Peacock Premium. Live coverage will start at 3 p.m. EDT/12 p.m. PDT on NBC and Peacock Premium. Below is the full broadcast schedule.
Supercross

Atlanta

Supercross Futures

Saturday, April 16
Below is the full race day schedule.
Note: all times local to Atlanta, Georgia.
---
Main image is from the 2021 Atlanta 2 Supercross