Seattle, WA
Seattle
Monster Energy AMA Supercross Championship
A somewhat thinner field is a regular thing toward the end of any supercross season, and while injuries are always a bummer, their silver lining is that guys who have been on the bubble during the first part of the season have more room to break through and start making main events. That's been the case with Tristan Lane, who's been very close all season, and finally got it done in Indianapolis. One week later in Seattle, he made his second 450SX main event in a row. When we saw that, we decided it was time to get in touch with Lane and learn a little more about his effort in 2022.
Racer X: Congrats on putting it in the main in Seattle. That's the second 450SX main in a row for you, right?
Tristan Lane: Yep, that's the second one.
Is that your second career main as well, or just in 2022?
Supercross is new to me, I've only done a handful, maybe 10 or 11. My first year as a rookie was 2020, the year of COVID[-19], and I did four supercross races in the 250 Class. I didn't make any main events, but I was close. I was in that big Daytona crash too, where everyone crashed in the whoops. I hurt my wrist in that crash, so it was a mixture of COVID shutting down the series and being injured. Last year I ended up having an injury at the first East round in Orlando and had to get shoulder surgery. This is really my first real go at it, my first full effort, so I'm really happy about making these two main events.
Yeah man, good job on that! What made you decide to jump into the 450 Class?It just makes the most sense for a privateer, financially. It's so hard to do a privateer effort on a 250. Even last year when we were doing the 250 Class, we had some great supporters, but our bike was not even close to the competition. Racing a 450 just makes more sense. Our race bike this year, we have one 450 and we'll use it for outdoors as well. You can't really do that on a 250 as much. It just makes more sense all around.
You've been really close to making it into some mains, like at Daytona you were tenth in the heat and fifth in the LCQ.
Yep, I was really close there, and in Arlington I was one or two out. I've had quite a few races where I'm on that bubble, so it was nice to finally get it done in Indy and Seattle.
When you're on that bubble, does it sting when you don't make it, or is it encouraging because you can see yourself getting so close?
A little bit of both. I didn't have goals set too high coming into the season because I have so little experience. I've raced outdoors for quite a while now, but supercross is still new to me. I didn't put a lot of pressure on myself, I just wanted to learn, and I still do. I want to learn and get better. But I started getting faster with experience, and making a main event didn't seem that farfetched. I think it was in Detroit, where I crashed in the whoops, I'd actually passed into a transfer spot. I felt like I was ready then, I just made a stupid mistake. That was when I really knew I was capable of making mains. Then I got it done in Indy, and this past weekend in Seattle I got it done again. I'm hoping I can keep that going, but then again, I am realistic and I understand there are riders who are injured and I'm definitely taking advantage of that. I'm doing my best just to get better and hopefully solidify myself as a main event guy.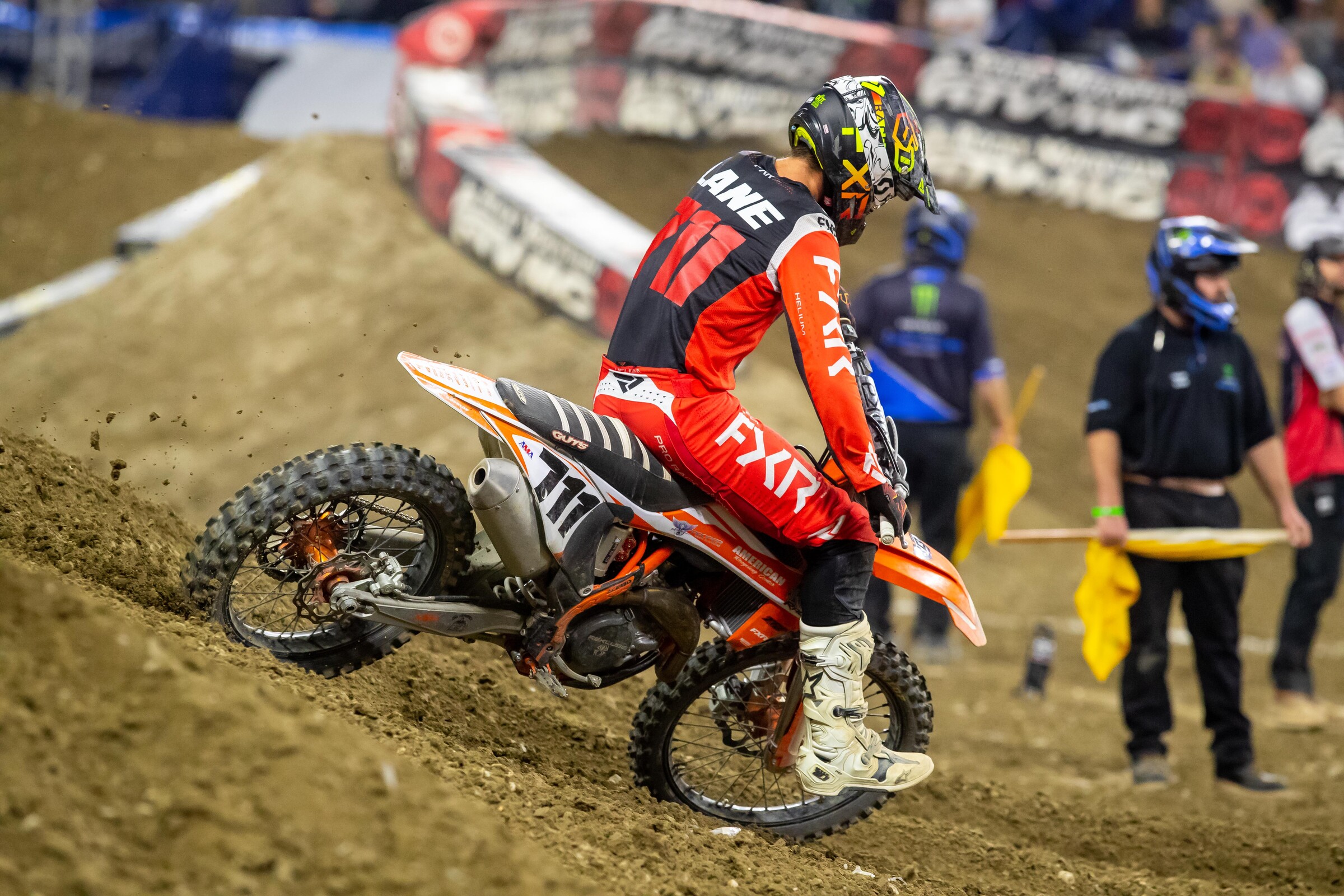 What's it like mentally when you've been trying to make it in, then all of a sudden you make two in a row?
Your mindset changes. It's easy to come in and just be happy with racing in the night show. Then you start racing in the night shows and it's human nature that you want to get better. I know what I'm capable of doing, and I knew in the back of my head I could probably do a lot better than what I was doing. As I started racing with certain guys I was like, "Wow, I'm a lot closer than I thought." Before long you just start managing your expectations better. You start believing and saying, "Maybe finishing close to the main event, on the bubble, isn't good enough. You deserve to be in the main." But I also try to be realistic because in our sport. If you start getting ahead of yourself you can start losing hope if you have a bad race or two. You feel like you're doing badly, but the reality is, in our sport, especially supercross, you just have to ride the wave. When you're doing good, don't question it, keep the momentum going, and keep working hard to get better.
What was it like racing in the main when you finally got there?
I put pressure just on getting into the main event. I didn't really worry too much about a result in the main. Once I was on the gate I actually felt pretty comfortable. It was like, "Okay, I made it to the main event, now I just need to go learn and get all the laps in." I just wanted to not crash, number one, and get all the laps in. I knew if I could just complete the whole race I was going to learn a lot. Indy, the first one, was really chaotic. There was a lot going on, and I was way in the back on the start. I'm not near the pace of the top guys and when you start getting lapped there's a lot of chaos, but you're still racing your own race, fighting for your spot, and trying to earn respect as well. It's a tough balance.
What are your goals from here on out?
I want to try to qualify better at all the races. That gives me a better gate pick for my heat race and sets the tone for the day better. I'd also like to try to transfer straight from the heats. Obviously making a main event was a dream come true, and doing it again was great. I'd like to make all the main events, but I need to set small goals. Stuff like starting the day out better earlier and figuring out the track faster. Things like that will trend me in the right direction toward making more main events. As a privateer, getting into the main events looks good, and it's what's going to earn me more support going forward.
Speaking of support, what is Silverback Racing?
That's one guy, Donald Davis, who is my biggest supporter right now. His son, Landon, was a professional and he raced. He grew up in Jacksonville, Florida, and I'm in DeLand, Florida. We knew of each other, and he helped me earn my supercross license because I was training with his son. Long story short, his son got hurt and stopped racing, but Donald still wanted to support me. Thanks to him, I'm able to go and do all these races. He actually bought that bike for me. It's a team, but it's just Donald and I. It's just us going racing and traveling the country, hitting outdoors and supercross. We do have a lot of great sponsors and supporters who make it all happen, but without him I wouldn't be able to do this.
Is there a way people can contribute to the effort?
Yeah, definitely. We're both pretty active on social media and that stuff. He's @silverbackracer on Instagram, or you can contact me, @tristanlane711 or email me at tristanlanemx@gmail.com. He's [Donald] got structures for people who want to support the team. We have a lot of real estate on the motorcycle and my gear and all that good stuff. We're doing our best to get more support and to try to make it work. He still works a fulltime job; he's just doing this out of the kindness of his heart. He loves this as much as I do, but I'm trying to take the burden off of him. We make it work our own way, but it takes a village in this sport. I really want to thank my friends, family, my fiancé for always supporting me, Silverback Racing, Jason Beck with Beck's Tech, TPJ, Engine Ice, MotoConcepts, Tim Hughes with American Recycling Center, Kelly Shires, the Frazzini family, Dunlop, Motion Pro, Rekluse, FXR, Scott, Blud Lubricants, Mika Metals, and Kdeam Optics. I wouldn't be able to do this without them.