Hurricane Mills, TN
Monster Energy AMA Amateur National Motocross Championship (Loretta Lynn's)
Amateur National Motocross Championship
Two weeks ago, Team Green Kawasaki's newest recruit Preston Boespflug came out firing on all cylinders at the 2022 James Stewart Spring Championship at Freestone MX Park in Wortham, Texas. The 16-year-old Washington native won the 250B and Schoolboy 2 (12-17) classes against stiff competition with the likes of Haiden Deegan, Mark Fineis, Evan Ferry, and Daxton Bennick. It was the first time Boespflug had converted on a set of major amateur championship victories in his young career and certainly puts him into some serious talk for the upcoming battles at the Monster Energy AMA Amateur National Motocross Championship at Loretta Lynn Ranch in August.
Boespflug signed with Team Green at the tail end of 2021 and has been a big talking point early in 2022 given his new opportunity. With all of that in mind, we called up Preston this week to talk to him about Freestone, Team Green, and his 2022 expectations.
Racer X: First off, let's talk about Freestone. A pretty good week for you! You won the 250B and Schoolboy 2 classes against some pretty stacked competition. Just kind of tell me about it and how everything went for you.
Preston Boespflug: Yeah, it was a really crazy week at Freestone. I won 250B and then I won Schoolboy 2. Both classes were super stacked, so I was really excited to come away with both of those wins. One of the classes had longer motos also, so I was excited about that. I think that was beneficial for me. But yeah, it was a good week.
How did you expect you were going to fare going into it? You've had a decent amount of time on the bike at this point racing a couple of other races. Did you surprise yourself by winning or did you really feel coming in that you had the speed to win?
Honestly, I don't know. Every year you come in and you don't know where you're at too much. You kind of hear who's going fast but you don't really know until it's the race weekend and everyone is out there riding and racing. I knew I had the potential to get the results that I did but making it happen was another story. I was expecting to top three but winning was nice.
You did a Loretta Lynn's Qualifier at Riverfront (MX Park) a couple weeks back as well. How did that one go?
Yeah, I did that Riverfront Qualifier before we left for Texas, and it was good. It was a busy weekend. I did 12 motos I think, and I ended up winning nine out of 12 motos so that was a successful weekend getting me qualified for the regionals.
Which classes were you going for? Was it basically the same 250B, 450B, Schoolboy stuff?
Yeah, Loretta's you can only race two classes, so I'll just race probably 250B and Schoolboy 2 at Loretta's, but I did the qualifier in three different classes. I did Schoolboy 2, 450B, and 250B just to have another option and more track time.
Let's swing back to the end of 2021. You had been riding Hondas with some help from Motosport Hillsboro for a while. How did the Team Green thing come together? When did they contact you, and when did you know that was an option for you?
Well I announced it as soon as I could. I didn't keep it a secret for that long. I didn't know at Loretta's or anything. I found out about it probably just a few days before I announced it which was only two and a half weeks before Mini O's.
Had they been talking to you before that?
We kind of had an idea that they had their eye on us and then I was actually on the way to my sister's wedding when Ryan Holliday [Kawasaki Team Green Manager] called me and asked if I wanted to ride for the team. I actually stuttered when I answered the phone! [Laughs] I stuttered probably three or four times because I didn't really know what to say. Well, I knew what to say, but I was just shocked. It was something that you always dream of, getting that phone call, and getting it was pretty cool.
Yeah, that's a cool story! I don't know too much about your career on minicycles, but it seems that you – not that you didn't take it seriously – but you didn't have the big results as a 65cc and Super Mini rider that you wanted. So, it looks like you've had a big rise into this ride and this position of your career. Is that accurate to say?
Yeah, you could say that everything has been – not happening fast, because I've always been putting in a lot of work – but right now everything is kind of turning real. When I was on 65's and 85's, I won Mammoth, but I'd never won Freestone or any of the big events. So, I guess it's ramping up pretty quick here.
And you're originally from Washington, correct?
Yeah, I'm from Vancouver, Washington.
Alright so you're right by Washougal. I'm sure you grew up racing there?
Yep! I'm about 20 minutes from [Levi] Kitchen. [Note: Levi Kitchen lives next door to Washougal MX Park.]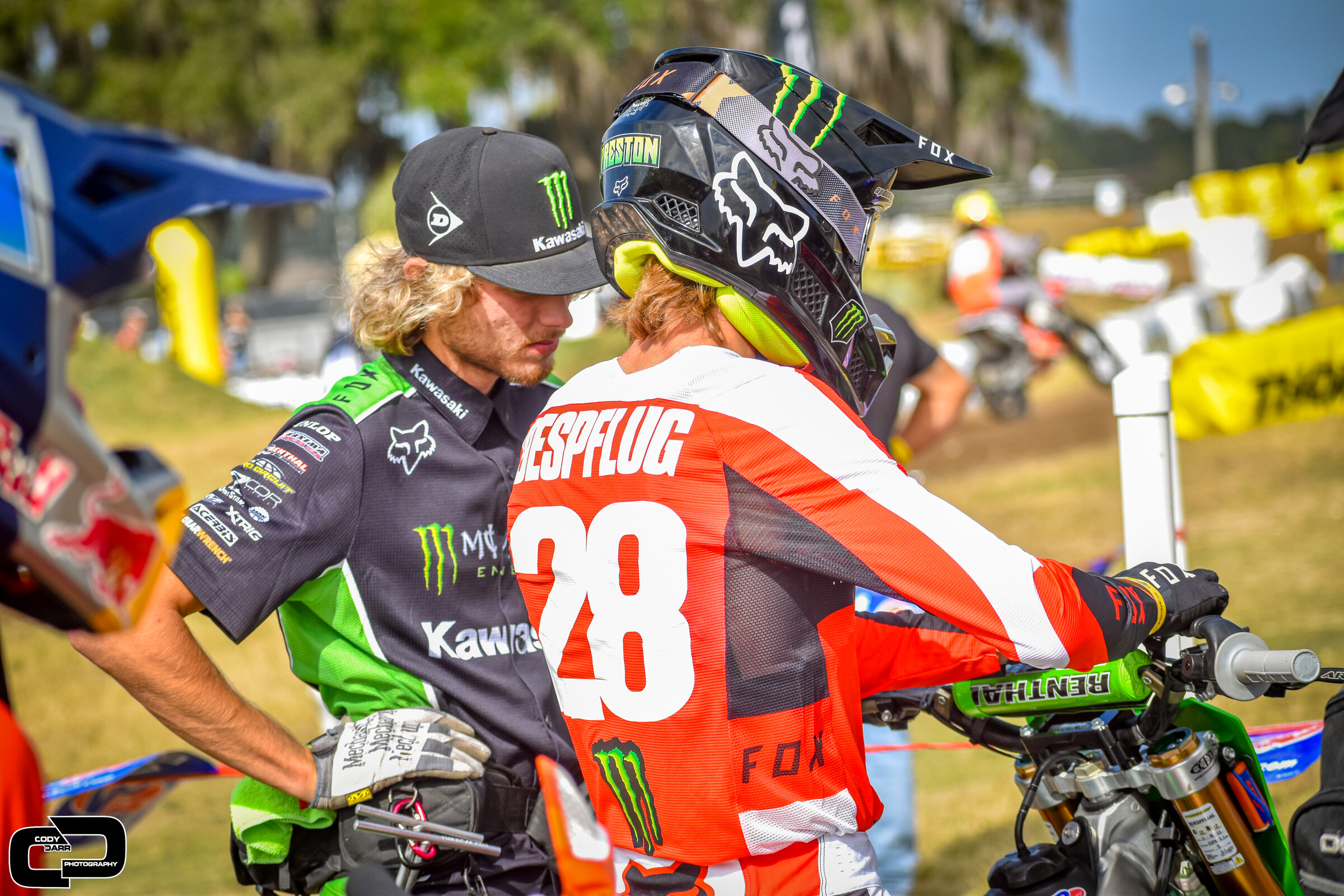 Are you guys' buddies or is he a little bit older so you guys aren't together too much?
We're pretty good buddies. We hung out a lot in Washington. Now we don't get to hang out all that much. He's in Florida. But yeah, we're pretty good friends and we're in the same friend group.
Was it with the Team Green deal that you made the decision to move down south and start working down here in California? And how has that transition been?
No, I actually moved out here to California when I was 13. My family is still in Washington and my parents are still in Washington, but me and my mechanic Ty Davis live out here in Southern California now.
Who are you working with during the week?
My trainer is Yannig Kervella. He's from France and he trains with Jo Shimoda, so I ride with Jo a lot. He's Marvin's [Musquin] old trainer actually, so he used to work with Marvin. We've got a good group of riders with us right now, Jo being the quickest one. So, it's really cool to get to ride with him and ride with all these fast guys.
Do you feel like you're learning just a ton of stuff being around that kind of group?
Yeah, even when we're not at the track with them and just hanging out or just being around them helps a lot. Everything helps.
Now that you've moved to Team Green, has the pressure you put on yourself or the expectations changed a lot?
I wouldn't say there's more pressure [on myself] but there's definitely pressure to put in the work. I would say the pressure is there but it's not more than it was before.
I saw you were working a little bit on supercross earlier this year as well. What's the plan with that? Are you working towards doing [Supercross] Futures next year?
Everyone around wintertime is starting to ride supercross more and more. In the amateurs, it seems like everyone is trying to get a little bit of a jump start just so that we're not cold turkey when it's our first year going pro. We kind of have an idea. And now with the Futures stuff, we don't really know what's all going on, so we're just trying to be prepared. Next year, I'll probably be doing the Supercross Futures, so I'll just be getting ready for that next supercross season.
How different has riding supercross been than maybe you expected?
Growing up, you see it on TV, and you know that it's gnarly, but once you start riding it and actually training on it, I just have a whole new level of respect for all the guys that go out there and not even race it but just ride it. It's so gnarly. It's pretty crazy actually. I feel like supercross is pretty underrated.
What was it like the first time you had to click into third and hit the whoops?
Honestly, I'm more scared to hit the triples than I am the whoops! The big supercross triples, for some reason ever since I was on 85's, first one I hit I've been super scared to hit them. I'm not sure why, it's just a mental block of mine that I have. I've been getting over it now that I'm on big bikes. I kind of just go for it, and they're all about the same. But I don't know. There's just something about seeing the steep lip and not being able to see the landing, but I think I'm overcoming it now.
With your Team Green deal, I know it was signed through 2022, so has there been any talks of an extension and a plan for you transitioning more towards the pro ranks with them?
No, nothing really yet. I'm still in the B class so I have a whole other year of amateurs still ahead of me. So, there hasn't really been too much talk about it. Just seeing where this year takes us and see where we end up at the end of the year.
What other nationals are you hitting and how much time before Loretta's are you giving yourself to just focus on preparing?
It seems like the busiest part of the year is over. With the qualifiers and the Spring Nationals, the beginning of the year is always so busy. But now we have a little bit more room in between races. Next up, we have Cal Classic coming up again. They actually moved the dates on that so now it's at the beginning of the year. So, that will be here soon, and then Mammoth. And then really just getting ready for Loretta's. After Loretta's, they have those Moto Combines now for the amateurs, so I'll be doing the last how ever many they have of those. So, I'll be doing that after Loretta's, and I think there is one before Loretta's and I'll be doing that as well. That one is RedBud so that will be pretty sweet.
I believe you did the one at Fox Raceway last year right? How was that experience?
Yeah, I did the one at Fox for the last round last year and that was really, really cool. It honestly made us all feel like pros, and it was a fun experience. Definitely something that I'm looking forward to doing this year.
Which team were you on? I don't remember which coach you had.
My coach was Buddy [Antunez]. I was on Buddy's team. It was me, Ryder [DiFrancesco], and a few other riders.
What's Budman like?
He's cool! He was a lot of fun and had a lot of knowledge.
Who would you like to thank for getting you to the races and everything so far this year?
I could thank 1,000 people. I'd like to thank my mom, my dad, my mechanic Ty, my trainer Yannig, Monster Energy, Team Green, Pro Circuit, Kawasaki, Dunlop, Fox, Asterisk, Renthal, Maxima, Ethika, DirtBikeKidz, Throttle Syndicate, Braking. I'm sure I'm missing a few but those are the main ones.
---
Images: Boespflug at the 2021 THOR Mini O's, Courtesy of Cody Darr