Seattle, WA
Seattle
Monster Energy AMA Supercross Championship
Maybe between now and the end of the year someone will perk up saying they knew Eli Tomac would be this good in 2022. Someone outside of Eli's camp. Maybe Eli himself or his family or the Monster Energy Yamaha Star Racing crew knew. Maybe. But did anyone else?
Winning the Monster Energy AMA Supercross championship (he now holds more than a two-race lead in points with five races remaining) is one thing, and that alone would be a heck of an accomplishment. But Eli has gone beyond that. He's not only en route to winning the title, he might just be logging the best season of his entire career. At age 29, which would also make him the oldest supercross champion ever. That's crazy. Is he even better than ever now?
Tomac is not one for controversial takes or quotes. He has five wins in a row right now which matches his five-race streak from 2017. He will only say he feels similar. If he says he's better than ever, that would probably seem like a slight to his old team at Monster Energy Kawasaki. Eli doesn't trade in trash talk like that.
"When you can string them together like this, I would say it's a similar feeling," he said after his fifth straight win in 2022. "Things just go your way and everything feels right. I feel good on the bike and the motorcycle. That's the way it's been. I've been able to execute good starts and get to the front of the pack that way. So, when you can do that many in a row, it's just a good feeling."
Now he's also assaulting the record book, passing Chad Reed for fourth all-time in career 450SX wins. Of course Eli doesn't care much about this stuff. He's just racing in the moment and trying to win this one title. Does he care about these race-win records?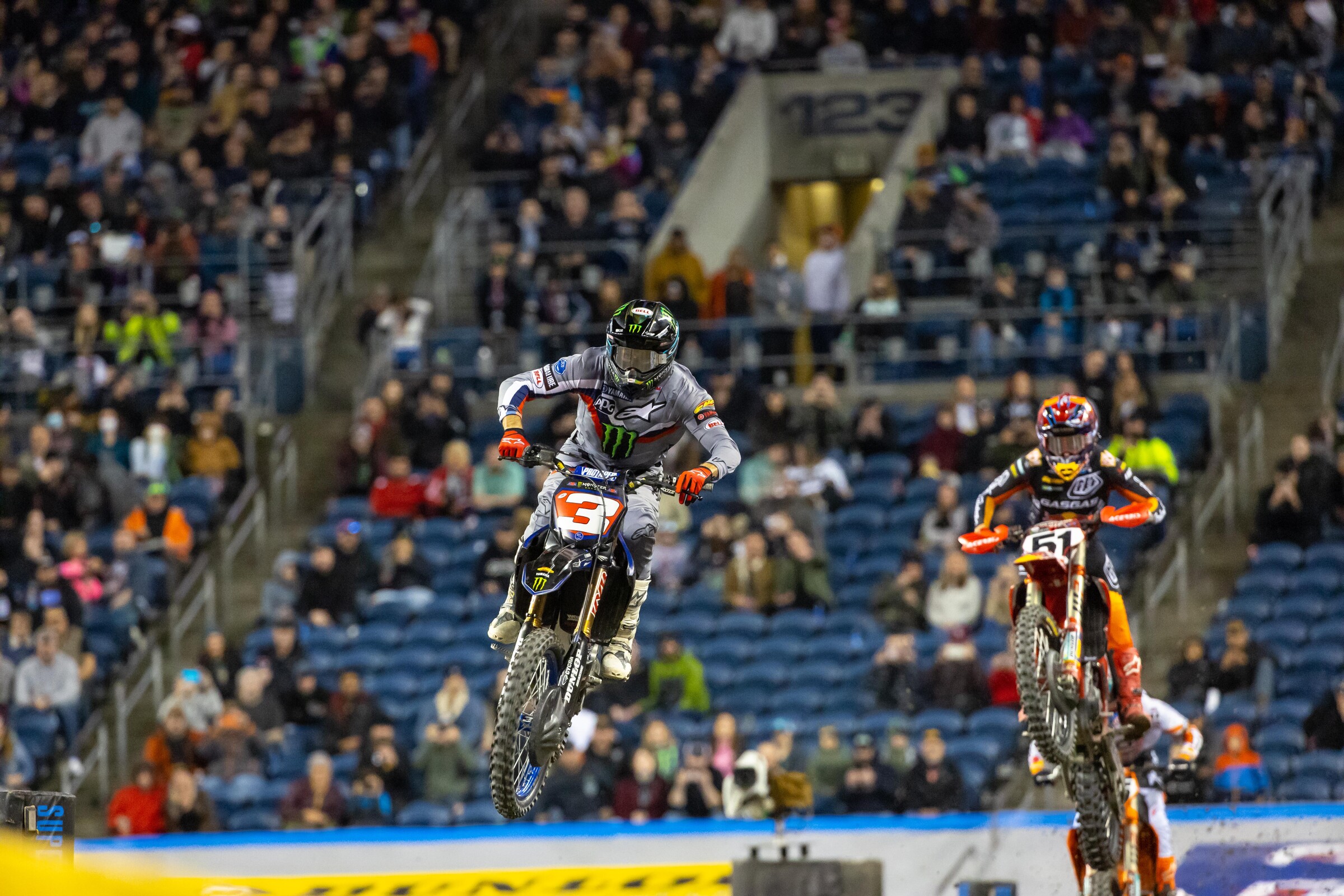 "No, not the single race stuff. Not like the Daytona or the all-time list," he said after the Seattle win. "My main focus is always championship. That's all it's been this year. Like I said, that's been it."
With such a huge points lead the key to winning the title now would be to back it down and just ride for points. Apparently he is not doing that, because his Seattle ride was his most dominant of the year. He even grabbed a rare holeshot. He dealt with some early pressure from Justin Barcia until Barcia crashed. Then Eli's lead was huge, but he still jumped the biggest stuff on the track, including the 4-3-3 combo that had claimed Barcia.
"It was off to an awesome start," he said. "These shelves off the starts are a little bit funky. The last time we had them, I was actually terrible with it, and this time I was really good with it, going off the shelf there and we would click into third gear. So, got the holeshot and putting the big sprint on early. The track was really nice early on, and then of course it turned into a beast. That was it. There was like two different tracks tonight, I thought, between the first half and the last half."
What about continuing to jump the quad even with a huge lead?
"Yeah. I was trying to do as much as I could," he said. "There was times where I missed it though, and that was the benefit to having a gap. I was able to just kind of bail to a double-double line or the on-off. I did the quad a handful of times the last half. I was more thankful to have that gap for the whoops. The whoops were gnarly. I was getting them good in the first half again, and then second half they were just the normal, cupped-out, crazy whoops. That line was cool. We haven't had a big line out of a turn like that in a while."
The series now gets a weekend off then resumes in St. Louis. At this point you already know Eli's strategy, even with the big points lead.
"Still looking wins," he said. "Before tonight, there was six left, so there's just too many to pump the brakes at. A lot of times when you do that, other things happen and you get out of rhythm. So, just trying to keep what we've got going on going on."
That's it. The hammer remains down, the records fly by without taking any focus off of the main goal. Is Eli better than he's ever been? Even the man himself isn't going to stop and think about that. He's only focused on winning the next race, and the race after that.