Anaheim, CA
Anaheim 1 (A1)
Monster Energy AMA Supercross Championship
It's starting to become about as reliable as death and taxes. Cooper Webb will not qualify well, but he will always rise to the occasion in the main event. Lots of riders looked fast at Anaheim. Webb stood eighth in the final qualification charts. In the main event he was just part of a thick pack of riders inside the top ten. Then, he started doing Cooper Webb things, picking the track apart, finding new lines and going to work. When the dust settled, Webb walked away from A1 with second place points. After the race, Webb spoke with the media in the press conference about that switch he flips when the lights come on.
Cooper, after your long off-season prepping for this Anaheim 1, how pissed were you after qualifying in those heat races going into the main?
Cooper Webb: It wasn't too bad. It's A1. Everyone is always fast. You've got people going for fast laps. Shoot, I think all three of us [on the podium] were seven, eight, and ten, I believe. But that's how it goes. A1 you never know, the first round. It's about a start and kind of feeling things out. So, I wasn't too mad. I was bummed in the heat when I tucked the front, but other than that, I knew I just needed to get a good start. Didn't get the best [start, so] I knew it was going to be a dog fight. A lot of good guys this year. Track was tough. I think you had to find that fine line of being aggressive but also being smooth and fluid, and it worked out.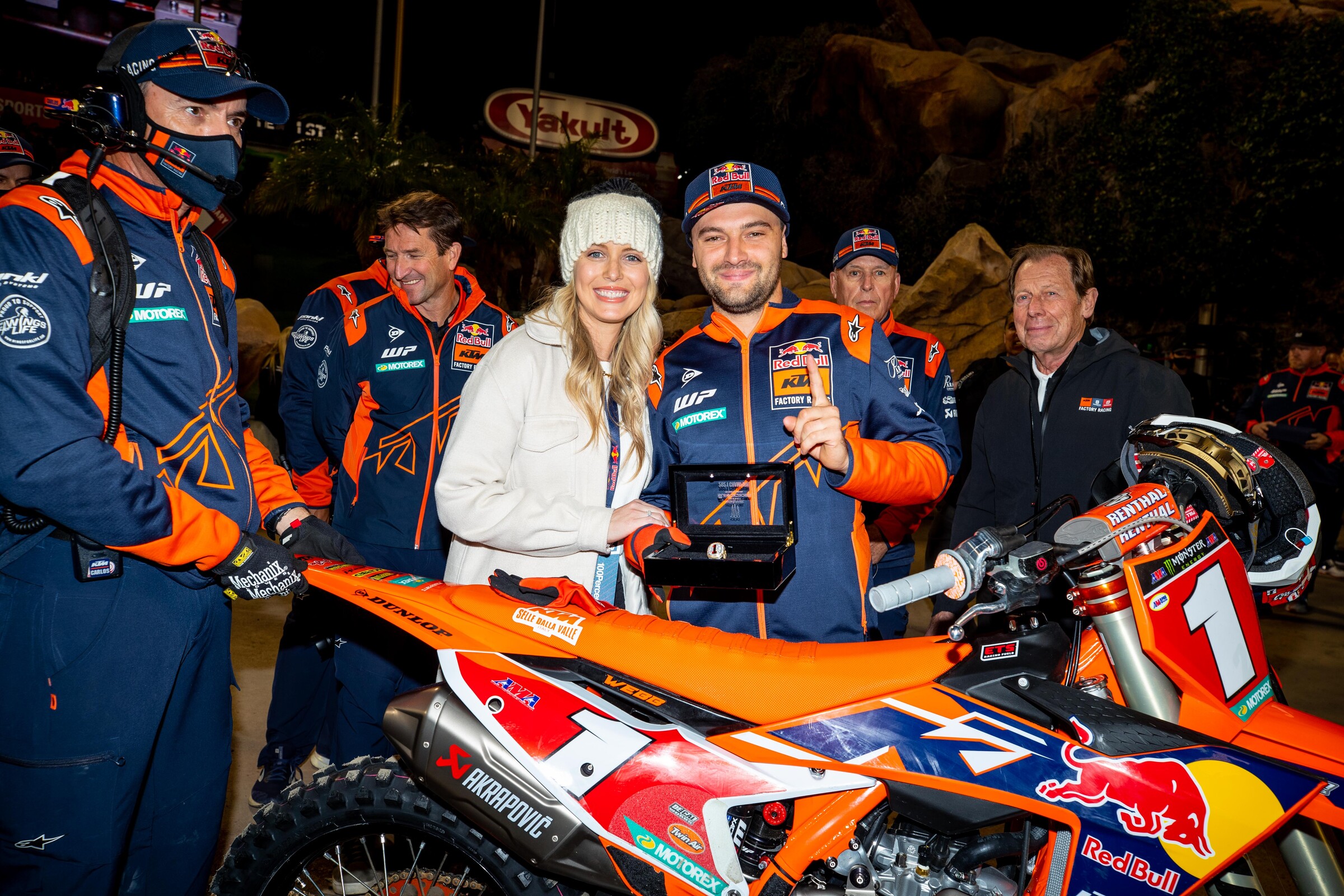 Like you mentioned, the track was a challenge today. I pretty much heard everybody over the last two days talk about just how it was difficult to find a flow, how it was choppy and soft. How did it break down from the heat race to the main? How did that play into your strategy? You started cutting down in the turns and kind of doing everything that you've done over these last few years, especially late in the race.
It broke down a lot. I think it was a bit weird, even the build and everything at press day, to me, just felt a little different than our traditional ones. To be honest, I struggled in practice a little bit. Some places were super tight. Some places were pretty open, and the rhythms were kind of built tricky and then the whoops were super slippery. It was definitely a bit of everything. I think it broke down quite a lot. There at the end it was almost survival mode, just jumping the jumps and getting through it. Surprising for sure, especially here at Anaheim, but everyone says it's been pretty wet so I'm sure that had something to do with it. I'm sure Oakland will be similar.
You had to dig yourself out of a hole in the championship to win the first two times you did. This time starting second overall at the first round, something to build on from here. With all the changes in your pre-season program, is this sort of what you're trying to work towards, starting the season better than you have in the previous years?
Absolutely. It's a much better spot to be in, especially after last year [Webb finished ninth at last year's opener]. I'm stoked with it. To be on the podium with a second, I'm stoked, especially with how the night unfolded. It's definitely nice to be in the thick of things moving forward and not have with your back against the wall after round one.
The start of that main event didn't look like it was really going your way. You were getting shuffled back a bit. There was carnage all around you. Eli Tomac was actually not too far away from you. Malcolm Stewart was on you as well. How do you remain calm when you find yourself in those moments and get all the way up to second place?
There was a lot of chaos, like you said. There were bikes going everywhere, left and right. Definitely guys rubbing, trying to get those early passes in. It's tough. It really is. You kind of want to go for it but you also kind of want to get through those first few, especially how we were all bunched up. Then you kind of have some guys that you know are going to maybe fall off the back a little bit. So, you don't want to lose track position, which I kind of feel like we did tonight. But overall, going through, getting around guys and with the conditions, you try to set up a pass, but going through the rhythms you don't know where you're going to end up sometimes. So, it was definitely a little chaotic. Just tried to stay calm and know if what I'm doing is working or not. It's definitely calculated and [based on] who you're racing and where you try to pass. You can't show where you want to go too soon, and you can't wait around too long, or you'll get left. That's the joy of racing. It's always a different weekend, different scenario. I always enjoy that.
You have a new motorcycle. I know you said you got to ride it on a pretty good variety of tracks in the off-season, but I'm sure it's hard to replicate what you saw out here. So, were there things you learned? Are there going to be some changes going into the next couple of races?
No doubt. There's definitely some work to do. We do our off-season, and for me I was in Florida. So, you get a variety of tracks but nothing's like racing. That little more intensity, that little more effort, the nerves, the roughness of the track. We'll get to work and try to improve. I feel like we can improve the bike a good little bit and see where it ends up. Overall, I think it's a really nice platform to start with. I think our base setting is close enough and we'll try to improve it, but don't go crazy and get yourself lost.
Watch the full post-race 450SX press conference below: