Carson Brown Joins AEO Powersports KTM Racing as Fill-In Rider [Update]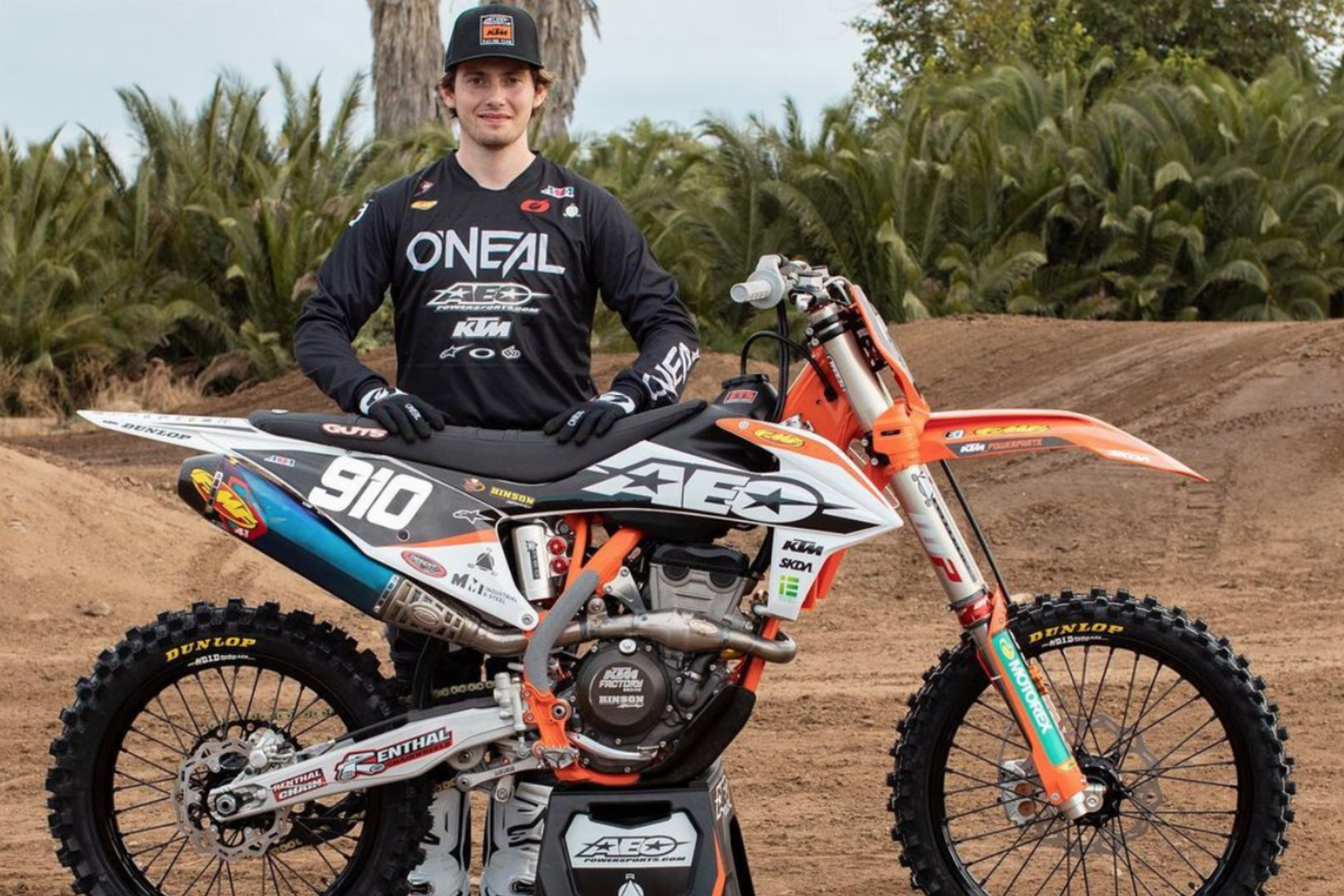 Anaheim, CA
Anaheim 1 (A1)
Monster Energy AMA Supercross Championship
Earlier this month, AEO Powersports KTM Racing announced a three-rider roster for the 2022 Monster Energy AMA Supercross Championship: Ty Masterpool, Derek Kelley, and Austin Black. The team was set to compete with all three racers in the 250SX West Region, however, Black suffered an injury and is expected to miss all of supercross.
Black was set to make his supercross debut this year. Following the 2021 Monster Energy AMA Amateur National Motocross Championship at Loretta Lynn's Ranch where he finished fourth overall in the 250 Pro Sport (2-7-3 moto finishes) and 12th overall in the Open Pro Sport (12-11-14 moto finishes), Black turned pro for the final two rounds of the Lucas Oil AMA Pro Motocross Championship. The Oregon native finished 19th overall at the Fox Raceway 2 National and 17th overall at the Hangtown Motocross Classic aboard a GasGas MC 250F and was preparing for his rookie supercross season with the AEO squad. Details of his injury were not announced.
With the injury to Black, Carson Brown will join the team as a fill-in rider. Brown has competed with the JMC Motorsports Husqvarna in 2019, 2020, and 2021, but the team shut its doors following the end of the AMA season. He suffered a dislocated elbow during his heat race of the 250SX West Region kickoff in Orlando. Brown returned to riding this summer, spending most of his time aboard...pretty much every bike imaginable (you need to follow him on Instagram if you don't already). At his home race Washougal National, he qualified for the 450 Class motos aboard a Husqvarna TC 250, finishing 18th in the first moto before not racing moto two due to an injury.
Masterpool will tackle his second supercross season in 2022. He turned pro with the Monster Energy/Star Yamaha Racing team for the 2019 Lucas Oil AMA Pro Motocross Championship, won the 2019 Pro Motocross 250 Class Rookie of the Year. However, he only raced two rounds of Pro Motocross in 2020 due to a leg injury and he was not brought back for the 2021 season. The Texan made his AMA Supercross debut on an AEO-backed GasGas MC 250F, finishing with a season-best 13th at the Atlanta 2 Supercross. An ankle injury during practice kept him out of the final few rounds. In his debut supercross season, Masterpool finished 18th in the 250SX West Region in the five main events he completed. Masterpool then received support from TPJ during Pro Motocross, where he recorded four top-ten overall finishes and finished 15th in the 250 Class standings.
Kelley raced for the JMC Motorsports Husqvarna in 2020 then raced with the AJE Motorsports/Motul GasGas team in 2021. Kelley finished 27th in the 2021 250SX West Region in the three main events he competed in—with a new career best 11th at the Atlanta 3 Supercross.
[Update: Tuesday, January 4]
There was a rumor that Ty Masterpool has suffered an injury as well, which was part of the reason Carson Brown was brought in. Today, Masterpool confirmed his injury on Instagram saying he suffered a broken wrist while training, saying he is "So bummed I'll be missing A1." Below is Masterpool's full post.
"Well fall training went great, I was loving my new bike, it was better than ever and I was riding better than ever. Unfortunately broke my wrist training, just came up short on a quad didn't crash just jarred my wrist and broke it. Really bummed I will be missing A1, but I do believe God works all things for good, even things at this time THAT DO NOT FEEL GOOD at all… But I'll use this time to come back even stronger. Hyped for this year and with this new team."
---
Main image courtesy of AEO Powersports KTM Racing Instagram