Anaheim, CA
Anaheim 1 (A1)
Monster Energy AMA Supercross Championship
Three years into his life hovering at the top of Monster Energy AMA Supercross, we all know the story with Cooper Webb. Where former multi-time champions have succeeded with physical dominance, next-level riding ability, or a savage combination of both, Webb has taken control from the mental side. He has to do it this way! Everyone is good these days. The racing world has grown smarter and more sophisticated, with 20 years of trainers, coaches, videos, ghost software, data acquisition, and more. Finding the next level from a physical standpoint is going to be much harder now. It hasn't changed completely, because the professionals who watch the videos can point to next-level things Chase Sexton can do that leads to hot lap times in qualifying. Another level of speed, physically, will always be there, even if it gets increasingly harder to find.
Catching up mentally? That's going to be even harder.
Webb holds the patent on this. Supercross main events are longer than they used to be, and 450s tear up the tracks like no other. As fun as it is to merely credit Webb for being a warrior who digs deep late in the races, it's not all grit. The riders know that it's smarts. Webb can change lines and dissect a broken-down track like no other. Plus, while his riding skills don't jump off the page in the traditional sense with mega-scrubs, huge leaps, or bombing runs through the whoops, he has a skillset that pays just as large of dividends. Webb can cut and slice in and around ruts and bumps late in the race. He's like the Major League Baseball pitcher who gets hitters out with pinpoint control instead of 100 MPH velocity. It seems like you can solve him. You can't.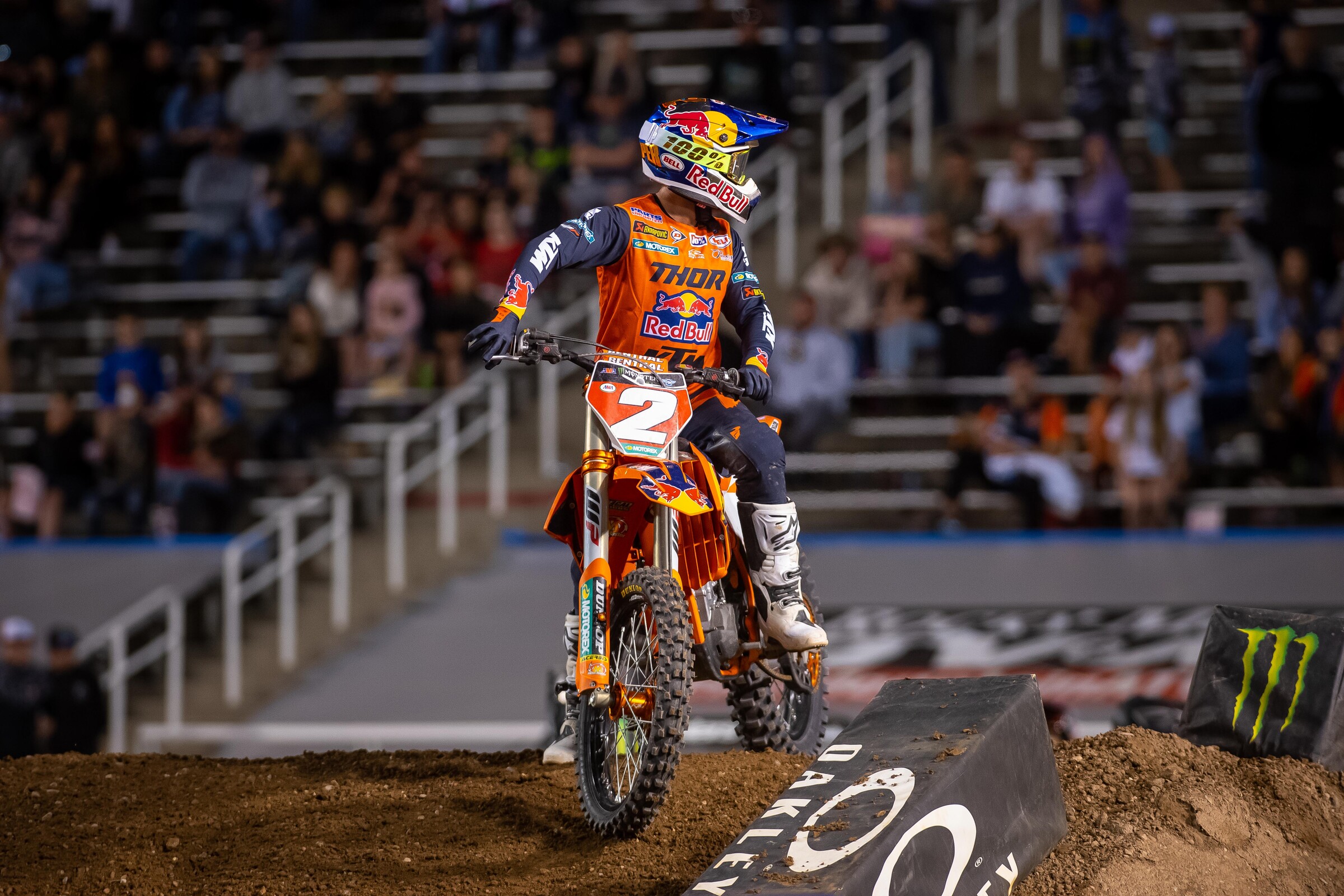 Sexton, one of those armed with the great physical gifts of next-level speed, has seen it up close.
"Everyone is so good, it's a strategic race," he says. "Cooper has proved that. It's a mind game and you have to be smart late in the race. I've been trying to tailor my bike setup to when the track is a lot rougher. I just got tired from the bike beating me up—I'm in shape, I shouldn't get tired."
Sexton says he's watched a lot of his 2021 races back to learn. There's only so much you can learn by studying. Sexton will get a lot more data when he's back in the moment, late in a 450SX main, which is something you can't totally replicate.
"The worst thing is when you're leading and you're getting chased down with five minutes to go," he says. "It's tough because you know you're fast enough to get away from everyone, but when you're not feeling good on the track…. the 450 main events are long."
It all points back to Webb's current stranglehold on the series, which he weaves through his late-lap magic. Webb solved Ken Roczen last year and Eli Tomac hasn't been able to get his own Beast Mode closes going often enough. Roczen would hope this year will be different, and Tomac has even switched bikes and teams to try to change the story for 2022. Tomac was once so physically dominant even Webb couldn't hold him back. Perhaps that Tomac returns in '22, or the change comes from someone else. There's a whole new crop trying to break through.
Sexton certainly has the physical side dialed with riding form, lap times, and more. On the other end comes Dylan Ferrandis, who is wise beyond his years because he actually has a lot of years. Ferrandis is the same age as Roczen and only two years younger than Tomac. He might only be entering his second 450SX campaign, but he's been around the block. Now, simply being a seasoned racer doesn't automatically fast-track someone through the process of a 450 main event. We thought Zach Osborne, for example, could learn more quickly because of his life experience, but he took on the same growth curve as everyone else. We thought the character Adam Cianciarulo had built through his roller-coaster 250 career would leave him more seasoned for the 450s. Instead, he's had the normal ups and downs.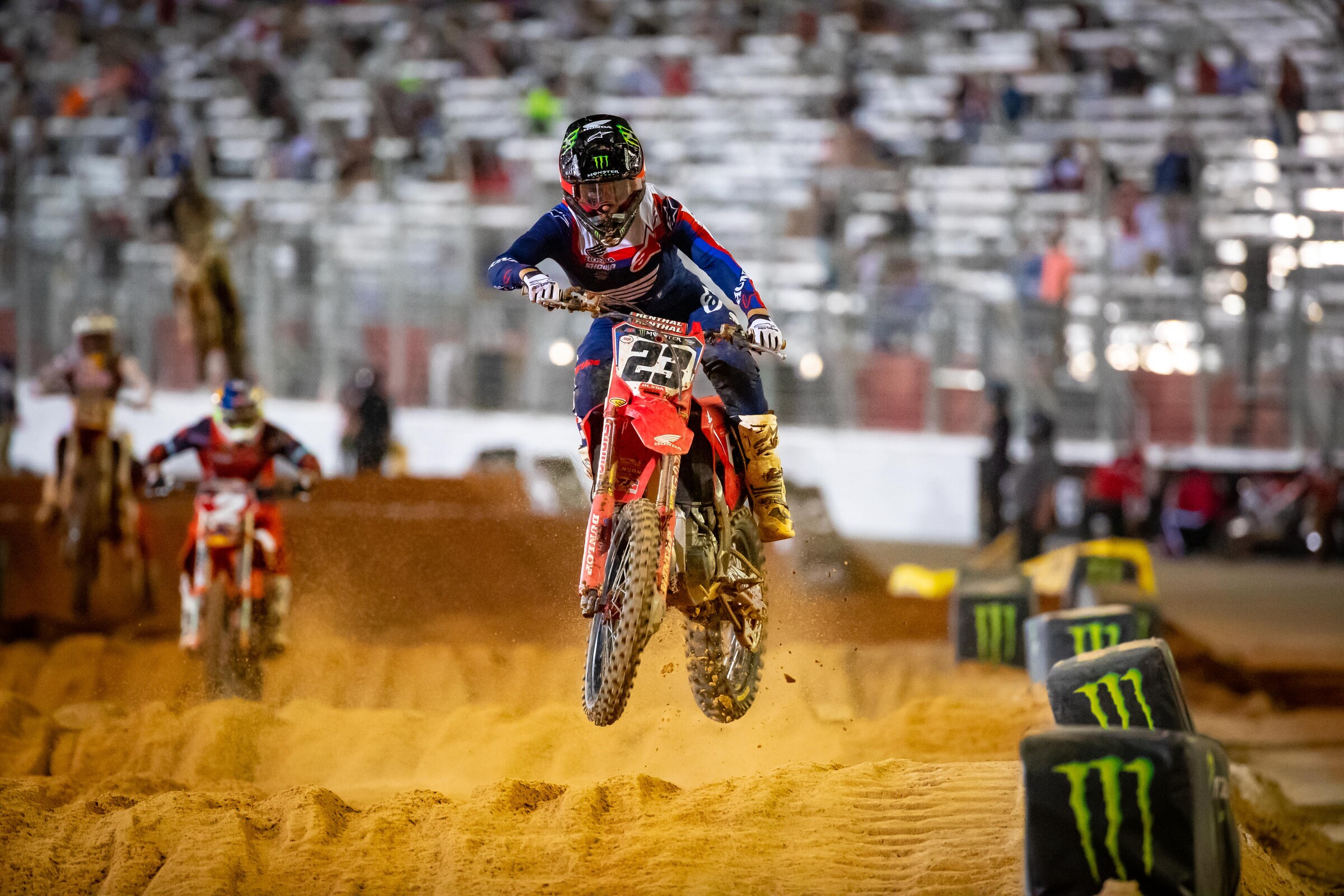 It just so happens that Ferrandis' strengths make up for the usual weakness of a newcomer to the 450 class. He gets better late in the races, and the rougher the track the better, especially the whoops. His outstanding ride for a podium came early last year, at round two, and mostly because the whoops had become a hell scape for even the best riders. Ferrandis does not fear that fire. You can't predict or regulate when a track will form like that, but you know that Ferrandis has the same late-race abilities as Webb. It's a little different, as Webb would solve the problem by changing lines or working around it, Ferrandis is just a bad dude who can skim any kind of whoops, no matter how bad they get.
We just said how Osborne had to go through the same touch-and-go growth phase as everyone else. Unfortunately, his back gave out on him before he got fully into his 450SX prime. It could have worked out.
You'd think it will work for Ferrandis, too. We just watched him whip the best in the Lucas Oil AMA Pro Motocross Championship. You know Dylan is mentally and physically tough as nails. Ferrandis' problem is actually the beginning of the race. Most rookies come in with hot lap times. They grab starts and lead laps based on adrenaline. Then they throw it away because they don't have the experience. That's what Sexton is talking about. Ferrandis could probably handle that load right now, but he needs to get into that position in the first place. In his 250 career he often had to chase from the back, but he was so fast, gritty, and determined he could do it. Last year's 450 rookie season in supercross saw him nowhere early way too often. Lots of fast laps from Ferrandis that didn't translate to good finishes because he wasn't up there early. Remember, Webb may be an incredible closer, but since switching to KTM in 2019 he's also been an incredible starter. He holeshots, he hovers in the top two or three, then he goes to work.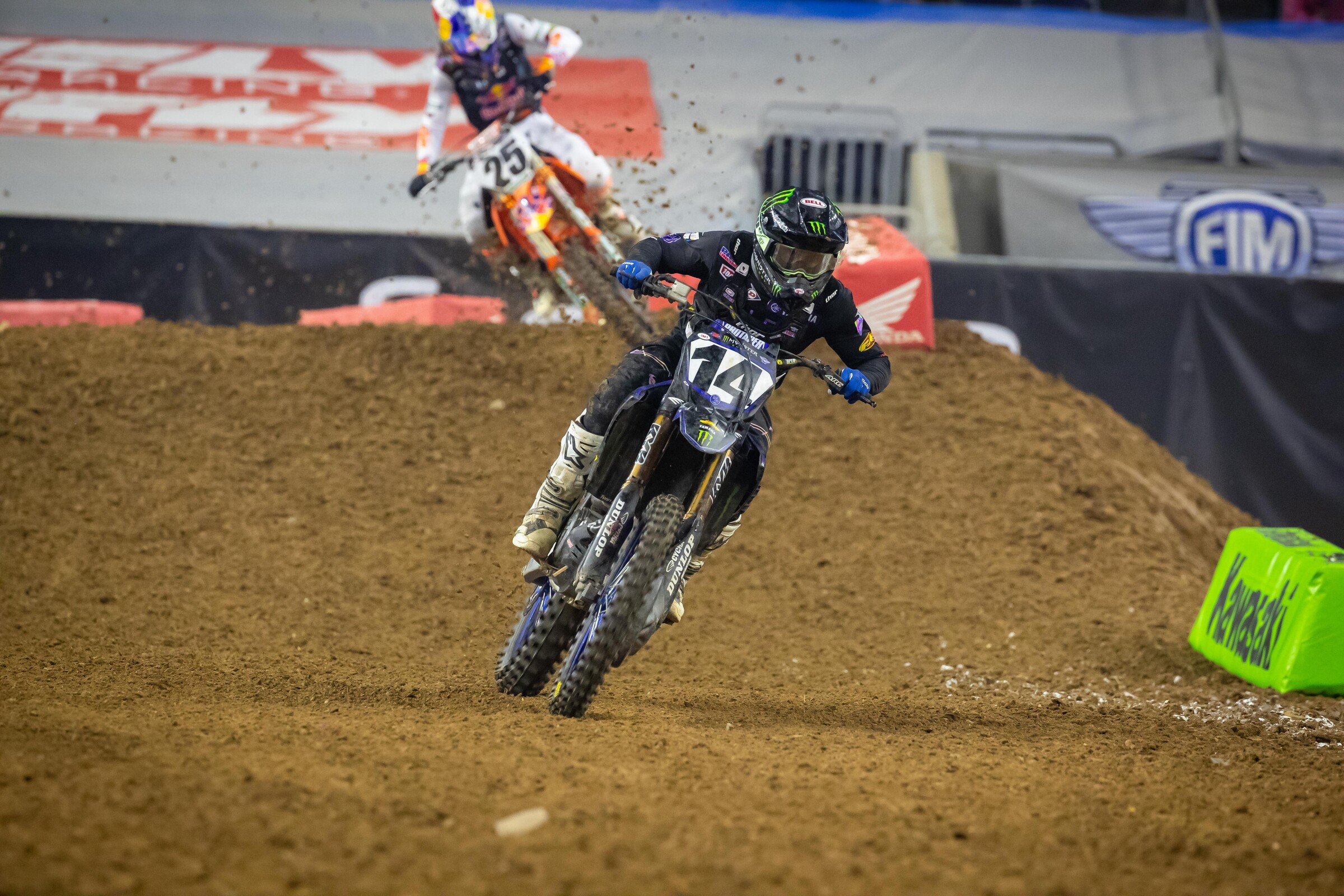 You can ask Tomac about the odds on starting seventh and trying to be consistent enough in supercross to win the title. Like Ferrandis, the title comes a lot easier in a series that goes 35-plus two times two. In supercross, Ferrandis will have to solve the start and the early laps. He may already have figured out crunch time.
There was a time in supercross when people were chasing Jeremy McGrath's jumping or Ricky Carmichael's fitness or James Stewart's mind-blowing emoji. The game is more refined now. Everyone is tightening up. It's a game of execution now, and Webb is indeed the executioner. Everyone knows it, but can anyone else do it?