Muc-Off Backs Six-Rider FXR ClubMX Yamaha Squad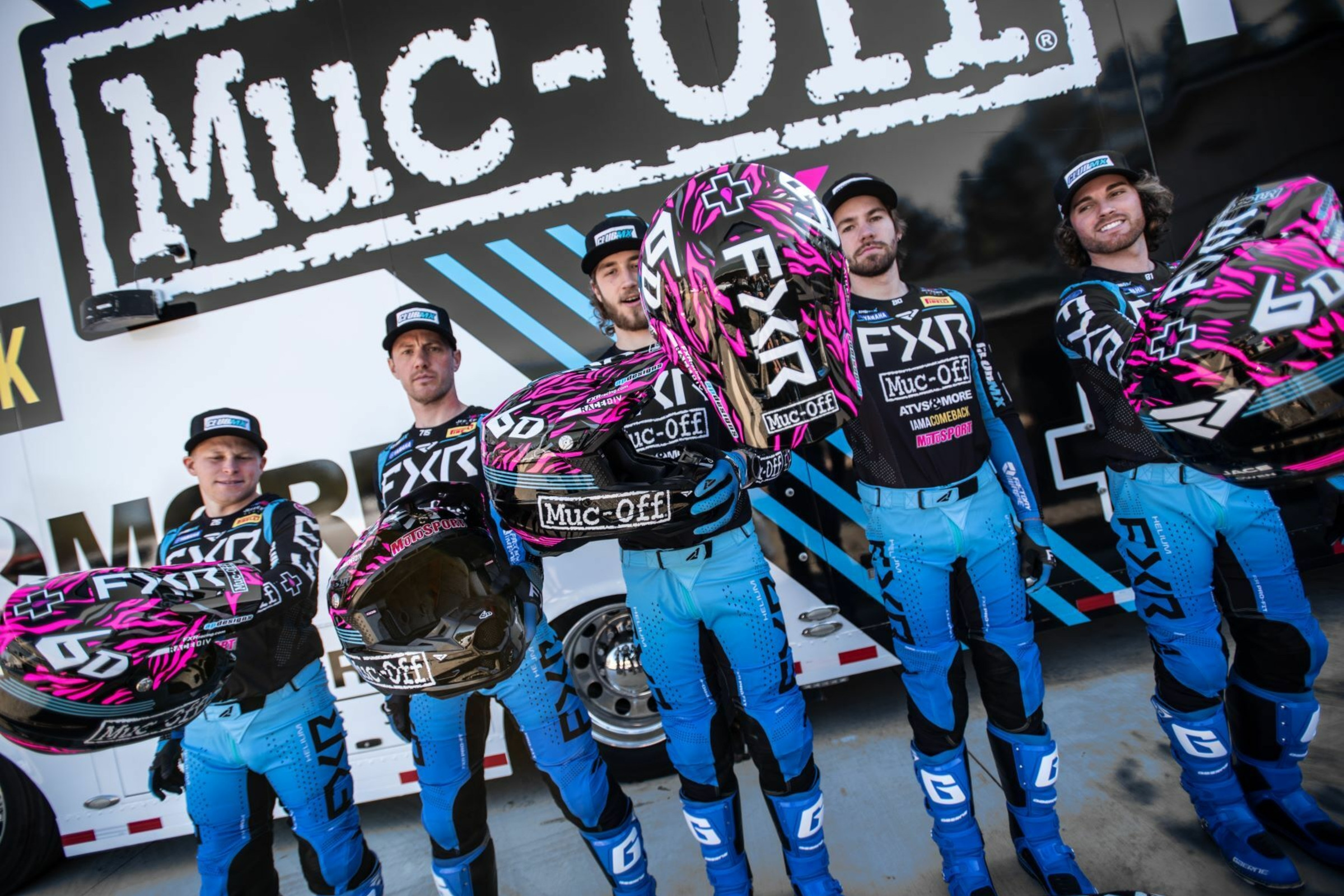 Minneapolis, MN
Minneapolis
Monster Energy AMA Supercross Championship
The ClubMX Yamaha team keeps growing. After adding a big talent in Garrett Marchbanks last year and competing in the Lucas Oil AMA Pro Motocross Championship for the first time, the squad takes another step for 2022 by adding a full-time 450 rider in Alex Martin, and racing both the full 250SX West and 250SX East Championships for the first time.
The squad also has a new sponsor at the top with Muc-Off. Muc-Off backed a Honda team last year with Justin Brayton. That former Muc-Off Honda team has now morphed into the Fire Power Honda team for 2022. Brayton still has a Muc-Off sponsorship in his return to the SmarTop/Bullfrog Spas/MotoConcepts Honda team for 2022.
ClubMX and Muc-Off announced their new sponsorship today, as well as the full-six rider lineup. The team has added MotoSport as a sponsor as well. A press release and video sit below.
The Following is a Muc-Off Press Release
Muc-Off Joins ClubMX for 2022 Supercross Assault
FOR IMMEDIATE RELEASE — Muc-Off is proud to announce it will become co -title sponsor for AMA Supercross team Muc-Off FXR ClubMX for the 2022 season.
Muc-Off FXR ClubMX, run by ClubMX president Brandon Haas, will be competing in both the East and West coast of the Monster Energy AMA Supercross Championship for the first time as well as the Lucas Oil AMA Pro Motocross championship later in 2022 with a huge six rider line-up.
Heading up the team is Alex Martin, who is a two-time Lucas Oil AMA Pro Motocross Championship 250 runner-Up. Martin is leading the way in the 450 class for the team in 2022 onboard the Yamaha YZ450F. He will be competing in the full Supercross and Pro Motocross championship and has a long history with ClubMX, as he broke into the ranks as a young pro whilst training at the facility.
Garrett Marchbanks leads the 250 West Coast assault for the team onboard on the Yamaha YZ250F. Marchbanks was a 2021 podium finisher in the East Coast leg of the championship. Joining him in the West will be German rider Dominique Thury, a former European Supercross Champion.
Phil Nicoletti, the 2019 Canadian Triple Crown Champion and 450 Supercross Canadian champion, is returning to the squad for the upcoming season after training at the facility as a rookie. Nicoletti will be racing on the Yamaha YZ250F in the East coast part of the championship. Joining Nicoletti in the East coast 250 class are Brazilian rider Enzo Lopes and Jace Owen. Lopes finished fifth in the 2020 East Coast Championship back in 2020 and Owens is a former Arenacross Champion.
"I am totally pumped to be back in Supercross for 2022 and to be working with such a dynamic team. The core vision Brandon has, has really resonated with us as a brand. To be able to support riders from the grass roots and to nurture them up to the elite level is very unique and something we have been doing in both the cycle and motorcycle industry for years. We look forward to an awesome indoor and outdoor season in 2022!" – Alex Trimnell CEO Muc-Off
Muc-Off will be supplying the team, including both riders and mechanics, with a full supply of their innovative motorcycle products from their Clean, Protect and Lube systems. This includes the renowned pink Nano Tech Bike Cleaner; the flagship product that launched the brand back in 1994. Muc-Off will also be working with the team to develop new off-road products to help them drive their competitive edge further on the track.
Custom Muc-Off helmets will feature throughout the season, designed by the in-house creative team at Muc-Off, and the team will be racing in a distinctive new range of team apparel backed by FXR Racing.
The Supercross season gets underway at the Angel Stadium Anaheim, California on the 8th of January 2022. This will be the first of a series of races on the west coast.
"We have been growing as a team every year and for 2022 Muc-Off is helping us achieve new heights. With their support, it will be the first year that we travel to both coasts for supercross plus race the entire outdoor series - it is pretty exciting. The entire Muc-Off team has been a pleasure to work with and as a company we share a very big international audience. It made good sense for us to partner together to help each other accomplish our goals, and the new season will show what we are capable of on and off the track." – Brandon Haas President of ClubMX and Team Principle
Check out this hilarious video and amazing acting.
MotoSport.com Sponsors Muc-Off / FXR / ClubMX for 2022 Season
Portland, OR – MotoSport.com announced its support today of the Muc-Off/FXR ClubMX Team for 2022 as the company continues to grow its presence and invest in a long tradition of sponsoring riders and teams.
MotoSport has had an active role supporting the Lucas Oil AMA Pro Motocross Championship in recent years and returned in 2021, after several years away, as a sponsor of a podium contending squad and now continues that effort for 2022 with the Muc-Off/FXR ClubMX team. Therefore, fans of dirt bike racing, Phil Nicoletti and Alex Martin can expect to see the #1 online powersports retailor helping in a larger capacity for the indoor and outdoor seasons next year.
"All of us at MotoSport.com are excited to partner, support and be a part of the Muc-Off / FXR / ClubMX team for 2022," said Scott Huddleston, Senior Vice President and General Manager of MotoSport. "We are looking forward to having a presence at supercross and motocross as well as being part of the ClubMX practice facility."
MotoSport's concerted effort in giving back to the sport of dirt bike racing continues to grow with a broader reach. First with motocross, something the company plans to continue in 2022, as well as individual rider sponsorships, including Phil Nicoletti last year and now the broader ClubMX team for 2022.
"We enjoyed being part of Phil's program in 2021 and with the team expanding their roster with Alex Martin, a larger 250 Supercross team including the sneaky fast Garrett Marchbanks, and continuing to support Phil, we can't wait to see what the riders can do," Huddleston said. "In addition to some talented riders, the team also has great support with sponsors we are excited to partner with such as Muc-Off, FXR, and Yamaha."
Expect a different ride for the two veterans as Nicoletti will tackle the 250 class for both Supercross and Motocross while Martin plans to saddle a 450 for the first time in his career taking on the full season of Supercross before transitioning to outdoors in May on the same bike. The Muc-Of/FXR ClubMX team will field four additional riders for the 250 class in supercross: Garrett Marchbanks, Jace Owen, Enzo Lopes, and Nique Thury. Marchbanks and Lopes will also ride in the 250 class for motocross.
"It just made sense to work with one of the best companies in the motorcycle industry not only for their great reputation but for their guidance and knowledge of the sport," said ClubMX owner Brandon Haas. "Their management team has been a joy to work with and understands our plans for the future. In return, they recognize our marketing abilities will help them with their initiatives and we will have fun doing it."
About MotoSport
MotoSport has led the powersports industry by offering the best selection of parts, gear, tires and accessories since 1999 for your dirt bike, motorcycle, ATV, or side-by-side. MotoSport wants to "make your next ride your best ride" by making it easy to order online and receive outstanding customer service from their knowledgeable gearheads who own, ride, and wrench on their machines. For more information, visit www.motosport.com.