The last few years of Justin Bogle's career have been far from what the 2014 250SX East Region Champion expects of himself. On the heels of a few bad injuries and concussions, Bogle went to work on climbing back up with the Rocky Mountain ATV/MC-KTM-WPS program. There were flashes that the old Bogle was still there, though he never quite put it all together on KTM. Now he has signed with Twisted Tea/HEP Motorsports Suzuki and comes back to a familiar feel with the Suzuki brand that he last found success with race victories in the 450 class of the Lucas Oil AMA Pro Motocross Championship. With a fresh outlook on his goals and expectations moving forward, Bogle is excited to see what he can achieve with his new program.
Racer X: Tell me about joining the Twisted Tea Suzuki team? First impressions with the team, the bike, and everything you've seen so far?
Justin Bogle: Super excited. The HEP Suzuki Twisted Tea, it's an amazing group. It's very exciting to be a part of something. This stage of my career, being able to learn and grow with the guys and be back on a Suzuki, which I had some success on in the past. It's been a lot of fun. It's definitely different, and that's always nice. At this stage of my career, like I said, I'm like ten years deep now. Variety is the spice of life. Change is very good for you sometimes. I'm having so much fun right now. I'm very motivated. I made a lot of changes in my program. So, it's been good. I've been having fun working with the guys on the team. Dustin [Pipes, team manager], Clark [Jones, crew chief], my mechanic Andrew [Livingston]. We've been getting some stuff figured out and it's been really fun.
You've always had success with Suzuki in the past and I know that it has changed a little bit since the last time you rode it, but how much is coming to this team learning the bike over again versus learning the team and the program and everything that is associated with that?
Going to a new team is always a bit of a challenge just because it's always new people, new personalities. You're learning how everything works, how everybody works. They're learning you. With me specifically, it's probably a little bit more of a challenge because I can be a little bit of a loose cannon with some things sometimes. They've been so awesome to work with. The Suzuki is pretty similar to the last time I rode it, but with three more years of development and testing and stuff to work with, which is so nice. Obviously, the last time I was on a Suzuki was year one on a new chassis. It doesn't matter what bike, what year, what time it is, that's a big challenge and a big thing to undertake and try to be successful in year one with a new chassis and new bike. I was pretty comfortable right off the bat. I told the guys when we got to the test track, I said, "Just so you know, I'm probably going to roll around and double stuff for a while." And then I got on the track and I tripled through the first whoops section. I was like, all right, I'm just kidding! I feel better than I thought I would right off the bat. The bike is very different from what I've been on the last three years, so the little things take some time to get used to, for sure. There's things about each motorcycle that are different. Some do things really well that others don't and then vice versa. There's things that each bike does good. So, there's a few things about the Suzuki that I really missed and I really like, just simple stuff. Doing starts and stuff. Having a cable clutch. The engine package that we have. It's very fun to ride, in that sense. So, I've been enjoying it. Like I said, it's a lot of work. New team, new bike, all that stuff, but it's also exciting. I thrive off of excitement and having fun and just new stuff. It's nice. You get that feeling in your stomach where you're just excited and ready to go. That's worth its weight in gold for me.
What is it about the Suzuki chassis compared to the KTM that you feel is comfortable that you found right away fits with your style and everything that you like about what you feel from a bike? You're a very smooth and calculated rider, and it seemed like you maybe struggled to find that similar feel with the KTM. So, what is it about the Suzuki chassis that you like that does it for you?
The chassis is so different from the KTM to the Suzuki. We're talking steel frame to aluminum frame. It's drastically different, just the way it's set up, the balance of the bike, all of that. I definitely struggled with a few things the last few years with just setup and just with myself trying to get comfortable. That being said, I mightily struggled my last year on Suzukis as well. So, a lot of that boils down to just JB19 having a hard time! So, I've been putting in a lot of work. I made some changes with my program. Things have been coming around. I really enjoy the engine package that we have. It allows me to kind of be smoother and lug the bike around, which I really like to do. That cable clutch, I love it because I like to adjust it all the time and I like the feel of it. It's a very different machine, for sure, but at the same time, we're professionals and you've just got to maximize what each bike does well. That's kind of something I'm learning further into my career. Nothing is ever going to be perfect no matter what you do, and it doesn't matter if we're talking dirt bikes or life. For myself, I've got to maximize what I'm good at. I think I know what my strengths are at this point. With a motorcycle, each bike does something good. So, I'm trying to make the most of what this one does good and what I do well and try to mesh the two together and hopefully that's a good combination. So far, so good.
You mentioned a little bit about at this stage in your career you like being able to go to this new challenge. You've come from high-level factory teams, and this is like a factory-level team to a degree, but you're almost helping the team to continue growing into that factory level. So, what is it about this challenge and this stage in your career that you find most rewarding about joining this program?
At this point in my career, I've been in this a long time, but I still feel so young. Inside I feel like that 18-year-old, still. Lately I've been starting to kind of almost like Stella getting her groove back a little bit. I'm starting to feel more like myself again. So, that's very encouraging for me and the people around me. Just going to a team that's a new challenge and bringing what I bring, which is a lot of experience—experience with the good, the bad, and the ugly. I've won races. I've also been at the very bottom of the barrel before with this thing. I've been at a lot of great teams, worked with a lot of great people. Going to the team, they're very excited for me to be there. They're very respectful of me and my program and what I do bring to the table, which is almost the most important thing for me. That means the world to me with that, because at this point, I don't need somebody telling me what to do at all times. I don't need someone kind of trying to steer my ship for me. I think if we are on the ship and we steer it together and have a common goal and the GPS mapped out correctly and at least a plan of where we're trying to go, then I think that's when success can happen. I'm not going to this season or any of this stuff expecting to go win or… Let's be honest. I've got this delusional confidence in myself, but I'm also understanding of reality and at the moment I've got some work to do. It's very cool, though. Being able to work with those guys and just have everyone be excited about trying to build this thing together and trying to progress as a team and help these guys learn more and become bigger and better, and then for myself try to kind of revive my career a little bit. I feel like I have a lot of years left in me at this point, which I didn't feel like that a year, year and a half ago. That's such a good feeling. Just to be around positive, excited people is so fun and encouraging. I'm enjoying the challenge. I feel like I bring a lot to the table. Those guys are bringing a lot to the table, and they're willing to do the work and doing their best to give me what I need. Ultimately, I never want to have any reason to have any excuse. I want it to be my fault if I don't do good. So, if they give me everything they have at their disposal and work with me as much as they can, then ultimately it falls on me and as a man, I can take that. It's cool, though. I'm so excited. Everyone says that when they go to a new team. I know that, but I've been a lot of places. Just the vibe and the environment is so important to me, and it's been really good.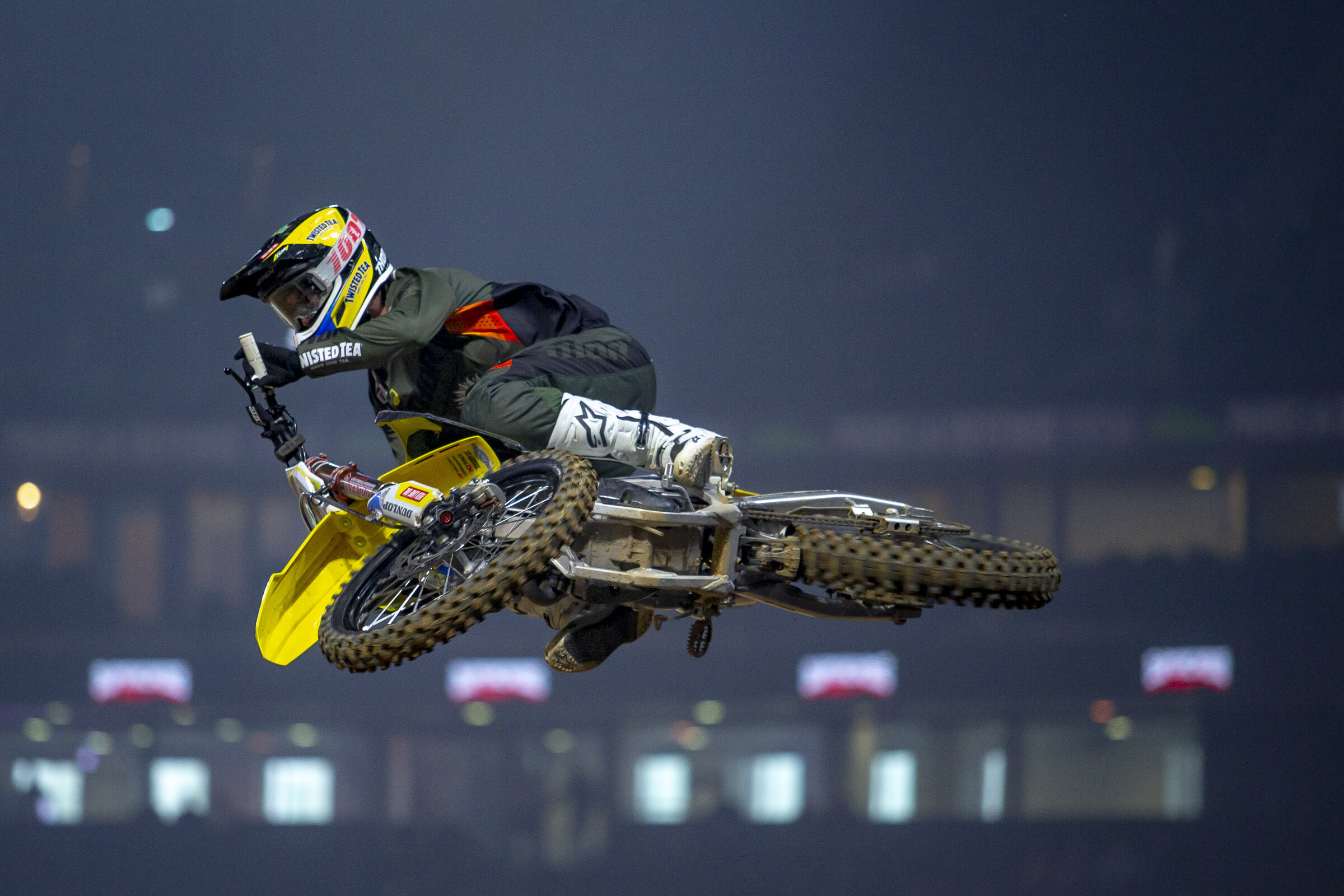 If you look forward to 2022 supercross and reflecting on the struggles you've had the past couple of years, what is a realistic expectation that you put on yourself? Is there a number, a place that you want to finish to feel good about yourself?
I don't think that's a good idea to put a number that you want to finish or do whatever. I'm out here at 83 Compound. I ride with Cooper [Webb] and all those guys. For Cooper Webb, he's going to be planning on becoming a champion again because he is a two-time supercross champion. I have not won a race in my 450 career. So, for me, it's obviously a different thing. I'm going into a new team. I've struggled the last handful of years. It's not exactly been all roses and just beautiful scenery all the time. I'm just looking towards progression and trying to just make the most of my opportunity that I have here. Learn, grow, try to just improve every week, and just do as good as I can. I don't know what that is. Sometimes I go out and surprise myself. Try to rip a start. If I rip a holeshot, then who knows? That's one of my strengths is that I don't ever really believe the pecking order thing. Every time I go up there it's, who knows? You never know what can happen. Obviously, I'm a competitive person and I would not still be doing this after everything that my career has taken me through, and the roller coaster ride that it has been, if I did not still believe in myself greatly. So, of course I want to be up front. I'm competitive. You get out there and you want to go for it and try to be one of the guys, but whatever it ends up being, it is. I don't have an answer for you as far as what place I want to get. I want to win, dude. First place, duh. That's what we do this for, right? But I want to be up front. I don't know.
Watch the video version of this interview below:
---
Main image by Christophe Desmet