Arroyomolinos, Spain
MXGP of Spain
FIM Motocross World Championship
Romain Febvre is in a weird situation. The 29-year-old is one of three riders split by just 15 points after 13 rounds of 18 in 2021 FIM Motocross World Championship (MXGP) and is having a sterling season in what is his second year with Monster Energy Kawasaki. He is on the edge of giving the Japanese brand their first world title since 2006 (excluding their fine efforts in WMX) and first in the premier class since the FIM series switched to MXGP/MX1 and MX2 in 2004. Despite this status, Febvre's squad will fold in a matter of weeks and the focus of Kawasaki's MXGP future—as well as the direction of his fresh two-year contract extension with the factory—will switch to another crew; allegedly the current IceOne team.
Febvre shot to prominence in 2015 where he became the second premier class rookie to seal world championship success in his first term. He'd been a flamboyant but temperamental rider in MX2 and finished third in the standings in 2014 but shocked the establishment with his rapid adaptation to the Monster Energy Factory Yamaha. By the end of 2015 he was passing the likes of Cooper Webb on the outside of Glen Helen's downhill turns and sweeping the Monster Energy FIM Motocross of Nations in front of a passionate home crowd at Ernee. As first signs go, his 450 debut was something special. Injury, pressure, uncertainty over set-up, and volatile teammates all meant the following five years saw his speed and potential interrupted.
Febvre's initial campaign with Kawasaki was ravaged by the mess with COVID-19 in 2020 but he still lodged six podiums and improved on that promise this year.
Racer X: 2021 is your best and most competitive season since 2015?
Romain Febvre: I would say so; it's just that I'm not injured! It was tough for a few years and when you're injured you lose time. It's hard to come back to your base level and when I got back to being competitive again, I'd have another injury. I feel really good with the bike at the moment—and also last year—and everything is clicking well with Kawasaki. I'm fit and had a strong winter.
You had a concussion in 2016, the broken left femur in 2019 among other problems. Were the crashes down to your misjudgment or just misfortune?
Difficult to judge the percentage of bad luck but sometimes it was like this and sometimes it was my fault. That's motocross: sometimes you can do everything right, but a crash still happens, and an injury comes along because of it. I had some moments where I made mistakes but, generally, it's all in the past and I'm very happy with where I am today.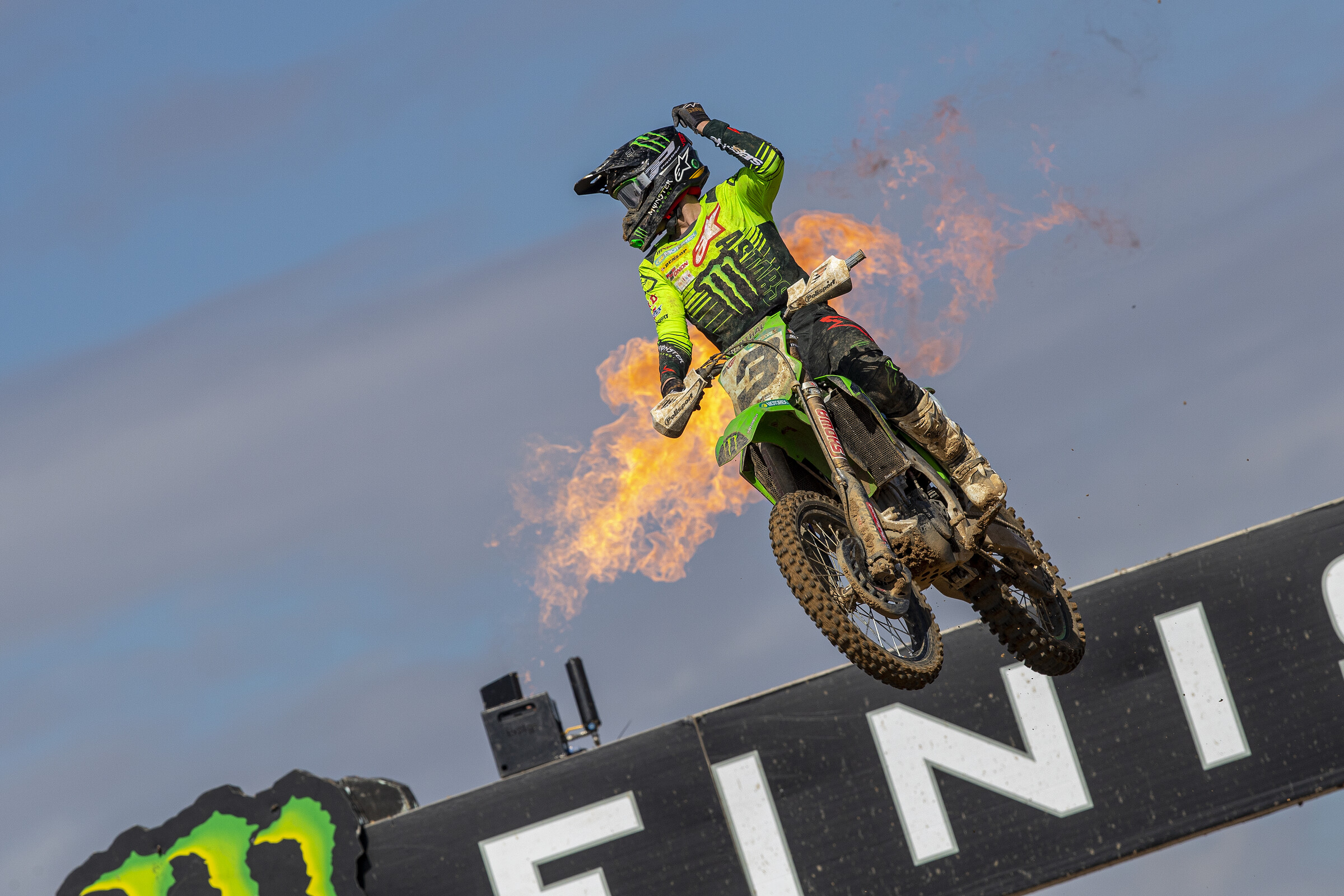 In France last week you cited your competitiveness down to fitness and your physical condition. Is this at a peak now through experience? Or is it the work and knowledge gained through your collaboration with Jacky Vimond [France's first world champion]?
A bit of both. For sure the work with Jacky is having an effect. I believe in his program, and we had a really good winter together. I'm able to feel at "one" with the bike and that is also due to the work in the off-season. It's all paying off. We started 2021 at the front and we can battle for race and GP wins. It's what we were looking for.
The championship is very close, and this must be invigorating but you've also made some little mistakes this year, such as in Turkey and Holland, so do you feel there have been some highs and lows in terms of performance?
Hmm, highs and lows no. I've been quite consistent, I think, but there have been mistakes, like you said in Turkey. Those mistakes could have been avoided, especially the timing because I feel like I have paid for them "in cash" but the championship is still close and getting very interesting. It's good. I feel very good, and I like the GP tracks that are coming, so no excuses.
Silly question but when it comes down to the final motos and the last results mean you might slip to fourth rather than being say first or second will that sting a bit more?
We are so close that if you don't end up winning, you'll be disappointed. That's how it is normally anyway. No regrets. We will try our best in these final GPs. It will be really tight…and I think it's down to the three of us now.
MXGP
| Position | Rider | | Points |
| --- | --- | --- | --- |
| 1 | Jeffrey Herlings | | 708 |
| 2 | Romain Febvre | | 703 |
| 3 | Tim Gajser | | 688 |
| 4 | Jeremy Seewer | | 566 |
| 5 | Jorge Prado | | 562 |
Full Standings
You're a relatively new father so has that extra balance between racing and home life been positive for your form on the track?
Yes. It's a scenario now when you open the door to your home you tend to forget about the racing for a bit. I still have the same emotion and reactions as always at the track, and before and after the races but at home the need to think about improvement, what I should be doing and to analyze what happened the last weekend is less. In a way it's good because your focus changes. I know that can be positive and negative but I'm able to "clean" my mind. Children and family really help with that and maybe I'm a bit more relaxed in my life. I enjoy the small things more. I have a good compromise.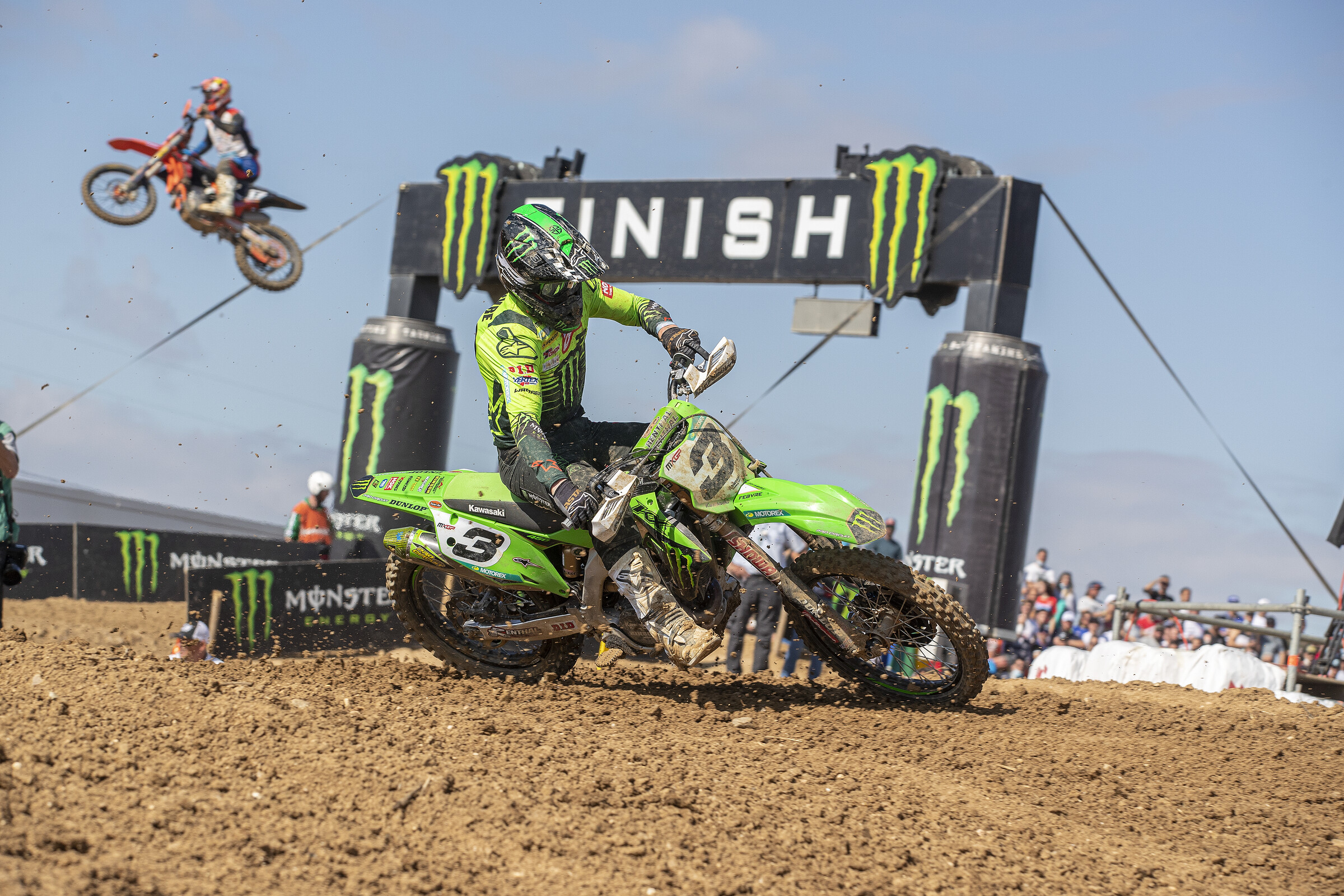 Your KRT team will stop at the end of the season. You renewed your contract with Kawasaki and will switch to another set-up. Was it hard to concentrate on the races with all that distraction going on?
Not that much actually. I, and the guys in the team that needed to know, were aware that this was coming [the closure of KRT]. So, there was time to think about my possibilities and what was best for me. It was not like a last-minute stress. For sure when the results are good, and the season is going well you have the feeling that you don't want anything to change! But that's how it is. I had time to think what I wanted and I'm very happy with my decision to stay and make another contract. In a way it's another adventure.
In 2015 you adapted very quickly to the 450 and won the title in your rookie season. You also blended well with the Kawasaki in your first term on the KX450F in 2020 with a win and six podiums. There are not many riders in MXGP recently who have changed factory teams and had great results straightaway. Is that testament to you and your ability?
It's difficult to say. For sure I feel good in this class. Before I came to GPs, I was riding 450s in Supermoto as a youngster so I was used to the power. Perhaps it played out for me better when I came to MXGP from MX2. I think it gave me a lot of feeling and helped me to set up the bike quite quickly and easily. With my experience now I know what to change on the bike to adapt everything quite fast. Maybe that's how I'm better than some other riders and helps with my transition. It's not only that though. I've been lucky in my career. I didn't achieve everything I wanted when I was younger but since 2013 everything has been on the right track, even if that meant some decisions that went against the opinions of some close friends. I trusted my instincts and maybe didn't always take the best contract but the best bike or opportunity. When I moved to Yamaha everyone said I was crazy and I wouldn't be world champion with that bike, but it worked out and, eventually, today we are here looking for a second MXGP title.
---
Main Image: Kawasaki Racing Team/Ray Archer