Anaheim, CA
Anaheim 1 (A1)
Monster Energy AMA Supercross Championship
The SGB Racing team has announced some changes to its program. The Maryland-based suspension company started a race team in 2020 and has competed on Kawasakis since its inception, racing with several riders in the 450SX class and supporting 250 riders as well (including female pro racer Jordan Jarvis). Now, the team is switching to Honda, with the help of Storm Lake Honda, and has locked in two riders for next season: Alex Ray and Cade Clason (follow their new team page @sgbhonda on Instagram). Ray, who raced with the team in 2020 and 2021 but underwent double wrist surgery near the end of the Lucas Oil AMA Pro Motocross Championship, will race Monster Energy AMA Supercross but will serve as crew chief for Pro Motocross. Ray posted the following on his Instagram:
"I will be rejoining the @sgbhonda team this year ! I'm excited for the switch to Honda ! Let's have a good year ❤️"
The SGB team posted the news of him serving as crew chief:
"Welcome back to the team @alexray_87 for the 3rd year in a row. Alex will compete in the 450 Supercross series and take on the crew chief role as the series heads to the great outdoors."
Clason, who raced with the PR-MX Pelletier Kawasaki team in 2021 and made eight main events (season-best 17th at the Arlington 1 Supercross), finishing 26th in the 450SX standings, then competed in seven Pro Motocross events, finishing 44th in the 450 Class. Clason will race both AMA Supercross and Motocross on a #78 CRF450R. Ray and Clason found each other several times on the track, and the team made note of it in the team announcement below. Ironically, the two will be #78 and #87.
Clason made the announcement last night on the PulpMX Show, followed by this Instagram post:
On the PulpMX Show, Matthes acknowledged the SGB team's switch to Hondas for 2022 and announced Clason will be joining the team as well. Clason said the following on the deal:
"I have, and I'm rather excited about it! ...I talked to Jason [Butschky, team owner] last year, and I stayed where I was. He didn't really have anything to offer me. He contacted me right after supercross, this year, and we talked basically all of outdoors and he made me a pretty good offer. There were just certain things at the other team that I just wasn't super stoked on that I didn't really see changing. They were great, they had a lot of really good sponsors, my bike was great. I had no complaints about things that happened at the races, stuff like that. I had a great program, I was stoked about it. But there were some things moving forward that I didn't really want to be a part of and played a big decision into it and, yeah, I'm stoked. Jason made me a really good offer. I'm happy to be over there. We have a good group of people around us. I like Jason, I've been to the shop three times now and hung out with them and just seeing what it was all about. And that was even before I signed with them because I wanted to make sure I was making the right decision. And it's been good so far."
"I just picked up my bike Saturday. …I haven't ridden it at all, not once. …I used to like the old Honda really good. Obviously, it's really different but I think it's more geared towards supercross, the way the bike setup is, which I'm fine with. I'd say 70 percent of our year is based on how we do in that aspect of racing so that's where I feel like that's where my main focus is at least going to be for a majority of the time being. I'm super stoked on the bike. …indoors and out, I'm doing 29 races. All of them."
"I think it's a step up. I think they are making strides to grow as well. There are going to be a lot of cool new things going on with us. There's going to be, I believe, four of us there, I think everyone is locked in, but I don't know what I'm allowed to say."
Clason hinted towards Justin Rodbell and AJ Catanzaro both returning to the team for 2022. Catanzaro was one of the riders using SGB-tuned suspension at the 2019 Red Bull Straight Rhythm event, when he went full Travis Pastrana mode in both looks and riding, saving a "flying W" then somehow landing and riding away from an extremely overjumped mistake over a vertical wall. Jeremy Smith, who raced with the team in 2020 and 2021, is hopeful to return as well, but nothing is set in stone for now. Jarvis competed in Pro Motocross the last two years, making it into three different events in those two seasons: 2020 WW Ranch National (DNS-32 for 38th overall) and Fox Raceway National (35-27 for 33rd overall) and the 2021 Washougal National (36-30 for 34th overall).
"I'm super stoked. It was definitely a step in the right direction. Like I said I'm stoked with Jason and everyone so far."
Then, when Ray called into the PulpMX Show, he mentioned some fun things the team will be doing throughout the year, including best and worst of the week trophies, a team vlog, golf tournaments, and more. Walking through the paddock, the SGB squad is usually full of smiles all day long as they enjoy being at the races. Even when parts were falling off of Ray's bike, the team tried to make the best out of every situation.
The April 2021 Issue of Racer X Illustrated
Moto Outliers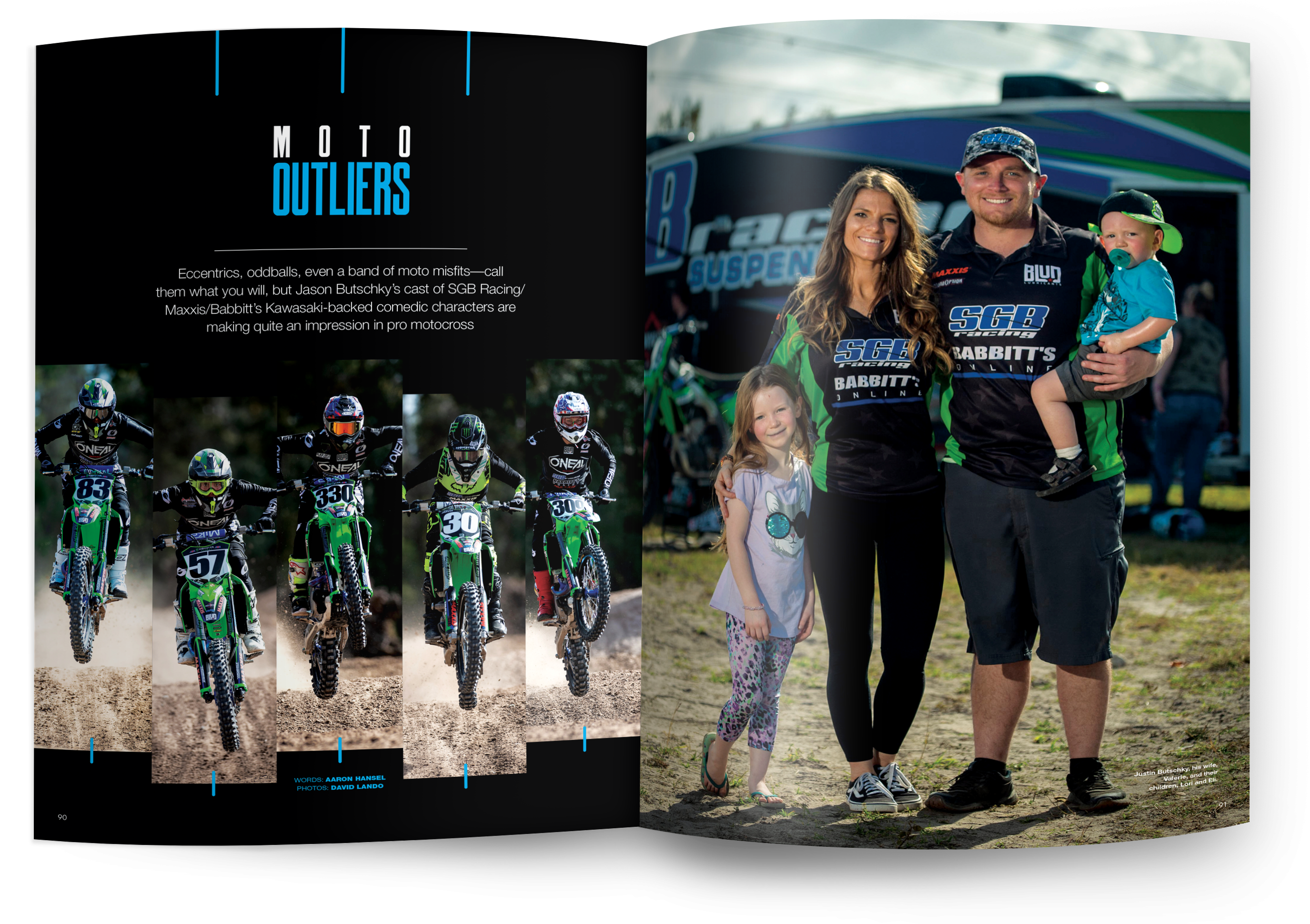 Eccentrics, oddballs, even a band of moto misfits—call them what you will, but Jason Butschky's cast of SGB Racing/Maxxis/Babbitt's Kawasaki-backed comedic characters are making quite an impression in pro motocross.
Read Now
Preview Now
The friendly, but competitive, relationship between Clason and Ray was on full display last night.
"Tensions are going to be high. Because last year, a lot of the supercross rounds he was pitted like across the way from me. So we would both come back, either I would be pissed or he would be pissed, I would be happy or he'd be mad…if I was mad, he would look over to the semi and I would be just middle-fingering that mother****r, you know what I mean."
"Every time," Clason laughed. "We were always parked next to each other."
"And it was the same way with him," Ray continued. "So this year, we're going to be right next to each other so I'm sure we're going to be exchanging words every now and then. Because I'm sure he's going to get in my way in qualifying, I'm sure I'm going to get in his way in qualifying and we're going to fricken clean each other out. It's just going to happen."
"The best is when, in Salt Lake, when I was so mad at you, you came over to our rig because you could hear my yelling, 'F*** A-Ray' so loud because I slammed my helmet down on the table because I was so mad at you," Clason said. "When you cross-jumped me and I jumped off the side of the finish line."
"I mean, I did, yeah. Psh," Ray said. "…But did you die? No!"
Watch PulpMX Show #480 below, where Clason serves as cohost to Steve Matthes (Ray calls in at the 2:59:00 mark). And watch for the newly-red SGB Honda team to make more announcements to the team in the near future.