Mantova, Italy
Motocross of Nations
Motocross of Nations
Main image courtesy of Yamaha Racing.
---
Ben Watson's first MXoN appearance for Team Great Britain was in 2018 at RedBud. He spent most of the weekend grinning. The Brits would eventually classify third for their second podium finish in a row; but the accomplishment was only recognized in the post-race furore of Team Italy's Michele Cervellin getting disqualified for a fuel infringement. In 2019 Watson's wrist injury meant his place on Team GBR at Assen was hastily taken by his older brother Nathan, who had previously competed in MXGP and was then a KTM factory rider in Enduro. Then the race didn't happen in 2020. For 2021 Watson junior finally had another shot. Mantova came in the middle of a tricky debut MXGP year as part of the three-man factory Monster Energy Yamaha squad.
After announcing himself on the international stage with a race win in his very first EMX250 European Championship event as a 15-year-old, Watson has been a slow-burner. He lost a year with a badly broken foot in 2016 but entered Yamaha's realm in 2018 and progressed to the point where he was one of the fastest athletes in MX2 in 2020, claiming two of the last four GPs and rightfully earning his MXGP saddle as he hit the 23-age ceiling in the class.
With teammates Jeremy Seewer and Glenn Coldenhoff only amassing two podium finishes between them in 2021, Yamaha's radar has spread wider to Watson's endeavours where he has shown top-five speed in a ridiculously competitive division but also puzzlingly struggled to score points at some of the faster and sketchier hard-pack courses in Russia and Turkey. The expensively assembled Yamaha effort are currently scratching for positives and Watson's learning season with the YZ450F has come under harder scrutiny as a result. With Coldenhoff and Seewer set with the brand again for 2022, Yamaha still has yet to state their plans for the Brit. Further, it's been mooted that current MX2 world championship leader Maxime Renaux could take his place in a situation where it seems patience is not part of the package.
In the Mantova sand, Watson buried some of his frustration with his right hand. A 3-4 was the strong foundation for the Brits' scorecard and announced that #919 is not to be underestimated. He won the MXGP class overall for the weekend.
"I know there were a few guys missing but to come here with two of your mates, giving your all and only being two points from winning, that's pretty amazing," he said afterwards of his efforts with Shaun Simpson and Conrad Mewse. "To be overall MXGP winner is the cherry on top of all of this. It gives me some confidence because my MXGP season has been very up-and-down. To come here and feel more like myself is so good."
Racer X: In 2021 you've either run close to the front of MXGP or struggled at the back. Confidence clearly plays a big part in your riding and this result must be a good booster.
Ben Watson: Yeah, definitely. The season has swung around. I know what I'm capable of but then sometimes I come into weekends, and I cannot perform 100 percent, and that gets pretty frustrating. When they announced the Nations would be mid-season and some guys wouldn't be here, instead of looking at it in a negative way I saw an opportunity to compete without some of the pressure of MXGP and just ride free. That's what I did today. I had two amazing starts and just went with it. For sure it's a boost and it's nice to go back to the GPs now after a weekend like this. I felt like I needed it because the last few weeks have been difficult.
Your first Nations was at RedBud where you had the top three, but you didn't get the podium celebration. You were injured and your brother had all the fun at Assen in 2019. This was finally your turn, but did you ever have any doubts about interrupting the GP season for it?
Not really. For my first season in MXGP I was not going to get hung-up over a particular result, championship-wise. It's good that I'm currently in the top ten, and that's not too bad for my first year on a 450. The Nations for me was another race to do. If I was fighting for a title, then my thoughts might be a bit more to one side but if you see Jeffrey [Herlings] and Tony [Cairoli] then they are still here racing. I think if you get the opportunity to represent your country against some of the best of other countries then I wouldn't want to walk away from that. I'm not one to shy away. I'll come and give it my all. If I wasn't in Mantova then I'd have sat at home and watched it from the sofa, and I wouldn't have the feeling I do now. Not much can give you that [feeling] to be honest. So, I don't have one single regret. As a team we knew we strong and anything can happen at this race! We're over the moon.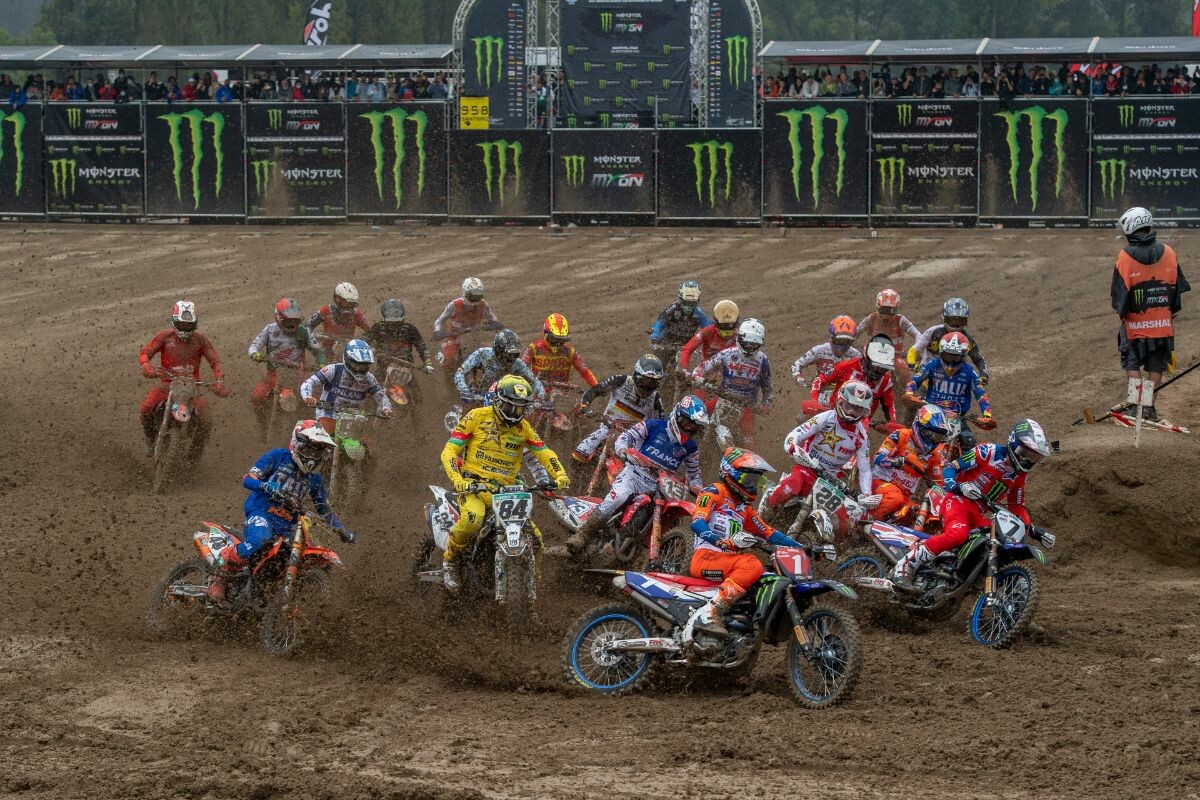 As you said, anything can happen, so was your heart in your mouth with your brief crash in the last moto? It almost all ended there.
Yeah! I lost my balance at the bottom of one of the take-offs. It was rutty and swiped my feet off the pegs. I had a really big crash but thankfully rolled out of it okay. The bike was a little bit bent, but I whacked the levers and got going again fairly quickly. It was heart-in-the-mouth, and I didn't know how many people had passed me. It took me one or two laps to get used to how the bike was feeling but I started to feel really good again. It was a shame to lose one position because I was third and behind Tony at that point but to be able to recover and make sure of fourth was amazing.
It hasn't been the more profitable season for Monster Energy Yamaha, and this is the first notable victory so far for them.
Yeah, it's great to see Louis [Vosters, Team Principal] and Vitaly [Tonkov, Team Manager] really happy. All the guys put so much effort in and to not have the results means it's been tough. I think it's a relief. I know sometimes they've been wanting a bit more from me…so to come here and show that I can do it is really nice for them and me.
MXoN
| | Rider | Hometown | Motos | Bike |
| --- | --- | --- | --- | --- |
| 1 | Ben Watson | United Kingdom | 3 - 4 | Yamaha |
| 2 | Vsevolod Brylyakov | Russia | 7 - 7 | Honda |
| 3 | Thomas Kjer Olsen | Denmark | 1 - 13 | Husqvarna |
| 4 | Glenn Coldenhoff | Netherlands | 15 - 3 | Yamaha |
| 5 | Karlis Sabulis | Latvia | 10 - 8 | Husqvarna |
Full Results
Your name will be in the Nations archive now. Is that something you can 'hang onto' for a while?
Oh, forever! I won't forget this day. Not many people can go home and say they won their class at the Nations. I actually didn't realise it until they said my name on the podium. An unbelievable feeling.
You and your brother have no both stood on the podium at this event. Were you ever riding with your brothers around the backyard pretending you were racing for the flag?
Only a few years ago we'd all get together – cousins, uncle, auntie – order food and gather to watch the Nations on TV. It was a big weekend for us at home. As big motocross fans and junior racers, the Nations was the biggest event of the year and to look back now and be an MXGP class winner is something I'll treasure.