Pala, CA
Fox Raceway 2
AMA Pro Motocross Championship
With his second-place finish at Fox Raceway, Monster Energy/Star Yamaha Racing's Dylan Ferrandis claimed the 450 Class title of Lucas Oil AMA Pro Motocross Championship one round early. The #14 becomes the second French-born rider to win the premier class Pro Motocross title in the U.S., following in the footsteps of pioneer Jean-Michel Bayle who became the first French native to win the premier class title in 1991 (then the 250cc class). Ferrandis said last year his goal from a young age was to claim a 250 title in the U.S. but said on the podium in California on Saturday a 450 title was "more than a dream come true" because he never thought that would be possible. Now that he's done it, he spoke with the media following the 11th round via a Zoom press conference.
Dylan, congratulations on the championship. It's a pretty significant accomplishment when you look at it in terms of the sport in general. We haven't had a French rider win this title in 30 years, with Jean-Michele Bayle. On top of that, it's your first year in this division. You even said it yourself on the podium. You never dreamt of winning this championship. You always thought a 250 title was yours, that you deserved that, but you never really thought about a 450. You've even shocked yourself. It's been an incredible year for you. You've just looked comfortable all season long. You looked like you belong. You just seemed to get better. We had our toughest weather conditions today and you didn't lose a step at all. Talk about the season, what it's been like to experience this to all of a sudden be a title contender and sustain it all season and to wrap it up here today. What has this season been like for you?
Dylan Ferrandis: It was such an awesome season. Like you said, I never really tried to think about this championship because for me it was something I never believed I could do it. I always train and try to be the best, but first season in 450, new team… I never really expected to win. So, for sure I was surprised all season with the result. Obviously today we had this goal of winning the championship, but you never know what can happen. All season it was a big surprise, and to finish like this, one round before the end, it's so unreal. Honestly, it's the best feeling ever. I was kind of hard emotionally because I put so much work on it that I just felt it was a normal week. We were on the amount of effort we put before to get to this point. I just felt almost like it was normal, but it wasn't really. So, it just felt a little weird on the podium. I think tomorrow morning when I wake up, I will really realize what happened. It's just great, great for me, great for all the people from Yamaha and all the people involved in the program. It was just really awesome. This track was really good today in Pala. I enjoyed the track conditions. I think the weather was really, really difficult for me today, personally. It was hard again. The last two rounds have been really, really hard for me. I think with the end of the season coming, it's just hard for the body for everybody. We've seen so many riders being really tired the last few rounds. It's true for me. After Ironman I was really tired, and again today after the first moto. I was really empty, and I had to dig deep in moto two to finish out front. Glad I did it.
I wanted to ask you a question on your whole career and maybe your development a little bit because looking back to your GP days, there were obvious signs that you had speed and talent all throughout, but you maybe had too many crashes or injuries or bad motos that you dealt with back then that you've completely leveled out now to become a champion here in the 450 Class. I want to know what you believe are the key catalysts to why those things leveled out and why you're able to kind of limit the damage in the motos now.
What happened when I was in GP was that I had to face one of the greatest riders we ever had, Jeffrey Herlings. So, I had to fight against him every weekend. I tried to beat him every time and he was just too strong for me. Most of the time, when I tried to match his speed or his fitness I would finish on the ground and hurt myself. So, that's why I think my career in MXGP didn't go too well, because he was just better than me. I tried to match him, and I tried to beat him too much. I finished too many times on the ground. I think that's what also makes me today better because I learned so much from that and from him. I feel like even today when I race against a guy like Eli [Tomac], when he's on the best day, I feel like I could beat Jeffrey, but I don't know. Jeffrey is such an animal and he's the best rider I ever had to fight against. I think that's why in the MXGP I had some issues. Moving to the U.S. was also for the supercross. I wanted to ride supercross so much. I always put my head down and tried to be the best I can and put some work. It took some time, I think, for my career to really get good. It took me some time to learn the life of the U.S. and everything. After I had the championship in supercross, from there come from that, I think I just get better every year. I think this season I was really at my peak. I never felt that strong before, and I was just at the peak of my career. So, I hope I can sustain this level for a couple more years. Anyway, when you win a championship it's the best thing ever. Whatever happens in the future, you still own this championship and that's the best feeling.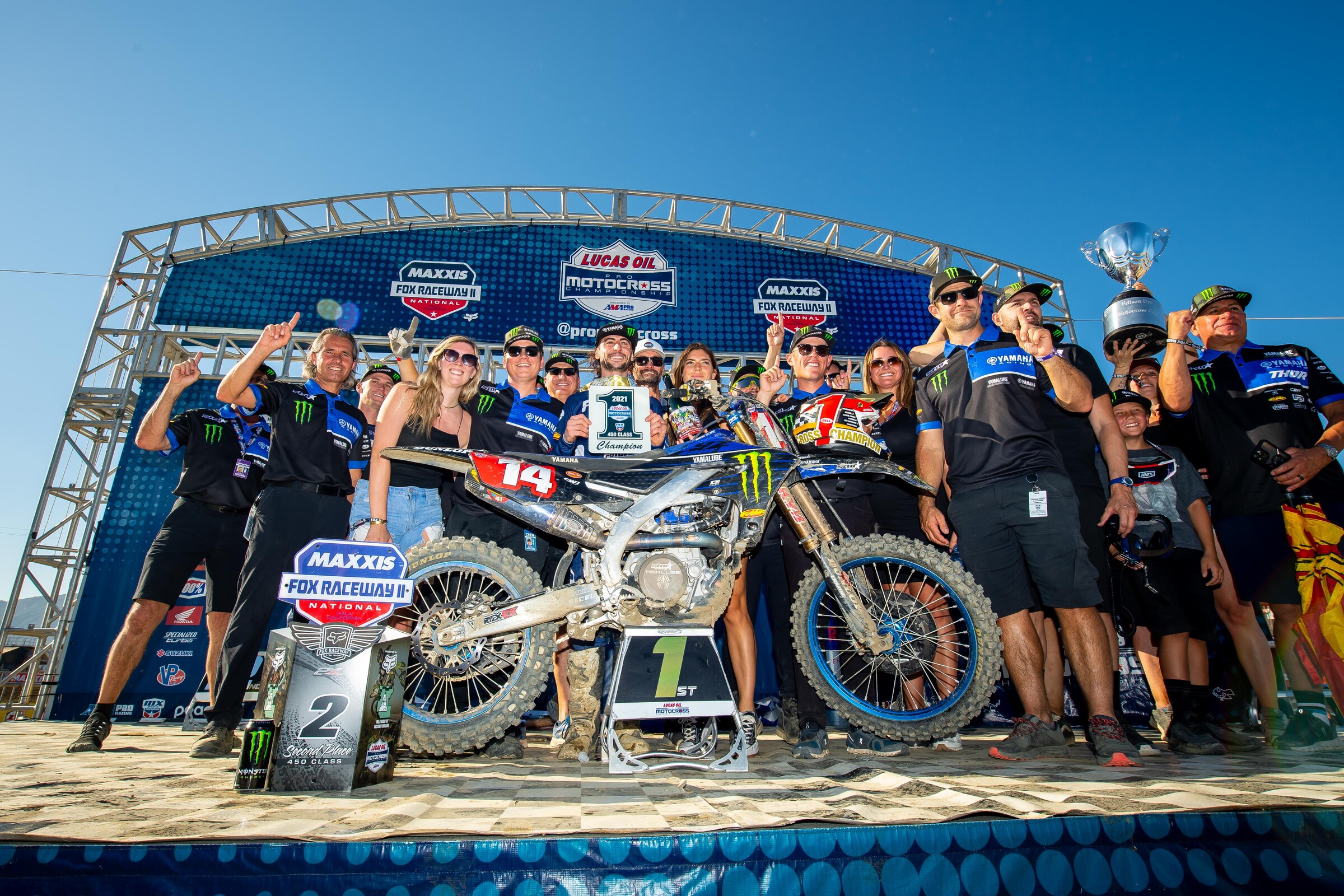 Can you explain to us the feeling when you got to clinch the championship in that second moto? Also looking back on the season, what was the stand-out moment, the highlight for you?
The feeling was actually weird a little bit today because I kind of ran out of emotions. Almost like I dug deep so much this season on so many days of racing. I know Budds Creek, for example, where I just gave everything. I was just so tired today. I just ran out of emotion, and I couldn't really realize what I was doing. But it was good, for sure. It was just a weird feeling. I just felt like I just did the job that all the people that pay me want me to do. Maybe I need to think a little bit about it and put some words on it. I think this season a race like High Point was a big step up for me, when I was able to beat Kenny [Roczen] in both motos and grab the overall. I think more recently Budds Creek. Budds Creek was one of the best races of my career. First moto I was able to come back from behind and pass all the best guys in the sport. Like I said, I had to dig so deep to get this overall. I was just so stoked on it. That day, physically I felt invincible on this day. I was just at the peak of my season, maybe. I don't know. That day I was just on a cloud, like I was flying. That was such a good feeling. The week after that and the weekend after that, I was really tired. I think sometimes when you push really too hard, after there is a cost, and that cost is to be a little more tired and take more time to recover. Sometimes you have to push more than everybody to get a win, and that's what I did. No regrets. Today is just awesome.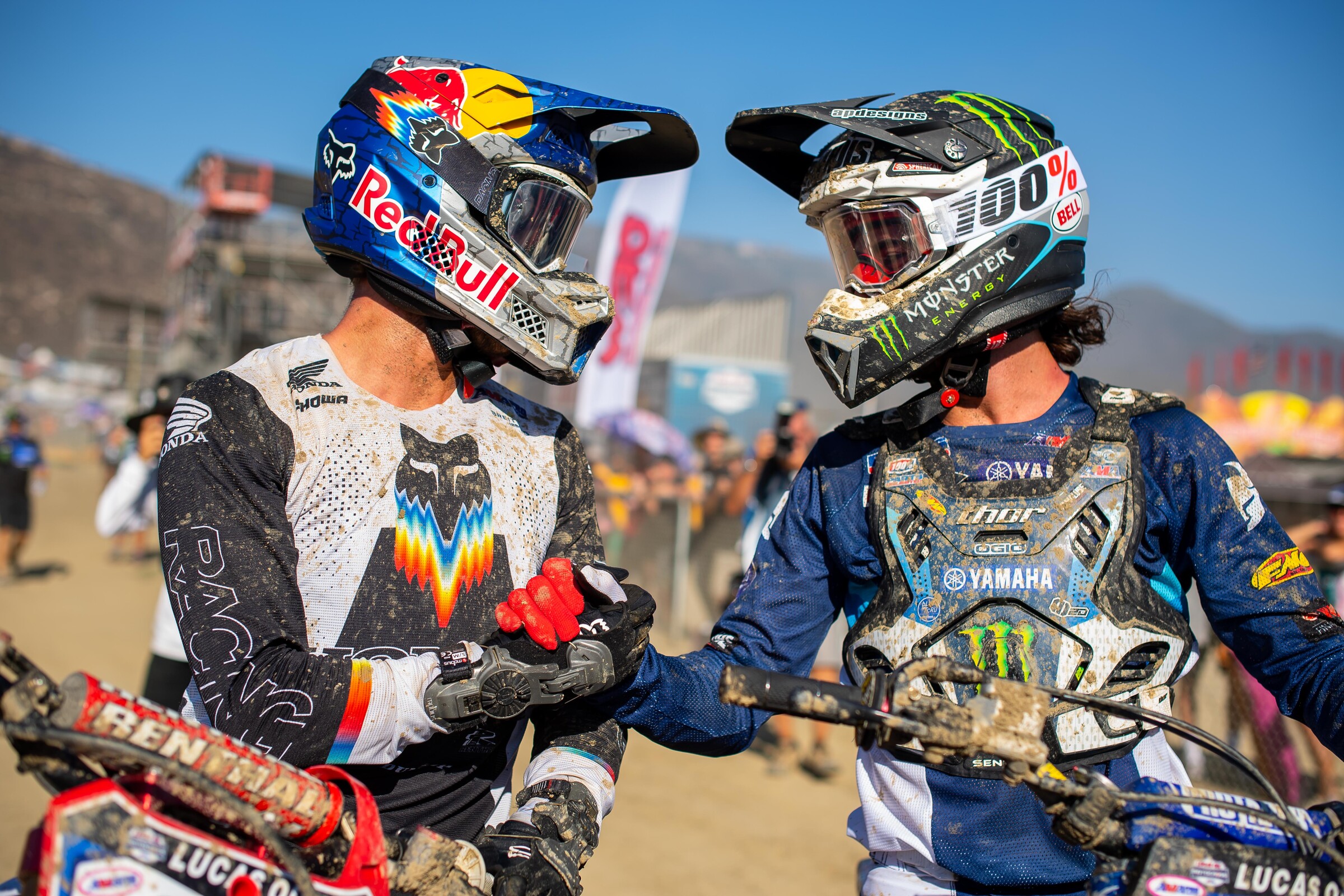 We see how deep you dig, and you mention digging deep in these motos. Do you think not having the success you wanted earlier in your career gave you this extra motivation to say, "This is my opportunity?" A lot of times, riders at your age, it's hard to go that deep, because maybe they've had five or ten years of success at this point. Do you almost think that being a bit of an underdog, and this is your moment, gave you a little more motivation for these moments?
I don't know. The thing is I always did that. I always dig deep and try to push the limit. It's just that I had some injuries. I had also to learn and make my experience in racing. I just think it took some more time than a rider like Eli or Ken. I've always been the same. I think last year when I won the 250 supercross and motocross championship, I didn't come like that. I had to dig deep every time also. So, it's not really new for me. It's just that I think this year I made a big step physically, and also the 450 bike just fits me better than 250, I feel. We found the best setup on the bike with the Yamaha Star Racing team. I was just on rails and felt good every time I was on the bike. So, that makes also a big difference. The way I see the racing, the way I push when I'm on the bike, has always been the same. I always did that since I can remember. Even when I was a kid I was pushing, like I said, sometimes too hard and finish on the ground. I've always been like this.
We saw here the battle of the nations between you and Ken, but Ken as far as on the international list goes outside of the Americas, he's got the best record across the board. He's got the most wins, all that stuff. So, you went head-to-head against one of the best. What was that like, that competition against someone like Ken and that respect he has for competitors and his experience and to come out on top of a full season competing against someone like that?
It was tough. Kenny is a legend of the sport. He's someone that I've always looked up to. Even this season in supercross, he was really the best example for me. I always tried to look at what he does and what he makes on the bike. I've always been a little bit a fan of him, as well as Eli or a guy like that. They've always been the guys that I would look up to. I think early in the season, I was a little bit kind of shy, if I can say, fighting against these guys because I didn't really know if I was capable of beating these guys. I really tried to kind of forget their names, and just see them as a racer and just try to beat them. Days when I won, at the end of the day when I realized I beat a guy like Ken and Eli, it was unreal for me. So, a lot of respect, obviously. To me, they're still, him and especially Eli, they're still legends of the sport. So much respect. I love watching them. To beat them this year is like a great accomplishment. Like I said, it's just unreal.
Watch the full 450 Class post-race press conference from the Fox Raceway 2 National below: