New Berlin, NY
Unadilla
Lucas Oil AMA Pro Motocross Championship
After his sensational run to win the Lucas Oil AMA Pro Motocross Championship season opener, it seemed many more wins were coming for Honda HRC's Jett Lawrence. However, it took all the way to round eight to nab win number two, and in between his results had waned to where Justin Cooper had taken over the points lead and momentum in the 250 class. Justin also held off Jett to win Unadilla's first moto on Saturday.
Unadilla's second moto proved pivotal. Jett passed Justin in that one to nab his first moto win since RedBud. His 2-1 scores also netted the overall win, and he chopped four points from Cooper's lead, leaving him down four points with four rounds remaining.
Here's what Jett had to say in the post-race press conference.
Jett, was this a moto where the result will give you the edge to win this championship?
Jett Lawrence: Not really, it would be nice but a champion thinks always about the end goal. I came in feeling pretty good, I like this track, it's kind of European with the ruts and stuff. But, no, I don't think this has changed much with my mental. I still have to keep my edge and make a run at this championship, and even if I don't win it, I'm gonna try to make [Justin] Cooper's life hell out on the track. It doesn't change much to be honest.
Anything you did during the break that led to this?
Not really, I just stuck to my same program, the program Johnny [O'Mara] gives us is good. My starts finally got better over the break, and it just kept me out of trouble.
Did you work on something for the starts or was it matter of not overthinking it and eventually they will come back?
I think it was…it wasn't that I was not believing in myself, but just knowing what you need to do, and I had to just visualize it. I think the last few weeks I was overthinking it so much and I've been screwing myself. I think I just relaxed more, and it paid off.
You had not won a race since the opener. Were you getting down on yourself a bit?
I don't think I was getting down, but I was getting frustrated with myself. I'm supposed to be up there with those guys. I wasn't giving myself the best opportunity. But I try to stick with my program with Jonny—just stick to that and that kind of builds my confidence, too, I know that works because he won a lot of championships at the top level himself and winning with Ricky Carmichael. That helps build my confidence because I know I'm putting the work in.
Your first moto wasn't terrible, but Justin straight up got away from you. Second moto you sort of turned it up to another level and beat Justin by a minute. Was there anything you changed?
That first moto, Justin rode really well, to be honest. He had some good lines sorted on the first laps and he stuck with them the whole moto. I think he got a better and better flow throughout the race. I had some lines I thought would be good, but those lines ended up blowing out. I tried to find some other lines and not try to follow, and Justin got away. Once you lose that gap it's hard to pull them back in because we're all so close. The second one I had really good lines, and I was able to stick to them because it was drier, so the ruts stayed in place a lot more. I felt strong and it worked out in my favor.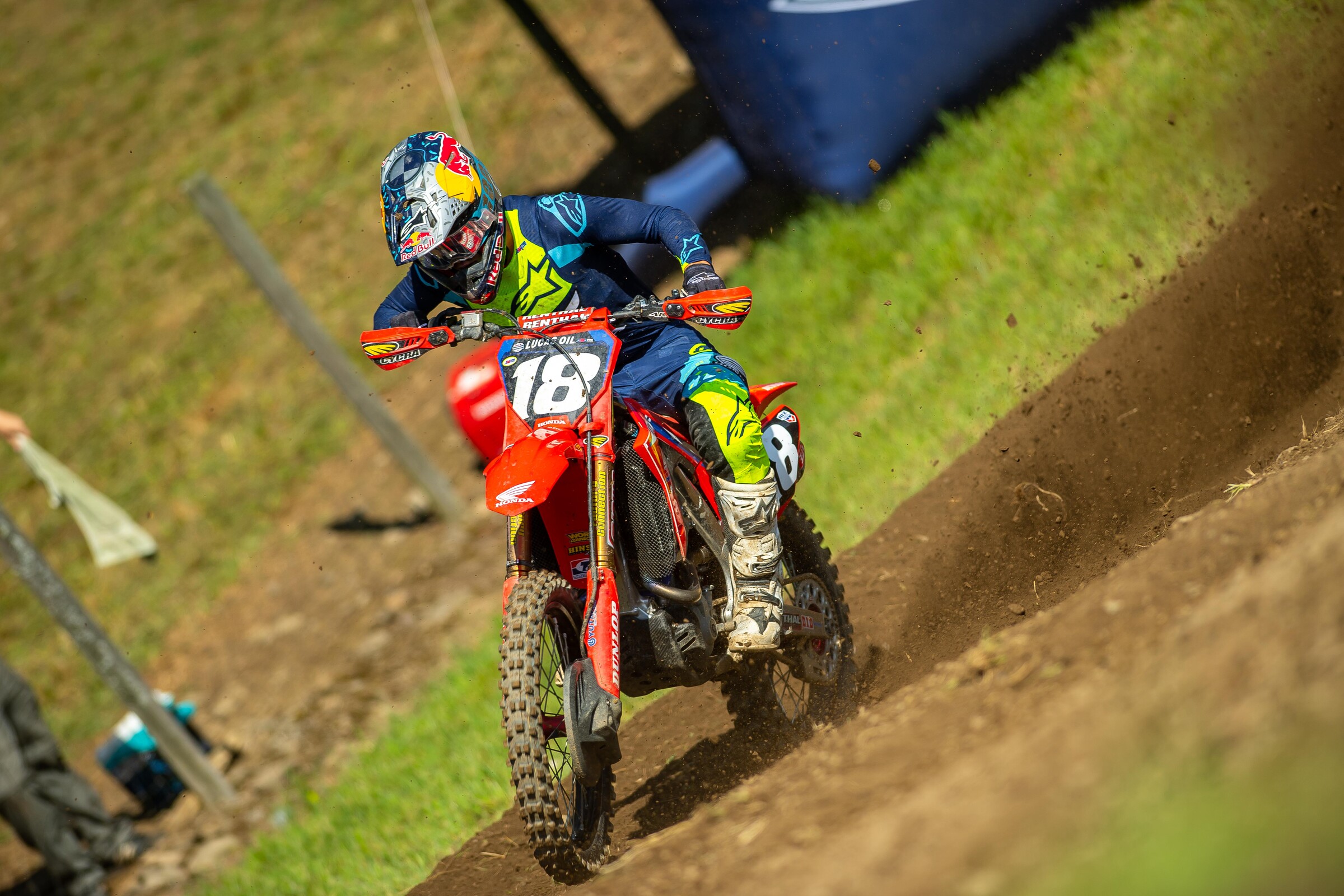 What do you do for fun over the break? Do you get to have fun or is it all focused on your body, your recuperation and more training?
My break was actually pretty busy! We went back to California and did an Alpinestars gear launch, and we did some testing, just fine-tuning small things on the bike. Then we went to Oregon and did the 2022 Honda bike launch. Then I ended up going back home and training again. We didn't get much time off, but we did play some golf for my brother's birthday, and we did some golf in Portland, too. But I get paid to win, so I definitely had to keep training through that break so I can come to the race ready.
Jett this year we're going to a lot of tracks you haven't raced before. What was it like going to a track you've been to before?
Actually, in 2019 I raced Unadilla, Budds Creek, and Ironman, and then obviously I've raced Pala before, and I did an amateur qualifier at Hangtown, so all these tracks are pretty familiar to me, to be honest! I'm really looking forward to these next few races, they're sick tracks.
Jett, you rode a CR500 at that Alpinestars launch. What was that like and can you imagine racing one of those today?
All I can say is that I'm thankful for the technology nowadays! That thing, I was scared when I got on it at first, and it rattled my brains out. And Johnny raced that back in the day, so it was good to experience how they raced back in the day. Whoever raced those things that back then, you guys are crazy because that thing was wild.
---
Watch the full 250 press conference from Unadilla: