New Berlin, NY
Unadilla
Lucas Oil AMA Pro Motocross Championship
Justin Cooper put together a statement ride in the first Unadilla National moto by pulling away from his key championship rival Jett Lawrence. Considering he coulda, shoulda won the overall at the previous race at Washougal (he crashed while holding the overall lead with two laps to go) it appeared momentum was on his side.
That changed in the second moto. Cooper again shot out to the early lead on his Monster Energy/Star Racing Yamaha, but he got passed by his teammate Jeremy Martin, then passed by Lawrence, and then RJ Hampshire. He ended up with 1-4 scores on the day. He spoke about it in the post-race press conference.
Take us through the difference between moto one and moto two.
Justin Cooper: I'd say track conditions were the biggest difference, we raced second today, the 450s raced first and just beat that track up. I lost my flow in that second one and that was kind of a wrap. It was a dangerous track to lose your flow on. I didn't feel comfortable, and I didn't want to get hurt on a track like this. First moto was definitely awesome, and it was good to put on a good show.
What were you feeling in that second moto, specifically?
I was just fighting with the bike, I felt like every bump I hit was taking a toll on me—it just wasn't working, and I wasn't flowing. From there I was just in no man's land. I just rode it on home, pretty boring race for me. I was feeling good going into the second moto, but it didn't work out. No stress on it, I've just got to do better.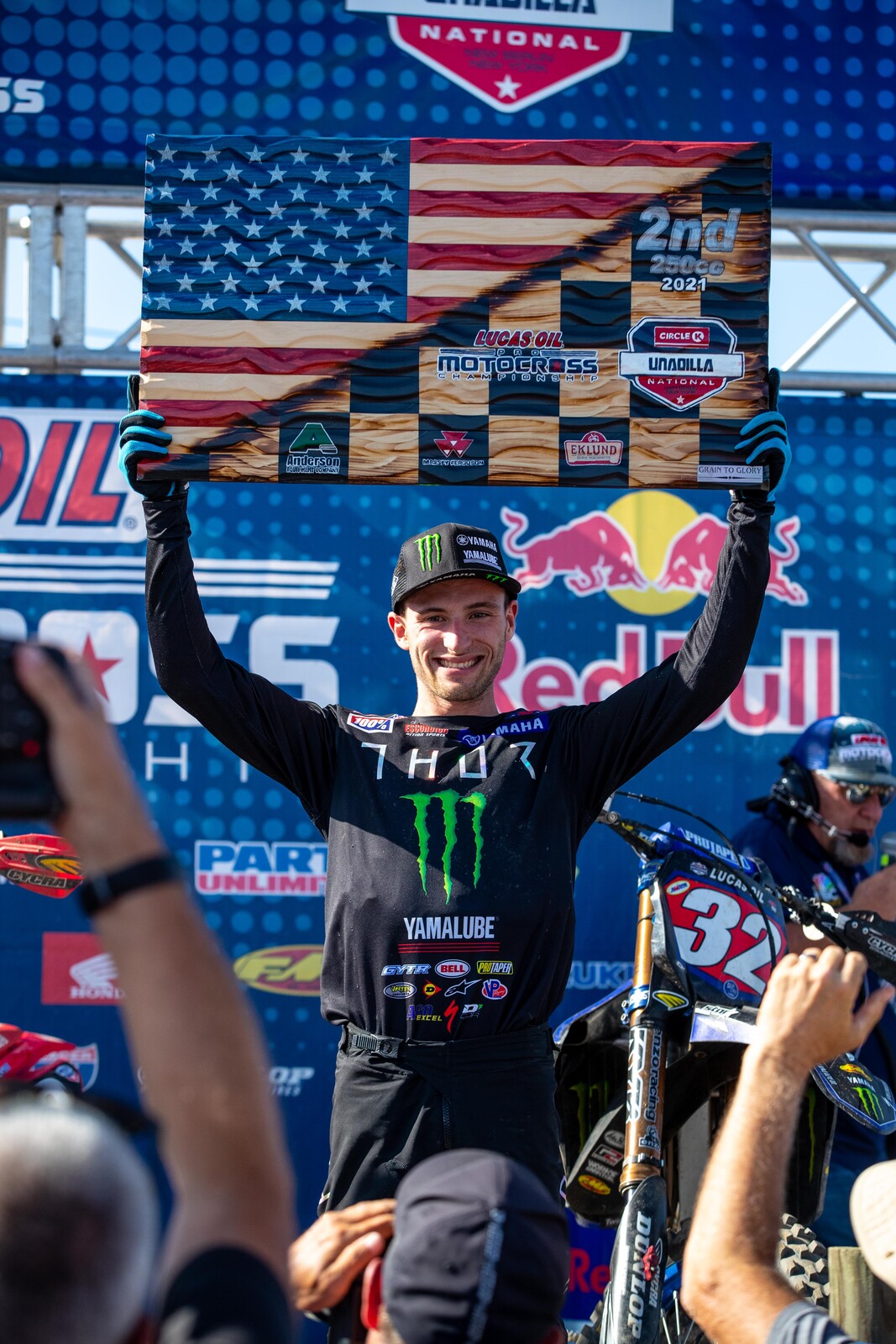 This was another race where you went after the 450s. Do you prefer the smoother track racing before the 450s?
You know what? The main difference was actually traction—it was pretty moist, still, in the first moto. The second moto was about as rough as the first moto, but once it got dry, the traction went away from me, there were potholes and all this sketchy stuff. I actually enjoy going second, I think it's good to split it up like that. The main difference for me was that there was no moisture in the second moto where there was in the first moto. I can't do that again. Pretty bad performance from me, but I'm glad to get out of there safe.
What did you work on over the break?
Really didn't work on too much, just took a break and refreshed the body. I feel like we've been in a pretty good spot all year, so we just need to be prepared mentally and physically every weekend. We're hitting the stretch run here and we need to be ready to do battle.
How has the move from Florida been for you?
It's super cool. I've been stuck on the West Coast ever since I turned pro, the last three years. It's cool to get back where I'm from, the East Coast, it's more natural for me, because I feel we have better tracks and better dirt. It's a breath of fresh air at the end of the day. Excited to make the move.
I want to ask you about the time zones. When you're traveling from the West Coast, and you have to be at the track Saturday morning at 7 a.m. Eastern, that's like 4 a.m. Pacific. What's that like?
Dude, that's the most important part, I feel. I flew from California to this race, Unadilla, and I flew all day Thursday to make it here. I feel like that three hours really takes a toll on you. Traveling West to East every week…that's what I used to do, like last year. You would get two days in California and have to come back, you waste so much time just going back and forth. You could be productive but you're so tired from all the travel. So that's one thing, and the time zones is another thing. You're not used to it. It makes the day a lot harder. You're really tired.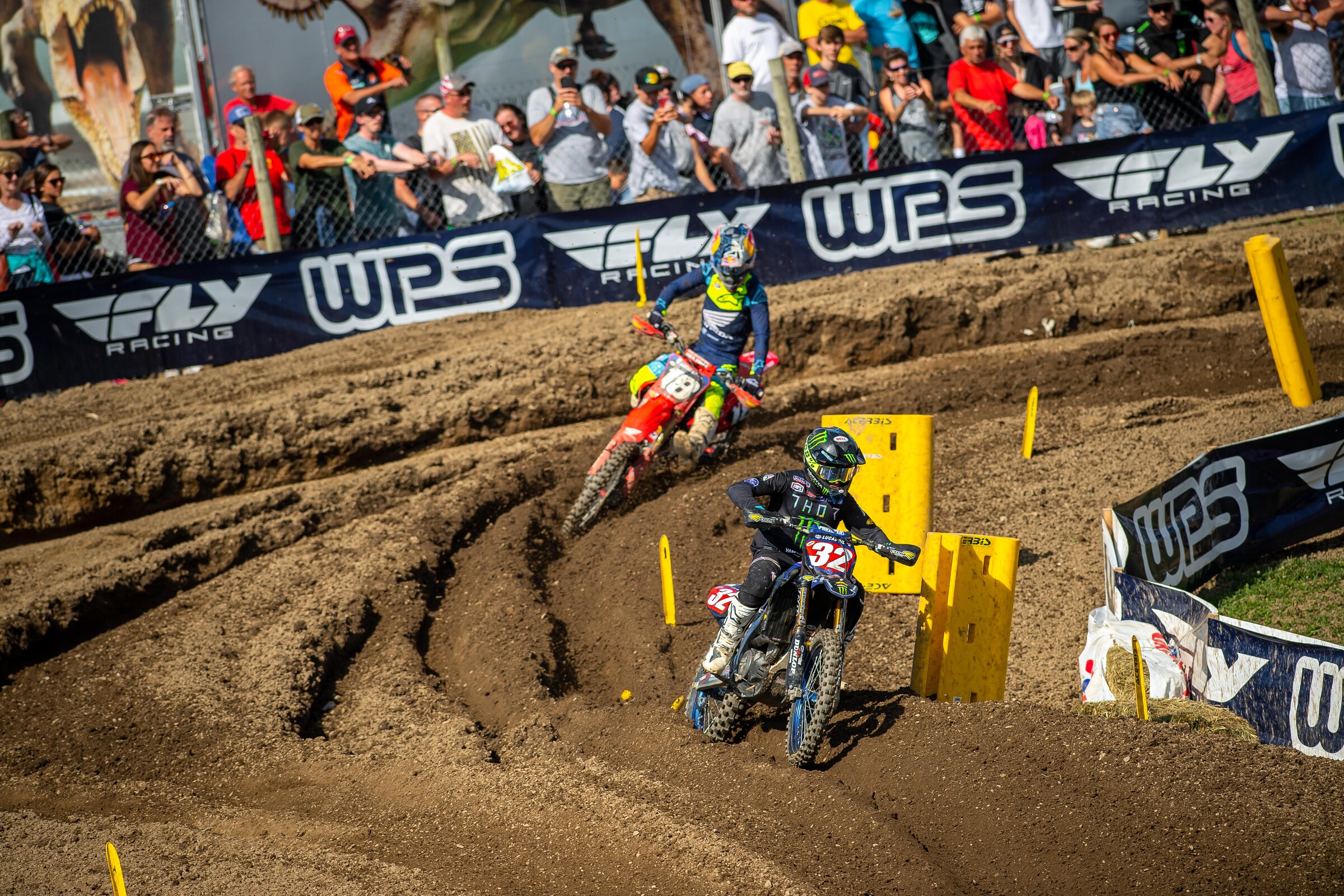 You mentioned not pushing it too far in that second moto. That crash at Washougal, does that run through your head?
I wouldn't say it's going through my head. Washougal, I didn't expect to crash there. I think all of us at this level, we get sketchy a lot, but we don't have big crashes very much. Then you crash finally, and it's like boom. It wakes us up for sure. It's part of the sport, it's not like you're going to change your riding style. You can't get away from it. A track like this, there's a lot of risk and a lot of focus that it takes with these long ruts. You have to stay focused the whole time, and it's really tough. I didn't want to keep pushing to stay in that battle, I felt like I had to get out of my comfort zone to get in there and I didn't want to do that.
Is it tough for you mentally when you know you have to back it down and guys are coming up on you?
Yeah for sure. In the second moto those three guys were right up on my in like one lap. It really flustered me and then I had some bad laps—I really lost my flow from there. First moto, I felt like I had a really good flow, and I could turn it up when I wanted to. I had none of that feeling in the second moto. In the first moto I wasn't scared to hang it out and go that extra pace to win the moto. Second moto, I had no urgency to ride over my head and crash. I just took my time, and I was just riding with no one around me! Pretty boring race, to be honest.
Listen to the full 250 Class post-race press conference from the Unadilla National below.