Millville, MN
Spring Creek
Lucas Oil AMA Pro Motocross Championship
Three riders at the Spring Creek National who left a bit disappointed in their days were Honda HRC Hunter Lawrence and the Monster Energy/Star Yamaha Racing teammates of Colt Nichols and Aaron Plessinger. Each rider had some positives to takeaway, but the results on paper were not ideal for three riders who have fought at the front much of this season.
Afterwards, we spoke to all three in the media corral.
Hunter Lawrence | 5-5 for 5th overall in 250 class
Racer X: Hunter Lawrence, 5-5 for 5th, so consistency, but I'm sure you're looking for a little more, right?
Hunter Lawrence: Yeah. We consistently sucked this weekend. Not what we were looking for. Just struggled. If we had a better start, I feel like maybe we could have been able to fight for a third or maybe a second, a bit clearer track and stuff. It can change a lot when you start outside the top ten. It's tough. You use a lot of energy. You take a lot of risks trying to pass guys, different lines and stuff that you're not used to. So, you hold on tighter and stuff. It's a tough one to swallow, especially after such a great weekend last weekend. I know what I'm capable of, so to have this and just not have the tools and that extra bit in myself this weekend, it was pretty sucky.
What was missing, in your opinion? Did you just kind of lack maybe a little bit more intensity, or do you feel a little bit off on the bike? What was it?
I hate saying it after the race, because if I had good results, it may have felt different, but I just didn't feel good. Just too tired. Both motos just tired. Not like fatigue [at the] end [of the] moto, like from the beginning. So, definitely going to look into our recovery a little more this weekend. Starts didn't help. I think that's the biggest key. You see the front guys—obviously, easier said than done, but the race is a lot easier from the front than when you have to come from out of the pack. Ask anyone and they'll say the same.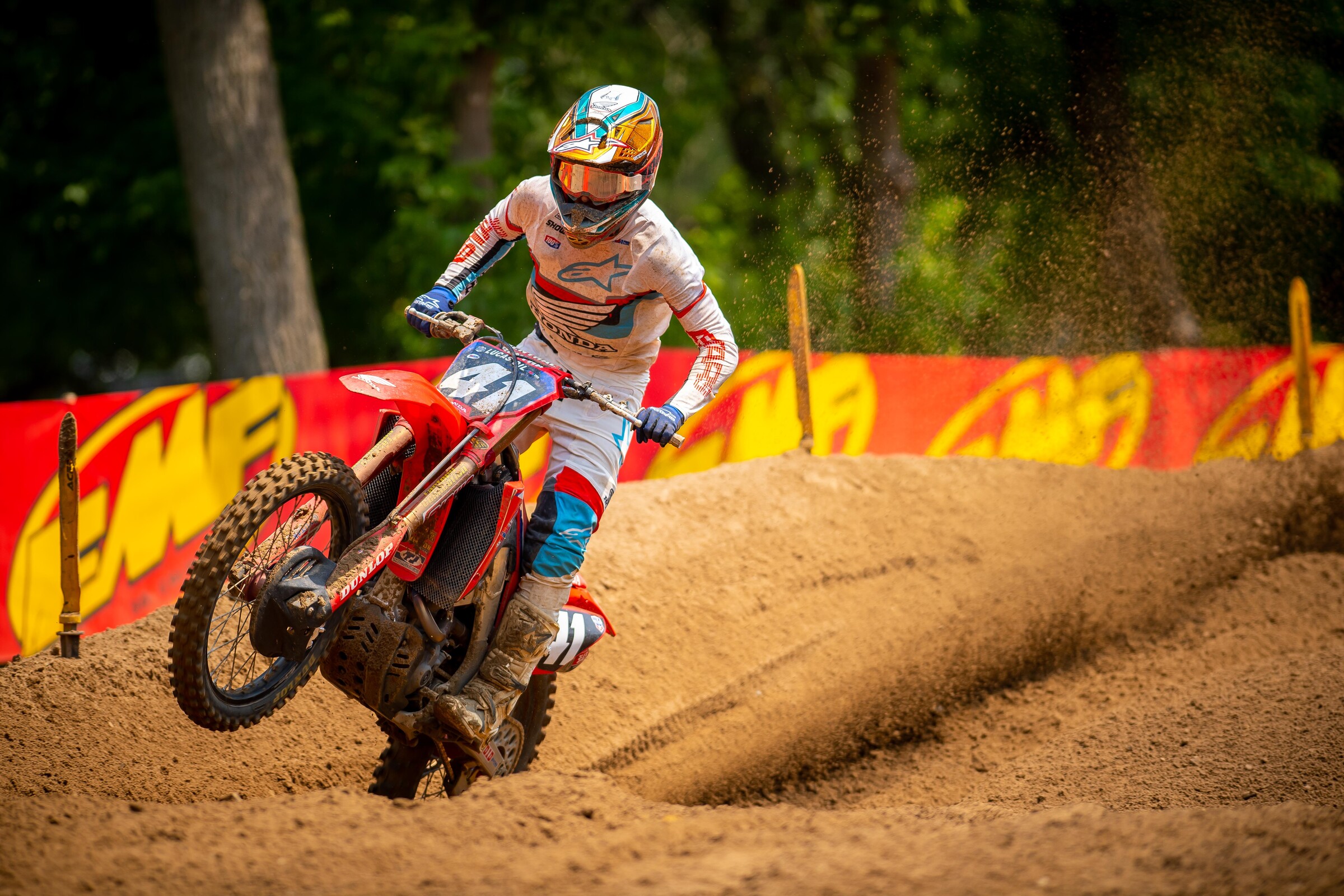 Now that you have the 1-1 behind you [from Southwick] and we're moving into the second half of the season, you're not that far out of the title hunt. You're a ways down, but you can still kind of see them. Is that still your mindset? You're still thinking title in a way?
Yes and no. On a 5-5 day you can't really talk about the title. We lost quite a few points to [Justin] Cooper. I don't know about Jett. It's definitely what we're working for and it's obviously what we want to achieve, but at this point, you're never going to get to that result if you're thinking, title, title, title because we're still six rounds from the end now. Just focusing weekend in, weekend out.
You've raced pretty much all the tracks that we've hit on the schedule this year so far. What are your favorites here so far that you've had success in, or maybe you just feel the most comfortable on?
High Point is a really cool track. I didn't get to race Washougal or Unadilla actually, so I'm looking forward to those two. They look really cool, just the natural terrain and stuff that makes the tracks unique to that exact location. Budds Creek is another cool one. It's a tough one. It's normally always really hot. RedBud is cool. I think High Point is probably my favorite. That's a really cool track layout.
Looking at Washougal and having never raced it, do you feel like it suits your style and you're going to do pretty well there?
Yeah. Everyone's like, smooth riders are really good there, good throttle control and stuff, but you never know. Last time I rode Southwick I sucked. We had a really bad day. Every race each year is a new chance, new opportunity.
Colt Nichols | 7-7 for 6th overall in 250 class
Racer X: Colt Nichols, 7-7 for sixth overall on the day. Consistent, but happy with that result or still looking for more?
Colt Nichols: No, that was consistently shitty, for lack of better words. I don't know what happened today, to be honest with you. I had a decent weekend last weekend and probably the best week of riding I've had since the series on Tuesday and Wednesday. I just had nothing to give today. I was kind of floundering around the last 15 minutes of that second moto. It was pretty embarrassing. No excuses. I just didn't have it today. I had really good speed at the beginning parts of both motos, and then I felt like I just hit a wall. Once you hit a wall on this track and you're not flowing and doing stuff like that, it just eats you alive and that's exactly what it did. So, we've got to go back to work, figure out how to just be a little better. It was a really piss-poor day and I'm just disappointed. After last weekend, I felt like I had a good base and then coming into this weekend, like I said, a really good week of riding and then just kind of pissed the bed a little bit, but that's all right.
Did you feel like bike setting was dialed and you just kind of didn't have intensity or something like that or was there something missing with the bike that you wanted to change, too?
No. Bike-wise I think we made good improvements. We started this morning a little off and then we changed some stuff, and it got a lot better to my liking. I was happy actually with the way the bike went. Then probably about halfway of first moto and the second moto, I had a rear brake issue. It just went out again. So, that didn't help. I'm going down a big-ass hill and I'm just hoping I don't die. But no excuses still. I still could have rode better than I did. That certainly didn't help, but I was kind of a passenger at that point anyway. Just disappointed. Felt like I had nothing to give, and that's not ideal. But that's all right. I'm going to take it a little more easy this week, come into Washougal and see if I can't be a little better.
Would you call yourself a technical rider? At Southwick, obviously you have to be a little bit on the edge, I would say, to do well there, and you did well there, but I think we always kind of looked at you as maybe more technical with your supercross skills. So, what do you think of yourself? Which tracks suit you the best?
Honestly, I don't know. I'm still trying to figure that out myself. I don't even know. I usually struggle at Southwick, and I had one of my best races there last weekend. I always seem to struggle here for some reason. I've been here four or five times, and this track just seems to eat me alive every year, for some reason. So, I don't know. I just can't quite figure it out. It seems like I kind of get some momentum going and then I have a day like today where I kind of felt like I couldn't get going. Even the second moto, I caught up to [Austin] Forkner really quick and I felt great at that point. I was like, man, if I could just get by him, I'd be fine. Then I went down the hill one lap and there was nothing there. As soon as you do that, you're trying to change your riding a little bit and adjust to not having a brake. I just had zero flow after that, and the track ate me alive. Go back home, see what we can do. I really like Washougal, though. I usually ride that place really well. Going to go back home, do some work, and hopefully have a better weekend next weekend.
Aaron Plessinger | 5-9 for 6th overall in 450 class
Racer X: Aaron Plessinger, 5-9 for sixth overall on the day. First off, talk about what happened in the second moto with coming together with Dylan [Ferrandis] at the bottom of Mount Martin?
Aaron Plessinger: My starts weren't on par today. I don't know what was going on, but I was in the back of the pack each time. So, first moto I was just charging, charging, riding my race, and when I caught Dylan I kind of just went flat and I don't know. Second moto, I was feeling good. Chugged coffee right before I went out, so I was feeling great. Me and Dylan kind of got a back-of-the-pack start. Then he wadded up going down the hill. I hit the brakes, tried to go around him and then Marvin just smashed into the back of me. So, it was unfortunate but the bike was stuck wide open so I just tried to pick it up off of Dylan so he could go. Throttle was ripped to shreds. I was running really, really good laps, but just unfortunate to go down and not really salvage what I could today. I thought I could pick up a win today, but it happens.
So, were you actually satisfied with the riding on the day? Did you come back to the hauler pretty happy with how you rode, but you're just kind of disappointed in the result?
Yeah. I was mad at first when I went down. I kind of just picked myself back up and started cruising, started flowing. Before I knew it, I was holding Chase [Sexton] at bay. I was looking at him every lap and he wasn't pulling me at all. So, I was pretty happy with my riding. Also, I was just having fun. I looked at A Ray over one of the jumps and he looked at me. I was just having fun at that point. To come back to ninth, it was a pretty good ride, I would say.
In that first moto when you and I think Christian [Craig] and Dylan, you guys all got together, and you were kind of freight-training for three laps or so. How does that change your focus mid-moto where suddenly instead of chasing a target, you're just stacked together with your teammates and trying to figure out a battle with each other.
Yeah. That's kind of where I went flat in the moto. I wish I could have just took deep breaths in the first part of the moto, but I was holding my breath the whole time. It was pretty cool. It was pretty surreal seeing all of us right there in the top. Obviously, Dylan picked it up at the end and went to finish second, I think. It's gnarly when you get up to those top dudes. You want to push, and you want to go past them, but they're unreal. They're fast. They're not just going to let you by like you can get by somebody in the back of the pack. It's gnarly getting past them, and you've got to put in the work.