Southwick, MA
Southwick
Lucas Oil AMA Pro Motocross Championship
Thanks mainly to the waves created by the pandemic, we haven't seen much of Luke Renzland on the pro scene lately. But that doesn't mean he hasn't been busy! He still rides a lot, and during the week he puts in hours working for his dad's excavation company. In fact, we had this interview scheduled earlier this week and he couldn't do it because he ended up having to work on a water main deep into the night! In Renzland's words, "This is what happens when you're trying to interview a worker and not an athlete." Fortunately we were eventually able to get in touch with him to ask about the two-stroke dream he's currently living.
Racer X: Luke, what's up? What's keeping you busy during the week these days?Luke Renzland: Right now I'm up in New Jersey. My parents are up here and my dad owns an excavation business so I pretty much fill my time working for him trying to make a little extra money to support this 125 dream. There are a lot of mechanical expenses if I'm going to blow up a bike every weekend.
Talk about the two-strokes. You've been riding the crap out of them lately.
The two-stroke dream, I don't even really know how it blossomed. Pretty late into the year, like in the spring, I was bikeless so I went out and got a couple YZ250s and in the midst of all that I talked to some sponsors about doing some pro stuff on a two-stroke, and everyone seemed super into it. Then I found out the YZ250 is not legal to race in pro races. By that time I already had all these sponsors onboard and committed to help out so I had to go plan B and get a Husky 125 to keep the dream alive.
It's legal for the 450 Class though, right?
No. No Yamaha two-stroke is legal because of the homologation rule.
Oh yeah, that's right! I forgot about that.
Yeah, only the Austrian two-strokes are legal. I got the bike in case I wanted to do some local racing. I wanted to be able to race all three of my classes on one bike. I didn't want to have to buy a 250 and a 450. But then the talk of some pro races came around and I kind of just dug myself a hole and committed myself to doing some of them.
Didn't you get protested not too long ago for riding a 125 in the 450 Class?
Yeah! That was at Southwick, two weeks before the national. I didn't have my 125 ready yet so I borrowed my buddy Mike Stryker's 125 and put my suspension on it just to kind of go up there and see what a 125 could actually do at Southwick. So I went up there and rode both the pro classes on the 125. I had no clue the 125 wasn't legal in the 450 Class, but it turns out one of the families was kind of upset I was beating their kid on a 125 and got me disqualified.
Man, if you get beat by a 125 when you're on a 450, you just need to take it and walk away and not draw any additional attention to yourself.
Especially at Southwick, the one place a 125 shouldn't have a chance. But hey, they got me disqualified and they got their one position out of it, so they should be pumped on that.
Speaking of racing a 125 at Southwick, you just raced the national on one. Do you hate yourself?
You know, it was kind of a love/hate thing all day.
Do we need to arrange for some therapy for you?
The first practice was nothing but, "I love it," because I literally didn't have to let off the entire way around the track. It was perfectly groomed and the track was super thick. There was no reason to even use the brakes or anything. That was cool. But once the track started getting a bit rough in the first moto I had to start getting creative with my lines to stay out of the deeper bumps and keep the momentum going. About 15 to 20 minutes into that moto I started realizing how much harder it is to race a 125 than a 250F.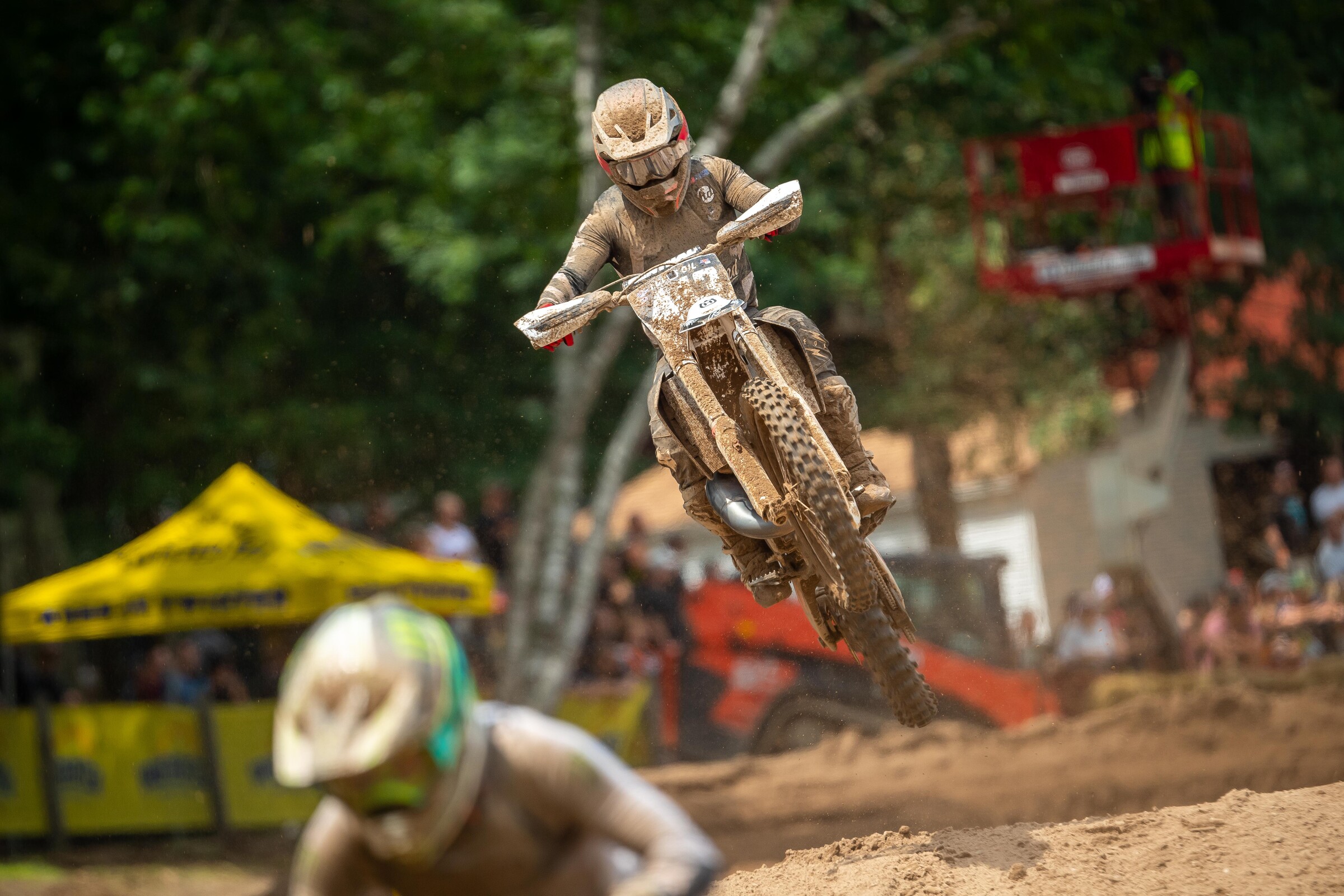 It's pretty cool you were even able to qualify on it though.
Yeah! And Southwick is the one track that you'd think a 125 shouldn't be competitive at. I was really nervous coming into it, my first one on a 125. I didn't really know where I stacked up. I had less than an hour on my bike so I didn't even really know how the bike was going to perform. I was just praying that I was going to be able to qualify. Being able to go P22 in practice was beyond my wildest dreams of what I could do that day. Now moving forward to 'Dilla, Budds, and Ironman I think the next goal is to try to get some points on it.
What was the fan reaction like?
It was unreal. Honestly, I've never felt more like Justin Bieber in my life! All the way around the track there were air horns, cheers, people waving T-shirts and towels, it was the craziest thing I've ever seen. My mechanic and I were on the way to the gate for the start of moto one and dropping down that hill to the gate, the fans were seriously reaching over the fence and I felt like they were going to pull me off the bike. I've never felt cooler in my life. They were absolutely loving the two-stroke life.
And then you blew it up on the way back to the pits after the first moto.
I blew it up. I pulled off the track, got my mechanic on the back, and the thing just quit. We had to push it all the way back up that same hill where they were trying to drag me off the bike, but they were just as pumped while we were pushing it back.
It's amazing you got through the moto, then it let go after.
Probably about, with four laps to go, I felt the bike starting to let go. I was pretty much just riding and hoping I was going to be able to cross the finish. The thing was getting slower and slower. It was on its last leg on the last lap, and thank God I made it past the checkered flag. I knew she was done for way before she even blew.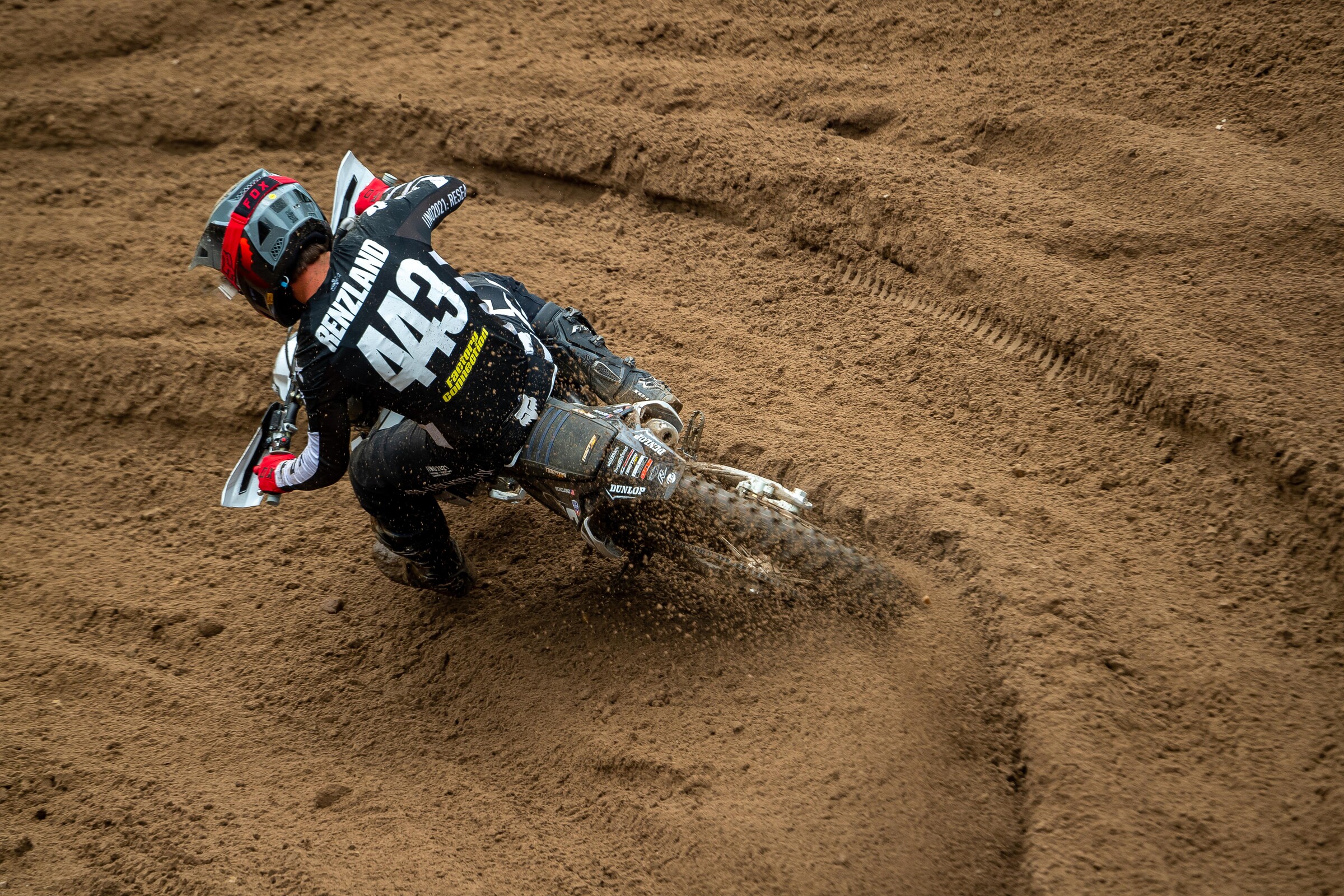 So do you have support lined up for the next three races you're doing? What if somebody wants to help you out?
This is all very much a privateer, on my own, type of deal. So yeah, if anyone wants to join the crew, that'd be awesome. Especially with the added cost of having to send this thing off after only putting two hours on the bike to get completely rebuilt and freshened up. People say two-strokes are more cost-effective and less expensive, but I think it's the opposite at this point. If anyone wants to help out, that'd be unbelievable. The fan reaction to this thing has been crazy. Instagram [@lukerenzland343] is probably the best way to get in touch with me.
So the goal moving forward is to score points.
Yes, that's the next goal. I feel pretty confident I can continue to qualify. I figure Southwick should be the hardest one, so getting into the show shouldn't be a problem. I was really close to some points-paying positions in that first moto so with some more time on the bike—I only rode it two sessions at my house before Southwick—I should be more comfortable on it. I think earning points is a realistic goal. I don't know if it'll happen, but if I can be in the right place at the right time I think it' a realistic goal.
---
Main Image by Mitch Kendra