Mount Morris, PA
Mason-Dixon
GNCC Racing
While Mt. Morris, Pennsylvania, prepares to host round three of the Lucas Oil AMA Pro Motocross Championship next weekend, this past weekend the small town played host to round eight of the 2021 Grand National Cross Country (GNCC) Racing season. The Mason-Dixon GNCC is located adjacent to the High Point Raceway property, with the starting line overlooking High Point's front gate. The last several years this event had been plagued with overly dry, dusty, and silty conditions but this year would see nearly perfect dirt in the woods, giving the riders a little bonus of fun as they battled for the Mason-Dixon win. Here's a few things we learned.
It's Called Mason-Dixon For A Reason
Mathews Farms plays host to this round and is the farm's only racing event, outside of some parking and the site of will call for the High Point National. Mathews Farm was actually a standalone GNCC event from 2001-2003, but the series experienced a large amount of growth during this time, resulting in a need for longer racecourses and more parking to accommodate those growing numbers. The series would simply outgrow the farm, and it would leave the series for a number of years. During that time, the Mathews Family were able to acquire several more pieces of property to add to the farm and the series would return in 2018 for the Mason-Dixon GNCC.
It was given the Mason-Dixon name as it quite literally sits atop the Mason-Dixon line, with portions of the racecourse winding not just through Mt. Morris, Pennsylvania, but also across the state line into West Virginia as well. The two sides have pretty distinct feels as the Pennsylvania side of the property tends to be a little faster and more open trail. However, once you cross the Mason-Dixon line into West Virginia, the course slows down and gets a little tighter and definitely more twisty. This breaks the course into two sections that feel a lot different, which can also mean different riders may excel at different sections of the course which lends to close racing.
Baylor Bounces Back!
At the previous round, Steward Baylor had an issue during a pit stop that resulted in him laying down in a puddle about a mile after the pit trying to cool down, well, the area right where the gas cap would be. This cost him about a minute, but he went on a final lap tear to finish the day in third place and less than a second behind Ben Kelley in second. This would of course serve as motivation for Baylor coming into this round as he had spent the previous four races digging himself out of a deficit in the hunt for the GNCC National Championship.
When the green flag flew at the Mason-Dixon, it was Layne Michael taking the holeshot away from Ricky Russell. However, Russell quickly got to the lead but would end up breaking his pinky finger early in the race. At the completion of the first lap it would be Ben Kelley leading the way. Kelley would lead every lap, except for the final one! Steward Baylor came from fourth on the opening lap to run in second behind Kelley all the way until the final lap when he put on a charge to take over the lead and even pull out a 14-second lead—all while doing so without being able to use his rear brake!
This has become Steward's routine. While there have been some races he's lead wire to wire, more often than not he conserves his energy to put on a hard push in the late stages of the race. This isn't really a secret and isn't a new technique of attack for a GNCC racer, but what's pretty unique about Stu is his ability to not only make that late race pass but also pull away from second place. He's really found a special method in his race craft and energy conservation, but the question is, when will the other guys figure it out as well?
Ben Kelley would hold on for second, which still leaves him with the overall points lead. Jordan Ashburn would ride one of his most consistent races of the season to end the day on the podium in third, even though in the mid portion of the race it looked as if Josh Strang was making a bid to take over the third place spot. Strang would eventually end the day in fourth with Josh Toth rounding out the top five.
A First-Time Winner in XC2
Australian Lyndon Snodgrass came into the series in 2020 but was only able to contest seven rounds due to travel issues surrounding the pandemic. While he missed the series' return from May through July he would make his return when the series came back from summer break in September. He would end his season with a GNCC career best second place in XC2 at Ironman, then come into the series full-time in 2021. While he's had several tough races, he's also consistently been a top five contender in the XC2 class with three podiums prior to the Mason-Dixon.
When the Mason-Dixon got underway, Snodgrass went to work and would lead the XC2 class wire-to-wire to take his first ever GNCC XC2 class win. There would also be a newcomer on the podium as Chilean Phoenix Honda Racing rider, Ruy Barbosa, would end the day in second for his first-ever GNCC podium in just his eighth GNCC event. Defending XC2 class champion Craig Delong—who overcame a second-turn crash—landed third with Liam Draper and Johnny Girroir rounding out the top five.
Time to Think About Points
With only one round standing between riders and the summer break, everyone is really taking a look at their point standings. In the hunt for the GNCC National Championship, Kelley continues to lead the way, but Steward Baylor continues to chip away at that lead. Baylor missed the first round while letting an open wound heal, then suffered a clutch issue at round two which left him finishing 14th place. However, he would go on a tear winning the next four rounds, then finish third before winning again at Mason-Dixon.
This puts Stu just four points behind Kelley as the series gears up to head to the Snowshoe Mountain Resort in Snowshoe, West Virginia, at the end of June for its final round prior to summer break. Grant Baylor still sits third in the point standings, but is now tied with Josh Strang and the duo sit 38 points behind Stu. Just three points behind the Grant Baylor and Strang tie is Jordan Ashburn, who rounds out the top five.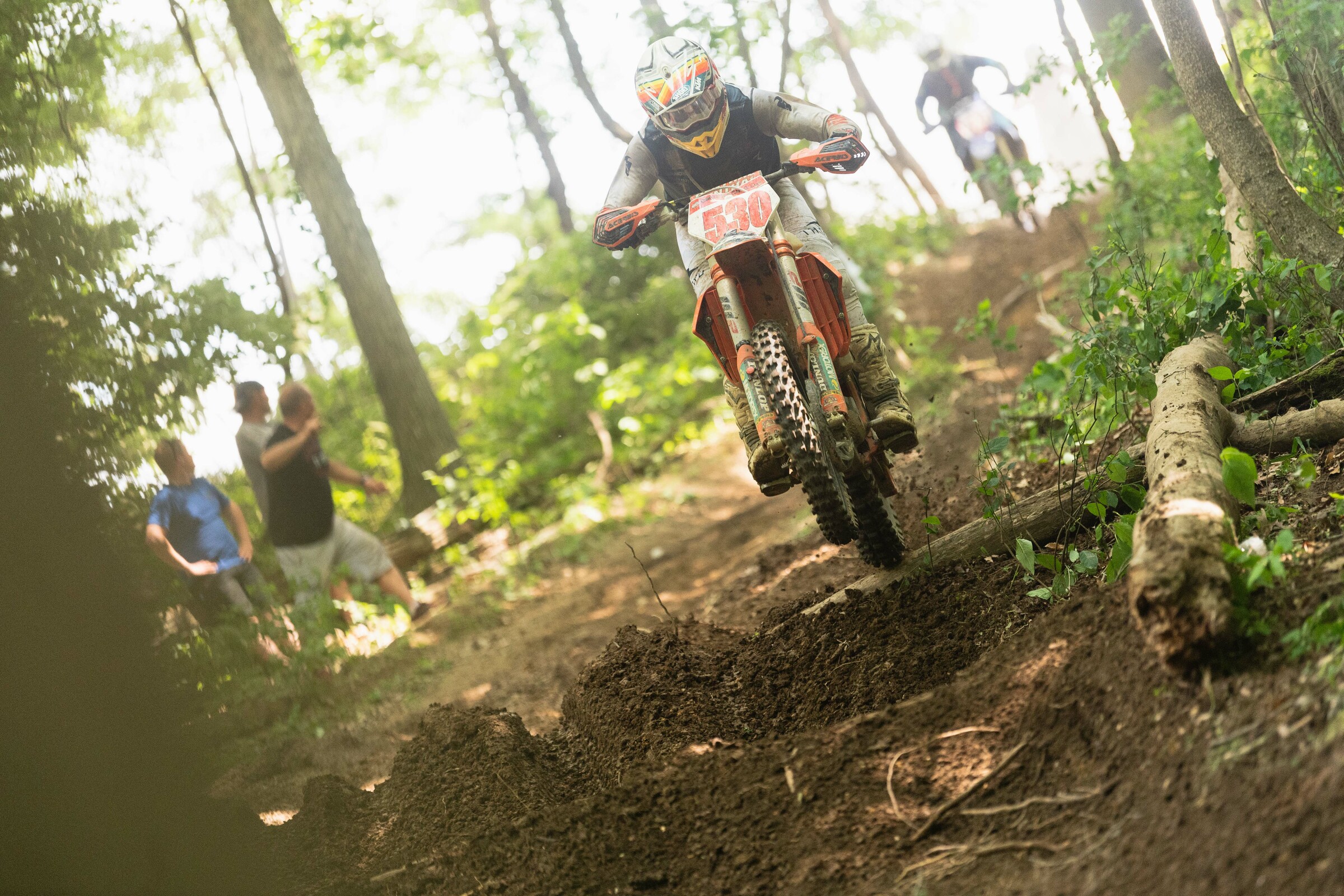 GNCC
| Position | Rider | Hometown | Points |
| --- | --- | --- | --- |
| 1 | Ben Kelley | Harwinton, CT | 304 |
| 2 | Steward Baylor | Belton, SC | 284 |
| 3 | Jordan Ashburn | Cookeville, TN | 215 |
| 4 | Josh Strang | Inverell | 205 |
| 5 | Josh Toth | Winstead, CT | 164 |
Full Standings
In the XC2 class, Johnny Girroir went on a tear of his own winning five rounds straight before finishing third and fifth at the previous two rounds. This establishes him as the XC2 leader, 19 points ahead of defending class champion, and possibly the most consistent rider the GNCC series has ever seen, Craig Delong. It's then a fairly large gap to Cody Barnes, who is now third place and 51 points behind Delong, and Snodgrass's win at Mason-Dixon pushed him into fourth just one point behind Barnes. Mike Witkowski dropped to fifth place after suffering issues at the previous two rounds and sits four points behind Snodgrass.
GNCC
| Position | Rider | Hometown | Points |
| --- | --- | --- | --- |
| 1 | Jonathan Girroir | Southwick, MA | 336 |
| 2 | Craig Delong | Morgantown, PA | 269 |
| 3 | Lyndon Snodgrass | | 217 |
| 4 | Ruy Barbosa | | 204 |
| 5 | Cody J Barnes | Sterling, IL | 198 |
Full Standings