Pala, CA
Fox Raceway 1
AMA Pro Motocross Championship
As the dust settled on the opening round of the Lucas Oil AMA Pro Motocross Championship, several riders were able to look back on their day at the races and find positives to take away. Three of such riders were Jeremy Martin, Michael Mosiman, and Justin Barcia who each had strong rides in both motos to be thrilled with. Martin tied with Jett Lawrence on points for the day in the 250 Class and now shares the points lead heading into round two. Mosiman followed Lawrence all the way through the field in the first moto and ended up going 4-4 on the day for fourth. And Justin Barcia looked particularly feisty to go 3-6 for fourth overall in the 450 class. All three spoke with the media via Zoom at the end of the day.
Jeremy Martin | 2nd overall in 250 Class
Racer X: Jeremy, you and Jett, this could potentially be a preview of what we see all year long with the two of you going at it. I think you've got to be proud with how you started. You had a great first moto. You had a great second moto all in all. I'm sure maybe you wished you got around Justin sooner potentially so you could maybe hang on with Jett there, maybe make a run late. But all in all, I think you are the most experienced guy in the class. You've got the titles to your resume. I think everybody considered you to be the favorite, even though I know you're coming off an injury and you admit yourself maybe you're not totally 100 percent, but taking that into consideration and factoring in the shoulder and everything else, how are you feeling with how the day went and your outlook on the rest of the season?
Jeremy Martin: The day was solid. I was a little bit worried in the second practice session. I actually looped out in a turn. There was a big kink entering into it and I came in hot. I looped out and I was like, man. I'm pretty good at my turns and I completely squirrelled out. I got a good start in the first moto and then just kind of put my head down. I was kind of looking around for J Coop and all the contenders, really. I was just like, alright, we need to focus forward and race the track. I was able to get the win in that one and regroup for moto two and got a better start. Then Justin and I were one and two there. I was trying to get him, but he was going really fast. He was pretty smart. He switched some lines that really made it kind of tough on me.
Your pre-season before you started motocross in Minnesota on the east coast, we know you're an east coast guy and like those tracks. What did you find of today's circuit? It looked like they put a lot more of that silty soil on top and it looked like it got pretty rough. How did you find the track and the conditions here on the west coast?
It was good. Obviously, there were definitely some soft bumps out there, but there was definitely some Southern California chop mixed in there as well. I saw a couple chuck holes at the end of moto two and I was like, God bless. They're not very fun to hit for 30 plus two. Kind of a mix of soft stuff but a lot of pretty nasty chop.
We've heard hints that you might have had some physical ailment you've been kind of concerned with that you didn't know how it was going to affect you. How was that today? Do you feel better after the race today than maybe going in? What are your thoughts on your health as far as what we were hearing?
Obviously I've done a lot of riding and a lot of motos to try to get this shoulder back up to snuff. I was pretty pumped on today. It's definitely a little sore and it aches today right now, but it held up pretty strong in the motos. Some of that stuff out there was some pretty big holes. I stayed strong and we'll see if we can keep it together here for the whole season.
We saw last year you were on the Honda and in the title fight. This year you're back on the Yamaha. What was it like being back on the bike? Was it everything that you kind of thought it would be being back on the YZ?
The Yamaha is good. It's obviously really fast. It's just a different bike. I kind of learned how to ride the Honda, and I kind of had to re-learn how to ride the Yamaha and how to hit some turns and stuff a little bit different. I really like the Yamaha. I'm happy with it. I got second today and just need to work on getting better.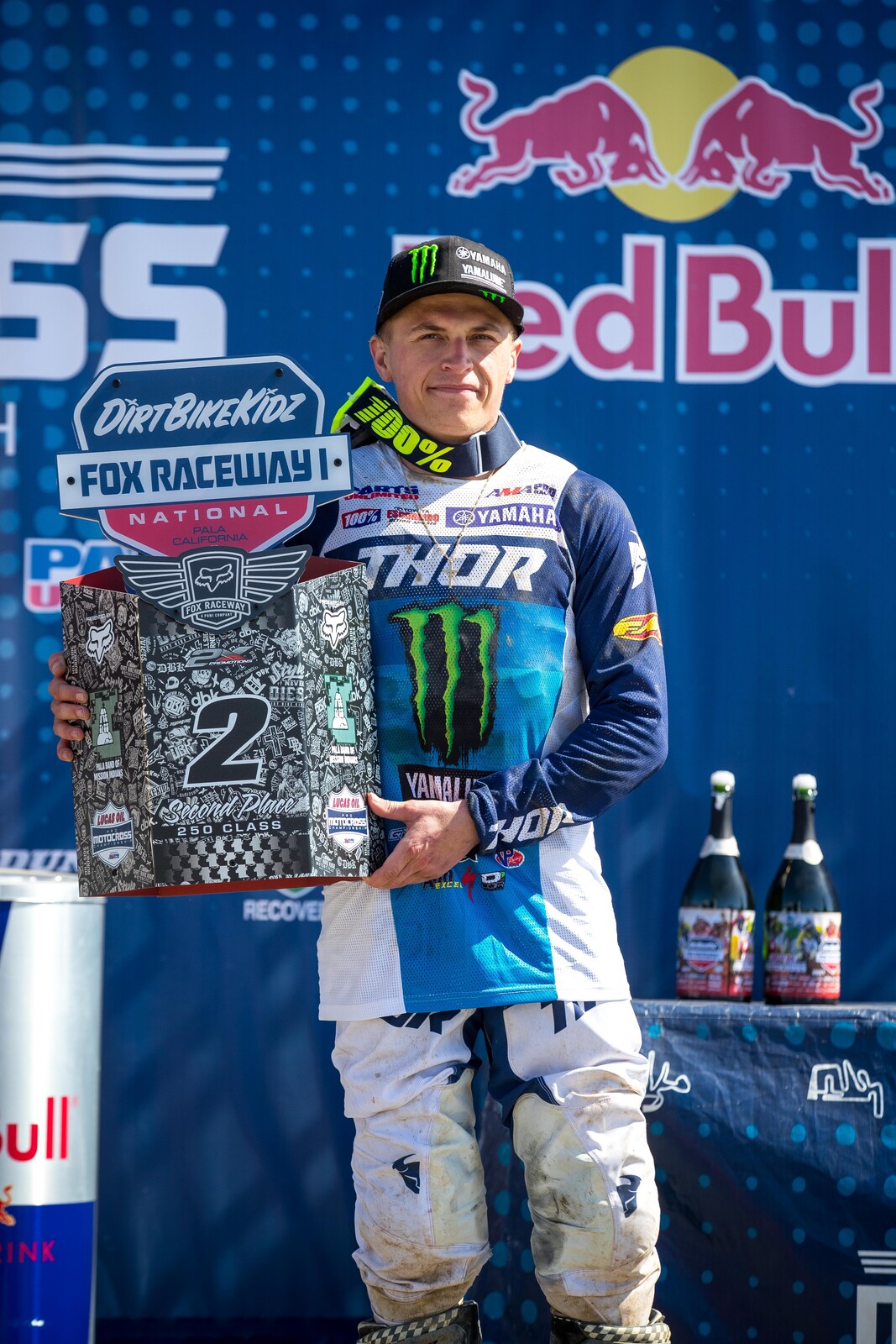 Michael, you talked about being really excited about the start of the season. When we had our conference on Tuesday you were really excited about the bike. You were confident that you had a good machine under you, and it was going to allow you to perform well. You were there all day. You were in the mix. You were there with these three and you were in the hunt all day. How was your day? Are you happy with how you got the '21 season off?
Michael Mosiman: I don't know if I was there all day. I qualified P15. I don't know if I said it in the press conference, but I've been telling people that I kind of anticipated being pleasantly surprised with just how good my bike handled and where that would put me. I kind of got onto Jett there a couple laps into the first moto and just was flowing. It was just coming easy, and the bike was really just sick. Fitness was pretty good. Made a couple mistakes on the day, but overall, quite pleased. It's really nice when you've got your bike and you're really happy with it.
Just before you spoke about being presently surprised with how you built the bike and the area you've got it. Does that reflect back to your results today or is this result where you predicted yourself to be? Where do you go with that?
I think it's all related. I think my tendency in past series, honestly, I don't know the last series I came in fully healthy. Even into supercross I hurt my hand. So just having a good string of health. I haven't had a lot of big injuries, but just small little ones. So, I think that plays a part in it, and then I think the bike plays a big part. Expectation-wise, I was talking like we're set, but I definitely had doubts and just being real and like, where are we at? Then you go qualify P15 and you're like, okay. I remained confident. I was like, I'm going to show up and get this thing done. I guess pleasantly surprised with some of the ease of how it came. I fought hard obviously, and really was charging, but it was just flowing. I attribute a lot of that to the bike. My bike just is so good. Even supercross and now riding outdoors, I feel like I crash less too. It's just set up well to where I'm confident and I hit my marks. It's good.
This track, again west coast, you're going to be going out east shortly. Do you feel like this track was a true test of how the rest of the season is going to be, where you're at, how the bike works? Or is it sort of not necessarily a one-off, but not really a true test?
That's a great question. I think the track honestly it definitely had its California characteristics, but for me, that was the best Pala I've seen in a while, just the way it shaped up. I thought it was pretty rough. I thought it was pretty racy. Some sections were like, just survive this. I thought there was a lot of good passing and line selection. I really enjoyed that. I expected it honestly to be a lot more one-lined than it ended up being. I think it's less so that the track may be deceiving as far as a true test for how the season goes, but more so it's like the first round. There's a lot of guys that kind of just mail it in on the first round and just get into it and get their feet wet. I think that might be the deceiving thing as far as guys that are really going to come alive and that are going to end up more on this post-race thing.
Justin Barcia | 4th overall in 450 Class
Justin, the camera was on you a lot this afternoon. You were making a lot of runs; you got a lot of speed charging through the pack. Just give us a sense of your day and how you're feeling after this opening round and your assessment moving forward this season.
Justin Barcia: Yeah, definitely. I'm really pleased with the day. Obviously always wanting more, but Pala definitely isn't my favorite place ever and that first moto was wicked. I sat back in seventh for a while and it took me a little bit to adapt to the track. Then I charged through the pack. I had some really sick passes, and it was really fun. Second moto I ran third for a while. Dylan was riding really good and got me, so that put me in fourth. Then the last lap I had a stupid slide-out and went back to sixth. So that was a little bit of a bummer, but my riding was really good today. I felt super good on the bike. The team did a great job. Really didn't make too many adjustments.
When you moved to the GasGas this year I think a lot of people kind of theorized that that would bike would suit you better, but visually it does seem like you're kind of riding like the Justin Barcia we saw on a 250 where you hang it out a little bit more often and you seem to have a little bit more fun being nimble and playful on the bike. Do you actually feel that way on the bike? Or is that just a weird visual effect for us?
No, absolutely. It's cool that people are able to see it. I actually just watched back the first moto and I did some kind of cool stuff that I really haven't done in a while. That's pretty sick listening to Weege and Grant announcing. I did kicks and stuff because I just hang it out there off the side of the bike. I haven't been able to be that comfortable in a long time. So, it's cool to see that you guys are seeing it. Honestly, I'm just really enjoying racing. It's been a cool year, the ups and downs and stuff. Obviously supercross I wanted to be a little better. But first year with the team, it's been really fun. Under the umbrella of KTM and Husky, GasGas is called the fun brand. It's been a fantastic fit for me. I'm really enjoying it and having fun riding the bike. Obviously, it's never easy by any means, and especially right now it's not easy. But I'm definitely enjoying it and looking forward to the season. It's going to be a lot of fun and a lot of good racing. I'm going to keep doing my best and hanging it out there.
Listen to the press conference in the embed below (250 Class starts at 0:00 and 450 Class starts at 25:54).