Pala, CA
Fox Raceway 1
Lucas Oil AMA Pro Motocross Championship
There's no question that Aaron Plessinger's 2021 Monster Energy AMA Supercross season was his best yet on a 450. With a podium finish at Daytona and fifth in the points standings, AP was finally back to the happy go lucky guy that made him so popular when he was winning 250 class titles. But coming into the Lucas Oil AMA Pro Motocross Championship, Plessinger only had seven career 450 class races under his belt and the question arose as to whether he could keep his supercross success rolling. One round into the championship, and it certainly seems like he has! After stalking Ken Roczen for the entire second moto to ultimately finish second, Plessinger carried 4-2 results to third overall on the day for his first 450 Class Pro Motocross podium. Afterwards, he spoke with the media via Zoom about his strong start to Pro Motocross in 2021.
Racer X: Obviously, you haven't had the amount of track time in pro moto since you made the move into the 450 class. You finished off your 250 career with a championship, but it's been kind of rough sledding to be honest since you moved up. But now this season just seems to be back to the old AP, the guy that we saw that wrapped up the 250 [title]. Obviously reconnected with Star, the guys that helped you with all that success. The momentum is carrying over right from supercross. You had another great day. You were in contention for the win there for a little bit with you and Ken, a three-way tie there. It was a great second moto. Assess your day for us. How does it feel to just be on the podium in the 450 class and now you're a part of this? You're added to this deep field of talent that we always talk about. You're one of those guys.
Aaron Plessinger: It feels great, man. After the last two years not really getting what I came for, now to be battling up front for the lead and battling for overall wins, it just feels good. It was a great day. Started off a little shaky in practice and then pulled it together. I qualified ninth. First moto I got a mid-pack start. I think I was 12th and then I went back and forth with Chase [Sexton] once or twice. I kind of did the same thing he did, just rode around a little bit and then started picking off guys later in the race. I ended up fourth in moto one. Then moto two I grabbed the holeshot and then Kenny was on a roll. I wanted to stay with him. I knew I could pace off of him, but we were on a mission for sure. I kind of caught him a little bit late in that second moto and made my run at him and then had a sketchy moment before the finish line and then kind of backed it down. Just rode it in for second. I've missed the last two years of outdoors, so I don't want to do that again. It was a great day. Good to be back on the box. It's good.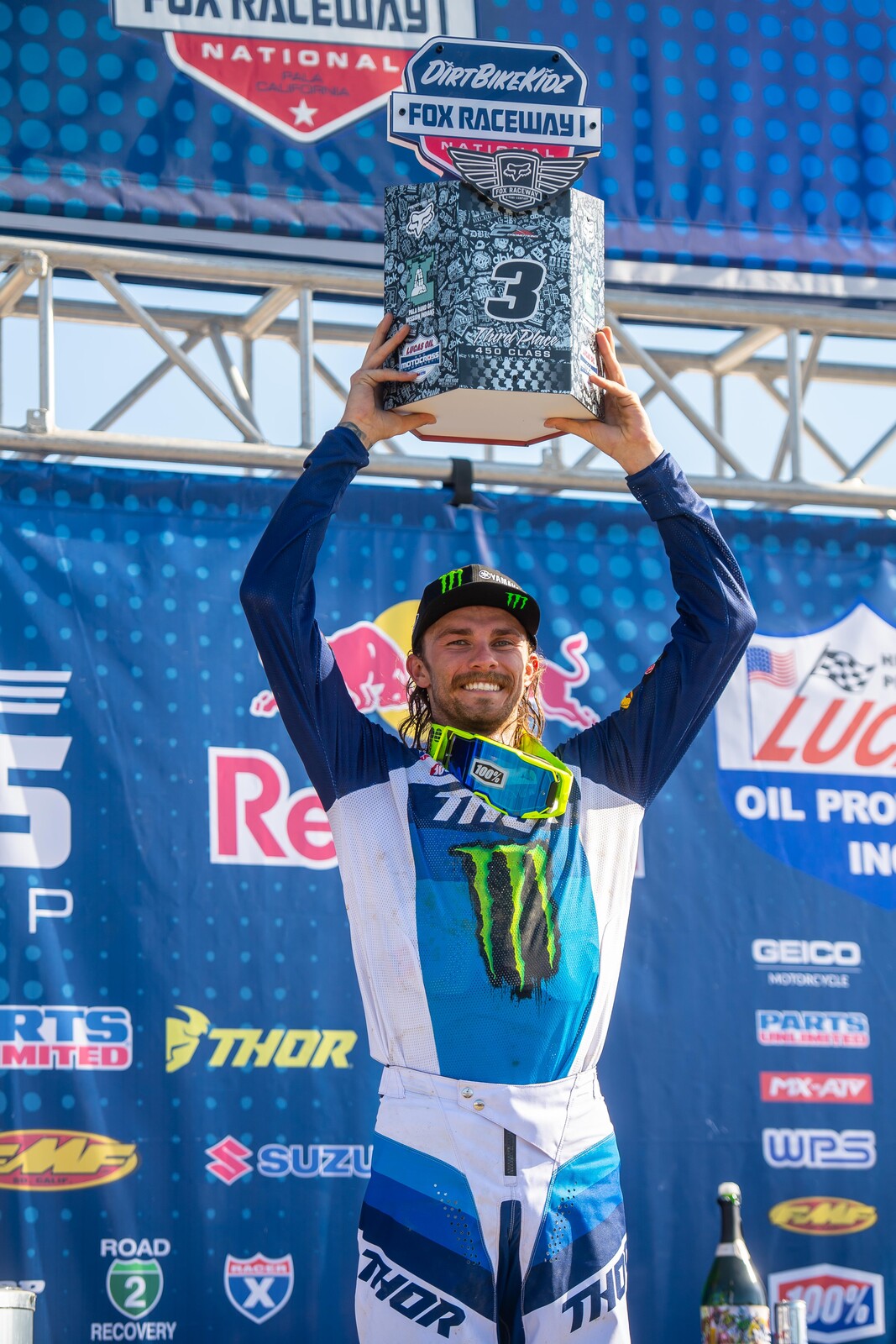 Coming towards the end of supercross and coming into motocross, things just look that much better for you on the motorcycle. You look happy. There's a difference. Aaron Plessinger is the guy he used to be in the 250 class. What's the difference? Is it simply going back to Star [Racing] was just comfortable to you and it was like going back to home? What was the biggest change that everything is so much better?
I think going back to Star for sure definitely played a big, big part in this whole thing. They have turned the bike around. It works so good now. It's almost like riding my 250 again. It's unreal what they have done to this bike. Confidence comes with it too. Coming back to this team, I knew I was going to be around guys I knew, knew my lingo and knew what to do and how I like the bike. So, I think that plays hand in hand. Just clicking off round by round, getting confidence in the bike, getting confidence in me. Fitness is getting better. Everything just adding up. I think it's all starting to fall into place. Our starts are getting good. I think there's going to be a lot of blue up there this year.
You obviously had such a good season in supercross. You've said on a number of occasions now that the bike is a lot better, but were you automatically confident that that would transfer outdoors? Or is proving it to yourself on a day like today important also?
Obviously proving it is a little more important, I think. I knew coming into outdoors I was going to be up there. If not on the podium, top five, top ten, somewhere around the top spots. I just felt really, really good these last four weeks getting ready for outdoors. The first time I hopped on my outdoor bike I felt really good, and we just didn't really have to change much until we started testing a little bit closer to the national. I think my confidence for outdoors just came with doing my motos, clicking off good day after good day, and just feeling as prepared as I was in 2018. Had a lot of motos under my belt back then and I have a lot of motos under my belt now. It almost surprised me the second moto just keeping up with Ken like that. It was gnarly. We put a pretty big gap on third place, and I got really, really sketchy one moment. I looked back and didn't really see anybody. I thought somebody would be right there, but we were riding so good, and I was just feeding off of him and just doing some of the lines that he was doing. Then I had some lines of my own that were pretty good, but we were riding so good. I'm stoked on it. I like outdoors more than I like supercross. I don't know why. I've just always been like that. I think just a good start to the season, and I think it's going to be a good, fun year.
Below is the full post-race 450 Class press conference:
Or listen to the press conference in the embed below (250 Class starts at 0:00 and 450 Class starts at 25:54).