Pala, CA
Fox Raceway 1
Lucas Oil AMA Pro Motocross Championship
With the gate set to drop this Saturday on the 2021 season of the Lucas Oil AMA Pro Motocross Championship, the Southern California hills are alive with the sound of motocross music as the nation's best racers prepare for yet another two-wheeled slugfest for twelve rounds. Coty Schock is one of those racers. The FXR/Chaparral Honda Racing rider has been putting in the work and is coming into the summer more prepared than he's ever been. Yes, that sounds clichéd, but in this instance it's 100 percent true! We caught up with The Schocker to get a feel for how his year has gone so far, and how it might go in the coming months.
Racer X: What've you been up to since the close of supercross?
Coty Schock: I've been riding outdoors as much as I can. Plenty of long days at Glen Helen. You have to enjoy the suffer there because it will make you appreciate the nationals. I've been able to ride with all the top guys in the sport out here. When you go to the races, it's no different than a typical practice day out here. That's one good thing about SoCal.
What'd you think of supercross? This was your first real go at it.
Yeah, it was, and I love it. I never actually wanted to do supercross, but I was told, "Hey, if you want to make a career out of this, you have to do it." So, this year was actually my first full swing at supercross. I was really happy with how it went. I know I could have done probably a little bit better, but coming in and getting ninth overall in the points in my first full year, is pretty stellar for me personally. It's nice to be back outdoors because it comes to me more naturally, but supercross I've found is where my talent comes out, with how technical it is. I know I have more in me too. Next year should be really solid.
I'm really surprised to hear you say you never had an interest in racing supercross growing up. Usually it's the other way around. Everyone wants to race in a packed stadium under the lights.
I always thought it would be cool, but considering where I lived [Delaware], there were no supercross tracks around me, so it wasn't ideal. I would have had to move to a training facility, and we didn't have the money to do that. But moving out to California to do supercross ended up being the best thing for me. It was a gamble and I'm very thankful I made that decision.
What do you think your strongest race of the season was?
I feel like Daytona was a big one for me. I'd never been in third place for like 90 percent of the race. But I feel like Arlington, when I was like half a bike length behind Justin Cooper for the holeshot and ran up there for two or three laps until I had that incident with Seth Hammaker, that was a big breaking point.
Do you have any funny stories from the road? Any surprises or anything like that?
No, but my teammate, Carson [Mumford] and I definitely got close. He and I traveled to the races and stuff, and we definitely have some funny stories that are probably better left unsaid. [Laughs] We got some of those Bird scooters, and it was so cool exploring the cities and getting out of normal, everyday life, and seeing what these cities have to offer.
Oh man, I bet the damage rate on those scooters goes up tenfold when supercross comes to town. Guys are ruthless.
Oh yeah, I can only imagine! But we actually owned these ones, they weren't the rentals.
That's probably wise considering how janky some of those are. So, looking ahead to motocross, you'll be on a 450, correct?
Yep, the entire season.
It seems like you were starting to put things together last season, and now you're coming into your second year on the bike, with the team, and coming off a pretty solid season of supercross. Is there a sense that this could maybe be a breakout season for you? Or are you just taking it race by race?
I think in the big picture yes, it could be a breakout year for me, but really I'm just taking it race by race. I've always set reasonable goals for myself and I'm slowly starting to click them off. I try not to look too far ahead and mess my mentality up. You have to take it race by race. You could have a great season, or you could lose it all at the first round. I think the best advice I've ever gotten is to just be humble and modest. I'm just taking it race by race and I'm looking forward to gate drops. I know what I can do. I've seen it on practice days, I just have to do that on race day. It should be a really good year for us.
In what ways do you think you'll have an advantage this year versus last year?
Preparation. We've done a ton more suspension testing to actually get the bike where I want it. I've been able to be picky, to get the bike where I want it instead of just settling. Growing up my dad was always, "This is what we can afford. Run it." Now I can say, "Hey, I don't like this." I'm actually allowed to say no. Having Tony [Archer] as my mechanic and life coach, he's really prepared me for everything.
So what are the expectations for the summer?
I'd like to be hovering around the top ten. I know I can break through the top ten because I've done it before, but the 450 Class, all those guys practically have won championships. They're the best of the best, and I just would love to be near them. My goal is obviously to be the first privateer after all the factory bikes, and I'd like to beat some of the factory guys. I want to hover around the top ten all season, and I'd love to pull a legitimate holeshot. That would be awesome. I've hovered around third and fourth, and I know I can do it. I'm going to try my best to make it happen this year, that'd be really cool.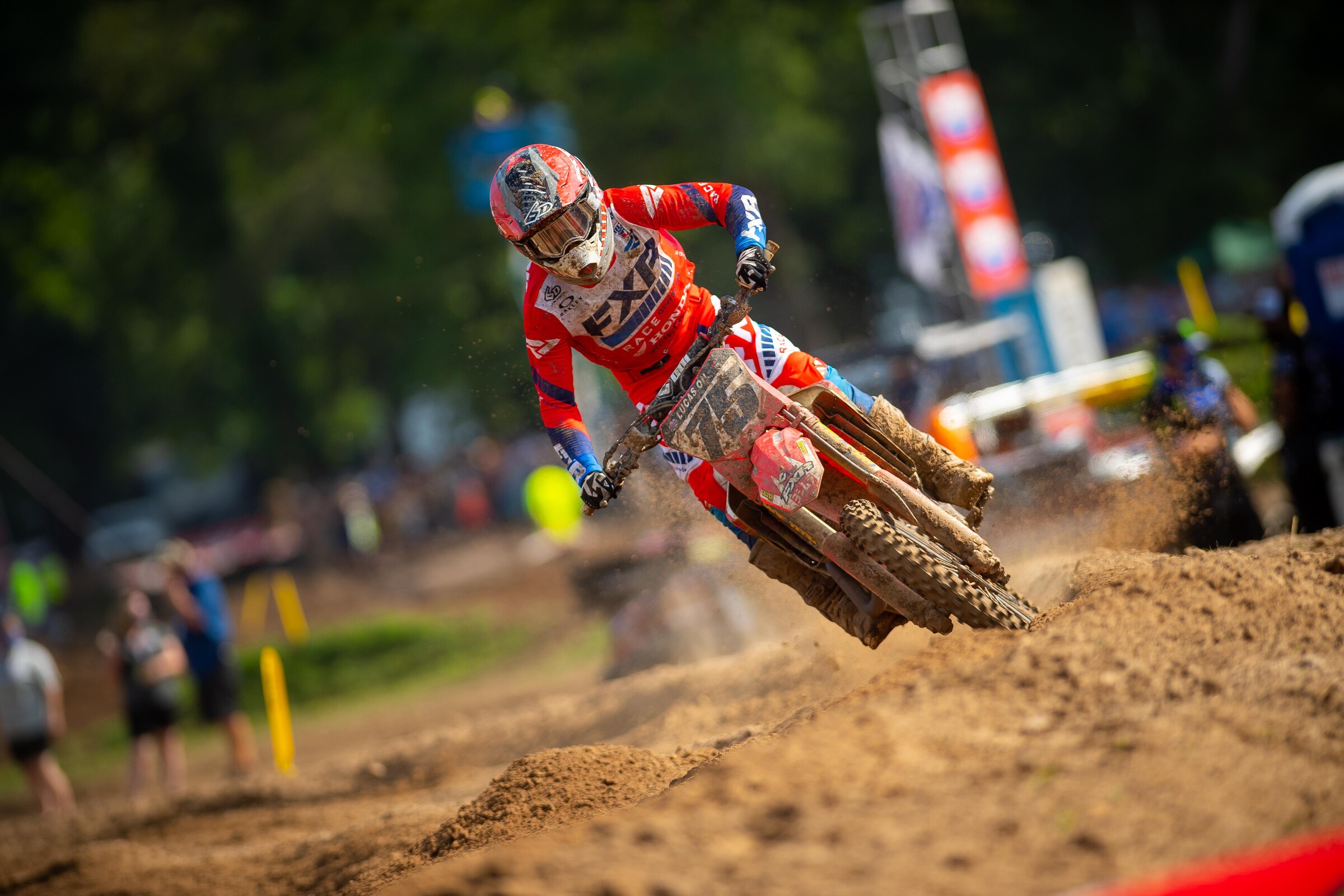 Isn't pulling a holeshot the greatest feeling on Earth? I've only done it a few times, and it was at an amateur level of course, but even then it was amazing. I can't imagine what it would be like as a pro!
Yeah, knowing the whole pack is behind you… That adrenaline rush—you have to go or you're going to get eaten up. It's one of the coolest feelings. And honestly, when you pull that start, you know you're one of them. It's not luck, you earned that, so just keep going.
Changing directions just a little bit, you're one of the very few riders with a college education. What'd you major in and when did you graduate?
I majored in C.A.D. [Computer Aided Design] and I graduated in the winter of 2018. So 2019 was my first full year chasing my dream.
I don't want to make this question sound like getting a degree isn't important, because I believe it's very important. But do you think that time in school slowed you down at all? Would you be where you are right now sooner? Or did it actually help, in that you came into this a little older and smarter?
I would like to say it delayed me, but at the same time everything happens for a reason. Going to college and learning time management, stress, being under pressure, studying for exams, it taught me a lot. I feel like a lot of guys in this sport, they're mature, yes, but life decisions, they aren't always the best. My parents always pressed school on me, and getting that done. Let's be real, you always have to have a backup plan. I don't necessarily want to do it, but I put in my time and now I'm doing what I want to do, and seeing where dirt bikes can take me. I'm very fortunate to say I went to school. It's definitely a different path compared to other racers, and I think it's for the better.
It's a really good social education too.
Yeah. I went to public school and there were times where I didn't ride for two months. Everyone has a different path, but we all seem to meet up on the gate. It's really cool how this sport works.