"I've been around for a lot of years and this is something that I've never seen before," said Team Tedder/Monster Energy/Lucas Oil/KTM Racing rider Martin Davalos from inside the team's race rig situated somewhere over at the sprawling Atlanta Motor Speedway NASCAR stock car facility. The fifteen-year AMA Pro Racing motocross and supercross competitor who managed to reach the podium in ten different AMA 125/250SX seasons was referring to the high-speed race circuit laid out in the infield of a 125,000-seat NASCAR track at Atlanta Motor Speedway. Even the veterans are still wrapping their heads around this big track. On Friday afternoon we spoke with the Flying Ecuadorian.
Racer X: Martin, we're 14 races into the 2021 Monster Energy Supercross Series and you're slotted-in at position 14 in the 450SX classification point standings. How are you and have you felt about your season thus far?
Martin Davalos: Yeah, Eric, it's been a tough year. I'm not going to lie, I've been struggling a little bit. I don't know if it is with the speed a little or maybe it's that those guys are really sending it, it has just been a little bit of a struggle. I feel like I've found myself in the twelve spot a lot this year.
Be it pre-season or 14 rounds into the year, there has been a tremendous amount of chatter with how just how stacked the 2021 field is in talent and skill.
Yeah, it really is a very stacked class. The people that I am racing against, they're not just past champions. There are so many good guys. It's just a tough class. The start means a lot. There is not one guy who is not there. It's definitely been a challenge. I've been trying to improve every single weekend. We've got three rounds to go and I do want to finish this season strong. We've been working really hard all season and through this year to try and finish strong. I'm going to give it my best. These couple of races here in Atlanta have been pretty tricky. The tracks have been quite fast and quite speedy for my kind of liking, but we all have to race the same thing and we all have to adjust to it. I've been a little bit uncomfortable with the bike set-up and it all being so fast.
KTM is a major supporter of the team and you guys have proven yourselves to be quite competitive, but then again, you're not really a full-on factory team. Is there a difference?
Yeah, definitely. We're trying to do the best with what we've got. We do have support from KTM and Matt Tedder has provided us with good engines and all that, but as you said, we don't have access to a lot of the things that some of the other teams might have. It has been just me and my mechanic pretty much just making decisions and changing the bike and trying to get me as comfortable as I can. The Atlanta conditions with these fast speeds and long lanes, you would think the suspension would adjust to it, but it's so high speed. When you're inside the stadiums we race in, you just don't reach the speeds we are getting up to out here so the bike is reacting differently. I feel like the lanes here are a lot longer than they usually are, so it is just a different feel. I seem to be struggling a little bit, but like I said, it's not an excuse. Everybody has got to do this. Everybody has to adjust to it. Yeah, I hope I can turn things around here in Atlanta. I always love Atlanta but I also love Salt Lake City. I want to finish strong. That's really the main goal.
Yeah, going from this long, high speed, Atlanta Motor Speedway circuit over to the track that will be built on the floor of Rice-Eccles Stadium over in Salt lake City could make for a pretty radical change for all of you guys.
Oh yeah, what they've thrown at us this season has been crazy. At the beginning of the season we had these races where we were doing 40-second lap times and doing thirty laps and now we're doing fifteen laps because the tracks are one minute and 40 seconds long, and also so high speed. It has been a crazy year. You know it. I've been around for a lot of years and this is something that I've never seen before. Obviously the COVID has messed a lot of things up and we are lucky to be racing. This s what we were dealt and luckily we have this Atlanta Speedway that has welcomed supercross here to get us racing. I feel like it has been really interesting. The tracks have been really fun. The jumps have been bigger. I feel like that since the tracks have been so long, passing has been a little easier. Fitness shows a lot in these kind of conditions, as well. I feel that for the racing part of things, I think these circuits have been a little better. The turns aren't as tight and I feel like the tracks flows a little bit more. As I said before, it's just getting used to this high speed stuff. During the week we are training at a regular supercross track and then we come to this place and we're hitting fourth gear wide open in these rhythm sections where we are so used to having 50 yards of rhythm. Here in Atlanta we almost double that.
Yeah, even on television, I can see how fast you guys are going. More like MotoGP, huh?
Yeah, definitely. And with TV you don't really appreciate it. The tracks are getting really, really brutal. With the sand they are bringing, and riding and racing with supercross suspension, the bike really doesn't handle as good as it would maybe outdoors. It's something that you have to compromise with to make the bike work as good as it can with the racing conditions.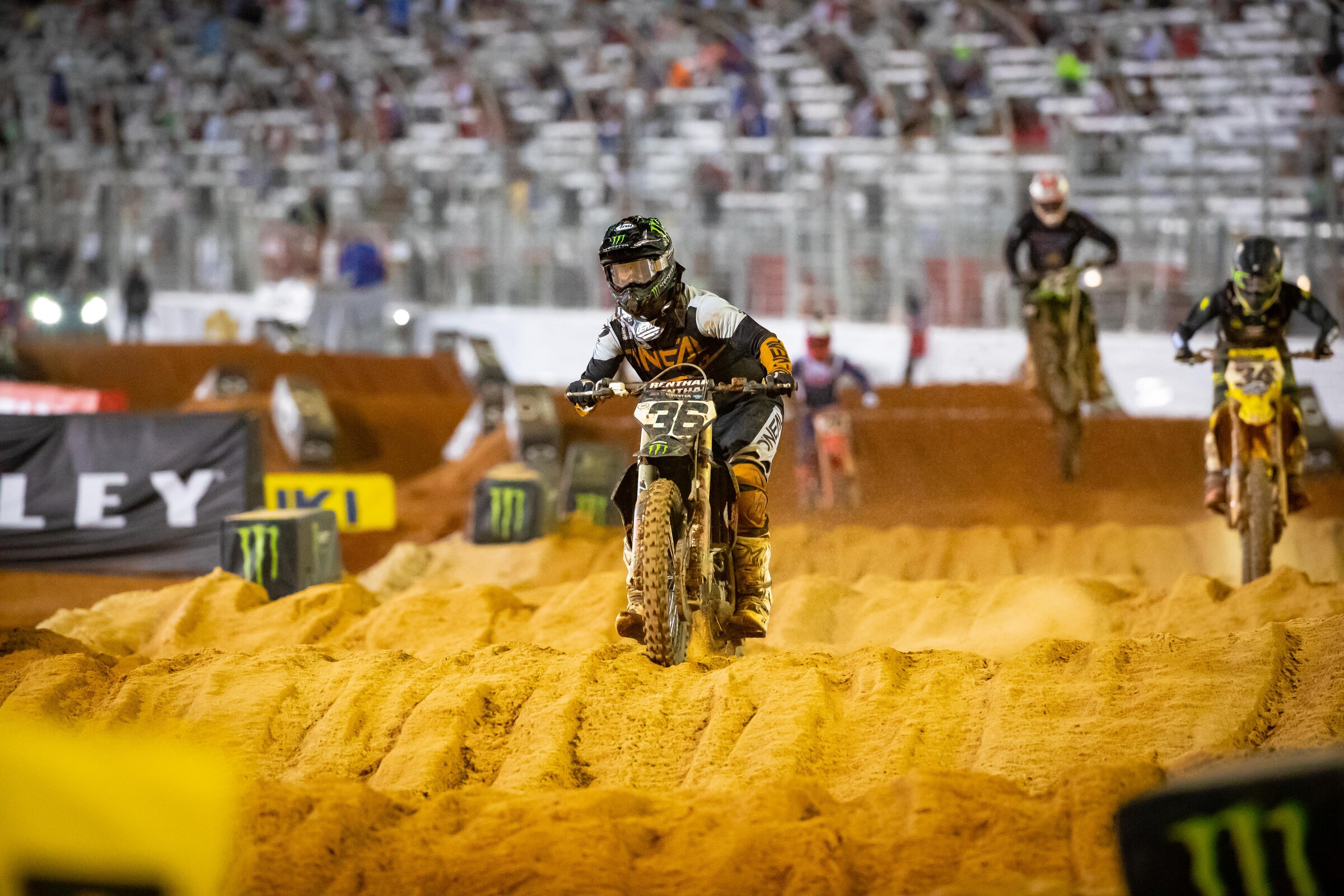 I went back and looked at this interview you and I did last year. You were still relatively new to the 450SX class and still getting a read on it. It's now a year later and you've done really well for yourself! You were the 2020 Monster Energy Supercross 450SX Rookie of the Year, placed 13th in final points and recorded five top-ten finishes. You should be stoked!
I really appreciate that, Eric. That means a lot. I'm proud of what I've accomplished throughout my career and everything. You know, racing these guys and me being one of the oldest guys and trying to keep up with all of these young bucks, I think it's important that I keep myself honest and keep pushing and keep doing my best. That's all I can do and then hopefully the results can come up. I've got three more to go and I just kind of want to keep my head down and try and get good starts. I know my fitness is good and hopefully I can finish all of this out good.
You race for a very cool team. Team Tedder/Monster Energy/Lucas Oil/KTM Racing is different. It's special, isn't it? It's fantastic you guys are out there racing and racing competitively at each and every supercross you show up at.
I'm very happy to be there. To be there with Matt and Christine and Team Tedder and with what they have done to have this team and to support me in what I really like to do, it's been a blessing. I'm enjoying it more than ever. The team is so laid back. They really are a family-oriented business and they're just like family to me. They treat me like one of them and that to me is very special. I'm very, very happy to be part of it and this is going to be the team that I am going to end up with until I retire and then we'll see what happens next.