Atlanta, GA
Atlanta 2 (West)
Monster Energy AMA Supercross Championship
Jason Anderson's start to the 2021 Monster Energy AMA Supercross started off a little rough as he finished 15-8-8-7-6-8 in the first six rounds before claiming his first overall qualifying spot, his first heat race win of the season, and his first top-five finish at the seventh round. Since his solid night at the Orlando 2 Supercross, as the season has progressed, so have Anderson's results. The 2018 450SX Supercross Champion claimed two more fastest qualifiers and two more heat race wins but a bad jump off the gate on Tuesday's round 14 heat race left him dead last going into turn one.
Anderson made it back up to 12th after a pass on Alex Ray ahead of the tricky triple-triple-triple rhythm section before the standard supercross triple. Anderson ripped a tear-off but slightly overjumped the first triple, forcing him to adjust to going triple-double-double-double. Behind him, Ray stuck to the triple-triple-triple line but got cross-rutted on the takeoff of the final jump and his Kawasaki KX450 came down on top of the back of Anderson, sending them both to the ground.
Anderson then displayed his displeasure with Ray.
Anderson got going again but eventually came up just short of a transfer spot as he finished 0.4 seconds behind ninth-place Justin Starling. By the gate drop on the LCQ, Anderson came out of the first turn behind Scott Champion, who snuck to the inside to take the early lead. Two turns later, in the same section where Anderson and Ray got collected with one another, Anderson overtook Champion for the race lead. From there, Anderson put in some hot laps, dropping a 1:36.930—the fastest time of the nigh show to that point. He claimed the race win with a 30-second gap back to second place. By landing on the top of the board in qualifying, the #21 had already proved he could go fast at the speedway, but the incident with Ray appeared to have fueled the fire within Anderson.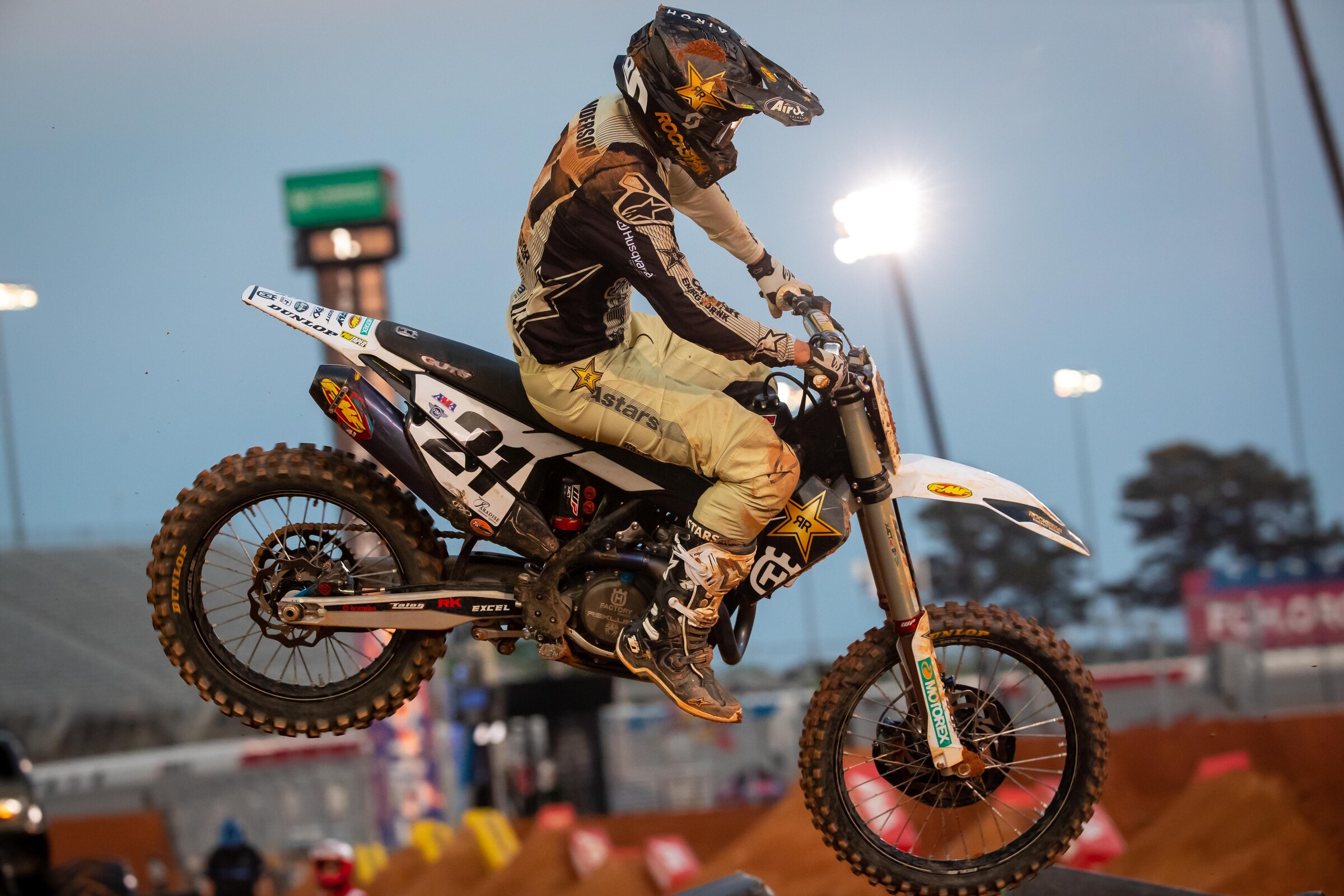 Supercross
| | Rider | Time | Interval | Best Lap | Hometown | Bike |
| --- | --- | --- | --- | --- | --- | --- |
| 1 | Jason Anderson | | 5 Laps | 1:36.930 | Edgewood, NM | Husqvarna FC 450 |
| 2 | Henry Miller | | +30.639 | 1:42.621 | Rochester, MN | KTM 450 SX-F |
| 3 | Scott Champion | | +33.040 | 1:42.788 | Temecula, CA | Yamaha YZ450F |
| 4 | Cade Clason | | +35.879 | 1:42.378 | Arcadia, OH | Kawasaki KX450 |
| 5 | Joan Cros | | +41.981 | 1:44.972 | Manlleu | Kawasaki KX450 |
Full Results
Then in the main event, Anderson used his outside gate pick to his advantage to position himself well in the first turn. He shuffled ahead several spots early and was seventh after the first full lap. On the seventh lap, he managed to pass up to third place—where he would stay for the remaining seven laps as he claimed his second podium finish of the season.
With the significant improvement in his results about a third of the way into the championship, Anderson acknowledged his mental space for the improvement on the track.
"I feel like I care a little bit more right now," he said in a media roundtable after finishing the Atlanta 1 Supercross without his gear shifter. "I've been enjoying myself riding and just trying to better myself week in and week out. Honestly, during the week I've been enjoying my practicing. I think as far as riding, it's been getting better at the races, but I still don't think my results show how good I'm riding. I need to get my starts and get up front. It's hard because there's so many guys that are good right now. You go to that first corner and the top ten on the inside of the box are all factory guys, and there's more on the outside. So, it's just crazy."
Afterwards in the post-race press conference Anderson commented once again on his improved results as a product of the group around him.
"To be honest, I think just the group I'm around," he said. "Even when I go to practice and stuff, I'm with the Lawrence brothers and Joey [Savatgy] and we have a good time. I think that's the biggest part about it. We work hard and we enjoy it. That's something that I've been kind of searching for over the years. I think that's part of it and then just in my life in general. I'm getting older. I feel like I'm just in a good spot in life. I think it's coming around. I think right now it's one of my priorities. You don't realize it until you go through it, but what we do is pretty freaking awesome. I'm really enjoying doing it lately. At some points in the past I really liked riding dirt bikes, but the actual training side of it and everything like that, it's tough. It's a grind day in and day out. This sport ain't easy. But right now I'm enjoying myself and I'm enjoying the hard work, which is a first for me."
"Today was pretty stressful," Anderson said after the race. "It started out amazing and I felt like everything was going smooth, and then I stalled it on the gate for the start but I was able to come back and ride good. I was lacking a little bit of energy at the end but I feel like my speed is good and my riding is really well so I'm excited."
As for the incident in the heat race, Anderson continued: "I wanted to say sorry to Alex Ray. Kinda overreacted, not that I think his move was good by any means, but I shouldn't have gotten crazy. At the same time, pumped that I came around from that. ...Let's do it again, one more round here. Let's see if we can get a start and actually race them in the beginning, that's what I'm looking forward to."
He also posted the following on Instagram:
At the 2016 FIM Motocross of Nations, Anderson took the race win for team USA in the Open/MX2 but was unexpectedly landed on while rolling the finish line jump—which left him unconscious momentarily. Luckily for Anderson, this time around he escaped with only minor scuffs.
Last night on the PulpMX Show, A-Ray talked about the incident from his perspective and explained what Anderson said to him while they were on the ground [Note: Warning, strong explicit language is used].
Supercross
| | Rider | Time | Interval | Best Lap | Hometown | Bike |
| --- | --- | --- | --- | --- | --- | --- |
| 1 | Ken Roczen | | 14 Laps | 1:35.068 | Mattstedt | Honda CRF450R |
| 2 | Chase Sexton | | +07.982 | 1:35.895 | La Moille, IL | Honda CRF450R |
| 3 | Jason Anderson | | +12.665 | 1:36.056 | Edgewood, NM | Husqvarna FC 450 |
| 4 | Justin Barcia | | +14.629 | 1:36.529 | Monroe, NY | GasGas MC 450F |
| 5 | Eli Tomac | | +20.070 | 1:36.018 | Cortez, CO | Kawasaki KX450 |
Full Results