After a tough rookie campaign back in 2019, ClubMX Yamaha's Joey Crown started the 2020 Monster Energy AMA Supercross season in much better fashion, logging 8-7 finishes at the first two rounds of the 250SX East Region. Then, he suffered a concussion and a broken collarbone on press day for round three in Atlanta, which ended his supercross season. The concussion symptoms took a long time to clear up, and Joey learned a lot about the latest in concussion therapy. If not for that, he might not have returned to the track at all.
Unfortunately, Joey went down with another concussion this year at Daytona. He was running third in his heat race before a crash sent him to the LCQ. In the LCQ, he went down in a rhythm lane and got knocked out. Considering his history from last year, that was scary to see, but Joey says he's okay and ready to return for Atlanta this upcoming weekend.
We caught up to him to learn more about the latest in concussion therapy.
Racer X: So you're back on the bike and you're not done?
Joey Crown: Not done. Luckily the Lord blessed me and I'm back riding. Rode a little bit at my house, just playing around on a two-stroke, but the real test was going to be back here on a supercross track doing the regular riding and training and everything. It went real well. I'm not quite banging bars yet, I'm more focused on myself, but for not quite pushing it 100 percent my lap times are pretty close. That's comforting, for sure.
Do you remember the Daytona crash?
Yeah.
Too bad!
[Laughs] Yeah! I remember everything leading up to the crash, and bits and pieces for about 30 minutes afterwards. I just remember, I almost saved it. I remember endoing off the second triple and clipped it, but I remember thinking I had it saved. But then I hit the next jump and it set me sideways, and then I hit the next jump and…lights out.
Was it a bike problem?
No. Not a bike problem, it was just a tricky jump. I still don't know what I did wrong exactly. I might have went into the pocket too fast. You're going from a small one to a high one. I think the first red flag in that LCQ was from the same jump. I remember when I first came to, I heard them saying "red flag" and I said, "Don't throw the red flag let me get back up!" [Laughs] Then they threw it. I wasn't really coherent.
You were having a good night.
Yeah. Sunday after Orlando I was doing starts, of all things, and I actually slid out in a turn and kind of tweaked my ankle. It popped pretty good and swelled up immediately. I couldn't walk on it. I was freaking out. I did one race and then now maybe I messed up my season. I went to the doctors on Monday and found some crutches. They did some X-rays and luckily nothing was broken, just a bad sprain. Then they said, "Give it about six weeks." And I said, "Well, I have to race this weekend!" [Laughs] So they told me to wear this boot for a few days, try to stay off it and ice it like crazy. So I was on crutches until Tuesday…
[Laughs] Tuesday! Wow they said six weeks and you gave it two whole days.
[Laughs] Yeah two whole days. Yeah, my dad was like, "You think you're going racing this weekend?" I told him I was trying to take it easy on it. I was able to hobble around and so some work on the stationary bike. Press day Friday was my first day on the bike and it was pretty unstable. So I taped it even more on Saturday, so much that I was barely able to move it. I was able to make it happen. The heat race was going really well until I had a dumb mistake.
Does that give you a little confidence?
Oh for sure. Orlando, my starts were horrible, and I was in the back of the pack, guys going everywhere, and I was not sending it enough. Just too timid. I just needed to get a start, and at Daytona I got three good starts. It just clicked, I was riding good. I passed Jalek [Swoll] in my heat race and I kind of pulled away from Pierce Brown for a minute there. Then I made a mistake in the same rhythm where I crashed in the LCQ. Pierce passed me. Then I fell trying to somewhat pass him back.
But you felt like you were up there with Swoll and Brown, who had good races.
Yeah. Seeing Pierce Brown up on the podium later, I was like "Man!" It was definitely a confidence booster, going from barely making it in the heat in Orlando, to running up front in the heat in Daytona.
You had major concussion problems last year. Was there a time, when you realized you had been knocked out, that you thought that was going to be super bad.
Oh for sure. My symptoms were a little different. Atlanta last year, I had some vision issues, this time I didn't have that, so that was comforting. I didn't have too bad of a headache, but I was worried. I watched it back and it was tough to see that. I was wondering if I even wanted to race again. Head injuries are something you don't want to mess around with. So we stayed in Daytona on Sunday, came home Monday. I was making calls to different neurologist places. Back home in Michigan I found a place, they did an MRI and a few other tests, and I was above average, but I guess I should be, being an athlete. But, because this was just a few days after the race, that was very positive. I was doing a lot of therapy and things were coming along, but for about a week and a half after the race, I was still worried. Headaches weren't too bad but I was just fatigued a lot. I wasn't making a lot of progress. Then it just clicked one day, which is what didn't happen last year. I just kept at it with the therapy, then I started riding last week, and then I came down here to try supercross. I'm sure glad I did.
What I really wanted to talk about was the therapy. We talked about this last year. I don't think people realize that's something you can do.
There's so much research out there and there are so many places. Last year, I thought the place that I went to in Minnesota, the Functional Neurology Clinic, was the only place out there. Carter Biese turned me on to that. Now I'm finding out there are places all over that follow similar principles. I've read a lot of books on it and I've combined a lot of exercises I've learned. Actually, they had a segment with the [Kawasaki] Science of Supercross on the TV show the other week, where they showed a lot of brain and eye exercises. It's a lot of things like that. I'm happy with what I've learned and I don't think I would have come around so quickly if I didn't do my exercises. It's funny, at the end of the day, I can actually feel like I did my exercises, like, my brain actually feels it, just like muscles do after a workout.
It's like your brain is sore from working out!
Yeah exactly like that! I've learned a lot and I've done a lot of research. I think all the things I do, it not only helps with the concussions, but just riding in general.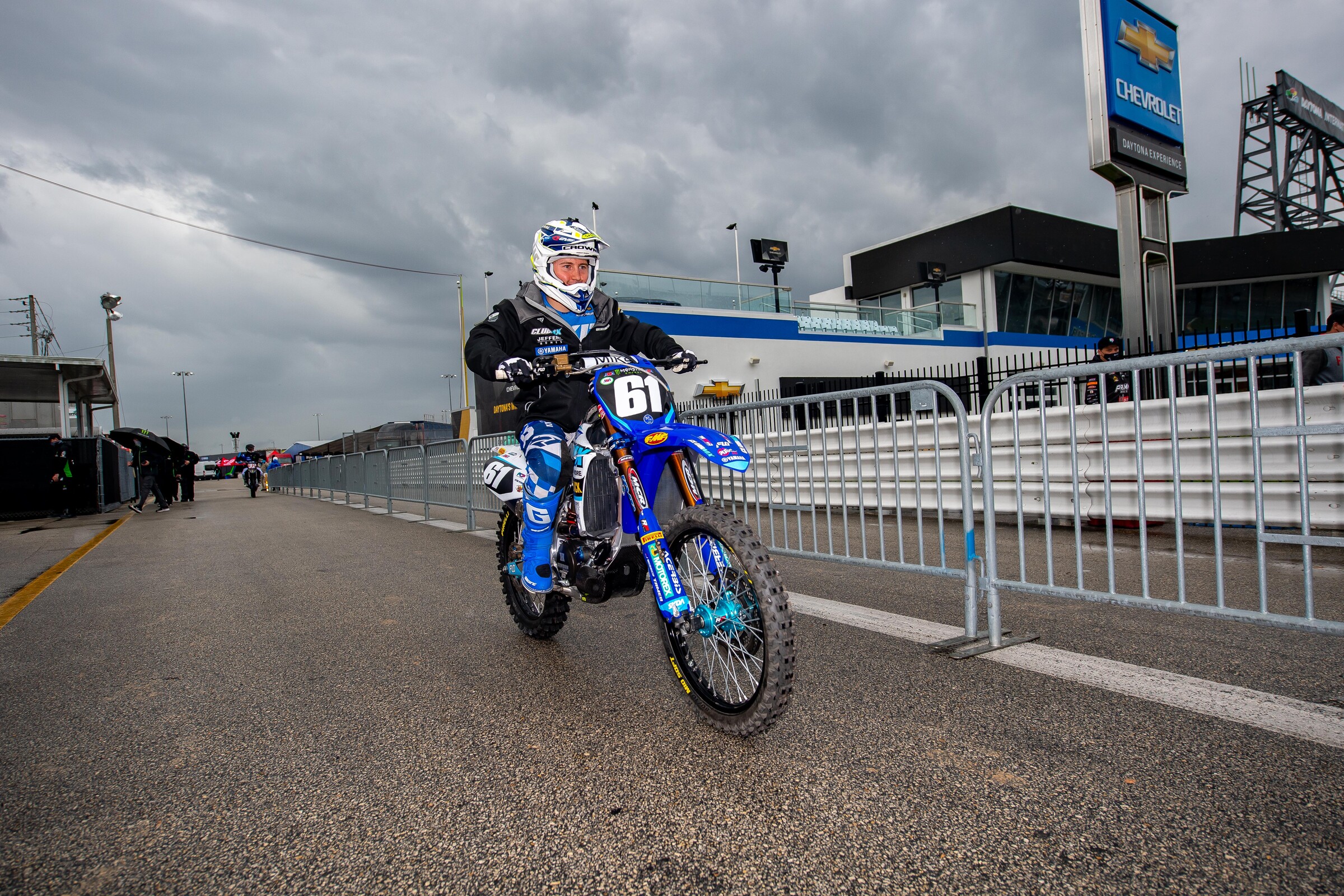 So this is totally different than last year.
Yeah. What I've really learned is, the second concussion close to the first one is a major problem. Last year, I took a hit to the head just before the season started. I'm not sure I was fully 100 percent recovered from that. Then I went down in Atlanta press day. I'm not sure if that was what made it worse or not, but that was a totally different situation than this year. Last year I just wasn't making progress for months. So this time I wanted to make sure I was completely good before I rode again.
And the good thing is, no long term damage?
Yeah, from an MRI standpoint, structurally, they couldn't see anything. They couldn't detect one concussion let alone everything I have had. That was very, very encouraging. Gives me a lot of confidence that I'm alright. He said that if he took an MRI of 10 motocrossers, he would assume he'd see some sort of residual sign of some past brain trauma in at least three of them. So he didn't see anything with me, so that was good. Also, he actually did see a brain in there. [Laughs] It's good to know I have one!