Arlington, TX
Arlington 3 (West)
Monster Energy AMA Supercross Championship
Justin Cooper has taken (a slight bit of) control in Monster Energy Supercross' 250SX West division thanks to his second win of the season, which he scored on Saturday. Monster Energy/Pro Circuit Kawasaki teammates Cameron McAdoo and Seth Hammaker took second and third, respectively, and chatted with the media after the race.
McAdoo is second in points, just two behind Cooper. He incurred a three-point penalty at the previous round of the series after he crashed in the whoops and then skipped a part of the racetrack before he rejoined the action.
You're very close in points so the Arlington 2 penalty could loom large in this. Could you explain what happened there from your perspective?
Cameron McAdoo: In a racing incident, when you're in that moment, to try to go down to that next corner at the end of the whoops, there were people standing there, and I've already had an incident this year with medics. That's not what I want to do. Obviously, I probably could have cut less of the track, and I technically rejoined the track in front of those other two guys, even though I did check up in the next corner once I was on the track. When I rejoined the track, I was in front of those guys, so it didn't matter what I did even after that, even if I did let those guys by. I thought I was doing the right thing by doing that. I wasn't trying to pin it across the track, but yeah, I could have maybe gone slower. Yeah, it was tough to take that three-point loss, on top of being frustrated with myself for making the mistake that led to the crash in the first place. They explained their position and why they docked me, and you just have to take it on the chin and focus on the next race, which was tonight. It was an unfortunate thing, and we'll learn from it.
I know you guys are mostly focused on the main events, but Justin Cooper has been fastest qualifier in every session this year. You've said you're working on your qualifying this year, and you almost had the spot today. Seems like you want one of those?
Yeah! It would be good to get one. In the past I've really struggled in qualifying but this year I've thrown some good laps down. I think I speak for everyone when I say we're all trying to chip away at that. It's funny, I was telling my team today that I thought I had it this time! But sure enough he threw it in there in the last lap. We're close and like you said it really only counts in the main event, but he's riding really well. It's a big confidence booster going into the night if you can be fastest qualifier, I can imagine. We're doing our best to get up there—I'm not going to let him get them all!
It seemed like you had the pace tonight to keep Justin honest for most of the race. Do you feel confident you can do this over the second half of your series, and what are you going to work on?
Yeah, I do have some confidence. It was good in the main, we were close the whole time, and we were just kind of yo-yo-ing for a while there. There were spots he was making time on me and then a few spots where I thought I was gaining. When we got into lappers, it actually kind of helped me. I got back right on his wheel a little bit. They affect us all differently. So, they messed him up at first, but then later they messed me up. I actually had a guy race me for a lap, he raced me through the whoops! We almost came together in the whoops and I was like "What is this guy doing?" You can't blame lappers, though. Then I had a few bad laps. I missed that rhythm after the start straight, I had to double through, and I cased the quad on another lap. That's what got me off the back of his wheel, but it was good to run up there. We're going to do our best to come out swinging in Atlanta.
What has it been like being in a championship scenario and dealing with that pressure for the first time?
Yeah, this is the first time I've been in a championship fight and I have to just take it race by race, approach it like any other race. I just need to continue to do that and bring the best version of myself each Saturday. Just focus on the plan of each session and each time I'm on the track just do the best I can. Try not to think about the points of the red plate. Obviously, it's in the back of your mind but you just have to do the best you can each night.
Seth, what's the focus for consistency and such? You've had the speed at all these races and you're doing well in the points chase. So, what's your goal for the year now?
Seth Hammaker: Yeah, the speed has been good, and we've done well in qualifying. The goal, from here on out, I'd say I just want to be on the podium and be consistent. I had two bad races, Daytona and Arlington 2. I feel like if I get on the box or top fives, I can sneak up in the points a little bit.
We could see your silencer had gotten some damage to it. What happened and how did you adjust? Obviously, anything like that is going to affect the performance of the bike.
Yeah, after the whoops you go across the start straight and then that on off. I was making a pass on the inside and I slipped, I actually almost wrecked myself. I think it was Coty Schock coming around the outside and I think he jumped onto the back of me because I made the mistake. I wasn't sure what it was, but I could tell my bike was running a little quiet, but I wasn't sure what had happened. It lost a little bit of power, but it wasn't too bad. I had to keep doing my laps and shake that off. At least it wasn't too damaged to do any harm like that. It was unfortunate for Coty to go down like that, but it was a racing incident.
Five races into your supercross career, two podiums and one was a win. What's the learning curve been like and how you would rate your performance so far?
Yeah, I've been learning so much. The best way to learn is get good starts and run with those guys. I would say being on the podium twice already and getting that win was super awesome. So, I just want to be on the podium and if the win is there, go for it. I just want to be consistent and keep up with my speed and I'll be close at the end. Just need to keep it going.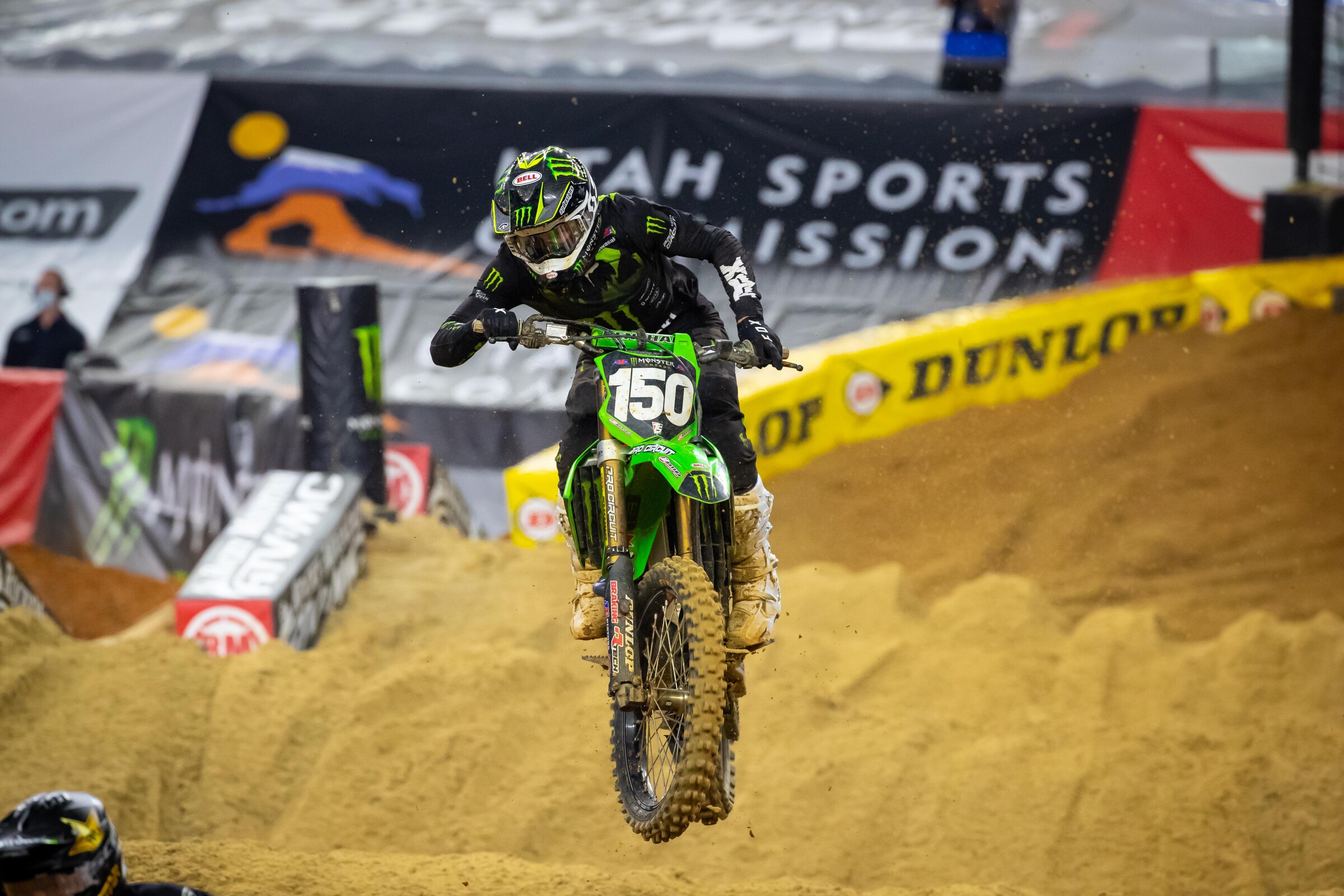 Since he didn't make the podium Hunter Lawrence wasn't part of the post-race presser, but Honda HRC did release this quote from him:
Hunter Lawrence: I had a bittersweet ending here in Dallas. It was a pretty good weekend, getting second in the heat race, but a bit of an unfortunate ending in the main. I was riding well in third, pushing and pushing, but I kept getting caught up with lappers. I felt like I was catching the guys just inch by inch, and I pushed myself but made a mistake. I landed on the far righthand side of the berm, where they built a little lip into it. It was a pretty harsh landing, as I'm sure the videos show, with me ending up in the net. I'm so thankful that the nets were there to save me and the bike so we could finish and bring it home in fifth. It was good considering what it could have been with the crash. Coming into Arlington, we were in fourth and 16 points down, but now we're only six points behind. Having the red plate and then passing it on is a bit of a bummer, but we're still in it. I'm looking forward to two weeks off now to regroup and come back swinging in Atlanta. I can't thank the team and everyone enough!