The sweepstakes is on! The privateer ranks present competition of a different sort. The teams and riders aren't battling for race wins and titles like Ken Roczen and Cooper Webb, but they have their own goals. The riders want to make mains, make money, and get noticed…perhaps by a factory team. However, the teams themselves would also welcome more support, and since other former privateer units have graduated to factory status, such a magical upgrade is not out of the question.
Our Steve Matthes and Jason Weigandt will spend the next few weeks running down what they've seen from some of the privateer teams in Monster Energy AMA Supercross.
Team PR MX Kawasaki
250SX Riders:
Dakota Alix, Ryan Surratt, Luke Neese, Devin Simonson, Chase Marquier, and Justin Thompson (injured, out for SX)
450SX Riders:
Cade Clason, Josh Cartwright, and Ludovic Macler
Weege: Steve, you have to enjoy that this team actually has Canadian roots via its owner, Julian. But he's French Canadian, right? Does that count for you or is that like a different country altogether? This team is building a good rep right now thanks to the "Infant Chiz" Cade Clason making a bunch of mains lately. Cade didn't make any mains last year and wasn't even that close, so I wasn't even sure they'd give him another ride.
There's a lot of guys here in both the 450 and 250 class. That's a lot of extra parts, money and logistics. Really, though, that doesn't matter. The goal is to have one rider or maybe two just break through and log next-level results. That's how teams like this separate from the other privateer teams and get more support. We always laugh about the roots of teams like Star Racing, or Rocky Mountain ATV/MC-KTM-WPS (Butler Brothers MX!) or Canadae Kawasaki (eventually became one of the many Rockstar Energy Suzuki teams) and morphed into the factory Rockstar Energy Husqvarna team. You never know who is next.
Matthes: First off, that's a lot of riders! Props to Team PRMX for helping that many guys some way, somehow. It can't be easy. Yes, Weege the team is a Canadian owned team which is rad. I don't know what's happened to Dakota Alix, he was supposed to ride for them but got hurt. I was looking forward to watching him. This team may do some CDN nationals also this summer, stay tuned for that.
The underrated rider here, besides Clason, is Luke Neese who I don't even know what he looks like but has shown some speed here and there, makes most of the mains. He has good style on the bike. Of course he's the son of old-school arenacross mainstay Jim Neese, so you know that aggressive riding is inside of him genetically.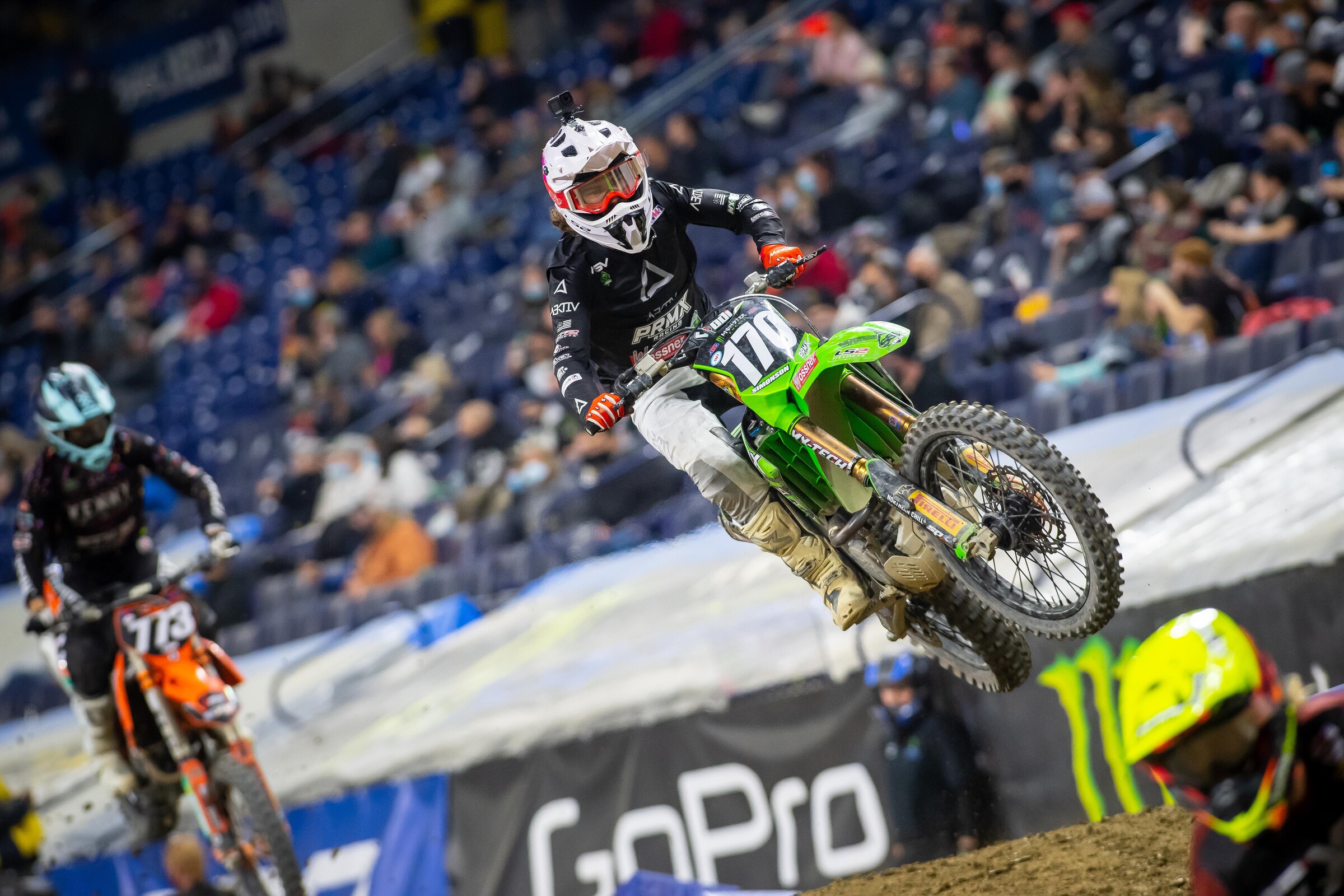 MADD Parts Kawasaki
450SX Riders
Bubba Pauli, Logan Karnow (both 250SX East Region and 450SX), Joan Cros
Weege: Gotta respect this squad which, which I think is known internally by something like International Racing Productions. That makes me laugh because teams are always called "racing" or "motorsports" or "MX" but never productions. Makes me feel like this team can do more than just race. Maybe they can hold concerts?
We've got some classic privateer roots here with Pauli and Cros as borderline main event guys. The privateer team experience is all about the death gauntlet of the weekly 450 LCQ bubble battle. Pauli, I believe, is kinda everything on this team, rider, owner, manager, etc. We've seen riders do that and go onto big things in the industry because of that experience. That's what Forrest Butler once did (Rocky Mountain ATV/MC-KTM-WPS) and that's what Dustin Pipes did as one of the owners/managers and racers with Twisted Tea/HEP Motorsports Suzuki. Sometimes the team grows beyond the original level of the rider.
In the 250s, Karnow brings this team well beyond the LCQ bubble battle. Karnow is always in the mains and pretty legit. Steve I know you like two things in life.
Matthes: Oh yeah! I like carne (asada) AND KARNOW! Yeah, Bubba Pauli is everything for this team and I did a podcast with him last year where he explained it all. It's staggering how hard these guys work! Props to Bubba for, like you said, starting something that others have shown can pay off in the future. At one point you've got a privateer team in the back of the pits just struggling to exist, and then ten years later they've moved far up the ladder.
Huge news in the privateer island world when Karnow defected from PRMX Kawi team to the MADD parts Kawi team. He's been as good this year or better so that's cool for him. Joan Cros is from Spain and when SX is over, Pauli heads over there (pre-COVID-19 times of course) to do some racing there. Then come USA SX, Bubba returns the favor for Cros, who just made his first 450SX main at Arlington 3! Also, I don't know what MADD Parts is but cool name bro. [Editor's note: they're a shop in Arkansas that sells OEM hard parts and aftermarket accessories for dirt bikes, ATVs, side-by-sides, wave runners, etc.]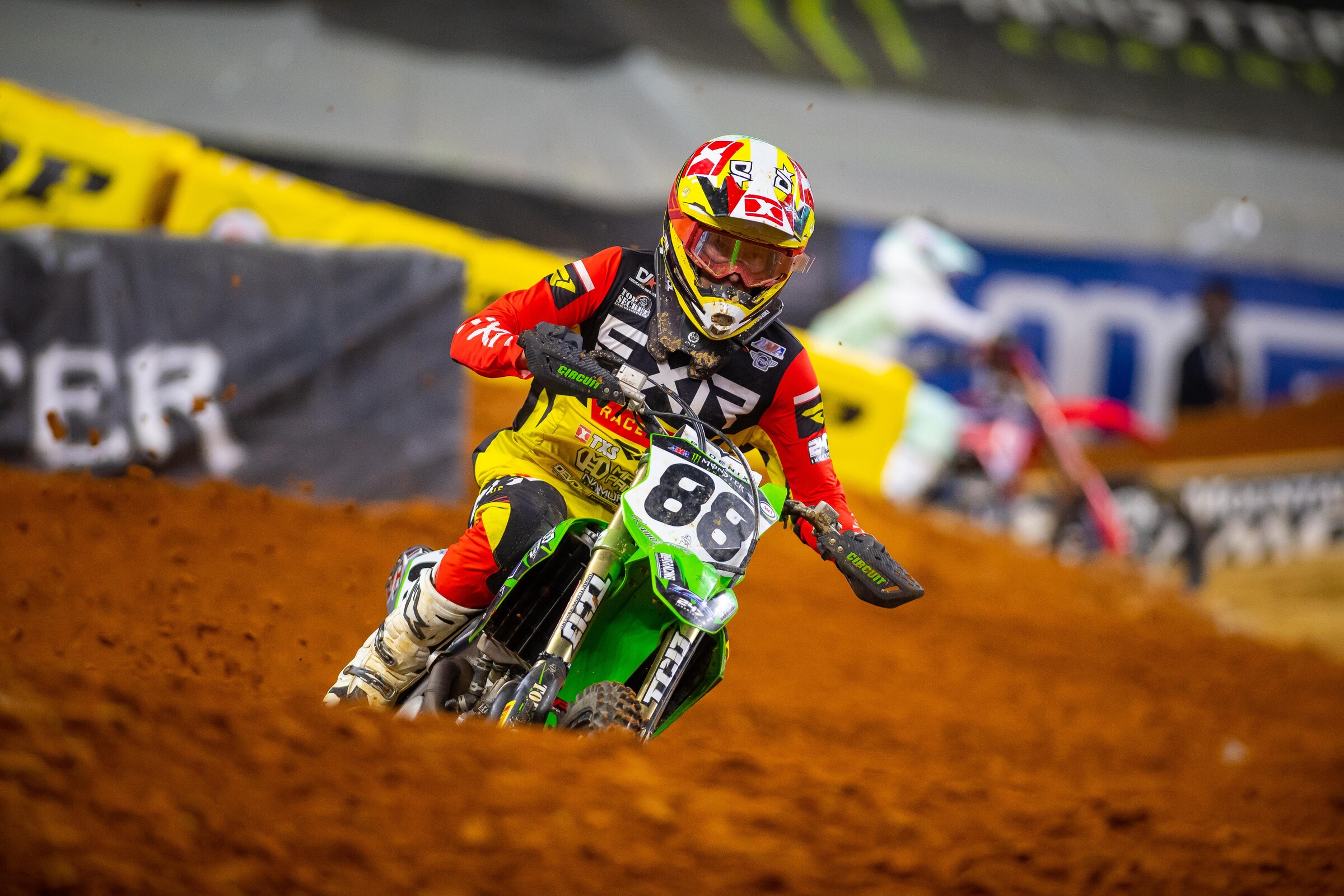 SGB Racing/Maxxis/Babbitt's Kawasaki
250SX Riders:
Jordan Jarvis (injured, out for SX)
450SX Riders:
Alex Ray, Jeremy Smith, Justin Rodbell, AJ Catanzaro
Matthes: A very popular team in the pits with personalities like A-Ray and Rodbell. These guys were a hit last summer when Rodbell crushed it in the 450 Class of the Lucas Oil AMA Pro Motocross Championship. Like, seriously, he was great. Smith also logged some good rides of his own. Rodbell was carrying some momentum after a great summer, which apparently saw him upgrade from HVAC worker during the week to an actual full-time racer. Unfortunately, Rodbell's 2021 SX season hasn't been great, but he's still a fun guy. A-Ray is a media whore, everyone loves him and he seems to be everywhere all at the same time (but of course, remember what media first paid attention to him mmmk?). Smith is a quiet guy, working hard to get better at SX and can show speed in MX. The Cat's got a popular social media following (I guess come to think of it, this whole team is team social media!) and Jarvis is attempting to make history. The team owner Jason has this thing where he keeps track of the amount of dollars the riders use of parts. Yeah, no surprise that A-Ray's up to $5,300 in parts so far in SX.
Weege: Hands down the most fun team in the pits. However, I haven't been able to visit these guys lately since I haven't gone to as many races this year because we're not really allowed to interact with the teams. Since they've had such a tough time making mains I wonder if it's not so fun over there now?
We had hoped the Summer of Rodbell would become the Winter of Rodbell but it has not. I know he has talent but jumping right into 450SX is a tough ask, makes me wonder if he should have tried 250s because those fields have been easier to manage this year. Then again, 250s are tough on the teams because the bikes require expensive upkeep and the purse is way, way worse than the 450 class.
Smith almost made a main back in Houston and I thought there would be more to come but it's been tough. A-Ray has made some mains but not as many as he had hoped. I really thought A-Ray had "the formula" down for almost always making mains, but it hasn't been easy this year. I know his goal is to be top 20 in points (huge bonus money in the series for that) and he's 24th so far. Jarvis had a concussion and missed races and now I think she's just going to come back for Pro Motocross. The Cat has quite a following but he's not a main event bubble guy like he was a few years ago.
Hey, this team has some very raw talent. You can't expect amazing stuff immediately. I just hope Jason, a super cool guy and an ex-police officer who now runs the team and his SGB suspension company, is able to stick with it long enough, because better days are ahead.
The April 2021 Issue of Racer X Illustrated
Moto Outliers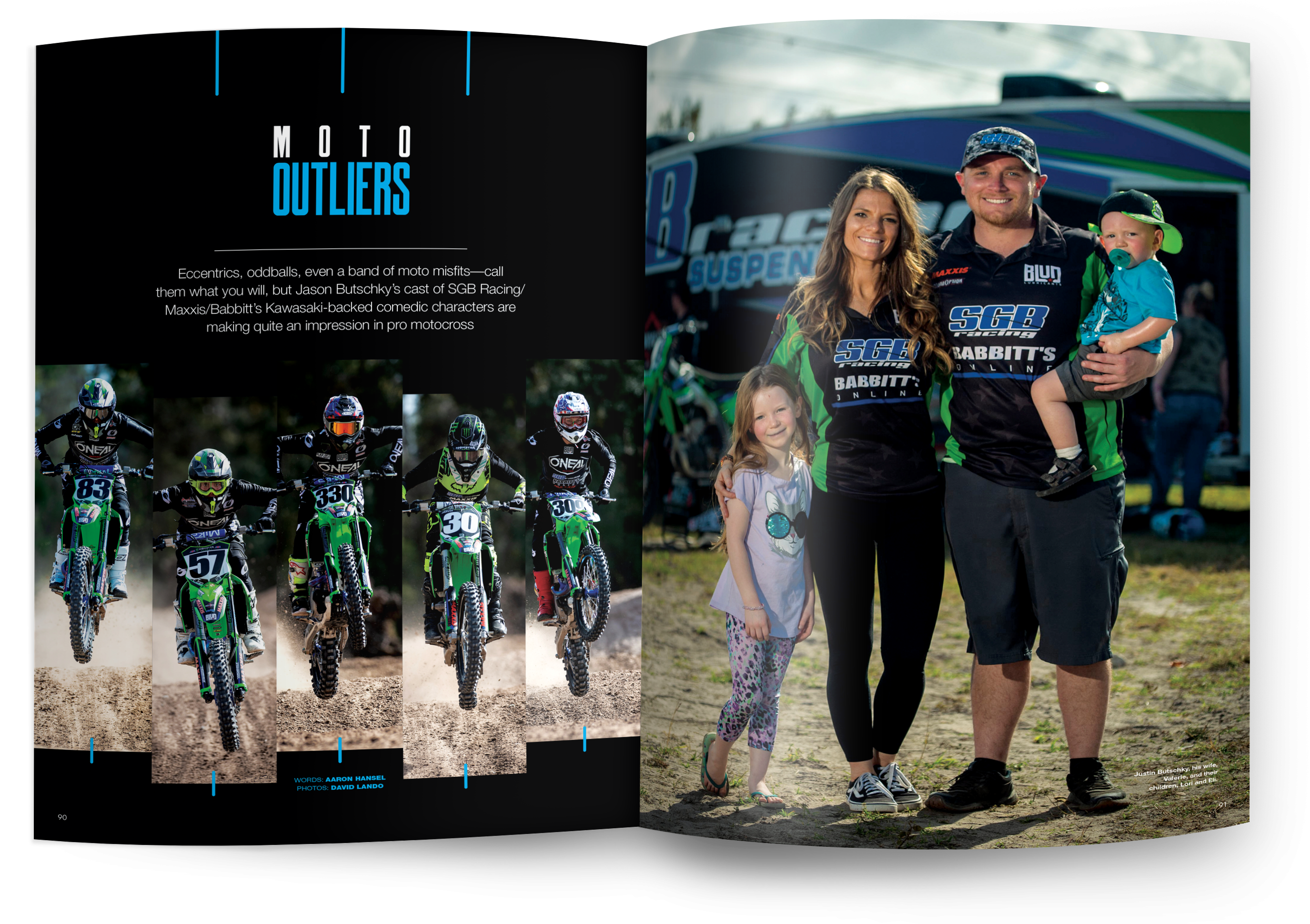 Eccentrics, oddballs, even a band of moto misfits—call them what you will, but Jason Butschky's cast of SGB Racing/Maxxis/Babbitt's Kawasaki-backed comedic characters are making quite an impression in pro motocross.
Read Now
Preview Now
Team Solitaire/Nuclear Blast Yamaha
250SX West Region Riders:
Weege: This team makes Racer X smile because Team Manager Ryan Clark is like an OG Racer X guy. In his racing days 15-20 some years ago, he was a columnist with Team Solitaire and hung out in our Morgantown office during the nationals. That's so long ago that most of our staff probably doesn't even know it! [Editor's note: this is a true statement -Mitch] Clark and I are the same age. We are old. Eventually Clark got a regular job, and I think he still has it, but he's come back around by running this team, which seems to get a little more legit each year. I feel like this year the team's look has been especially on point, right?
Plus, with Wageman and Hardy you've got guys with talent to potentially go next level. I feel like we haven't seen the best of Wageman yet, he has good rides here and there it's like he's right on the edge of something big. Hmmm, I think that's how we used to think of Clark in his racing days! Munoz is new to the pros and now the world has realized that this guy is exciting! Or just aggressive. Depends on if you're out there racing him or just watching it. As an amateur he had speed and since he's new to the pros it's hard to gauge where his ceiling is. With these riders the team has a puncher's chance of making a breakthrough.
Matthes: First off, I like the look of this team from graphics on. Strong presence that way ICYWW. Munoz is exciting! He scrubs the whoops it seems like and is very eventful to watch. Wageman is solid, he's usually right behind the factory guys or better for a number of years now. Munoz is a fill-in for Aaron Tanti, who was not able to return to the U.S. to race because of COVID-19 restrictions. Clark knows what he's doing also so that's a benefit for these guys.