Daytona, FL
Daytona (West)
Monster Energy AMA Supercross Championship
This year's Daytona Supercross provided plenty of surprises and interesting storylines as we now move into the back half of the 2021 Monster Energy AMA Supercross season. As such, we fired off questions to long-time pro Jason Thomas to pick his brain on everything Daytona.
Wow, what a ride by Cameron McAdoo! It's been quite a journey for McAdoo throughout his young career. Did you see this ride coming?
Yes and no. After Orlando 1, he was clearly one of the best riders in the class. With the crashes and injuries that Orlando presented, his opportunity has never been more wide-open. So, I am not surprised to see him win a race given those details. However, if you asked me a couple of years ago if I thought he was capable of being the points leader, I would have said no. He has clearly worked hard to improve his game and it's showing.
How impressed were you with Stilez Robertson's ride in just his second AMA Supercross main event? How about Coty Schock riding in third place for the first nine laps?! Schock dropped back late in the race but he was clicking off laps there for a while!
They were both incredible. For Stilez, these types of rides are somewhat expected. Flashing to the front and showing promise is how you get factory contracts while you're still an amateur. Being able to finish off the main event in second place is clearly a step forward, though. He really needed this, too, after a pretty rough summer. Teams are quick to write riders off if they don't perform. This runner up finish solidifies the efforts that Rockstar Energy Husqvarna has put in.
As for Schock, that was truly unbelievable. I would have NEVER guessed he was capable of that. He looked like a fish out of water last year in SLC so credit to him for improving so drastically. He looks like he belongs inside the top ten, something I didn't expect to type this season. Nice work.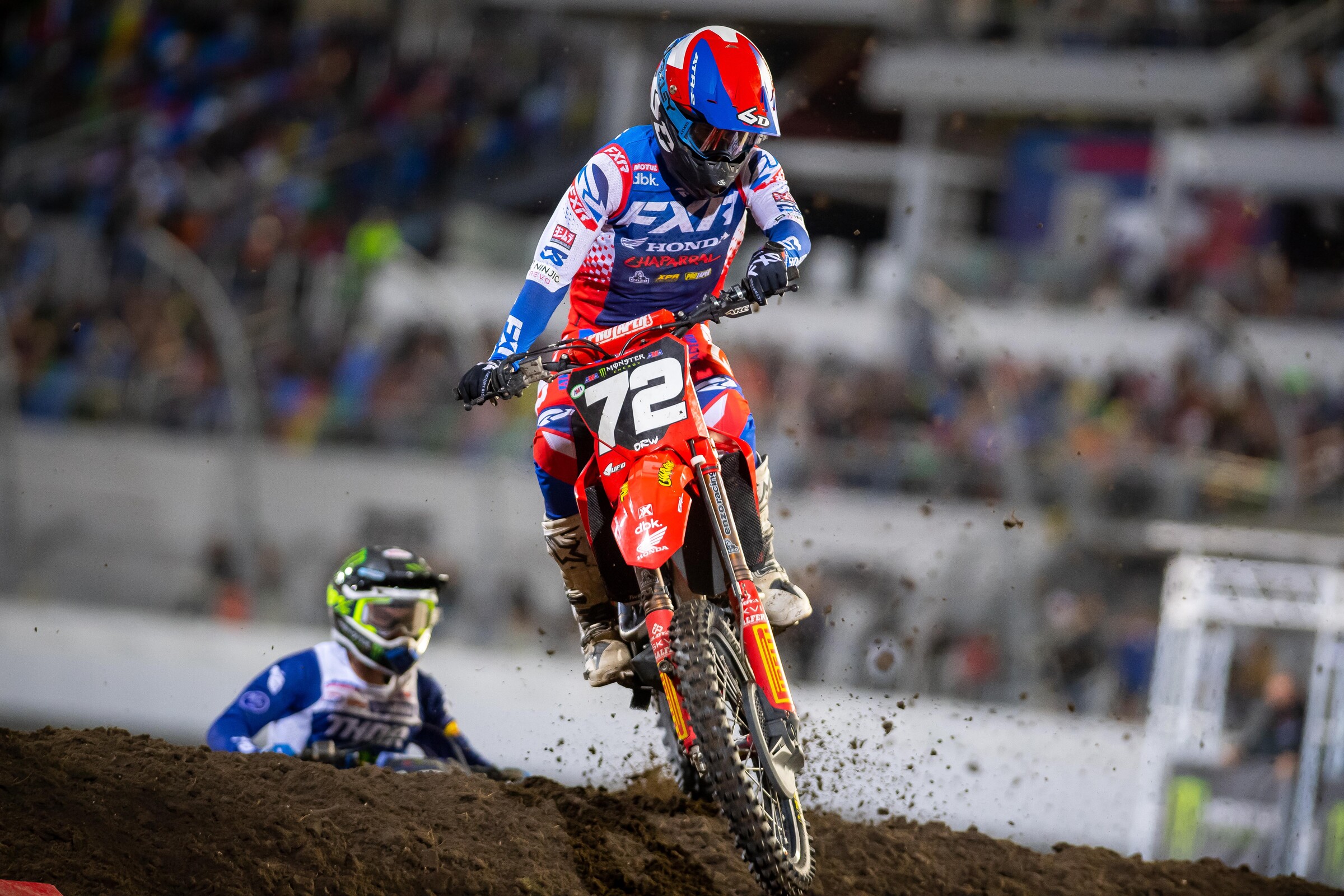 Pierce Brown looked strong in his GasGas debut/return to racing. He even held off Justin Cooper late for the last podium spot. What stood out to you there?
I was really happy to see PB back to his SLC form. Going into last summer's Lucas Oil AMA Pro Motocross Championship, I had high hopes. He showed so much promise in those final supercrosses, I thought he might be a dark horse for outdoor podiums, too. That wasn't meant to be, though, and he struggled more than I think anyone expected. Flash forward to Daytona and he looks like he has found his form. Daytona is a unique event so the real test will be in Arlington, but I like what he had to show us in Florida.
When Eli Tomac got the lead going into the third turn, was it over and time for everyone to come back in 2022 and try for the win?
I don't think that's necessarily true. I believe that if Ken Roczen had gotten off to a top three start (which he would have without the Cooper Webb interaction), there would have been an epic battle for the win (a la 2020). Tomac hasn't been as dominant this season so I don't really think this win was a foregone conclusion. Roczen had the speed to run with anyone but he was mired in the pack when he is the most lethal, early in the main event.
Although defending his title is going to be extremely difficult as he's still almost a race down from Ken Roczen, does this win stamp Tomac as one of the elite all-time riders?
I think he was already there. The last piece of that puzzle was the 2020 Monster Energy SX Championship. Without that, there would always be an asterisk when comparing him against the greats. His three-peat Lucas Oil Pro Motocross titles puts him in rare air, but this fifth Daytona win is right up there, too. Anytime your peer in the record books is Ricky Carmichael, you're doing something right.
After the race, Roczen was not happy with Cooper Webb's move in the second turn of the main event. Did you have an issue with this move from Webb?
As someone watching the race with zero bias, no, I didn't have a problem with it. Knowing myself as a racer, though, I would have been pissed. Under most circumstances, Roczen is expecting Webb to take the obvious line which is to dive into the inside rut and come out with the lead. It was the easy, clear move for Webb to make. Instead, he chose to push wide and force Roczen to check up, allowing several riders past him in the process. It was a deliberate, calculated move to ruin Roczen's start, which is what angered Roczen. Webb wasn't racing forward; he was intentionally putting Roczen into difficulty. Dirty? No, not really. I would still be angry, though, and I can understand why Roczen was, too. Most riders would try to get out front and separate themselves from the pack on that first lap, but Webb decided to forego that plan in lieu of screwing with Kenny.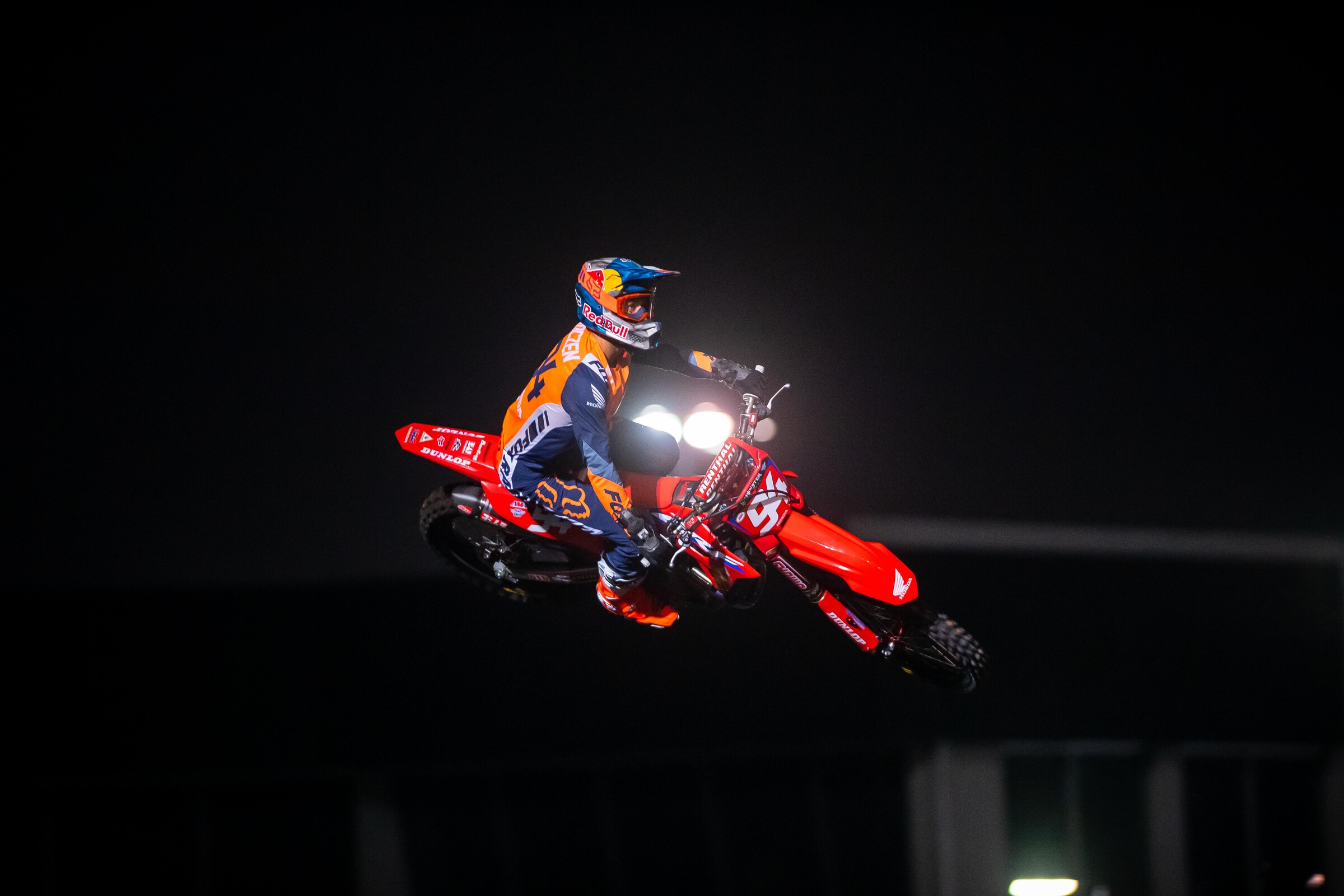 Aaron Plessinger FINALLY got that ride we were all expecting him to have. He lost second place on the last lap but still was great all night. Is this performance repeatable throughout the rest of the championship, maybe shuffling himself in between Webb and Roczen?
I don't know that I am there, yet. Daytona is the odd duck of this series. Until he can show that same level on a traditional SX track, I am going to assume he is a tick off of those guys. The caveat here could be Atlanta, though, as we will head back to a speedway for three rounds in April.
There were a few sand sections—one brutal, long 180-degree turn—an over-under bridge and it was pretty fast. The track looked to be in prime condition for qualifying and luckily the rain held off for the night show. What did you think of how the track build/flow ended up come the main events?
I wasn't a huge fan of the track but as I said in the FLY Racing/Racer X Review Podcast, if I don't have any constructive criticism to add, I am not really helping. I thought it was a bit too jumpy and didn't have that "Daytona" feel. It was very fast and didn't get rough at all. I prefer a rough, rutty, unpredictable Daytona compared to the fast, jumpy Daytona we saw this year.
In qualifying Chase Sexton jumped that wall before the over-under tunnel and took quite a beating from it (over ten stitches, two chipped teeth, and two black eyes). First, are you surprised not more riders tried it or more surprised that Sexton did? And second, would James Stewart have jumped this jump had he been racing?
I thought a few more riders would try it. Had the section been setup differently and the double built in a way that it rewarded riders, more would have gone for it. With a pretty high-risk level and no real benefit, I think most riders just shrugged their shoulders and moved on. And yes, Stew would have done it in the first few laps of practice.