Orlando, FL
Orlando 2 (West)
Monster Energy AMA Supercross Championship
Without question one of the key teams to watch in this year's 250SX West Region Championship will be the ClubMX Yamaha program. After a strong showing last season, the squad has added Garrett Marchbanks to the program. Along with Jace Owen, Joey Crown, and Dominique Thury, the team certainly boasts star power that almost no other non-factory supported program can match. So, how exactly did this team grow so quickly into a potential factory killer?
Well, ClubMX President Brandon Haas had a vision: take riders the factory teams may have overlooked over and offer them a whole lot of support. Everyone on Haas' professional program this year has trained at ClubMX before, so returning to the South Carolina facility is almost like a homecoming. We talked with Haas this week to understand his vision with the race team and how this year's team looks compared to the factories.
Racer X: I wanted to ask you as a lead-in question, what was the ideology behind starting the race team? I know you guys already had ClubMX. Everything was going good with the facility, but why the race team?
Brandon Haas: I would say the main reason was it kind of ate away at me seeing really good amateur guys come up and maybe get missed or left behind just due to injuries, or they got hurt right before Loretta's. They would get forgotten about. We're kind of grassroots, hands-on group, maybe seeing a little bit more than what the other teams were seeing. I think I went to a race—Darian Sanayei and Marshal Weltin's first pro race, and I just took our motorhome, just helping them out. I guess that was always in my mind. It drives me crazy seeing these guys slip through the cracks. Then we have some riders who are on teams, whether it's the big five [factories] or a privateer effort, they come here and test and you get to see the working dynamics. Then myself working with [Phil] Nicoletti and [Justin] Brayton, you get to see the process of how those teams operate and stuff like that. I always felt like I could do better, just because I'm in the trenches every day just with testing and development. We're not in a shop or building atmosphere and then we go testing here and there and race on weekends. We have race day every day of the week and then go racing on the weekends. So, I just felt like there was an advantage there. I want to try to give these guys an opportunity. If the team can grow and keep up with the riders, then that's awesome. But if it's just a steppingstone for these guys, then we did our job.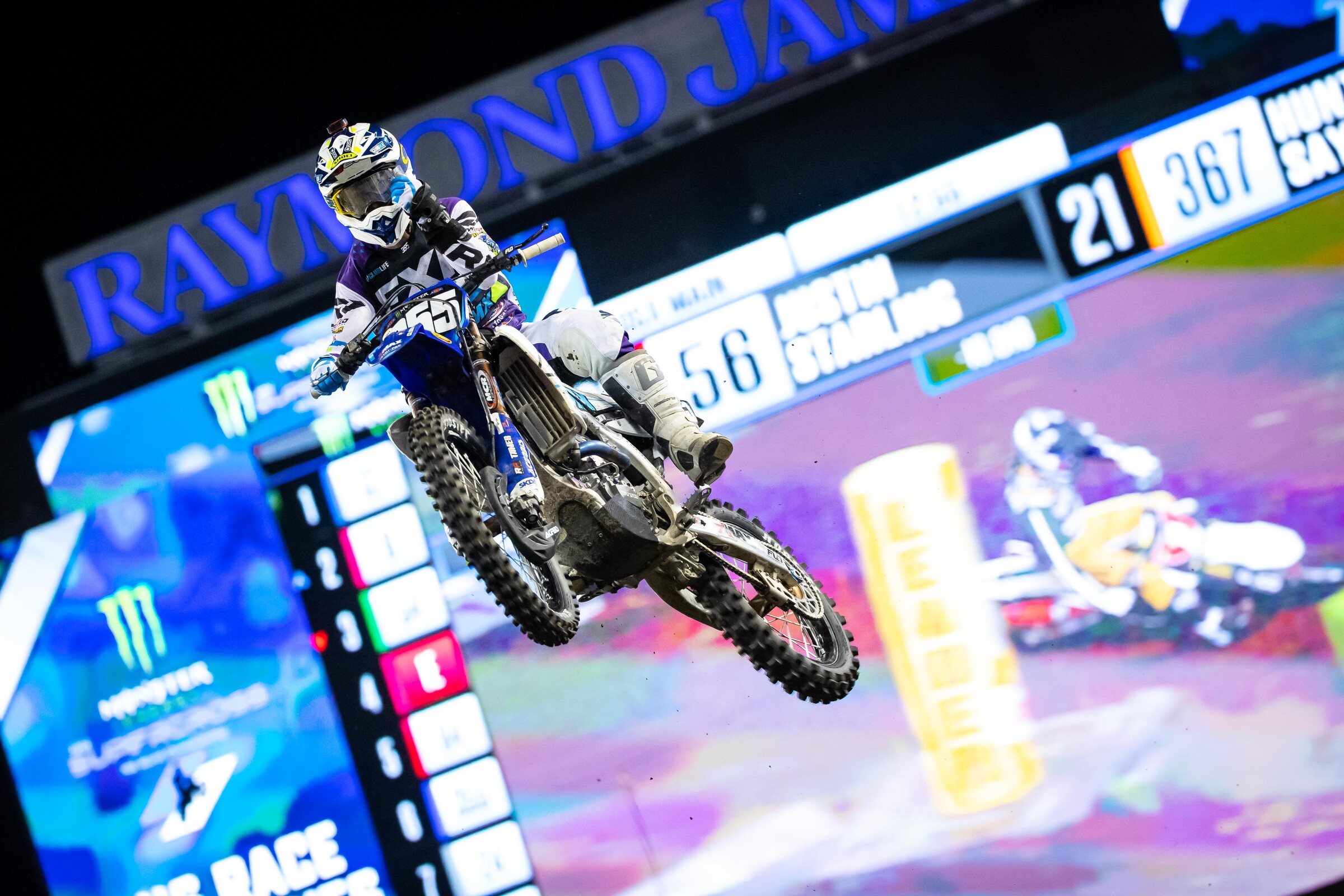 Team dynamic-wise, you guys obviously see these kids come up and maybe get a better sense of really what type of rider they are, whereas the factory teams out on the West Coast, they might not truly see their riders until they're a pro and maybe then they come out to the test tracks and do stuff like that. How is that dynamic? You know what type of rider you're going to get when you sign these guys, because you've worked with them for so long.
I think that's probably our biggest advantage, honestly. We spend upwards of a year with these guys before we ever probably even think about putting them on the team. Garrett [Marchbanks] was here for three years training, and when this opportunity came about, I already knew him. I knew his family. I know his history. I know his personality. There's already a big head start. Same with Jace Owen. He was here for four years back from 2011, '12, '13, '14. We definitely cater towards probably the more harder working guys. If someone's willing to grind, I feed off of that. I think the whole team does, just because that's what Club is all about. It's a commitment to the grind. So, when you get guys like that, that have potential, I'm probably going to do everything I can to try to help them if they don't get a deal. I can't compete at the premier level, but I think the team is growing every year and maybe someday we can be kind of be on that level with the big five [factory teams]. At this point, we've still got to grow more but we are growing quickly, which is cool. It's intriguing to motivate it and to keep going.
For guys that are turning pro, they're making that adjustment. Instead of going out to the West Coast and riding with the factory guys for the first time and maybe having a "deer-in-the-headlights" kind of look, these kids can just stay in a similar spot where they're comfortable already, and then they just get to transition that to pros. Do you think that's a positive dynamic for them?
I think it's huge. Shane McElrath was here for probably three years. Back then the Osbornes were still part of it [ClubMX]. Mark Osborne was buying Shane his bikes. Shane got his TLD deal after Loretta's. At that point, I'm trying to tell Tyler [Keefe] and the team, that this dude has never even flown on an airplane before. You have to be careful if you ship him out to California and flip his world upside-down. I felt like I tried really hard to make them understand that, and of course it didn't happen, and I think he struggled for a few years to kind of find himself, because it was just so overwhelming. My personal opinion is Shane was one of the best I've ever seen come through and he should have been a multi-time Lites champion. I think if there was a little bit more of that balance, he could have been. Obviously, hindsight's 20/20, but for us we don't have to worry about that. We can keep them comfortable. We can eliminate excuses one at a time and keep them in an environment that's kind of just building it around them, not just, "Here's what the team does, here's how we operate. Go get it." We can establish a good baseline for the bikes. Enzo Lopes last year was a good example of that. He's not very good with bike setup or what he really wants. Really don't have any idea what he wants, so it was cool for us to be able to just build him a good package and spend every day of the week with him, tweaking and modifying. It's not just like we've got scheduled test days. The team is here every day. Every day is a test day. We just incorporate it into our training, and it works out really good.
Tell me a little bit about the guys that you have on the program this year.
This year is a huge opportunity for us. Our budget grew quite a bit this year with sponsorship funding. We had a pretty good year last year. I think we had a good showing to start with, and then ended up being the best-finishing privateer team in supercross. But this year it started with Joey Crown. We signed him about a month before Loretta's, so early summer. He was doing outdoors on Rock River. Then I think later on in the summer towards the fall is when Jace came into the picture. Got his deal done. Garrett was late. He was never really part of the equation at first. It just started off I had heard some rumors that he was getting kind of jarred around a little bit. So, I was just wondering what's going on, what happened, or who is at blame. Once we got to talking, we never even talked about the ClubMX team. I was just kind of worried for him, in a sense. Probably three or four phone calls later, I was like, "Garrett, still nobody has offered you a deal. You keep telling me they're going to get you an offer, but they're not. There's a problem here, man. What are you going to do?" And then there was just a mention, maybe just come test our bike and see what you think. I think it was a week later he flew out, tested the bike, really liked it and then got his deal done. Dominique Thury is a German supercross champion. He was here training last year and did really well. So, we had kind of talked off and on throughout the year when he was back in Germany. That's kind of what formed the four-guy program.
How difficult or challenging has it been kind of all through 2020 now and coming into this year? Everyone is still dealing with the pandemic and maybe working around with some sponsors and stuff like that? Was it a challenge?
The only hiccup we really had was difficulty getting bikes. I would say usually by October 1st we have most of our stuff ready to go. We ended up our 2020, all of our race bikes, close to the Christmas break just because the '21s [were late]. We were trading dealerships, finding them everywhere. Other than that, this was the best year we've had for preseason. It was the best boot camp we've ever had, best bikes we've ever had. The process is continuing to get better and easier. Sponsorship has really stepped-up big time. Everybody's excited with Garrett and the year we had last year. We're still new. This is going to be our fourth-year racing. Every year we're getting better and we're getting more organized. Our engine program is getting better. Our chassis development is getting better. We dropped nine pounds out of the bike this year, which was our goal last year. We knew we had a good engine package that we can get better. We knew we had to get better with suspension, so we got in with Enzo [Suspension] and got some kit stuff and did a lot of testing with him. We shaved weight and got a few parts we didn't have last year. Yamaha has helped out a bit this year, which has made it nice. So really everything has been better than ever, even regardless of COVID[-19].
Logistically speaking, with the series having these triple-headers, I feel like a lot of the races are maybe closer to you than would be. Instead of having to go to Minneapolis and stuff there's the Atlanta rounds, Arlington is a bit out there, but is it better or nicer that there's all these rounds stacked together?
This series for us is way better. Being in the Carolinas, Florida is easy, the Atlanta races are four hours away. So generally speaking, this series has actually helped us be able to pull off outdoors this year, because this will be our first year racing the motocross series. We don't have the resources of the factories and stuff. So, traveling in the rig, it's awesome. I think we're a little bit unique too in the team dynamics, so when we go to Orlando, we rent a house. The riders and the crew, we all stay together. We travel together. We live together. Same thing when we go to Texas. We'll all stay in one house. We cook our meals together. We basically carry the exact same program we're doing at Club. Our nutritionist sets up the truck. We do all our own food. We do all our workouts on the road. We enjoy it. It's like a team atmosphere that we have that also kind of sets us aside from the other guys. It's more of a family thing. To be honest with you, that's just Club. That's why back when the training facility started it was named Club, it was that exact model. So, it's important we stay true to our roots even throughout this process.