In just his second year racing supercross professionally, Utah's Garrett Marchbanks was already a winner. Holding off then defending champion Chase Sexton to win the Daytona Supercross in 2020, Marchbanks appeared to have it all figured out. Even after the long break, when we returned to Salt Lake City for the seven-round swing, Marchbanks still appeared to be right in the thick of it all battling for podiums. Then it all came crashing down at round 13 when he crashed heavily in the main event, lacerating his liver, bruising his lungs, and tearing his MCL and PCL.
The recovery was long and forced him out of the Lucas Oil AMA Pro Motocross Championship, but nobody saw what came next. He couldn't get a deal together for 2021. The 19-year-old, was a a free agent without a factory ride. In stepped ClubMX Yamaha, which not only provided Marchbanks with a team, but a sense of home in coming back to a place where he had spent several years training. This week we caught up with Marchbanks days before the 250SX West Region Championship kicks off to get the full scoop.
Racer X: Are you getting excited here for this first round?
Garrett Marchbanks: For sure. It feels like it's been forever since I've raced, so I'm just excited to get back out there.
Not to bring back the unfortunate injury, but how long was the recovery with that?
I believe the recovery was four months. As soon as the doctor released me, I rode that day. It was four months, I believe. I only got to ride two or three times before I came here and signed with the team.
Was that just a brutal recovery process or was it just a lot of hanging out and waiting it out?
Honestly, I thought it was going to be a lot worse. The first month was pretty bad, but it wasn't too bad. It was more just hanging out, having a good time with my friends.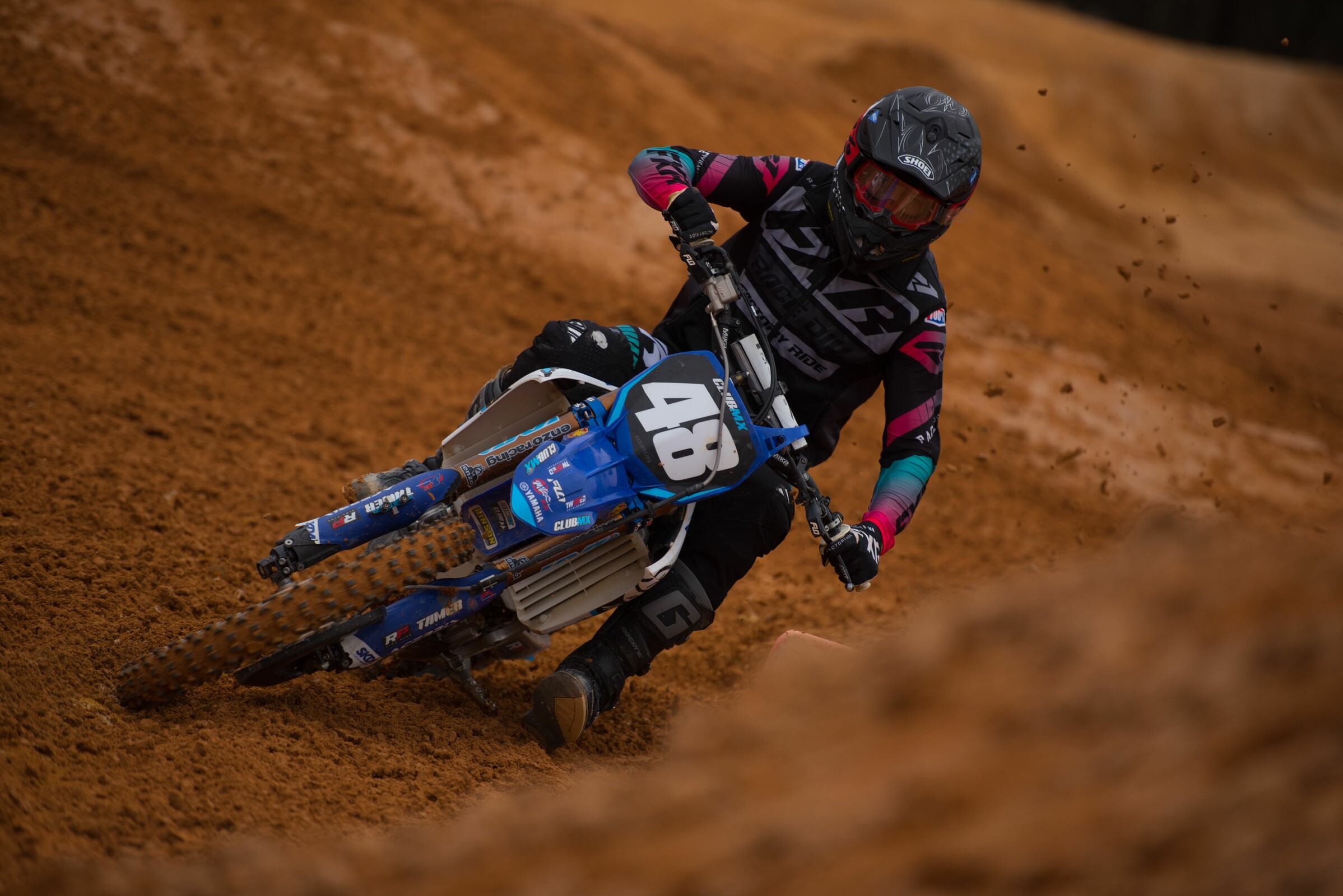 Talk to me about being on this Club MX team. Obviously, it sounds like maybe you were thinking something else was going to happen this next year and it didn't work out, but you landed here. What's the excitement level and how are you feeling with the team?
I'm so pumped to be here. I trained here when I was younger, from the age of I would say 12 to 14 or 15, and I've always loved it here. So just to be back here in this atmosphere, I was super excited. I'm teammates with Joey Crown, Jace Owen, and Nique [Thury]. These dudes are such good dudes, and we work together as a team. I really enjoy that, working on and off the bike with them. It's been really good. A great program, and just enjoying every bit of it.
This may be kind of a tough question to answer, but going to the pro ranks, you'd been Team Green for a while, so maybe you had a little closer connection with Mitch [Payton] and the whole PC team. But coming from training at Club, and then going out to California to turn pro and get through to that whole level, is it almost more comfortable to come back to Club and feel a little bit more at home?
Oh, for sure. I grew up in Utah. That's where I'm originally from. I went to California a lot as a kid, so it wasn't that big of a change. For sure being here was just more family-like, with Brandon [Haas] and the whole team. I'm more of an East-Coast guy anyway. I like the tracks out here way more than California. So, for sure, I enjoy it a lot more out here.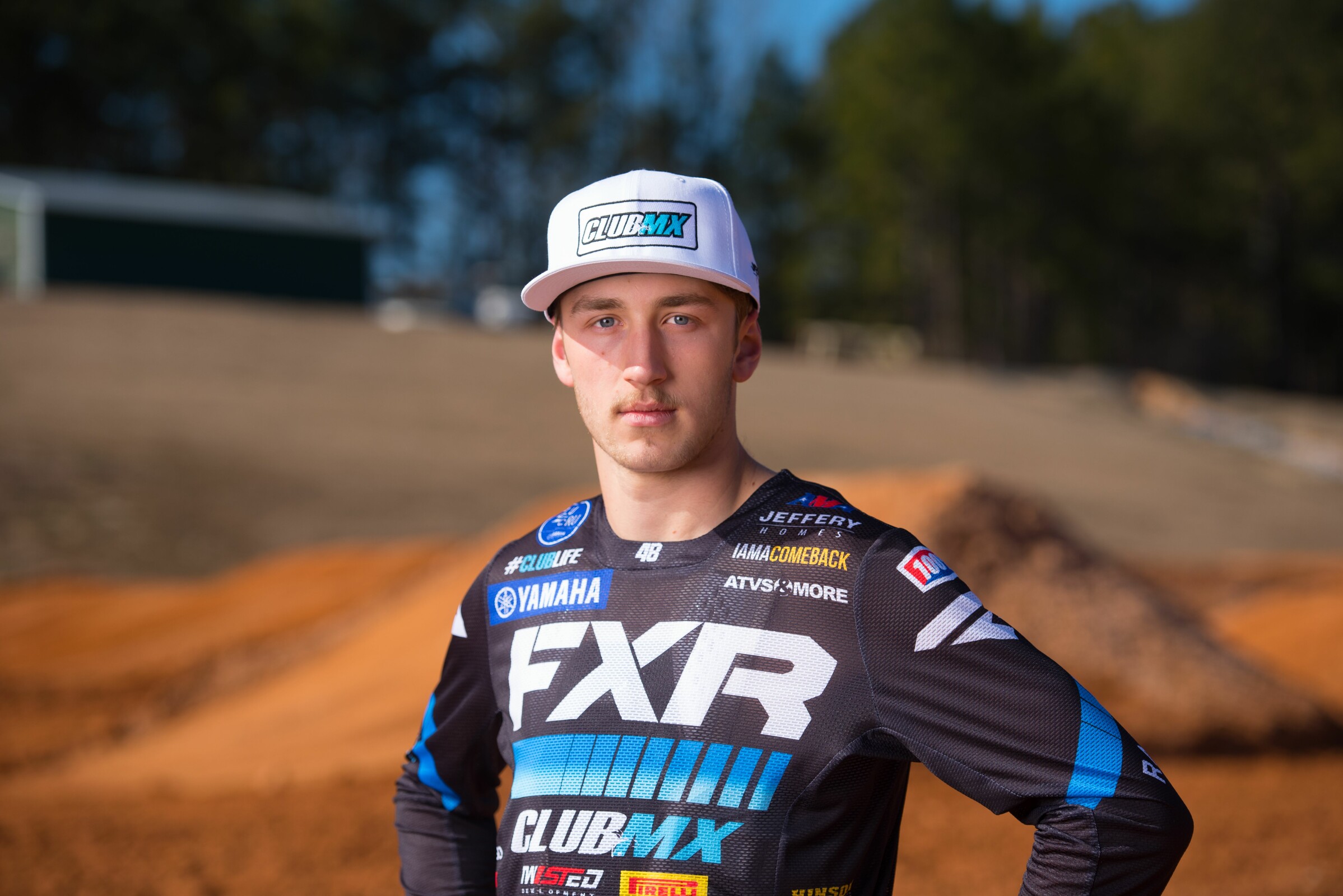 As much as you want to get into it, what was the process this off-season with not getting re-signed with Pro Circuit and eventually landing on Club?
It was definitely confusing. I got told two days before I got hurt, I was getting signed for a 450 deal possibly with Kawasaki. To get told that and then you get hurt and nothing was signed or done, it was kind of hard. We were just kind of sitting there for the four months. I think after a month into it, Brandon called me, and we always kept in touch. I was just super pumped and blessed to have the opportunity and for him to be in my corner.
You did an interview with us back in December, I believe, and you talked about kind of wanting some payback. Is there more to it? Do you want to get past this at this point? Or are you really just trying to prove that they made a mistake here?
I would say getting past it, but for sure [still] just showing everyone. I feel like I was a top two dude, especially winning a race last year and almost getting top three in points. I feel like the team that I'm on now is really good. A lot of people doubted, but there's nothing far off with it. The bikes are amazing. Everything is amazing here. I definitely want to show everyone that they missed out.
Winning that race last year, does it change your confidence level coming into this year? I'd assume you probably feel like you're a straight-up title contender and maybe you're at a different development level?
For sure. Wining the first race was definitely a big change in confidence. I felt like I finally had the ball moving in that way. I took a third in Salt Lake. That was awesome to get another back-to-back podium. I feel like I know what it takes to win races. I feel like everything is perfect, so it should be good.
Were you pretty excited when you saw Atlanta Motor Speedway was on the schedule? You're going to have almost four Daytona's! Obviously, you seemed like you felt pretty comfortable with Daytona last year. Did you like that track? Are you excited to have basically four of them this year?
For sure. I didn't know it was at Atlanta Speedway until a couple weeks ago. To see that there was going to be possibly three (more) Daytona's, I'm pretty excited for that. So, it should be pretty good.
Tell me a little bit about what you like about the Club team compared to what you were doing with Pro Circuit. You talked about training there and you know the guys really well, but what part of the actual team dynamic are you enjoying the most so far?
Everything has been pretty good. It's just all around a better program I believe, on and off the bike. Everyone is here to help you get better. I just feel like there's no such thing as settling. We're always climbing. I just feel like on PC there wasn't much of that. No one was really wanting to help you. You kind of had to be the top guy to do that. I feel like in here it doesn't matter what level you're on, they're here to help you. So, I feel like that's' what's awesome about this place.
How about jumping over to the Yamaha? Did you find yourself getting comfortable real quick with that?
The Yamaha is a taller bike, so that really helped. It has probably all-around better power. It's a great turning bike, handling. I have no complaints about it. It's all around just a better bike, I believe.
Give me your expectations for the season. Where do you think you fall right from the get-go, and who your biggest competition is going to be here?
I'm for sure wanting to be a top-three guy all season. I feel like that's what I can do. For how I've been feeling in practice this season, I feel like I can for sure do that. Then competition-wise, for sure my teammates. I don't know who is going to be fast or not this season, coming up this weekend. We'll just have to see.
---
Main Image courtesy of ClubMX/Mike Vizer