Indianapolis, IN
Indianapolis 1 (East)
Monster Energy AMA Supercross Championship
For the second round in a row, Colt Nichols stood atop the podium in the 250SX East Region Championship with his third career victory at the Indianapolis 1 Supercross. With a dominant holeshot-to-checkered flag win, Nichols now opens up a nice little points lead in the standings as the only two-time winner on the season. Though he's in a great spot, Nichols remains reserved and focused on what still lies ahead.
After the victory, Nichols spoke with the media via Zoom.
Racer X: Colt, did you have any idea what was going on behind you the last lap? I'm sure you heard the crowd and I know you know now, but in that moment on your last lap when you're focused on your victory, did you have any idea what was going on behind you with Christian [Craig] and Jett [Lawrence] and the battle that was a few seconds back?
Colt Nichols: Yeah, a little bit. I was able to kind of keep tabs on those guys. I kind of knew where everyone was. I was trying to manage the race from the front. I kind of knew that Jett was coming. I could see him closing on Christian just a little bit at a time. I was able to just kind of sit back and watch at times when I could. Then I heard the crowd go really crazy I think as I was going over the finish. Unfortunately, they weren't cheering for me. It was some drama behind me, but that was wild. I haven't really got to watch it yet, so I'll go back and look at it. But overall, I was glad I stayed away from the drama and got a good start and was able to kind of steer clear of all that.
Wire to wire. I mentioned on the podium you've been in battles pretty much nonstop since the season started. How does it feel to just get out front and have the track to yourself and do your own thing?
Yeah, kind of definitely made my life much easier, that's for sure. The gate I picked was awesome. It was good. I got off to a really great start and was able to really just do my own thing. I knew Christian was behind me. I heard the Yamaha coming into some of the turns, and that was comforting. I knew he probably wasn't going to do anything too crazy. I was able to just break away from him a little bit the first four or five laps. So, once I got that gap, like I said, I was just kind of trying to manage the race from there. It felt good to steer clear of the drama and be out front, wire to wire.
With his win on Saturday night, Nichols becomes the first repeat winner in either class in 2021. The win also gives Nichols sole possession of the 250SX East Region points lead heading into round five on Tuesday.

Align Media
I'm note sure after the heat race, Christian Craig said that one of your weaknesses is you can't sprint the beginning of the race. I think you've dispelled that rumor. Did you hear that? What are your thoughts on that?
No, I didn't hear that one. At times I've struggled to kind of get going a little bit, but whenever it's always come down to it main event time, I tend to be able to take off pretty good. It's just tough when you don't start near that front, like one or two. Even at Houston 3 he was able to get a little bit of a gap, around two seconds in those first three laps. I kind of fumbled a little bit. I cleaned that up tonight pretty well. I was happy with my first few laps. Usually, I'm maybe a little nonchalant at first, but once you get out front you can kind of try to break away and do your own thing. So, I'm glad I was able to do that tonight.
You weren't able to jump the finish line jump on the first lap of that heat race, but you were still able to catch Christian in the heat race. Did you know you had the speed tonight to match him and to catch him and pass him if you had to?
Yeah, I always feel like I can. As racers you always just want to be competitive and compete. I knew if I got somewhere near him, I would just try to do what I could to make a pass. That heat race was good for me. I finally changed a few of the lines I was struggling with in practice. I really struggled in practice today, for some reason. Once we went back to the truck and watched the film, I was able to really clean things up and come back and have a solid heat race. It felt pretty good to run him down a little bit and try to just figure out what I could do, if I needed to make passes in the main event. Luckily, I didn't have to do that. So, it was nice. I got a good start and was able to steer clear of everything.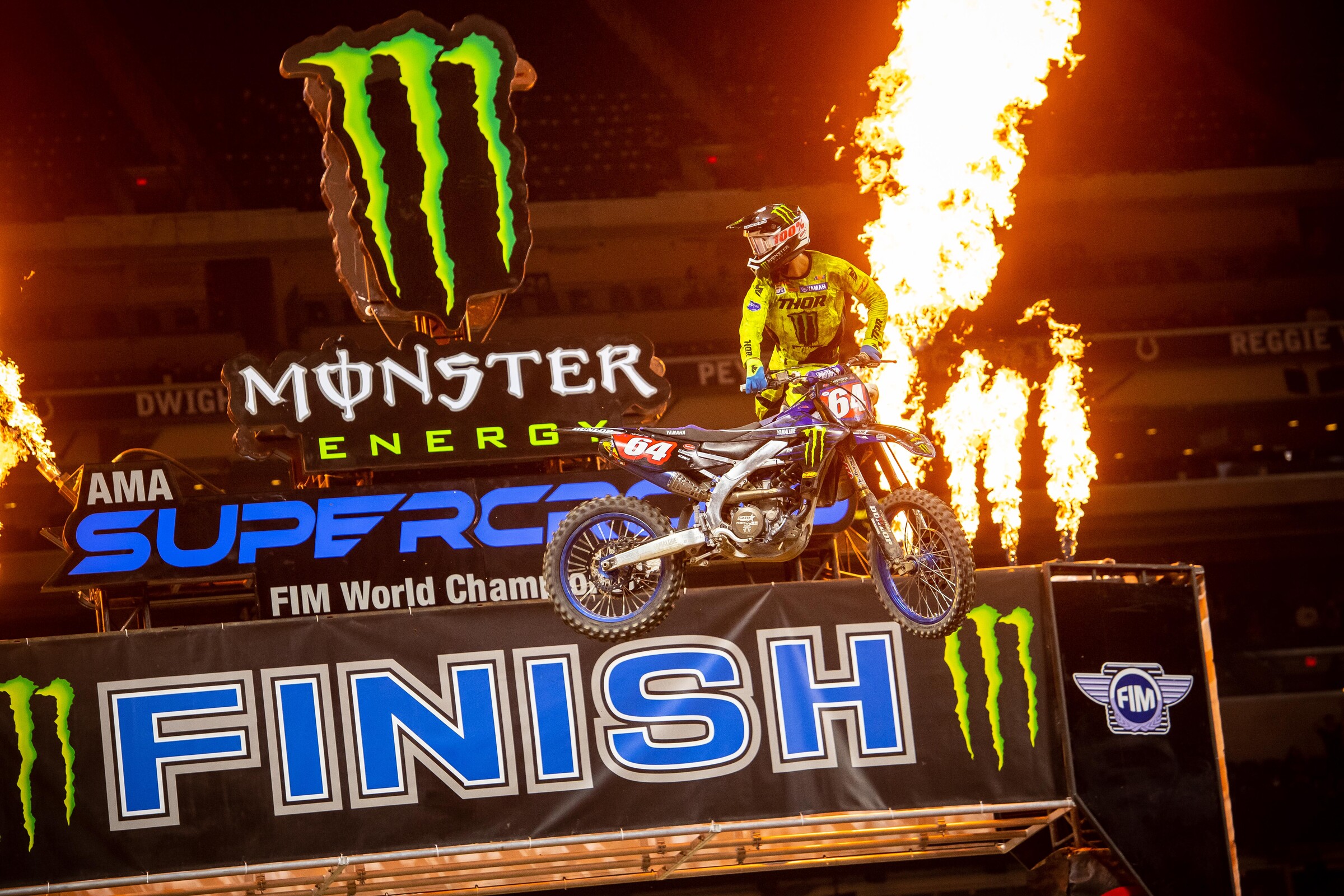 You own the red plate now. It was a convincing win. Was it your plan to come in and kind of take control of the series, or were you just looking to let the day kind of come to you?
Yeah, really just let the day come to you. You can't really have much of a plan. Once the gate drops, you just never know what's going to happen. I just wanted to put myself in a good position and luckily, I was able to do that tonight. By the time we left Indy, I of course wanted to be able to have that. I didn't know if it would happen tonight or not. Just maximized the opportunity and was able to sprint away and now take over the points lead, which was nice. Maybe a little earlier than we thought, but definitely just tried to maximize what I could tonight, and it just happened to be a win, so that was cool.
Watch the full press conference from the 2021 Indianapolis 1 Supercross below: