Indianapolis, IN
Indianapolis 1 (East)
Monster Energy AMA Supercross Championship
Monster Energy Kawasaki's Eli Tomac opened up his main event on Saturday night with a strong start, snagging the early lead. Despite a small crash that dropped him back to third early on, the defending champion stayed right in the hunt throughout the race as he stalked Honda HRC's Ken Roczen for the race lead. Though Roczen did eventually come out on top, Tomac was all smiles as he admitted on the podium it was one of his best races of his career.
Following the race, Tomac spoke with the media via Zoom.
Racer X: Eli, you've made comments these last few races just about how the pace is and how if you don't get a start, how difficult it is to make passes. Tonight, a great start. You were in there with the lead group. How did it feel to be in clean air, like you put it a few weeks ago?
Eli Tomac: It was great. The pace tonight was hot. It was hot for sure the whole moto. I was like, If I'm going to get a chance at this thing, I got to start up front. Unfortunately, made the mistake. Just clipped my front end on that last whoop. Looking back, I'm just like, Gosh darn it. I'm such a dork. The rest of the moto I was paying attention to popping my front wheel over that last whoop. I'm like, Why did I do that? But like you said, getting up front is so key right now because you can see the top three guys can go. You lose eight to ten seconds that first lap and it can be over right now in a season like this.
Can you talk a little bit about your preparation from Houston to Indianapolis? Did you have any riding on the bike between Houston and Indianapolis? What do you envision for this week for riding and for preparation for the next few races? Will you have access to tracks, or at your level do you not need that access for track practice? You might have the preparation coming into the series.
It's going to be hard to get riding in here. We did a little bit of riding in Houston. I know everyone did a little bit of riding, but obviously it's snowing out. So just rely on race days.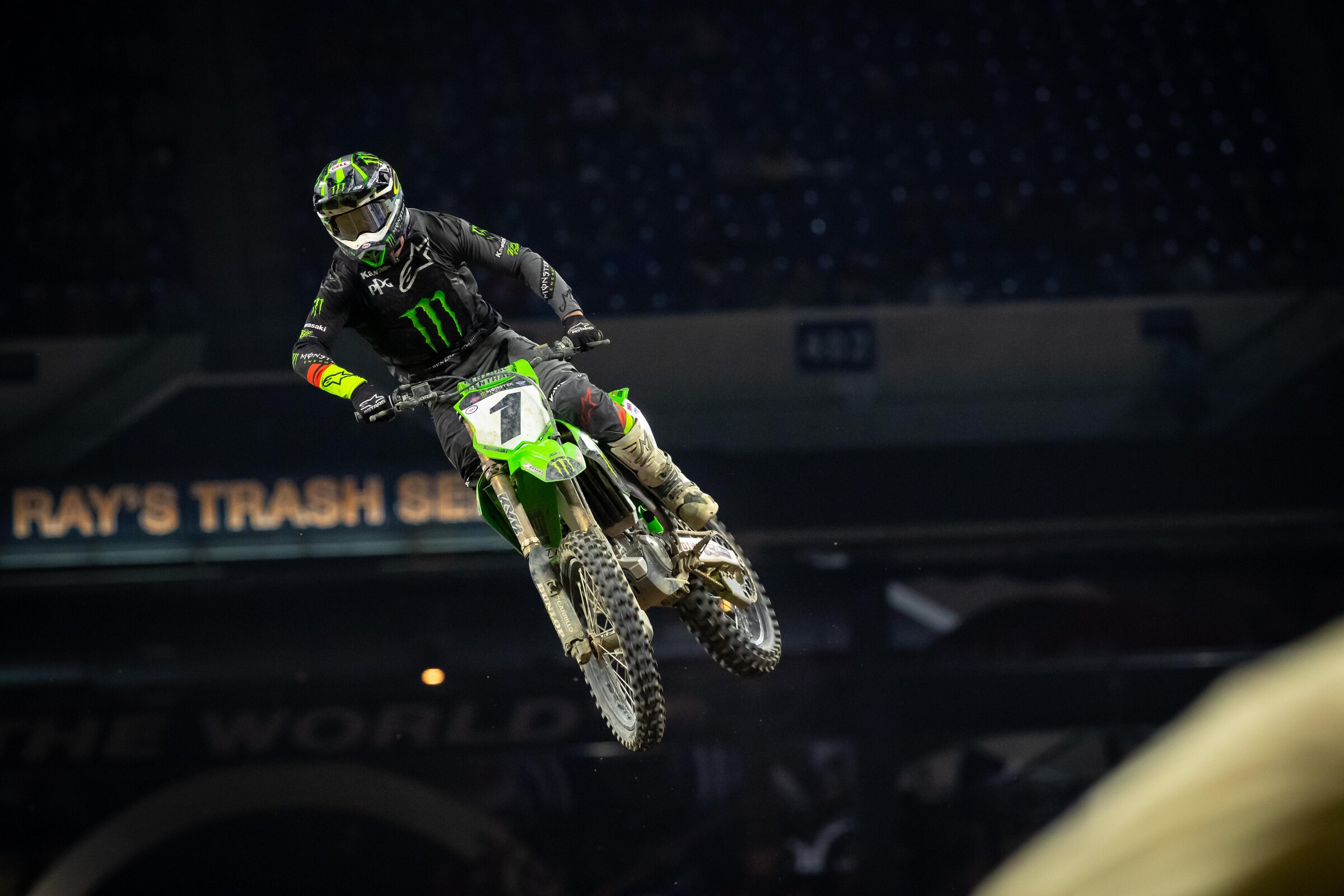 I'm just wondering if you were able to benefit at all by going home last week? Today you looked a heap better on the motorcycle. The starts were better. Everything just looked better in the package. Was it good to be able to get home and do some stuff? Or was it just progressive stuff made during the day?
I just had better riding. I didn't change anything, any setup. I haven't changed setup since the second round at Houston, so that's been the same. It was just better riding. I felt more like my old self, even though I didn't win on the night. But it felt like some old speed that way. Just happy about that. I felt kind of off the first couple rounds, but sometimes that happens. Hopefully, we'll get in the flow here.
Also, like you stated on the podium, tonight was probably one of your most exciting races. Why was that? What did you take out of it tonight that was just better than all the others?
Just good racing. Kind of just craziness the whole time. It was exciting. It sucks getting second, but exciting racing. It makes me want to come back and race more. It keeps what we do exciting and want to keep riding and racing, at least it does for me. That's what made me say that.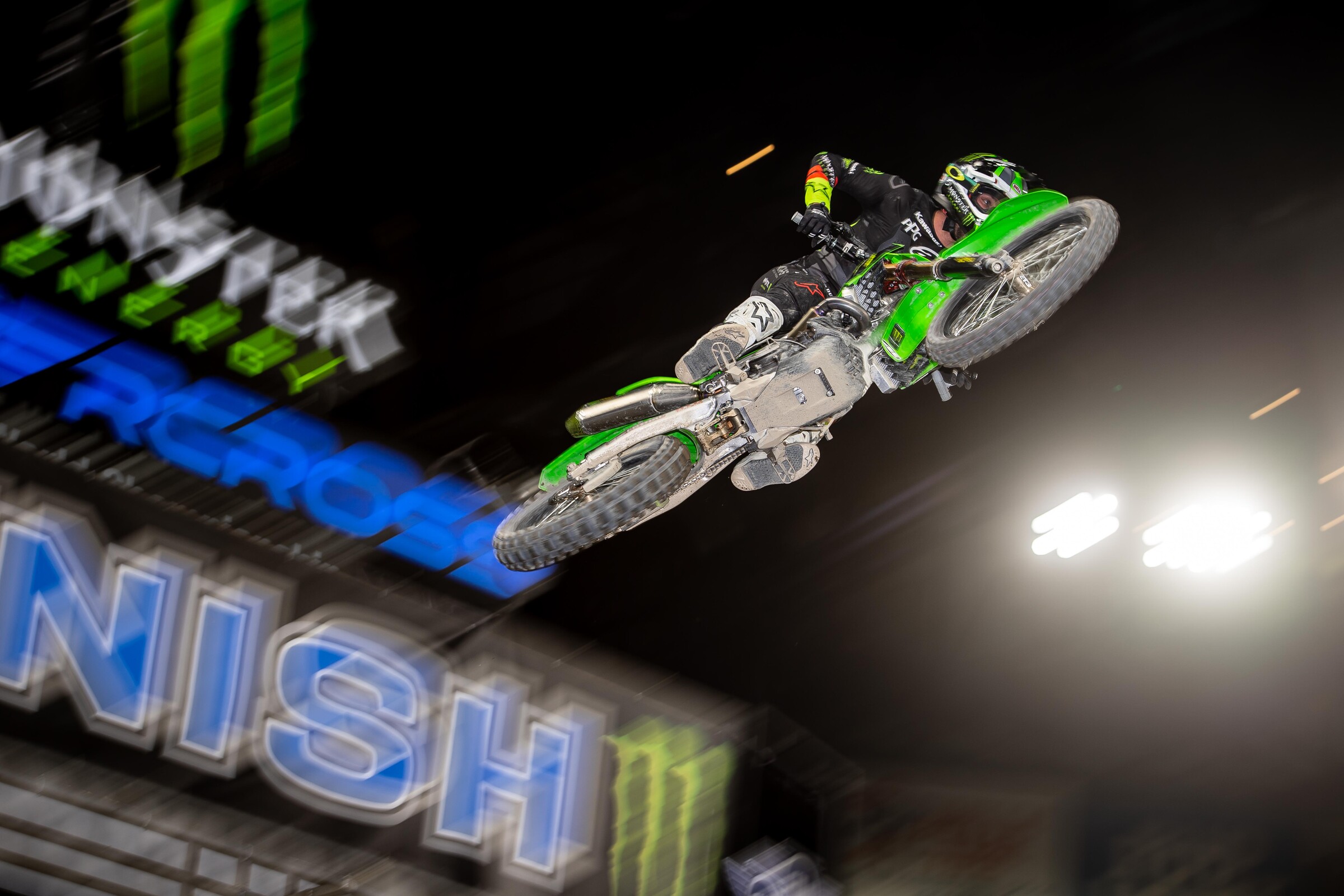 We kind of saw the exuberation on the podium this time, and Kenny mentioned some things about technique and some perspective changes off the track. You just seem positive. With the championship off your shoulders, you seem different. Maybe the journey instead of the destination this year? Is that a fair assessment?
Yeah, it is. It's just what happens when you get older that way. I'm still in it to fight for the thing and fight for everything and the championship and the wins, but it's just fun in our class right now because it's good racing that way. With the way the passes went down, yeah, I'm kicking myself for the outside on the sweeper turn. That's one thing I'll learn from the race. But just good racing. That's the stuff you live for, is that type of racing.
Having the respect from your competitors this time, it seems like you guys are all in a good place right now to be able to race hard, have fun, and still do your jobs.
Yeah, right now. It gets gnarlier down towards the end in the nitty gritty, but that's more the general vibe. That's what it is right now.
Watch the full press conference from the 2021 Indianapolis 1 Supercross below: