Houston, TX
Houston 1 (East)
Monster Energy AMA Supercross Championship
Eli Tomac and Ken Roczen are entering their eighth 450 season. They've won the races, they've won titles, they've experienced the pressure that comes with ups and downs and high expectations. This sport is changing, though, and now suddenly year eight doesn't seem like an end, but almost a beginning for these two. For Tomac, it's the first time he gets to play without the pressure to finally deliver a Monster Energy AMA Supercross Championship. That monkey is off his back. For Roczen, the health watch continues, and perhaps he's stronger and more durable than before—and it appears he's in a good spot, mentally, as well.
That's what really matters. Championship windows often close only because the pressure and the work sap the motivation and the fun. Tomac and Roczen actually appear more comfortable than ever in their position.
"For now, I would say there is less pressure," said Tomac in a Monday night press conference. "That was the big carrot I was chasing, the first championship. That first one was hanging over me for so long, being so close for two or three seasons there. To finally close it in 2020 was everything for us. This year I have huge motivation to defend it and keep that plate red as long as we can."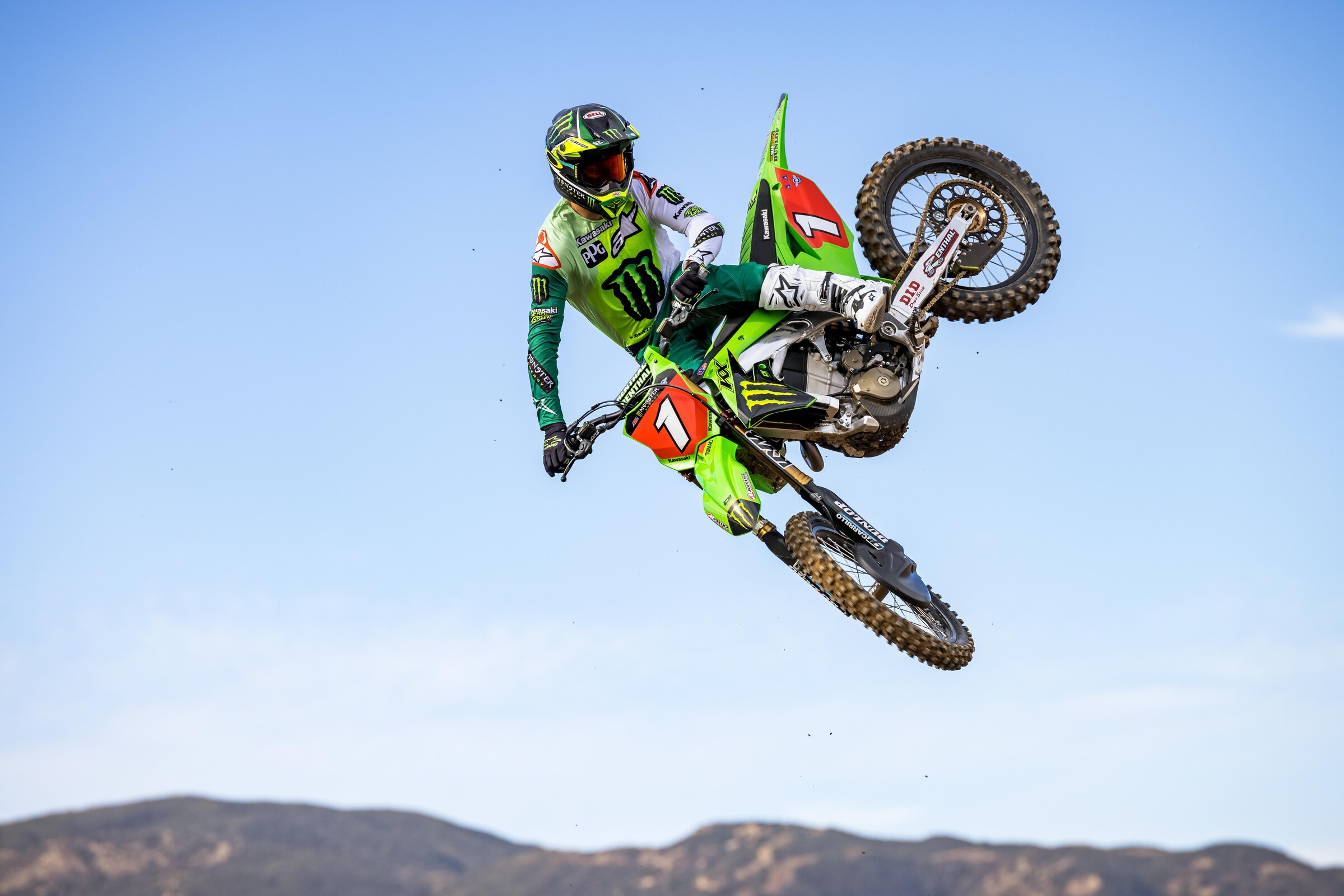 A pressure-free Tomac is a scary thing for the rest of the field, because the Monster Energy Kawasaki man has proven over and over again that if he doesn't get in his own way, he's hard to beat.
"It felt like something clicked, almost like a mental calmness on the starting line," said Tomac. "I never had those funky scenarios that straight-up cost me."
Anything can happen in racing and just because Tomac won the title last year, and has won nearly half of the supercross races held in the last four seasons, it doesn't guarantee this will be his year. We almost saw a different side during the 2020 Lucas Oil AMA Pro Motocross Championship, when Eli had some lackluster (by his standards) motos and ultimately handed that championship over. Tomac started winning again by the end of the year, though, so much of his early-season outdoor struggles seem to point to the weirdo 2020 racing calendar. No one knew exactly when to be ready or what to be ready for, so riders came in at a different level of prep. Eli knows exactly what to do to be ready for January.
That said, a year ago he was ready for Anaheim 1 and flubbed the assignment, struggling with the bike and taking a disappointing seventh. He was back at the Kawasaki test track Monday morning after A1, and they fixed something, or everything. He was good at every race from there. Such a luxury won't exist in 2021. Tomac said he and Kawasaki do not have a supercross track at their disposal in Texas.
"That is going to be hard," said Tomac of staying in Texas after round one. "No, we don't have [testing planned] so that's just something we're going to have to deal with. I'm on the same motorcycle as we raced last year and that's huge for me, not really guessing. I'm kind of going with what I know from last year. That is huge. If you need to make an adjustment can you adapt? The one thing I know is I have what I had last year to go off of, and we'll roll with it from there."
On the other side comes Roczen, who with his new 2021 CRF450R is one of the few riders dealing with an all-new bike for the new season. As you know, every rider comes into the new season saying their bike is amazing and awesome and dialed in. Roczen is right along those lines.
"We haven't really tested too much to be honest, I was pretty comfortable right away," said Roczen. "I've been riding pretty decent on it and keeping it the same, compared to last year [when] I was chasing it a lot more. This bike is a lot more consistent, more so than last year where we were chasing settings based on the dirt. We didn't really have to put too many hours into testing."
Honda HRC Team Manager Erik Kehoe helped explain the process.
"The platform started with Tim Gajser racing it in Europe, and he had a lot of success, and we had Trey Canard testing on the bike in supercross very early, so by the time Ken and Chase got on it, it was pretty far along. Trey, the level he's at, he's still very fast. I know that Ken and Chase were looking over there in the GPs watching Tim [Gajser] ride it. Lars Lindstrom does a great job as our crew chief, and we were working with Japan, talking to them every week about what they were learning with the bike."
"The guys feel comfortable," added Kehoe. "Going into this first round, we're confident, but as you know, surprises do happen. We have the ability to do some riding if need be at a local track but right now, we're feeling confident where we're at."
The bike is only one question for Roczen. He also chose to skip Lucas Oil Pro Motocross to try to get his health in order. The rest could help, but that means his competitors will still grinding and trying to get fitter and faster by the day. Ken, not surprisingly, doesn't have any regrets.
"Yeah, for sure, it was the best decision for me and, essentially, the team," said Roczen. "I spent my whole off season in California for a change of pace, and with the new bike coming out, I wanted to be around the team, so they see the progression I was making and the work I'm putting in. That's what we've accomplished. I've been super stoked being out here."
Roczen has never shied away from the frustration of chasing his health, consistently. Last year he said all he wished for was to either win or lose a race straight up, instead of having his day decided by if he felt great or terrible, health-wise. So far, it appears he's feeling better more consistently day-to-day.
"For the first time in a long time I just started enjoying what I'm doing again," said Roczen. "Had a lot of consistent days. I think taking the time off during the outdoor season was definitely the right call. We'll go from here. Things can always change in a hurry, but I'm stoked to be where I'm at."
You can watch the entire pre-season press conference below: