We last saw Fredrik "Fast Freddie" Noren at the Fox Raceway National, when he was wearing a leg brace. He hurt his knee in qualifying that morning and was told he had a broken kneecap. He didn't think the injury was that bad, though, so he went to the hospital that afternoon for more X-rays and found out the kneecap actually was not broken—but by then it was too late to race. At least he wasn't really hurt badly, though.
Unfortunately, that was the end of the good news. The team he rode for, JGRMX Suzuki, eventually closed, leaving Noren without a ride for 2021. A month ago he decided to make a run at it on his own, buying a Kawasaki and getting ready for the season.
We saw Noren at ClubMX on December 22 and asked about his new program.
Racer X: So we're gonna try this. You're working on the bike while we do an interview. You're your own mechanic and riding on your own team right now?
Fredrik Noren: Yeah, let's go for it. I'm a little bit of everything right now. Oh shoot, looks like I just lost my hour meter.
Yup, this is what happens when you're doing your own work.
Yeah, so I bought this bike a month ago. Since then I'm my own mechanic, team manager, nutritionist, trainer. Making it work.
So before JGR shut down, were you doing any riding with them on Suzukis?
No, but since they end of the season they had been planning to go racing, up until the end. We weren't riding, though.
And you would have been there if they kept going?
Yeah. So then that ended and I had to do something. I hadn't ridden since Pala. I had been on the couch twiddling my thumbs. So then I thought about all of the worst things, and then I went from there!
So now you have the power of positive thinking?
Oh yeah, I'm making it happen. I'm a racer, that's it, so I can't stop racing. I love this sport way too much to just stop.
So you just started calling people?
Yeah, pretty much. As you know the industry isn't super big, so I pretty much got on the phone with everyone I knew and asked for favors! Pretty much said, "Hey, I want to go racing? Want to help?" Now I pretty much have everything I need. Parts are starting to come in. It's been hard, actually, getting parts just because with COVID[-19] so many things get held up. But I've got most of the parts now and I've had a good month down here at ClubMX, training has been good. I'm riding with fast guys, so that's good. We have three weeks now for me to get the rest of it figured out.
Who is helping the most?
Ikthus CBD, Brittenum Construction, and Integrity Electric from Arizona, they're coming in with some money to fund this. FXR came on board, that's huge. 6D, Sidi, EVS, and I'll be in Eks Brand goggles. Then a lot of bike parts. It's pretty awesome the companies who have come in to support this. I'm pretty pumped on it, actually, and I just hired a video guy to come in and live with me starting next week. So we'll get some vlogging going!
Whoa! Well you had a vlogger right next door in the JGR rig.
Yeah. That's what got it going. We gotta follow the Troll Train. Maybe we'll do some guest appearances.
You have Pirelli tires and they're helping you pit?
Yes, Pirelli is a big part of my program. Not just tires but they're giving me a place to pit. Josh [Whitmire] and everyone over there has been really open and supportive of everything I want to do. That's a huge piece of the puzzle, they're taking my bike around.
And JGR actually tried to help?
Yeah, so Jeremy [Albrecht, JGRMX team manager] has helped me a lot, they gave me some parts I can use on this bike while I was waiting for stuff to come in. Parts that just work on any bike, some stuff I had last year, they had a lot of stuff around so they helped me out.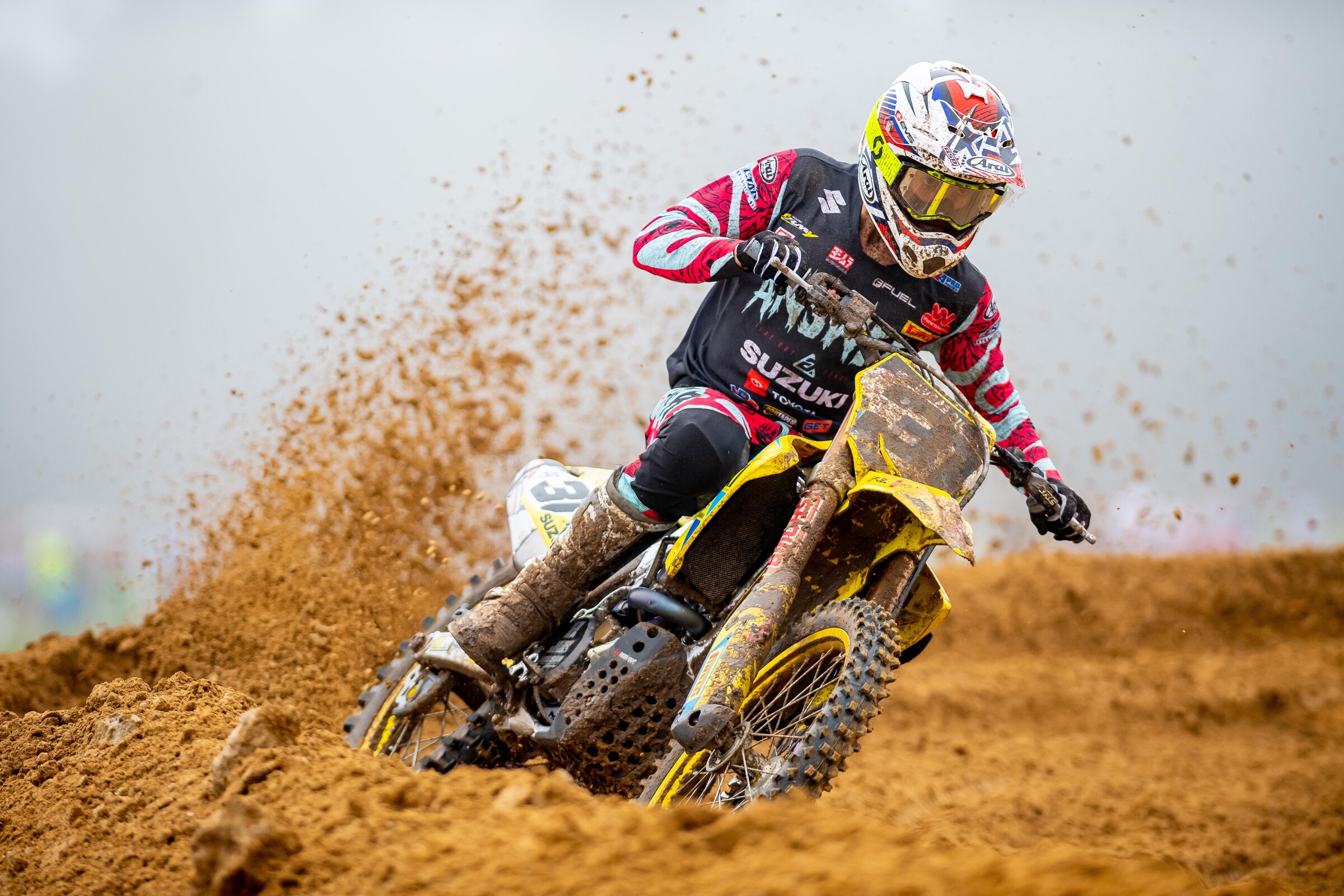 Do you have more work to do on this bike?
Yeah, I'm going to change grips.
Change grips?
Yeah! Something funky going on here, I'm not quite feeling it. Maybe I'm just blaming the grips so I don't have to blame myself!
Why the Kawasaki?
I've been waiting to try one for a good bit, and I like it. The bike is so awesome, I'm happy I picked this brand. The bike is really good, I'm just doing some small tweaks. All the bikes have things they do good and they do bad. The Kawi just seems like the things it can do good it does really good, and the things that need to be fixed, they can be fixed fairly easy in a sense. I'm looking forward to it.
And, obviously, you had to be so bummed to see what happened to JGR.
No one wanted to see that happen. A lot of people had to find new places to go, I'm bummed on that and I think the whole industry is bummed on that. Plus you had GEICO [Honda] going away earlier in the year, so that's never good. I loved it at JGR. I'm just hoping maybe they can come back in the future.