Aaron Plessinger is traversing uncharted waters compared to most riders. He is not switching bikes but he is switching teams, but actually just back to his old team. Let's review that: Plessinger started his pro career with Monster Energy/Star Racing Yamaha, leading to a strong 2018 250 season with Monster Energy AMA Supercross 250SX West Region and Lucas Oil Pro Motocross Championship 250 Class titles. He graduated to the Monster Energy Yamaha factory team with a YZ450F for 2019. He showed some potential before breaking his heel at the Daytona Supercross. His second 450 season last year featured a few decent moments, but it ended poorly, first with he and then-teammate Justin Barcia struggling big at the Salt Lake City races, and then Aaron went down with a bad wrist injury while preparing for the motocross season.
By the time he was back on the bike, the old factory Yamaha 450 team was gone, and Aaron was moved back over to Star Racing, which now runs the Yamaha 450 factory operation. So, how different will Star's 450 program be? Aaron would know best.
Racer X: Are you a California guy all-around? Did you have a place in Florida? I'm hearing all this stuff about Star getting a place in Florida. How is that all working? Or are you just Californian?
Aaron Plessinger: For right now I am just California. I did have a place in Florida, and then when the team switched I got the call to get out here and I kind of just uprooted and moved all my stuff and bought a place out here. So for right now, I'm all the way out here. If anything changes with the team and stuff, who knows? We might be back in Florida. I might be at the same place I was about six months ago!
Did you sell the house, or how does that work?
Yeah. I sold it. I was going to keep it and rent it, but it was just too big of a hassle to have somebody go and try and get in there and do all that stuff. I wouldn't have a property manager or anything like that. So I just ended up selling it. I bought a camper, so if we need to go back I'll live in that for a little bit!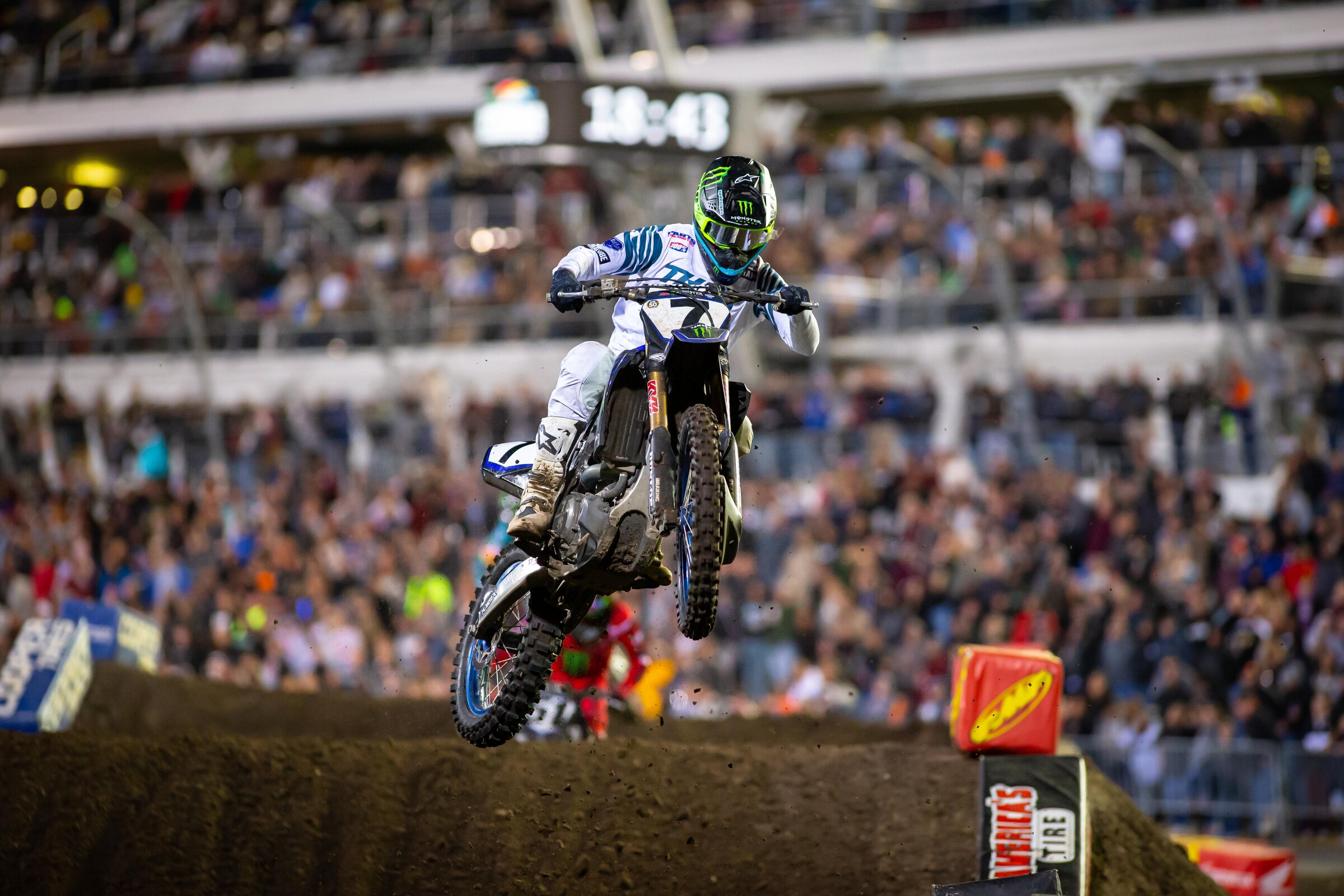 I feel like you could handle that. I don't think you'd be bothered by that.
Back in the [training with] Matt Walker days, that's all we did. We lived in the camper.
You mentioned the team thing. This is my biggest question. Lots of riders on Star now, but you're the only one just staying on the same bike with a different team. It's still a Yamaha. So is it different or is it not different? How do you describe the differences?
I think it's pretty different. Star, obviously, I was with them for five or almost six years. Then I moved to Factory Yamaha and it was not a weird change, just different. I feel like Star, we were more of a family almost over there. Then when I went to Factory Yamaha it was pretty corporate. We tried everything we could with the bike and it didn't pan out the way we thought it would. I think now, this will be my fourth week on supercross, and I'm already in love with the bike. We've only made minimum changes to it. They've done a lot of testing with [Dylan] Ferrandis and Malcolm [Stewart]. I think Colt [Nichols] did some testing on it too in outdoors. In the bike sense, it's unreal. I think it's probably one of the best decisions that could have happened.
When you first hopped on it, you could tell the bike was different?
Oh, yeah. Right away. They made some pretty significant changes. You could feel it as soon as you hopped on the thing.
Was some of this based on stuff you or even [Justin] Barcia were asking for last year, or did Star just have its own ideas already?
[Laughs] I don't know if we really knew what we wanted, as far as the bike goes. I think we were just in a state where we were trying everything and anything to make something work. I think we were really confused in the whole testing department. I think Star just went and did a lot of testing, tested pretty much every part you can put on the bike and they picked what worked. I don't know if it was what we were aiming for last year or not, but they definitely got it dialed in.
Last year you had some moments where you were showing progress, but for both you and Justin, the Salt Lake City races were not good. It seems like that bike was very sensitive. Soft tracks, rutted tracks okay, but the hard-pack stuff wasn't good. Salt Lake wasn't good for you guys.
No. Those were definitely not our races, for sure. I couldn't get through the whoops to save my life, and neither could Justin. The only really positive thing I took from that was corner speed, pretty much. That's the only place where I could make any time up on guys! When the track was really, really hard like it was in the last round and the second round, it was just a nightmare. I was getting beat to death out there. I couldn't really do much.
How much does that even affect your confidence? Because if it's a bike thing and everybody knows that you're struggling, do you just not even put it on you? Or if you're not getting results, no matter the reason, it still weighs on you?
It definitely weighs on you. It's hard, for sure. It was a hard thing to overcome and still push forward. Especially getting hurt and stuff, it didn't help. I don't even know. Thinking you're going to go out there and kill it and then coming back and it's 13th, 14th place and you're not really pumped on it. Time after time, it kind of beats down on you. It definitely messed with the confidence, for sure. It showed even when I got on this bike. I was still scared to go through the whoops. I had to go and hit them about 35 times just to get some more confidence back. I'm not all the way back yet, but I'm damn close.
So months go by but it's still in the back of your mind?
Oh, yeah. It definitely is. Like you said, it's the same bike, but almost everything on the bike is different. It still weighs on you. It's still in the back of your mind. I rode it for two years and it was so unpredictable what it was going to do in the whoops or on braking bumps. Then this bike is a lot more predictable. I can put it where I want it. I just got to get used to doing that.
Did you have a three-year deal at Yamaha the whole time, or was there an option that allowed the third year to happen?
It was three years with an option of a fourth, the whole time.
So you might even have two more years. It could even go through '22, maybe?
[Laughs] I'm hoping! If it keeps going like it's going with these guys, that's what I'm hoping.
You got hurt getting ready for outdoors. Is that what happened?
Yeah. I was testing actually and doing one of my motos, doing really good. One of the times I felt really good on the bike. I caught my foot going up the face of a jump and just kind of swan-dove into the landing of the jump. Dislocated my wrist.
Did you think going into the outdoors it was going to be good?
Yeah. I definitely did. The bike was kind of coming around. That was the day that it felt the best. I was feeling good. I was keeping up with all the guys and actually beating most of them. It was a really, really frustrating injury, to say the least. I was feeling great. I was feeling like I could go out there and actually be up front and duke it out with those guys. But it happens, I guess.
It's like when it rains, it pours. When things are going your way, you can't even stop it from going your way, and then vice versa.
[Laughs] Yup.
How long were you off? How long have you been riding? How bad was the injury?
I ended up dislocating my wrist, breaking my scaphoid, and then breaking a bone called the triquetrum. It's pretty much the opposite side of where your scaphoid is in your wrist. Then I broke the tip off of my ulna. I knew it was pretty bad when I went into the doctor's office and when they were about to set it one of the nurses ran in and she was like, "Oh, my gosh. Can I please help you set this?" She was talking to the doctor and she looks at me and she goes, "I've been working here 12 years and I've only seen two of these kind of injuries!" I was like, well that's some great news.
So she was excited about this?
[Laughs] Oh, yeah. She was pumped. She was ready to go. They got it set and everything and then they told me it was a really, really bad, bad wrist injury. When I came out of surgery, the doctor told me, "You'll probably only get about 70 percent of movement back into your wrist with the way you broke it." Which almost was a challenge to me, like, let's see how far we can get it, then. So he told me it was probably going to be four to six months to heal, total time off the bike was I think three and a half months. So, I pretty much did every single thing you could possibly do to try to get this thing to heal. I was in a basic hard cast for three weeks, and then he put me into a waterproof hard cast for another three or four weeks. Then I had this splint deal that you could take on and off. Meanwhile, I still had a pin sticking through and holding the dislocation and the triquetrum bone in place. So I couldn't really move it that whole time. At one point, the doctors says, "We'll try to get that pin out in the next two weeks." Then I went back in two weeks and he looked at the X-ray and was like, "Yeah, we'll just see you back in a month." I was like, Dude, are you kidding me!? Then it actually started hurting me, so I called in and I went back two weeks before I was supposed to. He took X-rays and was like, "So, you ready to get that pin out or what?" I was like, "Yeah. I'm waiting!" It was a pretty confusing process. Two weeks after I had got the pin out, we got a CAT scan. He said everything was good to go, so I started riding outdoors. I rode outdoors for about two weeks and then started on supercross.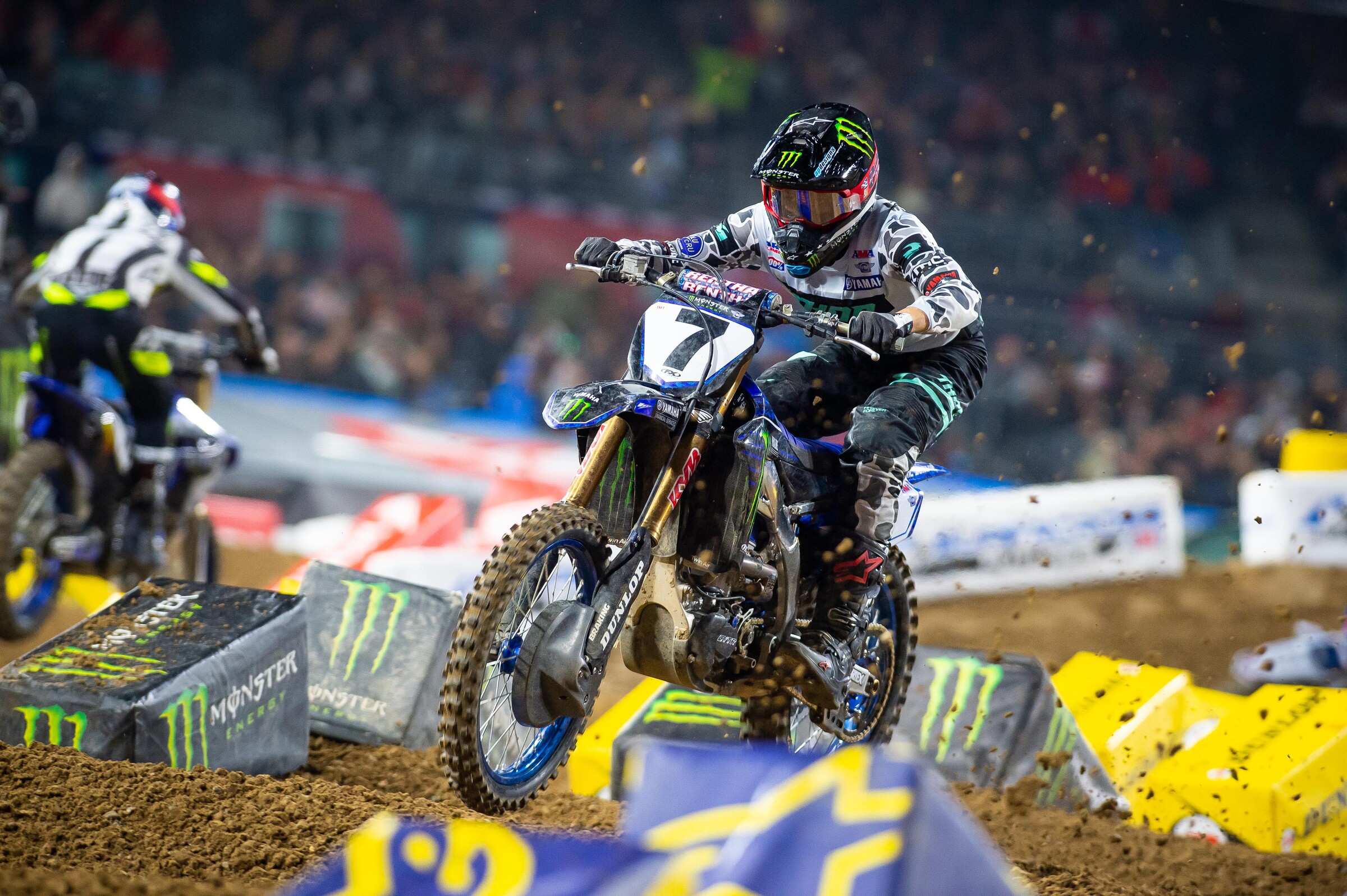 How's that 70 percent movement? Are you beating that?
Yeah! When I went back after the two weeks and he pulled the pin out, he said, "Holy crap, what have you been doing? Ten more percent and you're at a hundred percent." Every time I got in my truck I would sit on it, crank on it one way, turn it around, crank on it the other way. My dad had a similar kind of injury so he told me to take pantyhose and get a ten-pound weight, put it all the way in the bottom of the pantyhose and lift up and let the weight pull down on your wrist. So that's what I did, and it was not by any means fun. It was really, really, really painful. He was pretty impressed with how far I had gotten.
That's some real high-tech stuff you were doing there to fix that thing! Cranking it around in the truck, and then your dad's old school weights in a pantyhose.
[Laughs] Oh, yeah. I was impressed with myself how good it came around. Just crank it. That's the only way you're going to get it done.
So it sounds to me like right now can't tell us, "Dude, I feel so good. I'm so much faster on the track." It sounds like you're rebuilding yourself a little bit here. Is that safe to say?
Yeah, for sure. It's been a process, to say the least. I pretty much lost a lot of my confidence. How I was riding before, I knew that's not the way I wanted to ride. I was even talking to my buddy the other day. He was watching this video that I sent to him and he was like, "Dude, I can even tell in your style that you're riding so much different. You're riding with more confidence than I've seen in years." That's what my goal was, to get back to where at least I was riding as good as I was in 2018, the peak moments. I'm starting to get there. I'm starting to get loose and feeling really good again. I think I'm on my way. Just going to take a little more time. I think I'm really close, but it's just not an overnight process, I guess.
Stay tuned for part two of this interview with Aaron Plessinger.