Monster Energy/Pro Circuit Kawasaki has announced the signing of former GEICO Honda rider Jo Shimoda. Shimoda will compete aboard a Monster Energy/Pro Circuit Kawasaki KX250 for the 2021 Monster Energy AMA Supercross Championship and the Lucas Oil AMA Pro Motocross Championship. Here's how he got there.
Following the 2019 AMA Amateur National Motocross Championship at Loretta Lynn's Ranch, Shimoda made his pro debut in the Lucas Oil AMA Pro Motocross Championship as he competed in the final three rounds. He made his full-time debut in 2020, entering Monster Energy AMA Supercross in the 250SX East Region. The Japan native recorded two tenth-place finishes to start off the year at the Tampa Supercross and the Arlington Supercross Triple Crown (where he finished 14-10-8) before busting out a quiet fifth-place finish at the Atlanta Supercross. The result called for fist pumps and a few long revs from his GEICO Honda CRF250R.
"Everybody was super pumped," Shimoda explained to me the following week during the Daytona Supercross media day. "Last weekend was really good. I started 13th and I was able to get to [position] five and finish fifth overall for my first top-five finish."
The following week at the Daytona Supercross—the toughest track on the circuit ever year—the #84 pulled off a seventh place finish. Then, as we all know, the world went on pause the second week in March.
When the supercross championship resumed in Salt Lake City, Utah, Shimoda's first race back didn't go so well. He was off to a great start with his teammate Chase Sexton and Jeremy Martin and Shane McElrath out front. However, in the second turn, Shimoda went high as Garrett Marchbanks entered the 180-degree turn low to his inside. Since Shimoda went high, he lost balance, swerved left, and bumped into Pierce Brown on his inside. Shimoda was able to regain balance and continue on as Brown got the worst of it. Brown sat perpendicular two jumps into the rhythm section momentarily only for Colt Nichols to double out of the turn directly into him, causing a big crash. Although Shimoda stayed up in the incident and was long gone before the pileup happened behind him, his bike had issues with the front brake, causing him to pit early in the race. He finished 21st.
However, Shimoda was able to finish 8-11-5-8 in the final four supercross races of the 250SX East Region Championship, and his strong results paired with a depleted 250SX East Region Championship lineup landed him third in the standings. With his solid debut season he earned 250SX Rookie of the Year honors.
In his first full year racing Pro Motocross, Shimoda experienced both highs and lows. After one top-ten overall finish in the first four rounds (one of which was the muddy mess at the Loretta Lynn's Ranch), Shimoda earned a top ten overall finish at each of the final five rounds. He saved the best for last. At the finale, the GEICO Honda rider recorded a new career-best moto finish third place in the second moto. His 9-3 moto finishes resulted in fifth overall, besting the seventh overall he had the week before in Lakewood, Colorado. But just as things were looking up for Shimoda and his young teammates Jett Lawrence (first career moto win and overall win) and Carson Mumford (new career-best moto finish and overall finish), they were left without a ride for 2021.
Following the conclusion of the season, the GEICO Honda team was forced to close its doors, leaving riders and team members to search for jobs for the following year. With the GEICO team shutting down, Shimoda was forced to look for a spot with another team.
First, we were hearing Shimoda had landed a spot with the Phoenix Racing Honda team because Honda wanted to keep him on red in the future. Then, rumors floated that Shimoda would end up on a Mitch Payton's squad, even though the four-man 2021 roster had been announced only a week after the conclusion of Pro Motocross.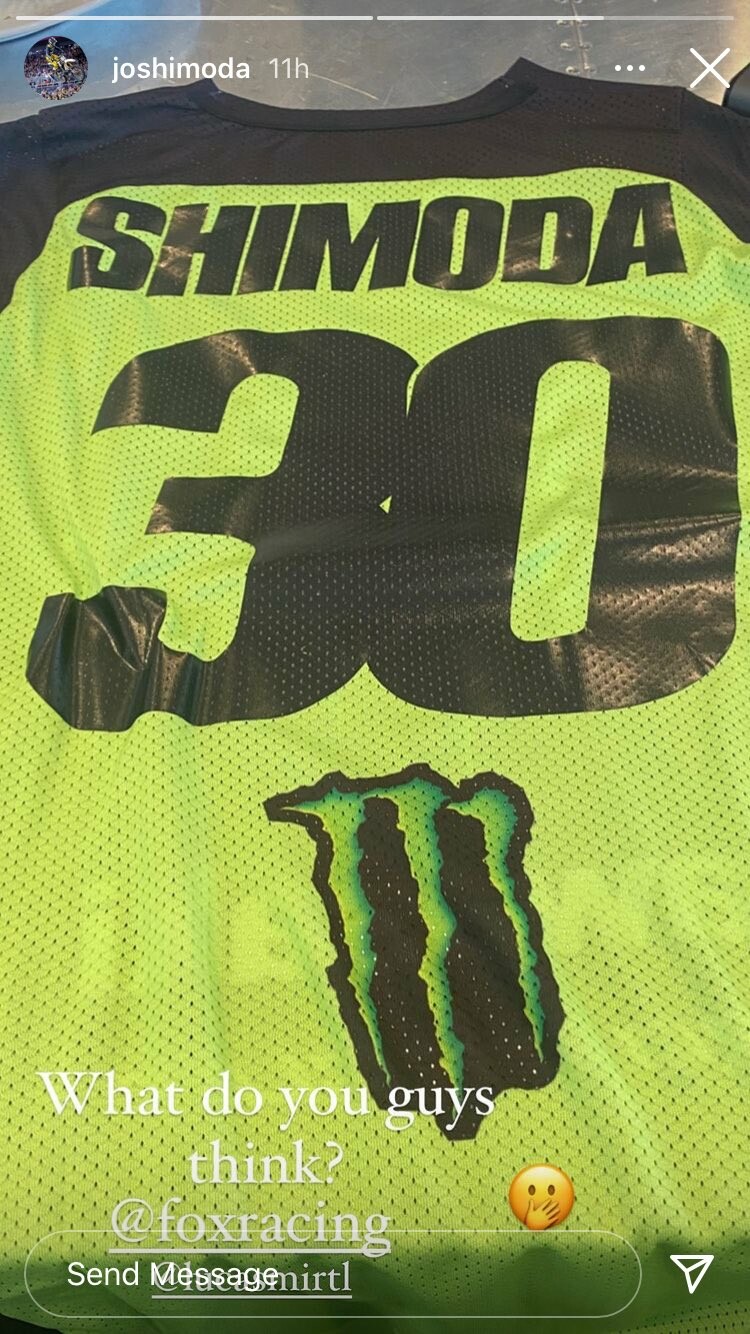 In a video with SwapMoto Live, Shimoda admitted Payton offered him a supercross-only deal but that he was going to instead ride for Phoenix Racing Honda. He explained the deal with the Honda support team was almost done before Payton returned with a second offer for the full year. Shimoda said the second deal from Payton was too good to pass up.
Shimoda will join returning riders Austin Forkner, Cameron McAdoo, Jordon Smith, and rookie Seth Hammaker, who will make his pro debut in 2021. In his second full year, Shimoda will be #30—the lowest number on the Monster Energy/Pro Circuit Kawasaki squad.
Now that the Shimoda deal is official, all five of the GEICO Honda riders have found rides for 2021: Jeremy Martin and Christian Craig signed with Monster Energy/Star Racing Yamaha; Carson Mumford signed with Michael Lindsay's FXR/Chaparral Honda Racing Team; and brothers Hunter and Jett Lawrence were signed two roster spots on the Honda HRC team. Chase Sexton, who last raced for the team during supercross this season, moved to the Honda HRC team following his second consecutive 250SX East Region title.
Below is the full press release from the Kawasaki.
Monster Energy®/Pro Circuit/Kawasaki Race Team Adds Jo Shimoda to the 2021 Rider Lineup
Foothill Ranch, Calif.—The decorated Monster Energy®/Pro Circuit/Kawasaki team adds depth to an already stacked roster with the addition of the 2020 Monster Energy Supercross 'Rookie of the Year' award recipient, Jo Shimoda for the 2021 racing season. Shimoda joins long-time Team Green™ racer Austin Forkner along with Jordon Smith, Cameron McAdoo, and the most recent Monster Energy Kawasaki Team Green amateur motocross graduate Seth Hammaker aboard their all-new 2021 KX™250 motorcycles.
"Jo Shimoda became available late last season," said Mitch Payton, Pro Circuit owner. "We feel that with his tremendous talent and the new 2021 Kawasaki KX250, it will be a recipe for success. Jo showed flashes of brilliance in his rookie supercross season and finished out the motocross season with a career-best moto podium finish. We're looking forward to Jo mixing it up with our four other talented riders and seeing them all work toward their goal of becoming a champion next season."
"Honestly, I wasn't too sure what next year would look like for me, but thanks to the Monster Energy/Pro Circuit/Kawasaki team and Mitch Payton, I couldn't be more excited for next year," said Shimoda. "It feels really good to be with such an iconic team like the Monster Energy/Pro Circuit/Kawasaki race team and to know that they believe in my ability enough to give me a chance this year. I was able to test the all-new KX250 a couple of times and on my first day, I was over jumping everything because of how fast it was! I am just really thankful and excited for this opportunity and I plan to make the most of it."
Shimoda and the 2021 Monster Energy/Pro Circuit/Kawasaki racing team are positioned for another championship campaign and have begun preparations for the 2021 Monster Energy AMA Supercross, an FIM World Championship, and AMA Pro Motocross Championship.