Far too many times in the last two years we've found ourselves getting injury updates from Hunter Lawrence. He's missed nearly two full supercross seasons with injuries, and he also tore his ACL during the 2019 Lucas Oil AMA Pro Motocross Championship (which was the one series he got healthy enough for to win races). Hopes were high for motocross in 2020, but his shoulder came out at the Loretta Lynn's 2 National, putting his entire season in jeopardy. Hunter was able to rehab and get back on the bike, working his way back to speed before his popped the shoulder out again during practice at the Fox Raceway National finale.
In the meantime, Hunter and his brother Jett got the call to be part of Honda HRC's new 250 effort for 2021, after the shutdown of the GEICO/Factory Connection Honda team. We called Hunter last week for the latest.
Racer X: First of all, what are the actual living arrangements for the Lawrence brothers right now?
Hunter Lawrence: Oh wouldn't you love to know! Wouldn't you love to know. You're trying to get all super insider info.
[Laughs] I do want to know! This is what the fans want and I'm giving them what they want!
Alright alright. Jett is as Lucas' [Mirtl, agent] house with dad. I'm at O'Show's [Johnny O'Mara, trainer].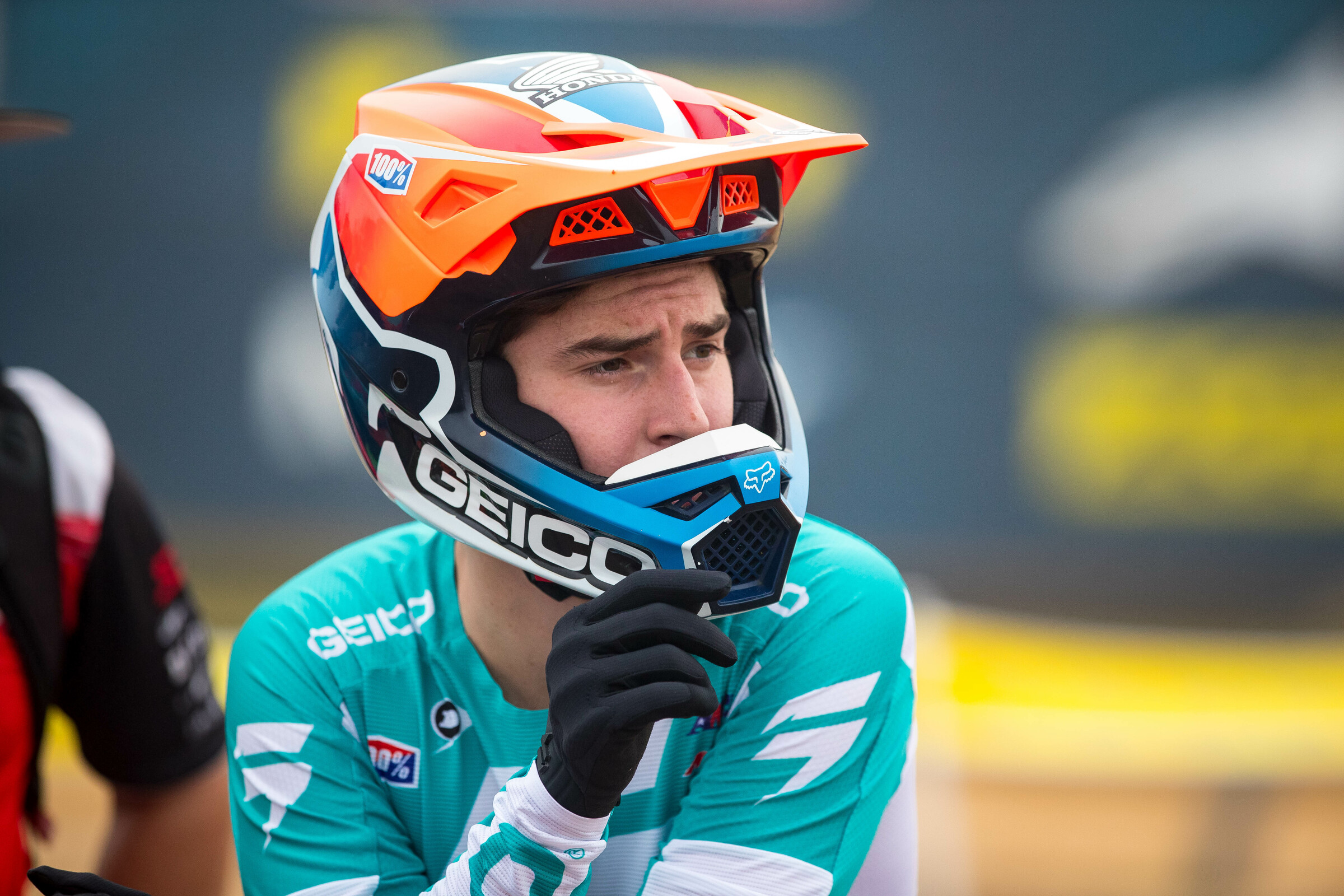 The reason I keep asking is, maybe we need someone to stroke a million-dollar check for the rights, but I feel like we need a Lawrence brothers reality show.
You know what? We should. We should have a reality show. The stuff that happens around here is just comedy all the time. The banter is just on point. I don't know what else to say—this is going to be a hit. Someone needs to fork out the bills! I don't know exactly how it works. Anyone who ever hangs out with the Lawrence brothers has a good time—I can promise you that.
Well, I feel like every interview we've had in the last year or so has started with "How's the recovery from injury going?" Sorry man.
It's alright, mate.
So here we go again: How's the recovery from injury going?
It's going really good. Shoulder is coming along very nicely. Taking this time to learn about my body and get everything sorted, from nutrition to genetic DNA stuff. Just figuring out my body and that's helped out a lot. It's actually been a really good start to our off-season. Obviously, we would have loved to have been on the bike, but off the bike it's just been bang on, I don't think we could have done it any better than we have.
So you needed to get this fixed? This was the same injury that started at Loretta's?
Yes.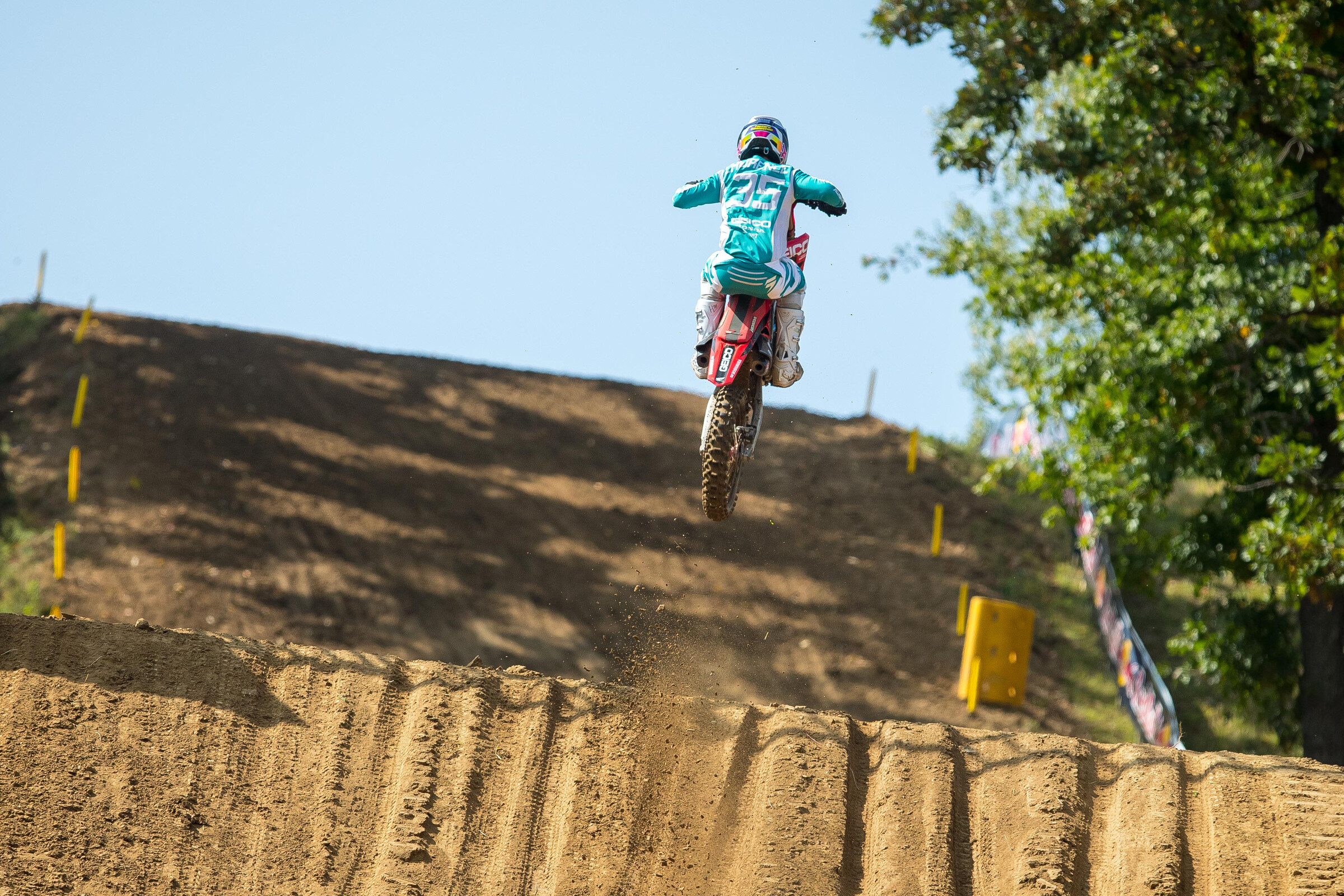 It was almost coming around for you. You were back into the top five going into the final round.
It was coming back around, so at the point when it happened again, it felt like the worst-case scenario. But looking back now, it's something that needed to happen. I'd been dealing with it since the first round, and I did feel like I was coming back to 100 percent coming into Pala. The riding was much better at Colorado, everything was getting better, I was expecting a genuinely good race for myself at Pala. But, yeah, my shoulder couldn't handle being 100 percent on the bike. It could maybe handle 70 or 80 percent, but when I started to go faster, the speed, the strength, it just couldn't have handled it. It we hadn't have had that issue with the shoulder coming out at the last round, we would have moved on straight into supercross. No matter how much muscle was around the shoulder, I could have had shoulders like Weston Peick, but if I got into a position, it would come out. It was like a default position, almost like a gateway for the shoulder to come out. So if I had gotten through Pala, it could have come out again in, say, December. It was something we had to get done, everyone was on board with it. So we got surgery, we took the time and I'm glad we did.
So you're looking at it as, at least you got it fixed at the beginning of the off-season?
Yeah, for sure. And then Warren Kramer, such a great guy, he got us in the Wednesday after Pala. It was killer, it's all done.
So the GEICO Honda team was going away. It looks like it worked out really well for your brother here, but were you sweating it at all?
So obviously this was a huge bummer. That sucks, they were such a great team and the people in the team were such great people. Especially Jeff Majkrzak and Ziggy [Rick Zielfelder], I think of them as mates more than I do team boss or team owner. So that really sucks, but our agent, Lucas, he had a few insights and he was piecing things together. I was never really sweating it, but I knew my results weren't what I was capable of. I was battling things physically and they were aware of it. I wanted to put results on the board just to prove I was capable, just to prove it to myself. The team was behind me the whole time, and I can't thank them enough for that.
So everyone knew the team had lost GEICO, but there was a time when they were working to find a new sponsor and keep the team going, right?
Right. The amount of money GEICO pulled out from the team was really substantial. It was a big punch in the guts for the team. A few weeks before GEICO pulled the sponsorship, they guy was telling them, "Yeah we're all good, everything is in order." For them to stop answering calls two weeks later, that was a bummer. But hey, they had supported the team for a long time and they were really good when they were with them. Yeah, that's how it goes unfortunately.
So, you haven't been on the bike yet. Do you know if moving from GEICO Honda to factory Honda HRC is a big change or really not?
Yes and no. I just want to say that the fact that we can say we're factory Honda HRC riders is a huge bonus, accomplishment, privilege. It's awesome. We're 250 guys and we have our own gear deals with Alpinestars, that's mega. Jettson has his Red Bull deal, having helmet categories [available], that's awesome. Most of the 250 teams are not factory direct teams like the 450 class, they're supported by the manufacturers but not to the extent of Honda HRC. I think we get to pick and choose the best of GEICO Honda and then obviously HRC gets to tap in on a few things, more so than they were able to do in the past. So yeah, it's going to be cool. How different it's going to be? I don't really know. You could say that Honda HRC is a super professional team, but at the same time so was the GEICO team. So I don't know if it will be a whole lot different, but it actually will be different, it you know what I mean!
Do you know if the bike will be similar?
From my understanding the bike will be similar to what we've had. They're working to bring the engine up to a more competitive level. We have a great bike in supercross. Outdoors, we're not quite where we'd love to be yet. Obviously some of the factors are with so many riders on the team, budget, a few things like that do kind of hold us back a little bit on what they want to test just because it's more than two engines that they have to put that spec into. We had six or five bikes. So from my understanding, it's going to be pretty similar, just improved in a few areas.
So I'm assuming you will race what is considered West [Coast] this year?
Oh 100 percent. I'll be back on the bikes in a few weeks, before Christmas time definitely. I've got two months pretty much to prepare for supercross and West Coast. Yeah, that's what the plan is now.
You have to have a little extra fire right now. You have to be motivated to remind people.
For sure mate, for sure. People forget quick in this industry, I think that's fair to say. You're only as good as your last race.
You can listen to the full interview with Hunter in the episode #136 of Jason Weigandt's Racer X Exhaust Podcast, embedded below.