Houston, TX
Houston 1 (East)
Monster Energy AMA Supercross Championship
When the Factory Connection/GEICO Honda team lost GEICO as a sponsor, it sent everyone involved with the team into a scramble either find new jobs, or new sponsorships. In the end, the team had to shut down, which left several riders looking for work. However, most were confident the Lawrence brothers of Hunter and Jett would remain in Honda colors, and move next door to the factory Honda HRC effort.
That's exactly what happened, as last week Honda announced a 250 effort with Jett and Hunter alongside the existing 450 squad with Ken Roczen and Chase Sexton. Jett also debuted his new Red Bull deal with a unique video where he logs laps on an extra-narrow supercross track.
We rang up Jett last Thursday night for the scoop.
Racer X: So I've got you on the phone here, can you answer this question for me? Do you ever actually use the phone for actual calls or is it pretty much just snaps and texting and things like that?
Jett Lawrence: No, I'll use it for anything really. I talk to my friends on the phone. I'm terrible at texting—I suck at it, I just call people.
That's 180 degrees different from what I expected. I thought people your age only do Snapchat and texting and stuff.
Oh I'll FaceTime my friends or I'll use Snapchat and record a video and send it—I'm terrible at actually texting and all that.
So this Honda deal is finally official. You have to be pumped this is finally out there.
Oh yeah, been a big week for sure!
And you have this Red Bull video on the narrow track. You probably shot that a while ago, but it's pretty popular now that it's out.
Yeah? I've actually only watched it once since it actually came out. I haven't been watching the views. I guess I don't actually have to watch it over and over!
So this track was four feet wide?
Some areas were four, some were three and a half. We did have some down ramps that were six-feet wide just for safety on the landing. Most was four feet.
But how different was that? I know at the test track you guys will get the "goat trail" going, where you're all using the same line and it's not very wide. So was it actually legitimately hard to keep the bike within the lines here?
Well, I feel like when you're doing it once it's not to bad. A moto wouldn't be bad, but for the shoot we were doing one lap at a time, so it's easy to lose your rhythm. That's when it can get pretty bad! I was pretty confident in myself not to go off, but I did have one of those close moments where I landed on one of the lights. The sketchiest moment was the finish line double, the up ramp and the down ramp didn't line up and you had to jump across. I landed right on the edge, knocked a light off!
Look, you're actually still relatively new to supercross, you've only been at this for a year. It's not like you're a 450-class guy who has done this for 10 years. Are you at the point where you're comfortable with whatever track build, whatever obstacle, whatever layout you get thrown at you, you can handle it? Or is there still a supercross learning curve?
There's always a learning curve, I feel like. But I'm definitely feeling more settled and more confident than I was last year.
So you're full into supercross grind mode?
Yeah just yesterday I went to Lake Elsinore just to try a different track. I was only riding the Honda track until the Red Bull and Honda news came out. It was nice to get out! As soon as the news went out I was like, "I want to ride somewhere else."
So you were in hiding!
Yeah, I was basically in hiding! The other day I did a live video and someone noticed a Red Bull hat in the background. Someone saw a glimpse of it and I was like, "Oh crap!" Then someone said, "Did I see a Red Bull hat in the background?" I was like, "What Red Bull hat?"
So a year ago were you doing this supercross thing?
Yeah, I'm pretty sure I was.
Okay, so let's talk about that. Compared to last year do you feel you've made big gains?
Oh yeah I feel like I'm way better this year. I'm more confident in the whoops and my rhythms are faster. My turns are getting there, but it's pretty hard to do the turns fast when it's bone dry everywhere. If I have ruts my turns are good. But yeah I feel like I'm getting better and I'm a level up from where I was last year. I have way more speed to come, too, before next season.
So before January 16 you think you'll get even faster?
Oh yeah I'm gonna have big gains by then.
Well look, experience helps, and last year was your rookie year and you missed a lot of races. So how do you look at yourself now? Are you looking to win races and compete for a championship or are you still in the learning phase?
I feel like I raced enough this year to learn a lot. I'm not going to stop learning, but for next year, I'm going to say that if or when I'm feeling good I'm going to go for that win. And if I'm feeling really good I'm going to go for a title. But I can't really say what I can do.
Here's what's impressive. Even outdoors I think people were thinking we'd see some moments with great speed, but also some moments where we would see huge crashes. But you actually didn't do that! Pretty much every moto was solid. So do we need to just take the "He's a young and crazy guy" idea out of this and just think of you as more of a consistent guy? Because outdoors, at least, you didn't really have crazy moments.
Yeah I've always heard everyone say that rookies are going to crash a lot in their first year. Yeah and I did, I learned my lesson early, but I feel like that, yeah that was a bit of a rookie mistake, but I also feel like that was just a mistake from trying to go for my first win. Yeah people said I was really inconsistent in supercross, which I was, but I was like, "You know what, I'll work on proving people wrong, that I can be consistent." And for the most part outdoors I was. If I didn't have that DNF in the mud at Loretta's I would have been third in the championship.
You ended the year with a win. I feel like you're pretty confident in yourself anyway, but does it help to have that last race win kind of tucked into your back pocket?
Yeah it's definitely good. Now I feel like I'm going to be living rent-free in everyone's head after that round. They know that last year was my first year in supercross and I was already going that speed. So yeah, I feel like I'm going to be living rent-free in everyone's heads for next year.
Okay so they'll be thinking about you. Hey here is something crazy. One year ago we were in Australia and you were making your professional supercross debut at the AUS-X Open. Now that feels like 10 years ago with how the world has changed, and also how much your career has changed. You were pretty good there, but the difference between you at that race and where you were by Anaheim 2 was massive.
It does feel like a long time ago, that's for sure. I went from not being able to go through the whoops clean in the main event to being one of the fastest guys on the West Coast through the whoops.
You actually passed Christian Craig in whoops! And he's amazing in whoops![Laughs] Yeah I surprised by that. I was not planning on passing him there! It just happened. I was surprised by that. Yeah, Christian is pretty good through the whoops. I was like "Oh, I guess I'm a whoop guy now!"
Okay the team situation. How different is it, factory Honda HRC to GEICO Honda?
It's the exact same bike from last year. We have the same people. Ryan Cox, my engine guy, Josh [Wisenor] is still our team manager, Christien is my mechanic, Ken came along, which is Hunter's new mechanic, and Mike, our other engine guy. So nothing has really changed. For the Red Bull shoot I still had a GEICO Honda engine. The bike had a GEICO Hinson clutch cover, which some people noticed.
Oh so a lot of guys moved over and got jobs. Like Josh remains as team manager for the 250 program.
Yeah it's pretty sick how that all worked out.
So Erik Kehoe doesn't have to stay in the team manager's tower for like eight-straight hours?
[Laughs] No, he doesn't. At least he gets a little break!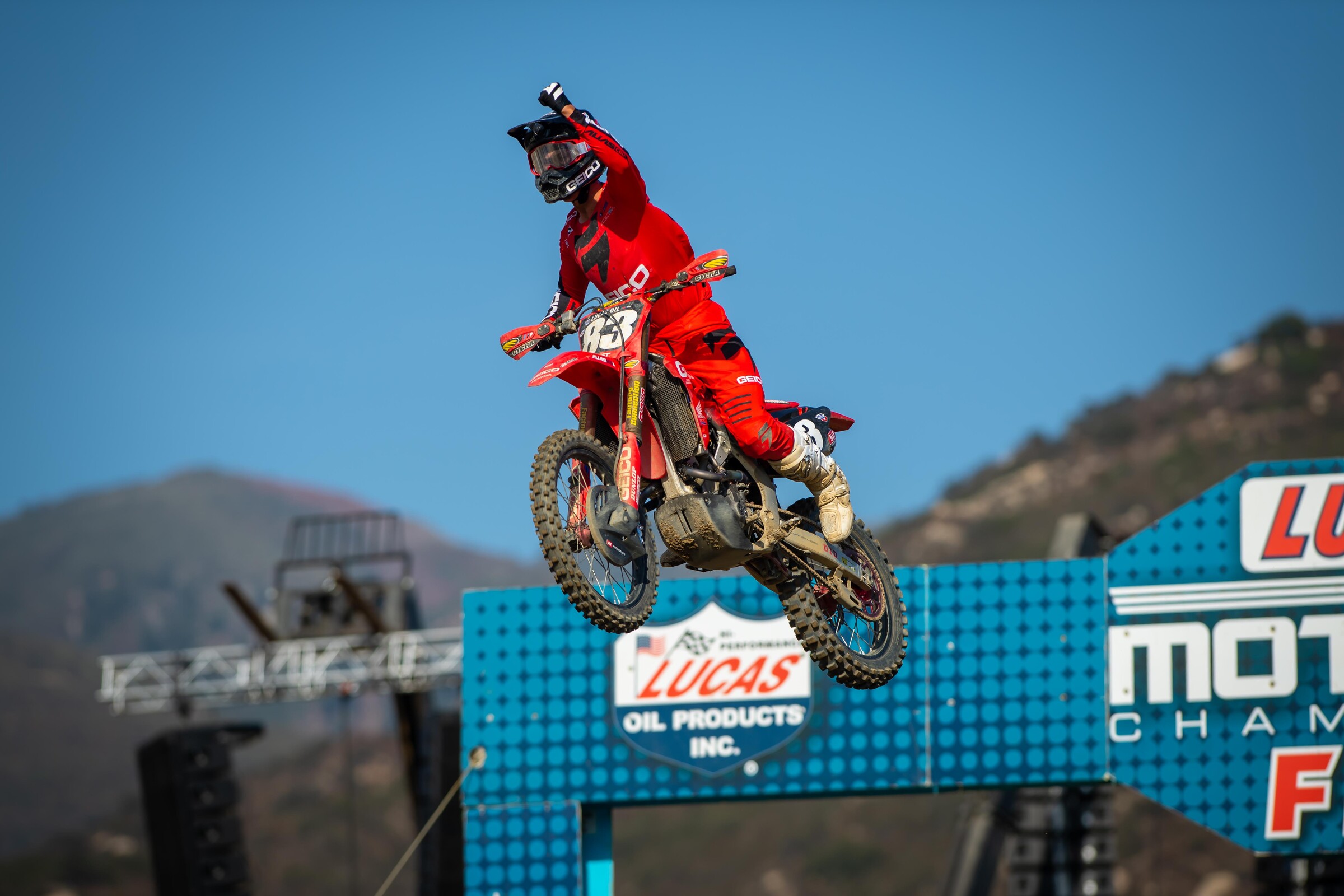 So for you not a big change.
Yeah, for me it's pretty much the same, I guess I have some new teammates but not really because Chase [Sexton] was my teammate last year. It's just Kenny [Roczen] and the rest of the HRC people that are new, but it pretty much feels like home to me.
Did you ride with Kenny last year?
I rode with him last year a few times, I'm pretty sure. But we had a little freeway with him, Hunter and I, because we met him in Germany and stuff. I think he has a little soft spot for us. I think last year he spent more of his time in Florida so we didn't see him at the test track that much.
Oh wait that's right. Didn't you boys live at Ken's dad's house when you were in Europe?
Yeah, I lived with Heiko Klepa [Ken Roczen's father] by myself for like months. I had Steffi Roczen come and help me with the laundry and stuff. I would try to do it by myself but I would mess it up. I was pretty young, 13 or 14. She helped make my meals and stuff.
Why were you there alone?
I think my dad and Hunter were out doing GPs. Heiko [Ken Roczen's father] wanted to train me up because he had worked with Hunter his first year over there and he got really good. I think Heiko wanted to do the same with me. I spent heaps of time there. My first year, EMX250, first round I ended up not qualifying. So I spent more time there and at the end of the year I went 1-1 at Assen. So he definitely helped me a lot. I guess I just really like winning the last race of the year!
[Laughs] That's right! So do you and Kenny share stories about his dad?
Yeah, we always talked about what Heiko is like in Germany. In the morning, I would wake up and do a 20-minute row. Then I would have some Nutella on bakery bread, with banana, and then a bucket a chocolate milk. Just a massive amount of chocolate milk. Same thing, every single morning.
Nutella and chocolate milk. That's not a big sacrifice!
Yeah! That was the program.
Is O'Show [Johnny O'Mara] cool with that?
No! I don't think I'm on that anymore! I'm back to my usual cereals in the morning. I love my cereals.
So this Red Bull deal, video was cool and probably more stuff to come?
Oh yeah it's cool. I always dreamed of having the same image as Ken Roczen—on a Honda with Red Bull. So I had offers from other energy drinks, but as a kid I was so set on Red Bull stuff, it was amazing and they still are. When you see someone in the Red Bull helmet, you don't see it every day, so you know whatever he does for a job he must be very good at it.
And judging by you, I'm just going to assume you would partake. You've had some Red Bulls in your time?
Oh yeah. Heiko and I at 12 o'clock we'd have a meeting over a Red Bull. I would drink the Red Bull Cola and he would have a regular Red Bull. Heiko has the fridge. I told him that someday I would have a Red Bull deal and the Red Bull fridge. So I guess it's good to kind of back it up.
So we all kind of knew you'd end up at factory Honda, but still, GEICO Honda shutting down must have been a rough time for everyone.
It was definitely a rough time for the mechanics and stuff. But I knew wherever I was going to go, I was going to take my mechanic with me. In a way it kind of worked out for me, I got my Red Bull deal, I got my own gear deal, so for me that was good, but it always sucks when the pits lose a truck that's not coming back.
You can listen to the full interview with Jettson in the episode #135 of Jason Weigandt's Racer X Exhaust Podcast, embedded below.
Main Image: Garth Milan/Red Bull Content Pool