A lot of riders switch teams, but when Jeremy Martin and Star Racing Yamaha parted ways after the 2016 season, it seemed like a bigger relationship than usual. So it was shocking to see Jeremy suddenly announced as a member of Monster Energy/Star Racing Yamaha for 2021. Of course, he was forced into the free agency market when GEICO Honda closed up shop, but Jeremy, after a strong second-place showing in Lucas Oil AMA Pro Motocross Championship, had options. Why did he go back? We called him today to ask how the deal came together.
Racer X: I don't know if this is the biggest news of the off-season but it's definitely the most surprising news. I definitely would not have put money on Jeremy Martin returning to Star Racing ever, but here we are! Jeremy Martin, back with Star Racing!
Jeremy Martin: Yeah, so obviously I had heard at Ironman Raceway—which was the third outdoor national—the team said GEICO was out and if they couldn't find a new title sponsor it was not going to be good. They said they would have to close the doors. At that time I was pretty invested in the championship, so I just thought, "I don't care. If I win the championship I've done my job, and if I do that I'll get a ride." I think the first time I had contact with Star was at WW Ranch. Jeremy Coker from Star actually approached me and said, "Hey would you be interested in riding for us." Honestly, I was a little bit taken aback! I said I would definitely consider it for sure, but I was waiting to hear from GEICO. I was supposed to hear something in Colorado, but at Colorado we didn't hear anything. So after that race I put my nose to the pavement. I sat in Mitch Payton's office and talked to him, I sat in Star's office, and I had a lot of talks with GasGas and [Troy Lee Designs Team Manager] Tyler Keefe. A lot of thoughts about what would be the best future plan for me. Even though I had my differences with Star back in the day, we talked about it in a meeting and we call kind of agreed to just let bygones be bygone. I felt like that was the best route for me in the future.
So you had another year on your GEICO Honda deal. That had to be a gut punch.
Absolutely. I felt terrible about the whole deal. I really loved that team and they felt like a family to me. And we had a good year. I came back from a broken back. I'm sure they expected that I could come back and maybe win some races and show some speed, but I think I exceeded expectations. So, because they did stick with me when I was done, I was a little bummed, obviously, that we couldn't get another year together where I was fully ready to go.
The December 2020 Issue of Racer X Illustrated
Mr. Motivated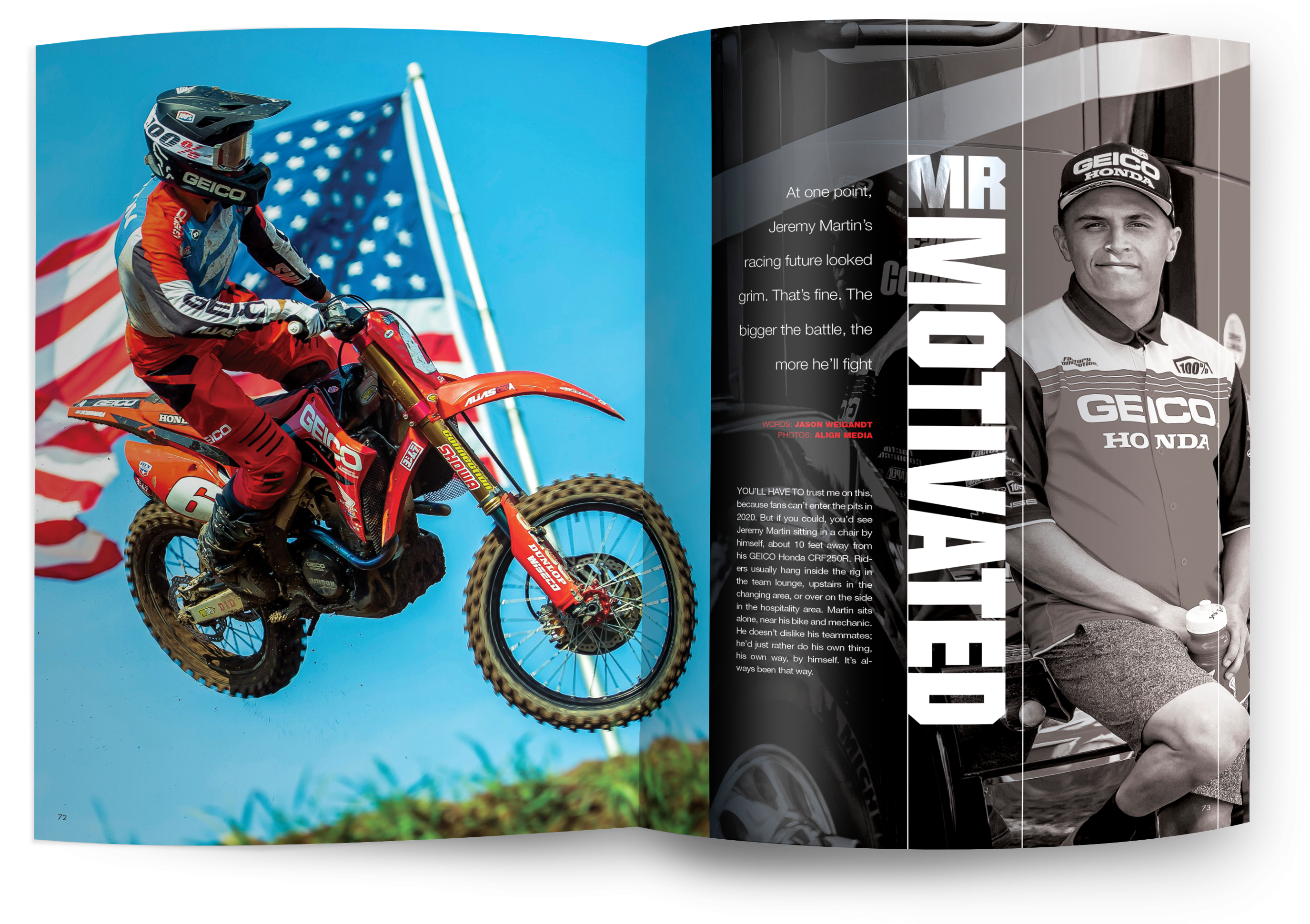 At one point, Jeremy Martin's racing future looked grim. That's fine. The bigger the battle, the more he'll fight.
Read Now
Preview Now
So GEICO Honda was telling you they were going to try to keep it going? Maybe they could find another sponsor and keep the team alive. Did that make it tough to go shopping for other rides?
Yeah, it made it a little tough. In the past I always had an agent to negotiate for me. This time I did all the deals myself. I think the biggest thing for me was, after Colorado I told them "Look, I have to go out and protect my future. I want to be a loyal person, but this is business for me as well." I think those guys were fine with that. And every time I had a conversation with Mitch [Payton from Pro Circuit], or with Star, or GasGas, I would tell them about the conversations we had. So no one felt like I was back dooring anyone.
You didn't know you were racing for a contract this summer, but in the end you were! Have you looked back at it like that? Good thing you won some races this summer, or you might not have had options.
Oh yeah. Frick, I didn't expect to be in that position. I didn't win a supercross race this year but I definitely showed I had speed, for sure. Outdoors I felt like I smashed it considering my circumstances, and I kept the points race pretty dang interesting. I worked hard and was able to get a deal. It all happened at the 11th hour, that's for danged sure!
We had jokes all year about Star looking to hire 49 riders for its team. They had room for you even though this came together late. It sure seems like this team is going all-out. Whatever it takes to win they will do it.
Yeah, I'm not gonna' deny it. We were at the test track before Mini Os, so we had all the amateur guys, we had most of the pro 250 guys except for Justin Cooper who is out [with an injury] and the three 450 guys. I'm not gonna' lie, it was like a freaking main event! I have to wear my ear plugs at the track! It's good. The track gets beat up and rough and gnarly which is good. Every day it's like, "Here we go!"
So you guys are all out there doing motos together?
So I don't train with Team Swanny [trainer Gareth Swanepoel] and a lot of the Star guys do. But that was one of my things, I just like doing my own deal by myself. The team said they don't doubt my fitness or that I'll put in the work. So I work on my own, but when we're out at the track, yup, they see me and I see them and I'll time them and they time me, we all kind of feed off each other.
Look, you were pretty clear about it all summer when you were battling Dylan Ferrandis. You also know because you raced for this team before. The bike is good. That had to be a factor with going back to Star.
[Laughs] Well, I thought about it quite a bit. GasGas/TLD did have a potential future deal there for me, maybe. Mitch [Payton, Monster Energy/Pro Circuit Kawasaki] that was a one-year deal no matter what. So I'd be on a different chassis and manufacturer for next year no matter what. At Kawasaki, there would be no future for me in 2022. They've got AC, they've got Eli if he wants to keep going, and then they have [Austin] Forkner who has a guaranteed 450 deal if he can go and get 'er done. So then I'd have to be looking for another manufacturer again for the next year. If I went to GasGas, I'd have to learn a whole new staff and everybody, a new bike, and I have to win to get a 450 deal. If I go to Star I have to win to potentially get a future 450 deal, too, but if I go there I get to work with people that know me, and who I worked with winning my past championships.
So a lot of this is just the comfort in the staff?
Absolutely. Even though we did have a rough patch a few years ago, I have to look at this from a business perspective. I'm like, "Dude, you have to win. Your ass is on the line." I have what I used to have, I know it's good, and now I can make something happen for my future.
I know you're comfortable with some of the techs over there, but you were saying it without saying it all summer long. The Yamaha is fast.
Yeah, for sure. So I raced the GEICO bike, and Ziggy [Rick Zielffelder, Factory Connection co-owner] gave me maybe the best forks and the best overall suspension setups I've ever run. I thought I was pretty competitive. You look at the points, aside from Dylan, we waxed everyone else. The Factory Connection guys did as much as they could to make us competitive. But once I rode this Star bike, I was like, "Wow." I remember how good it was when I left in 2016, but I didn't expect it to be that much better.
So in the four years that has passed it's gotten that much better.
Yes. For sure.
So Star Yamaha now has a 450 team. But they're not saying you have a 450 deal for 2022. Just maybe there's a chance for an opening if it goes well.
Yes.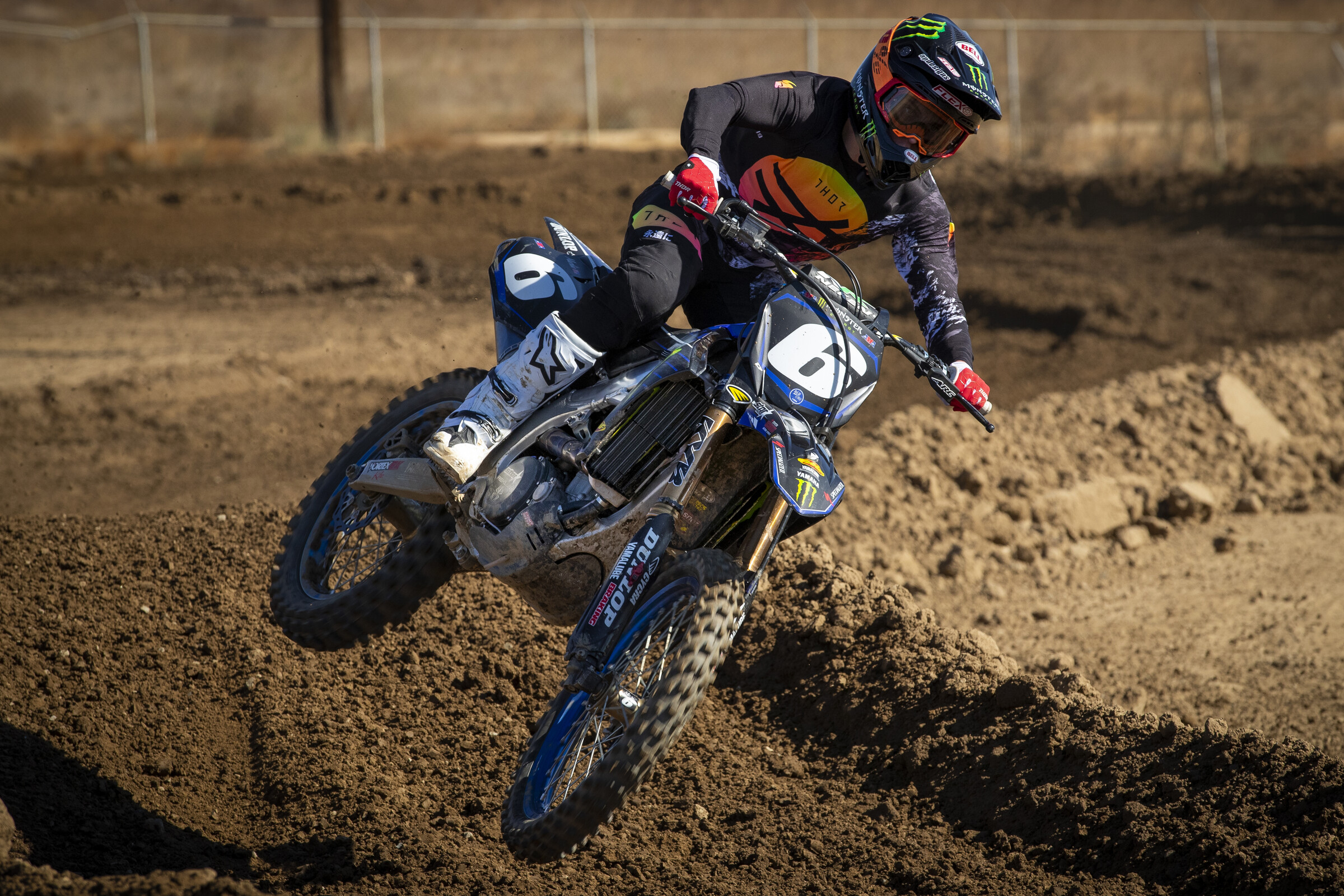 So you're looking at this like yet another free-agent year where you have to perform and earn a ride.
Absolutely.
So that brings us to the supercross thing. We have this same conversation every year. Is this the year it finally comes together?
I mean, it kind of has to be, right? It's been my kryptonite and something I've been thinking about heavily, that's for dang sure!
Here's what is weird about it. Yes you have all these outdoor wins and titles and haven't won a supercross title, so it would look like you're just not good at supercross. But what's weird is, you've won supercross races before. There are races where you're just as fast and just as good as anyone else. How many races did you win in 2018?
I think three.
Yeah and one of them was an East/West at Indy, against everyone, and you won. So here's what I see. For three or four races every year you're right there in the hunt, podium or winning, you're just as good as everyone else. If you could just replicate that in every race, you'd be good. Do you see it that way?
Yeah, it's not a matter of speed or skill or fitness. I just need to put it together. I need to just get away from the bullshit, I guess you could say! Outdoors you have time to make up for that mistake. In supercross, you don't have the time. If I can get a holeshot I know I can win. I can just ride my lines, maybe someone will be able to match me, but I know I have the speed and the fitness. So for me, it's "What can you do to maximize your bad days?" If I have a bad start or a tip over, what's going to unlock me in those bad rounds. Like you said, hey, for three races I'm good, but what's going to unlock me if I don't get a good start and I have to take lines I don't want to take? I've got to try to figure out a way to get up front and be competitive. Now I'm looking at those things a lot more, where before I was only looking at speed and fitness. All of that is there. I know how to win championships and deal with that pressure. It's just a matter cleaning up the other little things so I can be in the championship hunt for supercross. I need to maximize every situation to the fullest.
Well that's what happened this year. You were okay with podiums early in the year and then one race ruined it.
Absolutely. Damn Tuff Blox! [Laughs]
You've had some moments with Tuff Blox!
Yeah, it's a love-hate relationship!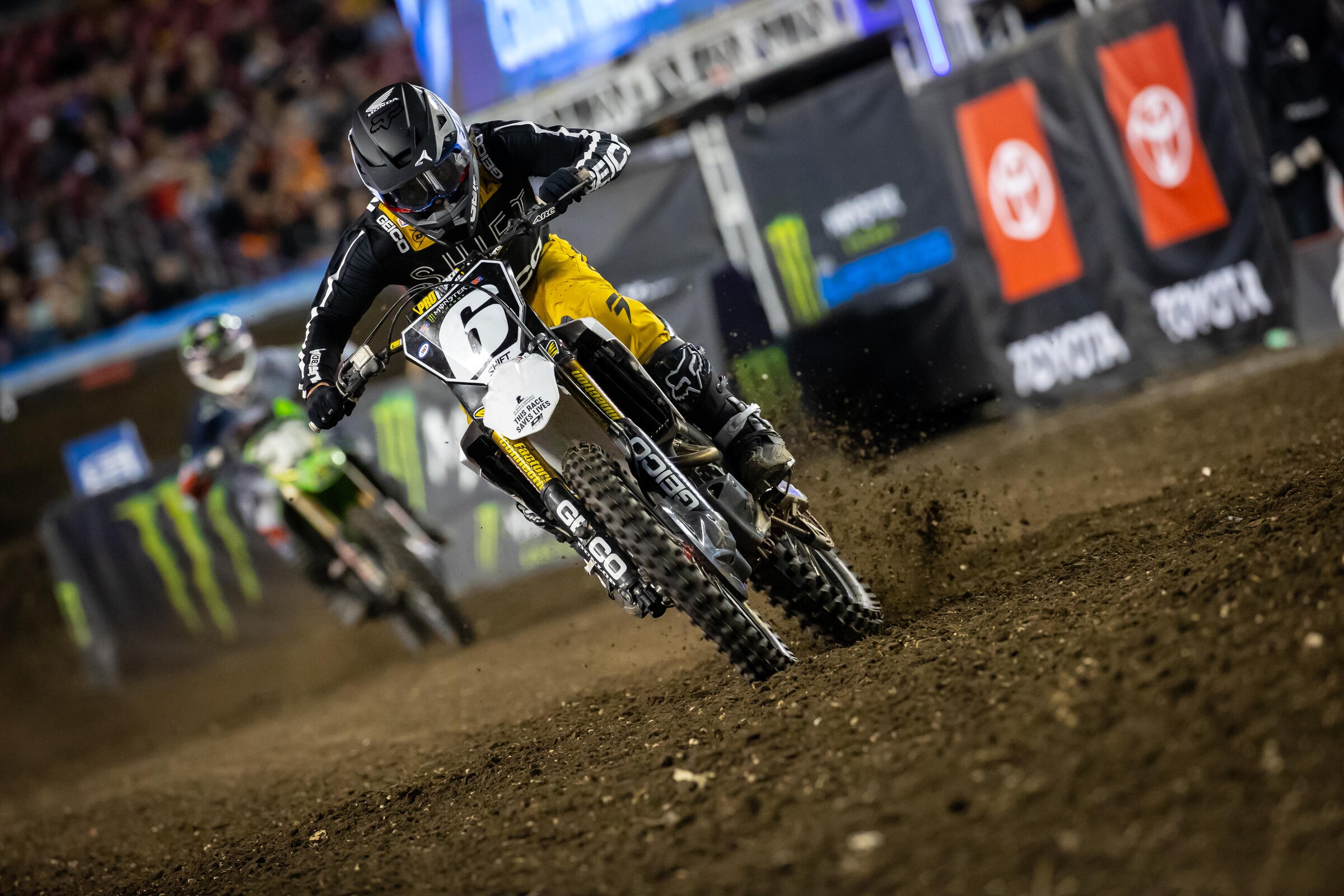 So what's the atmosphere over at Star? Different or the same?
It's kind of different and the same. The same old box truck we used to take to the track, when we had a rainy day it would leak through the cab, that's still there. There are guys I kind of gravitate to who were there when I was there, like Brad Hoffman. But overall, the way I look at it is that GEICO Honda was like a family and this is a business. So I gravitate toward the guys I knew before, but you know me, Weege, I'm usually off the side doing my own thing. They have my phone number and they know I'm there if they need me for anything. But I know I have the bike and now it's up to me to do what I need to do to get the job done.
What's your riding location and schedule going to be?
Yeah, so I'm in California now. Of course I miss the old Minnesota program, and I even spent a week back at Cortez [Colorado] riding with Eli [Tomac]. I just wanted to get out of the California rat race for a week! It's good, I've got a beautiful setup, rented a place not far from the test track in California. It's been good for testing.
So this doesn't mean you're back in Colorado full-time?
Yeah, I would like to ride in Colorado for supercross if it permits itself. The biggest thing was, I just called Eli and I was like, "Hey I'm here in California, would you like a riding partner for the week?" We get along really well. So he said to come on out. So I loaded my old danger Ranger with the #6 bike in the back and drove ten hours out to Colorado!
Factory rider, factory bike, stuffed in an old Ford Ranger.
Pretty much!
Gear bag and bike?
I'm a minimalist right now. Whenever I come to California in the winter, with the photo shoots and the new products and stuff, I ended up getting so loaded up with new things that I usually have to call Ogio and ask for a new bag! [Laughs] So now I usually just come out here doing it minimalist so I'll have more room for the new stuff!
---
Main image courtesy of Star Racing Yamaha