Houston, TX
Houston 1 (East)
Monster Energy AMA Supercross Championship
We lazily cruised through Thanksgiving, black Friday shopping, Christmas decorating over the weekend, and finally Cyber Monday (although cyber shopping, by the way, is pretty much an everyday-that-ends-in-y thing these days, really). These are all breaks and excuses from the serious business of doing serious business.
The holiday weekend is over, and work begins anew. What better time for us to focus on the hard data that you really want? Yes, bench racing and stories for the 2021 season. How will the 2021 Monster Energy Supercross Championship play out? That's the meat, potatoes and the stuffing for this meal, and something to be thankful for.
Let's dig in.
Eli Tomac, Cooper Webb, and Ken Roczen are the main course. They were the star riders of the 2020 Monster Energy AMA Supercross Championship. The facts are undeniable. They were 1-2-3 in points and combined to win 15 of the 17 races—the only two races they didn't win were the first and last rounds, which are generally the weird ones, anyway.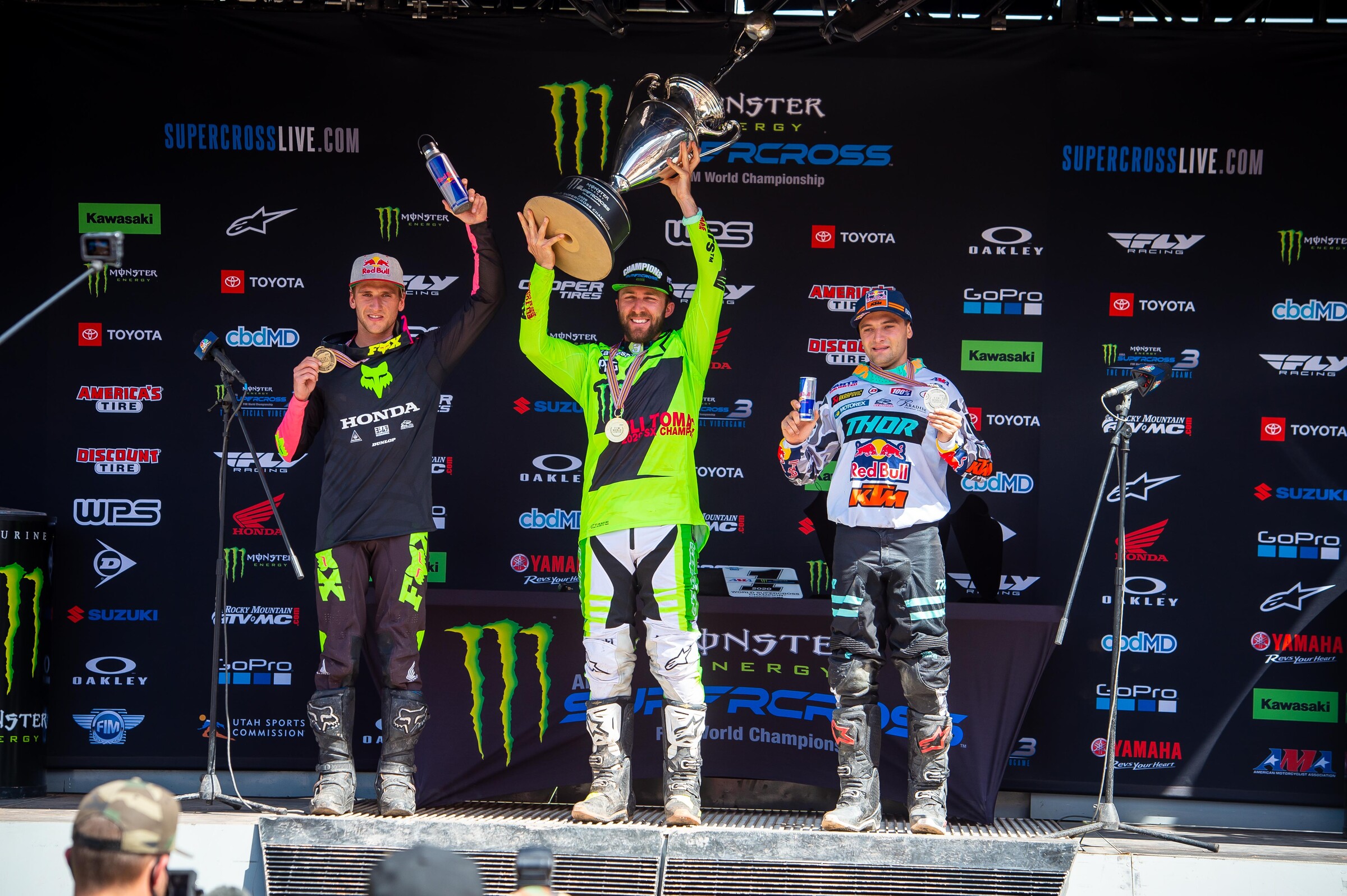 Of course, it feels like 2020 has taken five years to compete, and it's hard to look at Tomac/Webb/Roczen as 1-2-3 in this game after then watching a nine-round Lucas Oil AMA Pro Motocross Championship, in which Zach Osborne and Adam Cianciarulo went 1-2, and Webb and Roczen basically didn't even compete.
So now this trio must face two questions. 1.) Will they remain at the top of the heap? 2.) If they do, what will the order be? These questions will define the season for them and for everyone else. For someone to crack the championship code, he will have to eclipse the level Tomac, Webb, and Roczen showed in 2020, or hope all three falter.
For Tomac and Webb, it appears that all systems are go for 2021. Tomac finally has a supercross crown to his name, and while he mentioned that winning this title felt more like relief than elation, he also mentioned that he's enjoying life as a racer more than ever. Tomac is a dad, this will be his eighth year in the class, and he just turned 28, but he's consistently batted away the idea of an impending retirement—he still loves riding his motorcycle and competing, and he'd like more years beyond the 2021 expiration of his Monster Energy Kawasaki contract. He also scrubbed any minor worries during a sub-par run outdoors by winning some races late in good-old-fashioned Eli comeback style. No worries there. Eli should be Eli, and he's been as good or better than anyone else over the last few years. Hard to see him taking steps back, even if that mid-season outdoor run showed that it could be possible.
No problems in the Webb camp. He recently told us he loved having the #1 plate and didn't mind the pressure of carrying it, but we know Webb is usually better when he has to rally against the odds. That was the scenario heading into 2019, and during last-ditch efforts to dig out the 2020 title. Webb is a rider who can rally from adversity, so losing the supercross championship last year will only going to make him hungrier in 2021.
Check out the 2020 450SX season highlights below:
As for Roczen, the data set is incomplete because he skipped all of Lucas Oil Pro Motocross. Yeah, Webb missed nearly all of the races, too, but that was standard injury fare stuff. Roczen's situation is harder to read—he never explained exactly what his problem was. Plus, every time it looks like his health is dialed, a new problem arises, only for him to push it back down and wins again. The Salt Lake City races were just more proof, as he literally struggled and surged on daily basis.
The jury is out on Roczen. Is the outdoor break the right move to boost his reserves, or a sign that his body can't withstand the stresses of the season? He also has all-new Honda to adjust to, whereas Webb and Tomac have more or less the same equipment as last year. The Roczen gauge goes in both directions. He could be even better this year, or he could have problems.
If any of these boys slips, we've got a hungry pack looking to take a bite. Tomac and Roczen have kept their championship window open quite a while now, long enough for next-generation riders to greet them at the podium. Can those guys—we're talking Adam Cianciarulo and Zach Osborne—keep taking steps forward? Can established players like Marvin Musquin and Jason Anderson reestablish themselves? Can the hot rookie crop (Dylan Ferrandis, Chase Sexton, Shane McElrath) live up to the hype? Beyond those categories, there are many more would-be contenders as well, and we'll be running through all the scenarios throughout the month and a half until Anaheim Houston.
These are lofty stops atop the pyramid, but Tomac, Webb, and Roczen stood on them in supercross this year. Staying there is what they know. However, the order between these three is even harder to predict. When switched on, Tomac possesses strength and speed that simply overpowers the field. It will take all of Webb's strengths—usually race craft, smarts, cunning, and maybe all those holeshots he dialed in 2019—to counter that. Roczen has the early-race flashes of speed that even still few can equal. This trio is intriguing because they have totally different strengths and weaknesses.
Every supercross season begins with the same basic plot. Deep down, we know the established true contenders, but we watch with the hope that more join that elite group and further open the championship fight. Occasionally, the establishment falters and suddenly a surprise pushes through. Come next Spring, are we in for another Tomac/Webb/Roczen mashup, or is it time for others to join them at the big table? It will be big news regardless of what direction it goes.