During the dregs of the pandemic, when nothing was happening, Moto Fite Klub rose from an "undisclosed location" to provide a racing fix, with a massive crop of superstars like Ryan Villopoto, Mike Alessi, Travis Pastrana, Kevin Windham, Damon Bradshaw, Jeff Stanton, Ryan Sipes, Ivan Tedesco, Jake Weimer, Broc Glover and more returning to the track to bang bars. It was a super fun event, and more Fite.TV pay-per-view events were quickly arranged, including Flat Track Fite Klub and FMX Fite Klub.
Up next is the Monster Energy Master of the Pit, coming December 5 at SwitchbackMX in Butler, Pennsylvania.
"Rocket" Rob Buydos is the founder of these events. You may recognize Rob's voice as one of the long-time live track announcers for the Lucas Oil AMA Pro Motocross Championship, but behind the scenes Rob is the ultimate mover and shaker, both in his work for Parts Unlimited but also by throwing together wild events like this.
It's been a crazy 2020 for everyone but Rob's year has been crazier than most, because new events just keep coming. We called him this morning for a primer on Monster Energy Master of the Pit, which has a unique format—if you can qualify, you can race against Ryan Villopoto.
Racer X: So Rob, I know we're gonna talk more Fite Klub stuff in a second, but are you coming off a high right now? Last month you put together King of the Baggers, which took actual bagger bikes, like big huge Harley-Davidsons that have no business being at a racetrack, and held a race at the track, Laguna Seca, as part of the MotoAmerica Series. Somehow it actually looked cool!
Rob Buydos: Well thanks. Yeah, we found a way to tap into Harley-Davidson's most-utilized model, the FL baggers, and now that Indian is also back in that market, they have a bike available. We were able to bring Harley and Indian to Laguna Seca, with the blessing and backing of MotoAmerica and Drag Specialties. We assembled some key racing teams. I had some pushback from guys who wanted to do it, but I had to explain that we just needed to get one race in as kind of the proof of concept. This first time out we needed a group of guys that will all pull the rope the same way. The camaraderie down in pit lane was amazing, and we were able to deliver, even in a pandemic year of 2020, the first-ever professional road race for V-Twin baggers. And yes, they had to leave the big bags on the side. We got to utilize Harley-Davidson's biggest-selling model and place it in a racing environment. This actually came about because the aftermarket for the V-twins, for a long time the movement was to lower the bike, but now people have changed that and they're raising the bikes, they're adding power, aftermarket clutches, and creating big powerful grand touring machines.
But they weren't doing that to increase the lean angle on the track?
No. They were doing it because that was the trend—lowering was the trend, so then raising it became the trend. Then we were able to put Dunlop Q4 tires on them, which is Dunlop's high-end slick. Everything came together as smooth as it could. It ignited a whole lot of discussions for the future. We've got a lot of interest from top-shelf road racing guys—even big names who watched practice on Facebook Live and said they want to try it. I wouldn't be surprised for this to look like an American MotoGP on baggers.
Okay that's a huge shot in the arm for the street bike and road racing side. On the dirt side, you're hosting a pit bike race. But you know all about 2020. Pit bike sales are out of control! You can't even get them right now!
Well, you were around when we had these races going at the nationals whatever it was, 20 years ago. Everyone knows how fun this is. I guess with the pandemic, everyone had nothing else to do but ride dirt bikes. A lot of people bought pit bikes or got the old ones out of the garage and started racing them in their yard. So what we've decided to do, with the help of Monster Energy, we're going to try to find the best pit bike racer in the world right now. We've partnered with Ryan Villopoto, Carson Brown and Willy Browning, who were the three members of the victorious Team USA at the Motocross of Nations at RedBud. Which, that's another crazy idea I had! So, anyway, I know pit bike people. They don't want to watch; they want to race. So what we're going to do is, if you're over 18, you bring your own pit bike to this event, and we'll have races. You go out there on your pit bike and compete against everyone in your class. When we're done, there's no debate. We will have results. We'll know who the three best guys are on each style of pit bike. We'll also take the winner on a 10-inch wheel class, which is the old Z50 or CRF50. Take the winner of that, the top three in the other classes…and then, we'll take the performance of the machine out of the equation. We'll put them on identically prepared Motozilly TTR110s, and race them. We'll see the true rider talent rise to the top. We'll take the fastest seven guys out of that group and they earn their way into the night show—that's where they will get to challenge RV, Carson Brown and Willy Browning for the chance to be the Monster Energy Master of the Pit. Normally you watch the big names, but this time you get to race them, and on identical bikes.
And you have some other classes?
Yes, we'll have an industry class, which I keep telling you that you need to do. We also have a Pro Women's group, we have Jordan Jarvis, Jessica Patterson will race, a lot of the top GNCC stars like Becca Sheets. And then for what I think is the very first time on television, we're gonna even crown the Pit Quad King on Yamaha Raptor 90 ATVs. Some of the boys from ATV National Motocross have been racing these and they've had some throwdowns. We're getting a bunch of the big names from ATV motocross and GNCC and they'll battle it out on the quad side. Any time you put elite talent on any machine, you'll be amazed what they can do. These TTR-110s are basically stock. We're talking handlebars for comfort, our buddy Mitch Payton is providing exhausts, and Dunlop has given us great tires. That's all these guys need. When you watch what they can do, nailing the downsides of every jump, the corner speed, just go to Fite.TV and sign up to watch. It's a stocking stuffer for the holidays! Have watch parties with your buddies and blow this up. Couple other classes to mention—we have Stacyc classes for the kids, and a Yamaha PW50 event. Ryan Villopoto will throw the flag and hand out the trophies.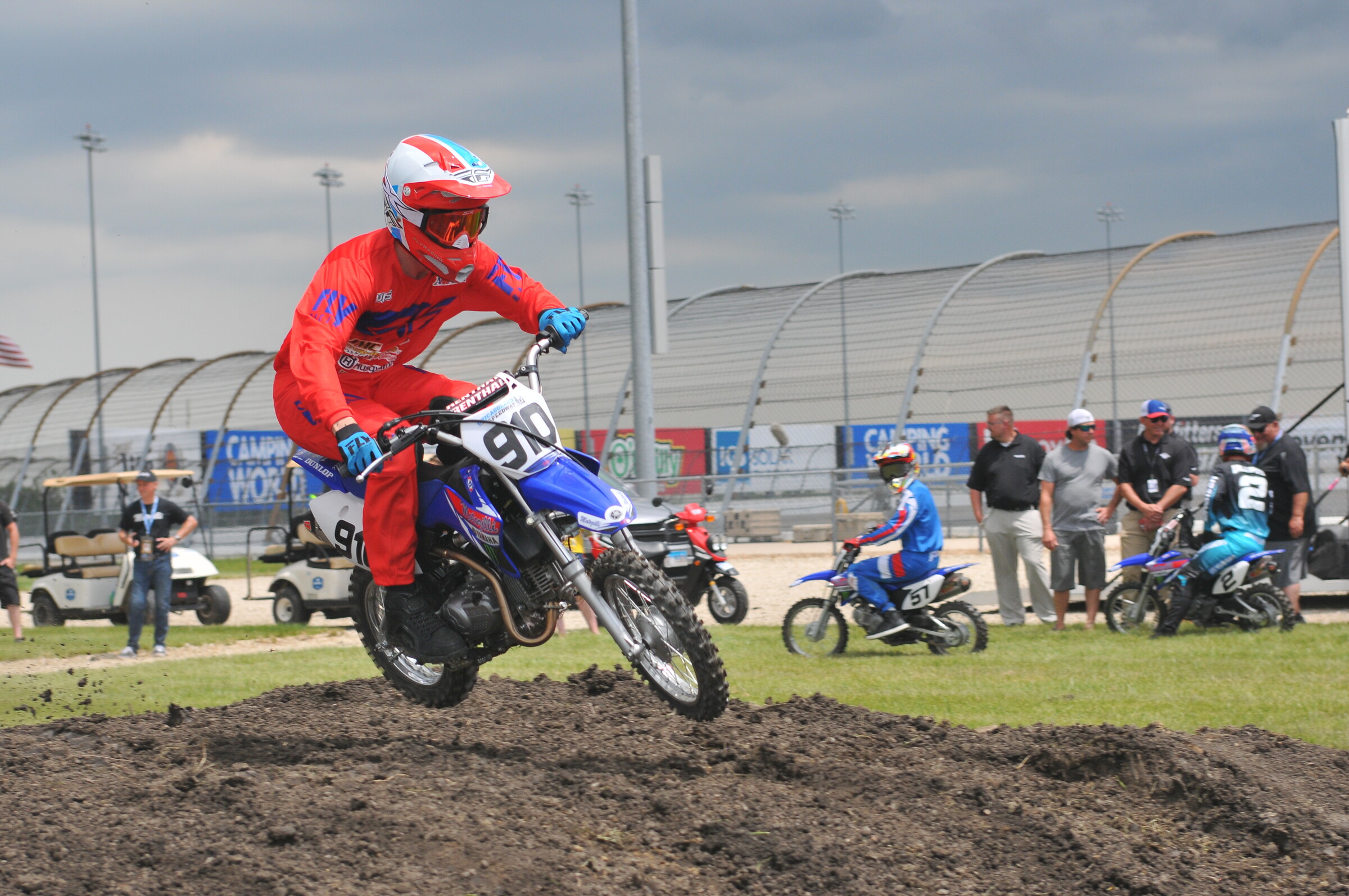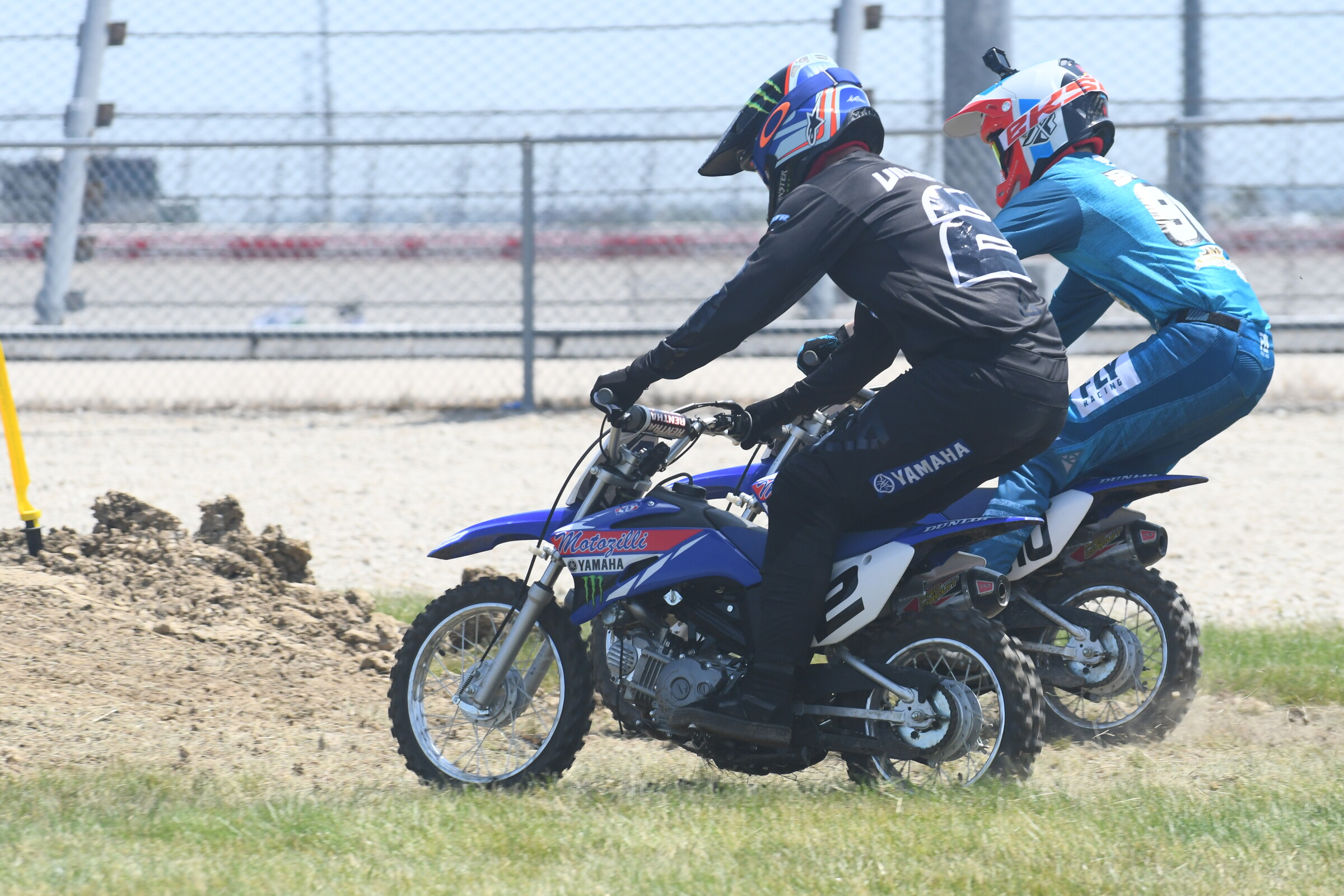 You have a 40 plus class too?
Yes, the Vet class. So in the pro class we have three seeded riders with Villopoto, Brown, and Browning. In the Vet class we have two riders seeded so far: one of them is the six-time AMA National Champion and Hall of Famer Jeff Stanton. You all know that Jeff can fly on a pit bike. That's a challenge in itself if you want to win this thing—he's a manimal. We also have Duane Brown, who I like to call one of the Godfathers of pit bike racing, with the amazing machines he has built with his company, BBR [Note: Duane Brown is the father of Carson Brown]. But this time he'll be on a stock bike and you get to take him on. I have a feeling we'll have one more big-time seeded rider for everyone to battle in that class. We'll announce it when we know.
Okay SwitchbackMX is the host. What's the story on the track?
We have the very famous track builder Shane Shafer. He's going to build us a custom pro pit bike track. Then he'll rebuild it and turn it into an arenacross track, they have arenacross racing there. But for us the track will be built perfectly for pit bikes.
Check out the story on Moto Fite Klub below:
The August 2020 Issue of Racer X Illustrated
Moto Fite Klub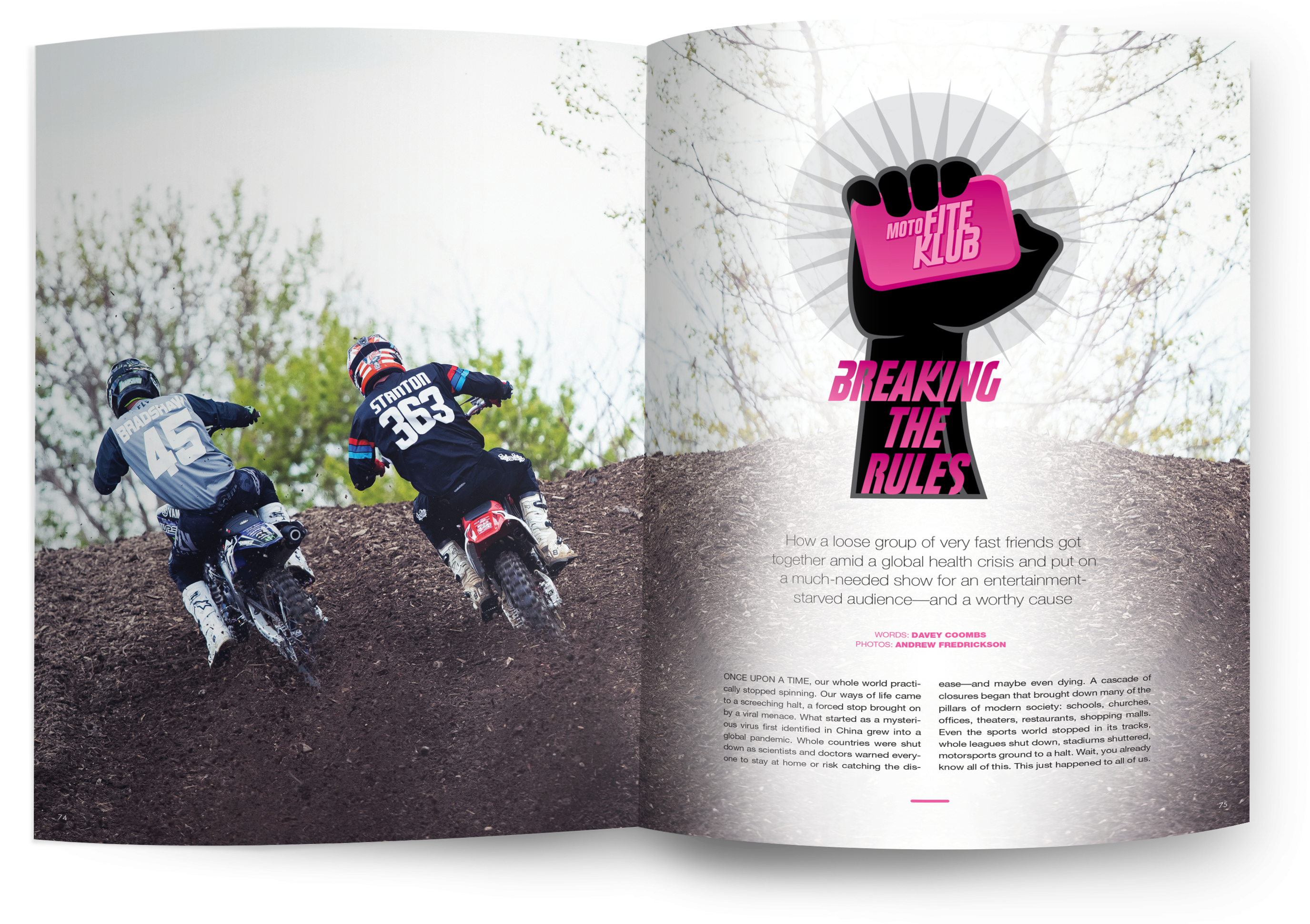 How a loose group of very fast friends got together amid a global health crisis and put on a much-needed show for an entertainment-starved audience—and a worthy cause.
Read Now
Preview Now
Hey, will you have the Friday night hangout that people can watch? That was as enjoyable as anything with Moto Fite Klub. People can watch for free?
Oh yeah. That's kind of our thing. These guys have the stories and they'll tell the fans the stories they want to hear. The thing in our industry is, we have these heroes, these amazing people—you and I are blessed to be around so many motorcycle people, and so many of them are so smart and so hilarious. But when they're at the top level, the outside world doesn't always get to hear this stuff. These companies spend millions of dollars building up these riders as a brand, but they don't always get to show it until they're retired. We've seen it. You take a superstar rider at age 19 and then see him again at age 29 and he's like a totally different person. They've seasoned up, they come a long way.
Well we all know it's a different RV with the public these days. I remember when we started seeing it, you had him out at High Point on a KX250 a few years ago. That's when we started to see this "Ryan Villopoto will race anyone, anywhere, on any bike" personality. It's fun to see how far it's come. And then we see the Friday night bench racing on these shows, and they bring some heat!
Well, we usually have a few beverages beforehand so that helps. I'll tell you this, if Mike Genova would send us a hot tub, and I could get RV telling stories from it, then there's no telling what kind of stories he's going to tell!
One more thing I want to mention, with each of these events, we try to give back. Broc Glover, the Golden Boy, and Jeff Stanton, they really instilled in me that every time you do one of these, help people. So, at Moto Fite Klub we donated money to Road 2 Recovery, at Flat Track Fite Klub we donated to Flat Track's Class of '79 charity, and then we're back to Road 2 Recovery when we did FMX Fite Klub, and this Master of the Pit. You can ask Lori [Armistead] at Road 2 Recovery for the exact figures of how much money we've been able to donate, but I can say it's high ten figures so far this year, and we want to raise more with this event. We'll have jerseys and goggles you can bid for—these guys know, I'm sure they'll donate some cool stuff. Road 2 Recovery, they're great folks. We want to do everything we can in what's been a tough year.
---
Check out the latest episode of the Moto Marketing Podcast, where Luke Nesler is joined in-studio by Davey Coombs as they bring on Rob Buydos to talk about the creation of Moto Fite Klub and their next event, the Monster Energy Master of the Pit, happening on December 5.