Trentino, Italy
MXGP of Garda - Trentino (Ita)
FIM Motocross World Championship
Arnaud Tonus, 29, is still one of the most stylish riders in the MXGP pack. Sadly, for the Swiss racer his career highlights and grace on a motorcycle have been punctuated with injury and illness that forced a stop-start trend to his career arch.
While racing for Suzuki as Ken Roczen's MX2 teammate, Tonus broke his shoulder and wrist in a British Championship meeting when on the cusp of being a title challenger in 2012. He broke his leg at the Motocross of Nations at the end of that season which scuppered the opportunity in 2013. In 2014, as a leader on a Kawasaki team that included a young Dylan Ferrandis, he won his first Grand Prix and was in championship contention until a fall in Germany wrecked his shoulder. Then the USA then beckoned with a slot with Mitch Payton's Corona-based crew.
The flashes of the speed and ability that had caught Payton's eye came through in his two-year tenure, he was smooth and fast, but a debilitating illness and another wrist problem were more handicaps. The return to Europe and the premier class saw the 2017 Swiss Grand Prix provide an apt summary of Tonus' story: he won the first moto on a YZ450F and sent a packed Frauenfeld-Gachnang circuit bananas but then fell in the second and sustained a rib problem that caused him to miss the following four rounds. From hero to harm in one swoop. The pile of adversity means "AT" has negotiated a path back to competitiveness more than any other GP racers, especially when another shoulder problem pushed him away from the scene for a full year in 2018.
Last weekend Tonus ended a four-year term with Yamaha at the same circuit where he picked up his first MXGP podium finish in 2017. The team had backed him after the misery of 2018 and the following year produced a strong resurgence, with six trophies, five of which in a row and a personal-best championship placing of fifth. The Tonus pendulum of luck then swung again for 2020 with a brace of concussions and thumb and ankle ailments meaning #4 had to ride around problems that were the cause of further mistakes. He ended a turbulent 2020 17th in the points and with more absenteeism.
Racer X: Top five in the world in 2019 was a successful comeback from missing most of 2018 but it seemed you had to deal with mini comebacks throughout 2020. It must have been an annoying season.
Arnaud Tonus: Super-frustrating. I had a thumb injury before it even started and just rode the first two GPs. I came back in good shape because I'd had time through the COVID[-19] lockdown to recover but then, just a couple of weeks before the first GP in Latvia, I crashed and had a concussion. It was not too bad at the beginning but ten days after it just seemed to get worse with dizziness and a feeling weird on the bike. I could not focus. I did a small race in Switzerland and I needed a break from riding. So, in Latvia I was not 100 percent and then some tough times started. I wasn't staying upright that much and was struggling. In Italy I hurt my ankle. It was a big sprain. Another struggle. Then I landed on my head again in Mantova and another slight concussion. It was a super-hard time and I somehow tried to navigate through those injuries and try my best.
Dealing with a concussion couldn't have been simple. It's a notoriously unpredictable problem.
Yeah, you feel alright afterwards but somehow you are not 100 percent. You are not sharp, and on the bike you are making mistakes that you normally wouldn't do. At this level those mistakes can carry a big impact. It is hard to find a balance between coming back and resting. Sometimes it is better to let the brain recover and try to be 100 percent but it is also hard to know exactly when that will happen and when the potential will be there. It's all down to what you feel. I tried to do things like brain workouts to activate the recovery but when you have more than one impact then it's harder.
There a few riders like you in Grand Prix that have mastered the ability to be knocked down and get up again. How do you do that?
[Laughs] I have no idea! I feel like I just follow life somehow. I don't feel that I am creating motivation. I just accomplish whatever is in front of me; taking whatever hard moments as a chance to grow. I would never say it is easy, I struggle like everybody would. It's been the story of my career pretty much: rebounding from tough times and this-and-that. I think there are small moments along the way that encourage you or remind you that you have the potential, like having a good feeling on the bike. Those push you forward. Like anything in life, it is also about the way you look at things. If you can see the positives then it helps to continue forward. I struggled hard though. Most of the time I was in a tough situation mentally. In a way, it also made me discover another aspect of our sport which is the mental side. I discovered more about myself and went deeper and deeper. I'm really passionate about meditation and exploring the inner aspect of ourselves. There is a lot of joy inside. Our nature, as humans, is to be pretty joyful, so if you can cut through to this aspect then it becomes easier. Hard situations can then be handled like you're a kid—like it's a game—because everything is lighter in general.
The Pro Circuit episode in the U.S. was one of those maddening chapters of potential never being realised. That was more than five years ago now. How different are you now and all that has happened since? Is there regret?
It's funny because when you look back you always think things could be done better or differently, and sometimes I remind myself exactly how I was feeling at the time when I had problems: it helps that I know I did the best I could in those moments. For sure looking back with more experience you would change many things—that's kinda normal—but it is also pretty painful to look at life this way! I could probably apply the "I should have done that" thinking to a lot of my career! That's for sure. Even today there are moments of reflection, but at the time I have the feeling I did what I could.
You raced with and against Dylan Ferrandis quite a lot in MX2. Does his success in AMA competition surprise you?
It's unreal and super-impressive what he's been doing. I can only respect and be very happy for him. He's put in the work and we can see his progression through the years. It's been phenomenal, actually.
There are a few riders deciding to end their GP careers in 2020. The Yamaha chapter is over for you but you don't seem to be ready to finish MXGP yet…what's next?
I feel that there is still something to give. It is hard to finish after a year like this as well, you know? The situation with sport—and in general—with COVID it's hard for finding budgets with teams and so on. For sure I want to continue. If I'm struggling and there is not much available then I don't know what I will do. At the moment I don't have anything for next year. We'll see what happens. I won't think too much ahead. I think the virus situation is pushing more and more people to live in the moment because we don't know what will happen and even how the GP calendar will be.
That uncertainty is very unusual for a racer and a championship…
It is…but not really for me! I've had to protect myself so much with what I have already been through! I live the moment as much as I can, and try to be as happy as I can and enjoy life.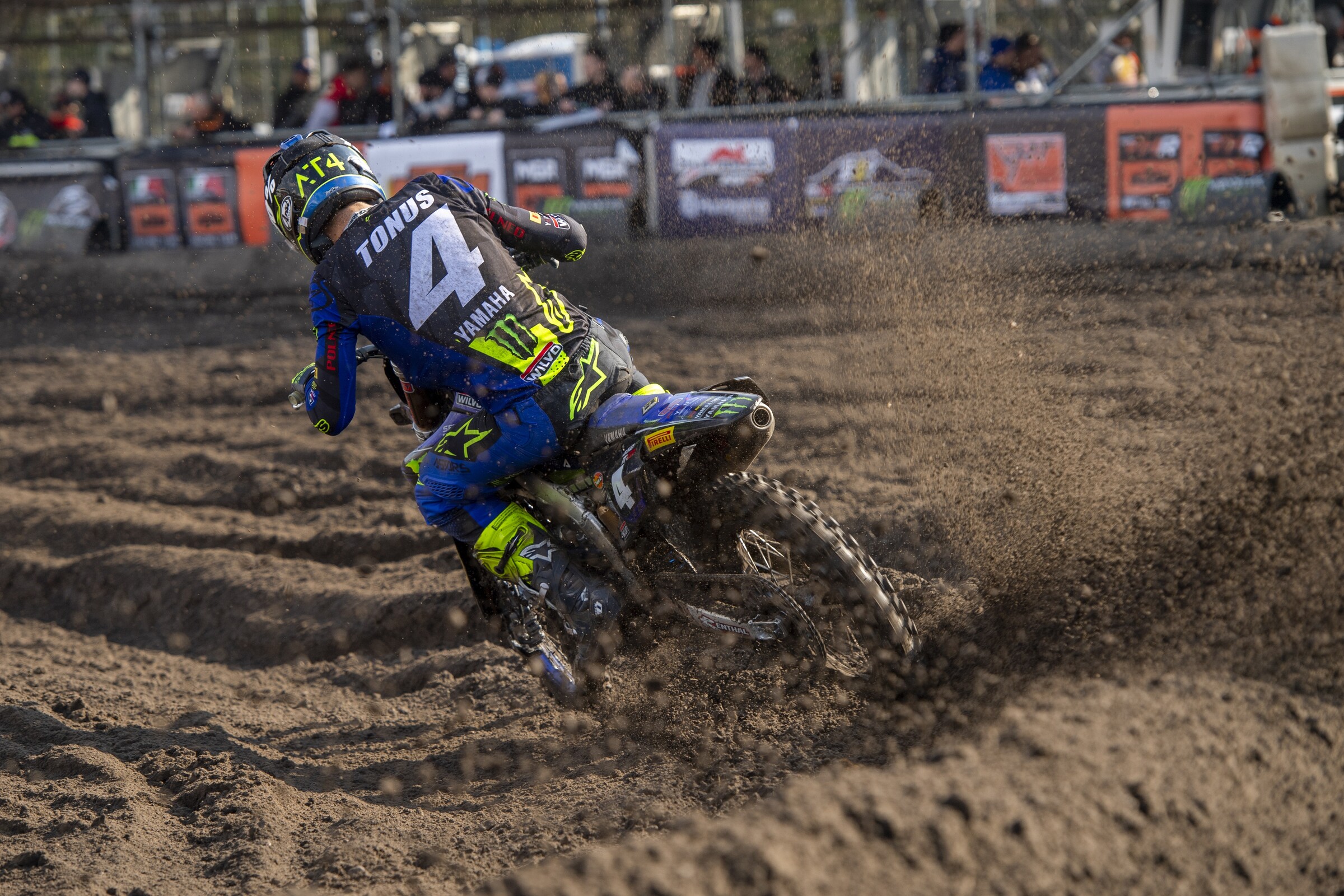 You must be one of the most frustrating riders in MXGP. The lines and the technique on the bikes are still enough to make anybody sit-up and notice and yet you're doing that down in 17th place after little mistakes. You watch it and end up thinking, "What on earth is he doing?!"
[Laughs] Me too! It's so frustrating! I've had to be more of an accepting kinda guy. I hate it! But it seems like the form and the riding is coming back, so I just have to keep doing my best. I'd crashed in the first turn on Wednesday here and the track was hard for passing. I know I shouldn't be down in those positions…but I had to live with it. I feel the frustration too!
You are not the kind of person that's motivated to prove people wrong but will be still be satisfying to do that somehow in 2021 and show that you're still a top MXGP runner?
Hmm, no. It wouldn't. If I was the kind of guy that focused on what people think then I wouldn't be able to live my life happily. What people think of my career is up to them because only I know what I go through and what I feel. I just have to honest with myself. I don't look to other people, only to myself and what I'm doing. I know if I'm on the podium again then I will be super-happy but I'm not going to worry about saying "You said I was this-or-that" because it gives power to the critics and usually those people don't really know what you are going through as a racer and how hard it can be. It's always easy to judge from the outside but when you live it then it's a different story.