Trentino, Italy
MXGP of Pietramurata (ITA)
FIM Motocross World Championship
Tim Gajser re-polished his MXGP crown in Italy on Wednesday to become Honda's first consecutive title winner in the premier class since Fred Bolley in 1999-2000. The 24-year-old Slovenian prospered across seventeen rounds split by the five-month COVID-19 lockdown, and a rush of 15 rounds run at six circuits from August in a slew of consecutive dates and one-week triple headers.
As rivals like Jeffrey Herlings and Glenn Coldenhoff succumbed to injury, Gajser still had to deal with the threat of Tony Cairoli pursuing a record-equaling tenth championship and vibrant racers like Jeremy Seewer, Romain Febvre and the outgoing class of Clement Desalle and Gautier Paulin. Gajser also had to watch the pace of rookie teammate Mitch Evans at stages of 2020; a first for #243 who has largely spearheaded HRC's effort in MXGP since 2016 and that first emphatic campaign.
Gajser won the series at round 17 of 18, in a season that features seven different GP winners and 10 different riders taking a moto checkered flag. One round remains, but TIGA243 has the title already. Adam Wheeler caught up with him after the event, in which Gajser also scored the overall win.
Racer X: The Pietramurata Grand Prix was like a summary of the season: a damaged clutch in one moto, then the Van Horebeek-leg-in-your-wheel incident in moto two. But still you could get the results to finish the job.
Tim Gajser: It was a tough season and a weird one. I mean, it's never easy to win but that break we had from March to August pushed a challenging year of racing on us…but I'm super-happy. When we came back to racing I was struggling. I made so many mistakes in Latvia. I had two zeroes that week and some issues with the bike but I started to find my rhythm again and found some confidence. I told myself that I could do it. My starts also came together. I think the second half of the season allowed me to enjoy myself more and that's when the results came.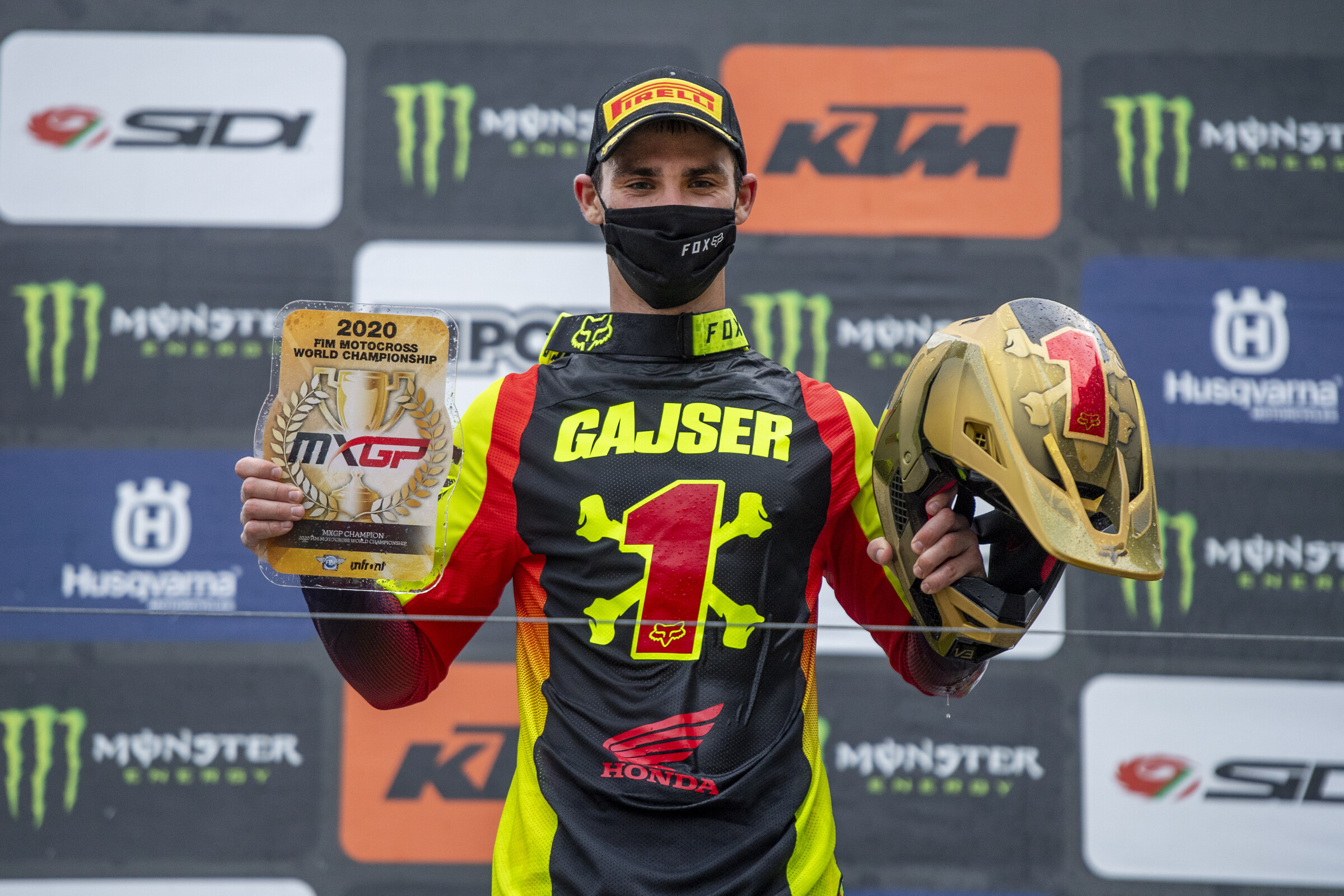 Fourteen moto wins but just four GP overalls, one of those on Wednesday. It was those 13 podiums that formed the backbone of the championship…
The consistency was there. Like you said, a lot of moto wins but only four overalls. This shows you how good the competition was and how much more important the starts became. It seemed, many times, I'd make one good start and in the next one I'd be fifth or something like that. It was then difficult to pass because everyone was going fast and everyone was in shape. The racing was really intense and really close.
Did having so many races in the space of three and a half months make things easier because you just stayed focused?
It was new! New for everyone. I was struggling with the one-day format in the beginning and then doing three races in one week was new as well. I prefer a two-day Grand Prix because you have more track time and you can adjust the bike correctly. Free practice, timed practice and the qualification race; you can still try some things with set-up in the quali race and only worry about finishing in the top five for a good gate pick for Sunday. Now everything passed-by so quickly, bang-bang-bang. It felt like a national championship. I had to get used to it. There were a lot of races and that meant not a lot of training in between because you needed your recovery days, so the approach was completely different.
How difficult was it to put your mind back on racing after the Van Horebeek crash today? You looked very affected by what had happened [Gajser caught and dragged the Belgian's right leg in his rear wheel, fortunately Van Horebeek was uninjured]…
I was in shock. I know Jeremy well and he's a good guy. I was shaking for a while. It wasn't easy to put that out of my mind and get focused on the race restart. I had to change my boots because one of the buckles had broken. The mechanics quickly ran back to get another pair. I don't know how but I took the holeshot and led every lap. Romain [Febvre] was pushing me hard and the track was getting slick with some square-edged bumps. I was super-happy to get the overall as well.
This was the first season with the new CRF450R and you raced the previous model for the last four years. No doubt there is still room for technical improvement but how happy are you with the bike base that you have?
I'm really satisfied. The Japanese and all the engineers have been working on this bike for a couple of years now and I was helping them to develop it and I was so happy that it came in time for the 2020 season. It helped a lot and was way better than the 2019 GP bike. The Japanese always come up with something new. Sometimes I'd think "There is no way they can make this thing any better"…but then they do! It's pretty cool.
The weird year hasn't finished: testing still has to take place and is much later than usual and the 2021 calendar looks as though it will start over a month later than normal…
I haven't seen a calendar yet but if it starts sometime in April then this means things change again. We were used to timing where we'd start to train at the end of November or December for a start at the end of February or early March. Preparation will move a little bit because we don't want to start training too early. We still have one GP left in which to give our best and then we'll go from there because we already have testing planned for Tuesday after the race. It will be quite a busy winter.