Pala, CA
Fox Raceway
Lucas Oil AMA Pro Motocross Championship
It was a bittersweet day for GEICO Honda riders Jett Lawrence and Jeremy Martin at the Fox Raceway National. Lawrence was able to win the first moto and the overall, while Martin dominated the second moto to end his season on a high note. Aside from Martin falling just short of the championship, it also appears that this was the last race for their Factory Connection Honda team in the sport.
Both riders had reason to be happy when the dust settled, and 17-year-old Lawrence was finally able to land on the podium this year in the form of jumping straight to the top step. Both riders spoke with the media following the race.
Racer X: Jeremy, talk about your day. You came in with a shot at the championship. You maybe felt it was a little bit of a long shot, but you were there. You were up front. Couldn't quite make things happen the way you were probably hoping to in that first moto, but then you dominated the second moto. You went out and made a statement, ended the year on a high note. Talk about the day, how you're feeling about how it all went, and how it feels your first full season back to end the season in the runner-up spot, and to really have a chance to take that title.
Jeremy Martin: Obviously, a little bit of a bummer not winning the championship today, but like you said, I knew it was kind of a long shot. He had an 18-point lead going into the last round. I have a lot of respect for Dylan, but for me to basically win it, I needed something to happen. I would never wish that upon anybody. I hate to say it and it's painful, but I was the second-best guy this year.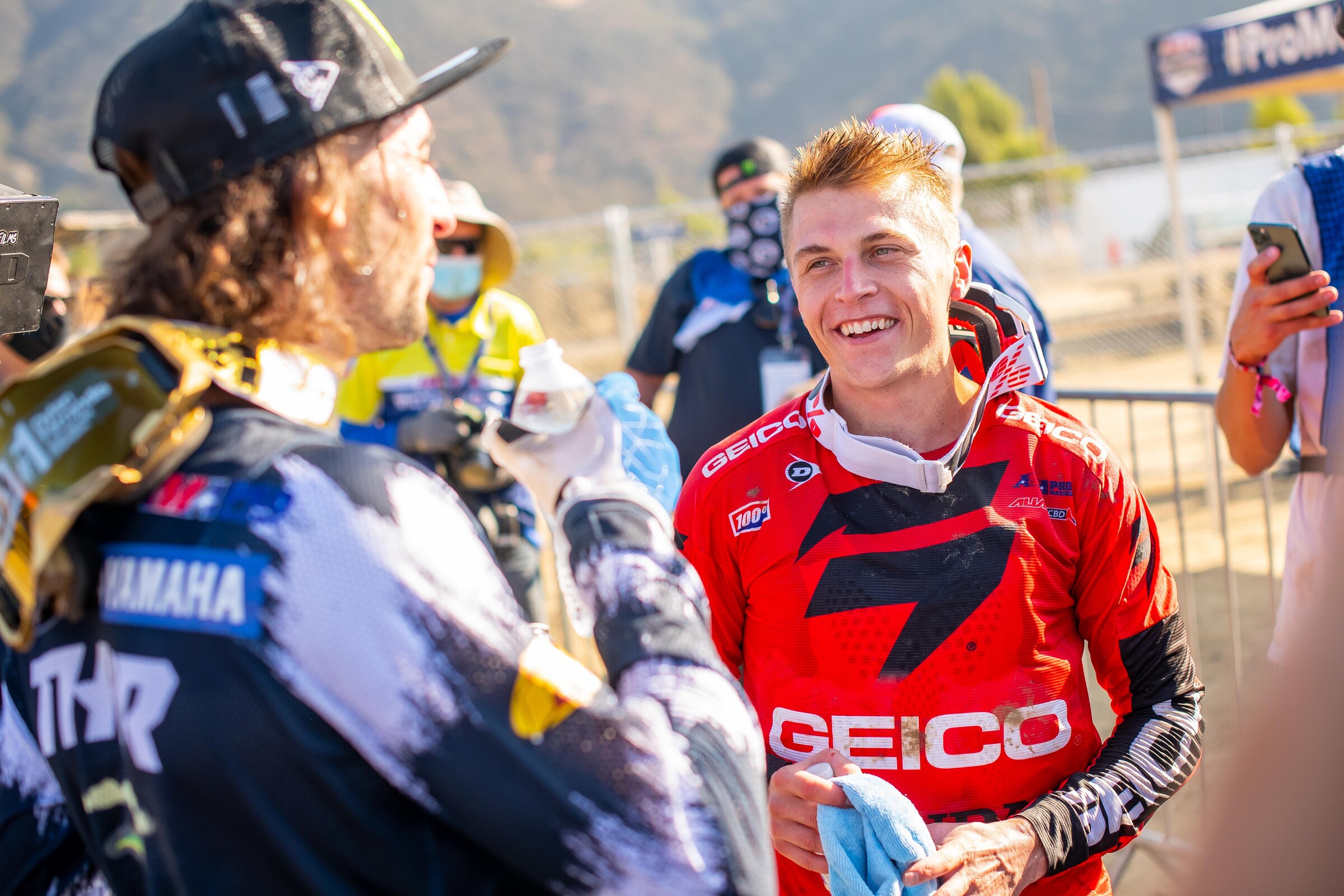 What was your thoughts coming into the season? Coming off of over a year away from the bike, away from competition. What were you expecting of yourself this season and how would you assess how it all went now that the season is done?
I knew that I could be competitive for a championship, but I knew that I could win races. I knew Dylan [Ferrandis] was probably going to be my hardest guy to try to crack and beat, which ended up proving to be so. He beat me in the championship, and I was second. But I felt like for what I've been through, I knew that the fight that I have, I feel like a lot of the guys that are out there are really fast. They're really talented, especially the guys coming up like my teammate, Jett. But I feel like for what I've been through, I got a resurgence of fire of the motivation to be able to try to come back and try to win. So, I felt like I was probably more motivated than a lot of guys on the line, and I was willing to suffer and fight. Obviously, we didn't win it, but I think it showed throughout the entire summer.
Jett, you're a winner now. At the end of the day, you're a winner in the Pro Motocross championship. What does it feel like to be on top of the box at 17 years old?
Jett Lawrence: It definitely feels good. That's what we work up to, is to be on top of the box. It definitely was good to be up there finally. This year I was shooting to be on the podium as much as I can, just to get on the podium. It's funny that we were talking about before like my first-ever podium is an overall win. It definitely feels great to finally get this done and under my belt, to get a moto win and an overall win. So, everyone has told me the first one is always the hardest. The next one is a lot easier because you mentally know it. I'm definitely happy with this. It puts you on a very good mentality for next season, so I'm definitely happy with this.
The December 2020 Issue of Racer X Illustrated
Mr. Motivated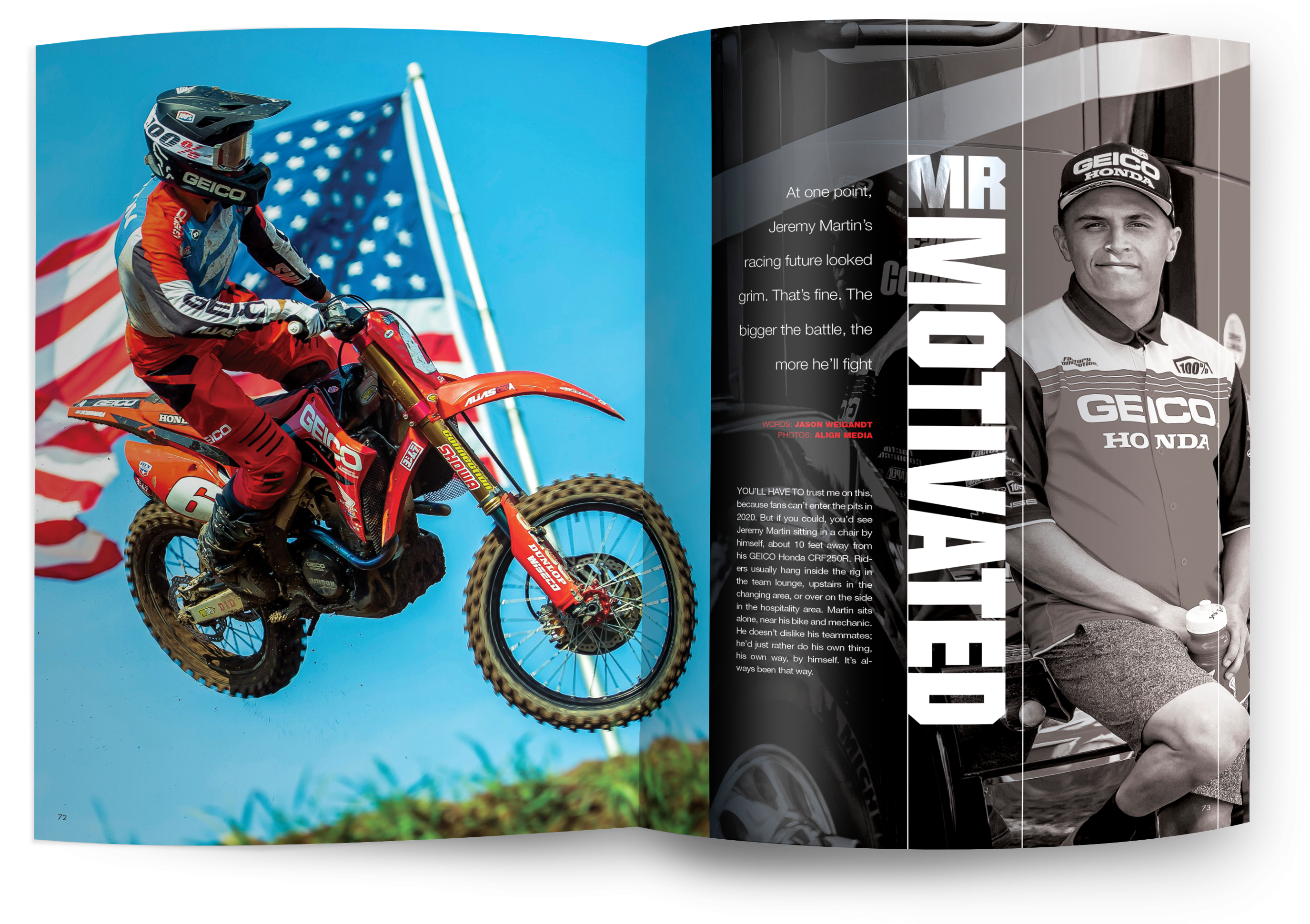 At one point, Jeremy Martin's racing future looked grim. That's fine. The bigger the battle, the more he'll fight.
Read Now
Preview Now
As this season went on, did you feel yourself getting higher and higher in your performance, knowing that I'm there, I'm with those guys? I belong up here. Did you confidence grow the more and more motos you got under your belt as the season went on? Did you feel like this was a real possibility for you this season?
Yeah. One thing with me and my brother, we get better the more races we do. The more we get to know how everyone races, it becomes a lot more natural for us. Definitely my progress from the start of the year to now is a big difference. I'm glad that we improved. If we didn't, we would be scratching our heads. It's definitely good progress.
You mentioned on the podium in the first moto that you kind of were doing this for your brother [Hunter] today because he didn't get that chance to get out there because his shoulder kind of came back up again and took him out of the action today. Talk about your guys' relationship a little bit and how much you feed off one another and how that helps you both kind of elevate your game.
We just want to beat each other as much as we can. We don't really care about most other people. We just want to beat each other. We love each other, but then again when we're on the track we hate each other. We'll take each other's front wheels out. We're a pretty good connection. We joke around, that stuff. We don't fight as much because we're not living in the same house. We get along really good, same with racing. When we race each other, we race each other clean, not dirty at all.
Jeremy, did you like the nine-race format, or do you think maybe the results would have been different if you had the full twelve races to go racing?
Martin: I think the results were as legit as they could be between nine rounds or twelve rounds. Dylan was a beast this year. I'm about five silver bullets deep right now. I tried to give him everything could this year and he was fast. I tried to still be as consistent as I could. Mad respect for him. I was the second-best guy this year.
Jett, right after the finish line there was that roller sort of turning right and you guys were jumping over it, kind of using it as a big double. Was that difficult to do every lap? Was it second gear, third gear wide open, seat bounce? How were you guys going through that section?
Lawrence: No way in hell would you seat bounce that thing. You'd go over the bars. Second, I do not know what gear I was in. I was in whatever gear the bike was in. It was definitely a difficult jump to try and get clean every lap because you had to come in. It wasn't like it was real tacky, so you have to be smooth and hit your line right. In the first moto it was pretty easy. We ended up getting a rut and I was able to get in the rut and get some good lift, but that second one it was a little rough, so I wasn't able to get it every lap. I got a few laps, but I ended up starting to play it safe because I didn't want to get booted off and then throw away a chance at the podium. So, the second moto it was a little bit more difficult. That's one jump you definitely have to commit to because if you half commit, you're screwed because straight after in the middle was this deep mud. So, you definitely had to commit. But it was a difficult jump to try and hit clean every lap.
Jett, we obviously have talked about the drama on the podium last week. At the end of moto one you had a few words, a little fist bump with Coop. You guys good?
Yeah. Obviously when you beat him after talking crap to him, you're pretty good. My opinion, that's last weekend. This weekend it's about the moto win, really.
Jett, is there anything you can point to that was different today that made the difference, or was it just starts? What came together finally to make it happen?
Obviously starts helped. They ripped the track deep. It wasn't five feet deep like they normally do at every other race. So, the race today, the track, you had to be really smart and smooth, not like normal just go and hit into the turn hard on the brakes and bury the bike. So, a lot more technical today. Had to be smart, where I felt like us riders like Dylan and I could really stand out. Obviously, we had those sand rollers, so Dylan ended up telling me how I was so much better in the rollers because of Lommel. This felt like more of a Euro track, really dry, sharp edge bumps. I felt comfortable. As everything went together, every piece of the puzzle was put together. I got good starts, was riding good.
I think we all assume supercross is starting in January. Do you know what you're going to do? Do you take a break now? What do you do for the next month or so before it's hardcore training time again? Maybe it's hardcore training time already.
Yeah, most people would take some time off, but I feel like I'm just getting started, really. I still have way more speed to come, so I'm starting supercross on Tuesday to get back in that supercross prime again. I don't want to lose my speed and that stuff from this year, so hopefully I can just start where I ended off in supercross and just keep on building.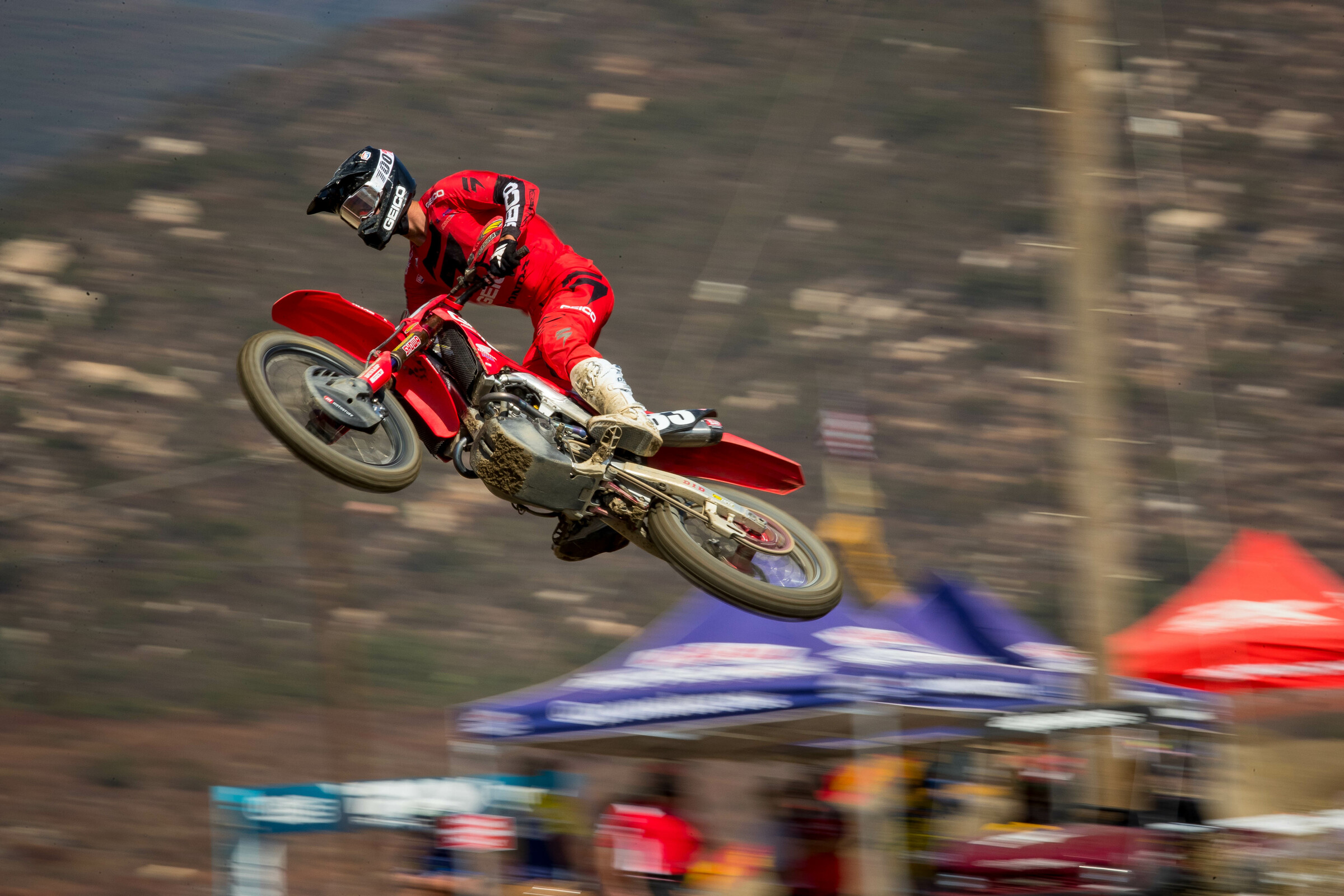 I would like to ask Jeremy this too, but you're the only GEICO guy on here now. Your team is done. So, what was that like after the race? Going out helping them leave as winners?
It sucks for the team because there's a lot of good guys that are on that team that are behind the scenes. It sucks to see a truck leave the paddock, as most people said. It definitely felt good to go 1, 2, 3 in that last moto. I was surprised Joe was up there. I thought he was a lapped rider. So, congrats to him. It was good to go 1, 2, 3 that last moto. Nice, clean Honda sweep. It sucks with Jeff [Majkrzak] and Ziggy [Rick Zielfelder]. They've been in this industry for so long with GEICO. It's a bummer to see them leave. They're like a family to me. They're definitely going to always stay in my heart for the rest of my career. Definitely sucks.
Your future, we know that Factory Connection, the GEICO team is departing, and nothing has been confirmed for you, but by all indications you're safe for next year? I know nothing is announced, but you're good?
Yeah. Luckily for a rider on that team it's a lot more easy to kind of keep on riding, unlike the mechanics. I'm not sure when, but we'll obviously release something soon. I'm not going to give you guys any details. I'll let you guys wait until the end, keep it a little surprise. I'll give you one here. Basically, we have two wheels.