Mantova, Italy
MXGP of Lombardia (Ita)
FIM Motocross World Championship
*Main image courtesy of KTM Images/Ray Archer.
---
Back to Italy: same country, same tight time demands, different course, same risk. The Tazio Nuvolari circuit allows more potential for variation than the last 2020 venue in Monte Coralli in Faenza (two hours east) thanks to its sandy nature, even if the compact layout is restricted by space. The track, situated in a park in the town centre, is framed on three sides by green spectator banking and on the fourth by the paddock. In this "sand pit" Infront Motor Racing can switch things up but the short time frame between Sunday's race and Tuesday/Wednesday is always a limiter in the first stage of these frantic triples.
Here are a couple of observations from the first instalment.
1. Waved Yellow Means No Orange
Incident aplenty for round nine of MXGP and the biggest talking point came with the post-race change of results that saw Red Bull KTM's Jorge Prado removed from the top step of the podium and bumped to third overall, with Monster Energy Yamaha's Jeremy Seewer promoted to the position of winner for the first time in the premier class (the first win for Yamaha in over a year and the first for Seewer since his 2017 MX2 success in Sweden). Gas Gas Standing Construct Factory Racing's Glenn Coldenhoff was wedged in between.
Prado, Gautier Paulin, and Romain Febvre were all penalized after jumping while yellow flags were waved. The infraction was clearly evident on TV images, but the old argument remains as to whether the marshal posts and flag positions are in the best place; particularly with some of Mantova's sheer jump take-offs. Prado, Febvre, and HRC's Tim Gajser—winner of the second moto—were all engaged in a tight and intense battle. Prado lost his second overall triumph of a rookie season in which he is creeping into title contention.
"We couldn't see the flags: I wouldn't have jumped otherwise! I wouldn't gain or lose time. It's tough to swallow," he said. "I don't really know what to think. Teams and riders need to respect each other."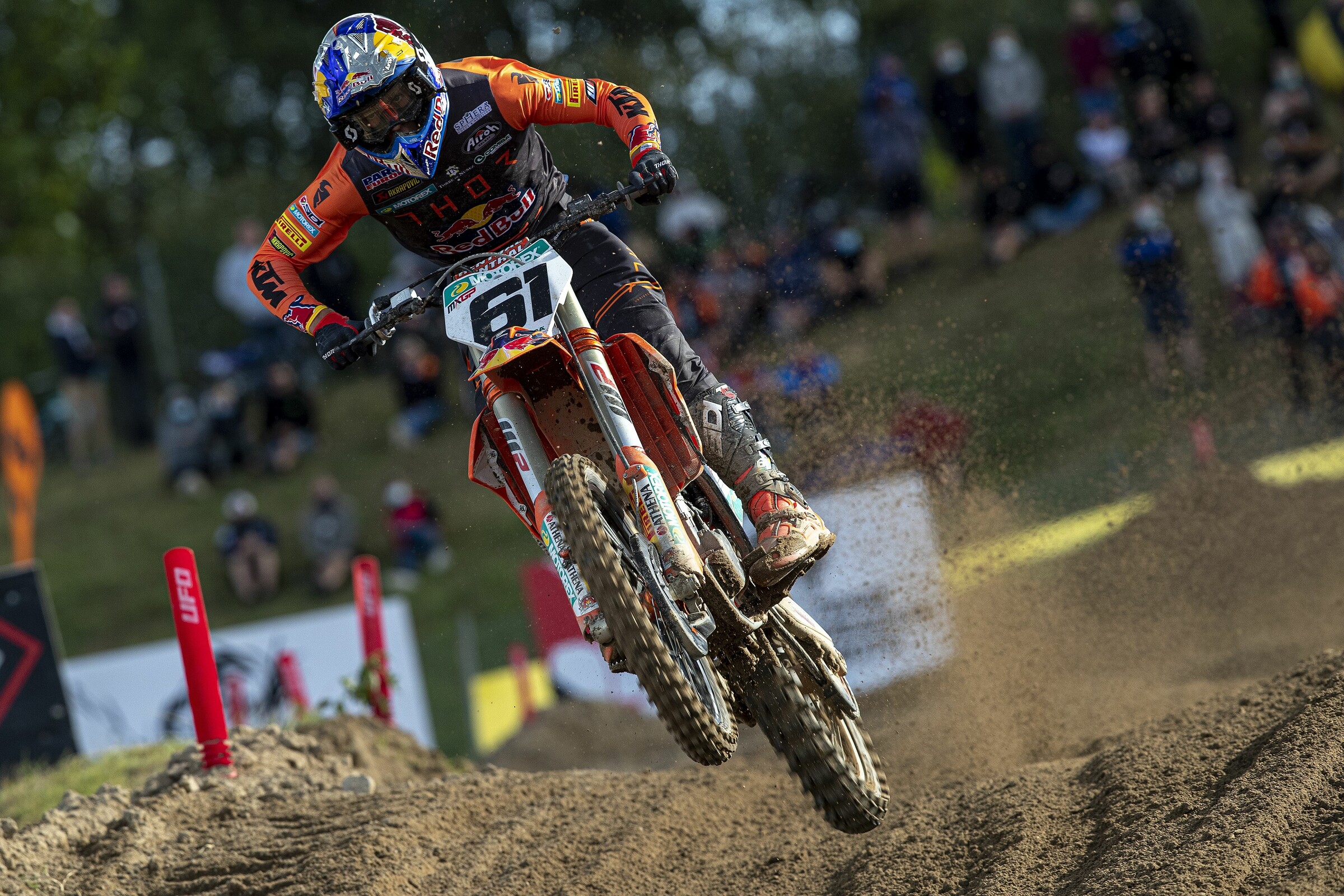 Prado—who would have been 2-2 for the day—repeatedly used the word "respect" in his post post-race comments in a veiled finger point at rivals' that benefitted from the protest.
"We all work hard, and athletes and teams have to respect each other," Prado said. "Everybody tries to train the best they can to come to the track and win. You win on the track, not off it. That's very important. Sportsmanship: I think it touched me a bit today."
In the first moto, Seewer had a brilliant first moto to keep the Prado at bay and earn his second chequered flag of the season and. As in Faenza two weeks previously, it was a mistake in the next moto that pushed him down to tenth on the first lap and seemingly out of the running for the overall prize. He came back to sixth and was then elevated to third when the champagne had already been opened.
"It's a weird situation but it's in the books and a milestone for me," Seewer said. "Everybody dreams of winning an MXGP, especially at the level we are racing at now. I got a bit lucky from that second moto, but I'm happy."
2. Red on Red Again
In moto two, Gajser was unmatchable at the front. The defending world champion's first moto start was horrific, and he could only work his way back to eighth. Gajser has swung between perfection (his 2016 1-1 and the first year on the CRF450F) and pain (2018 pre-season broken jaw and concussion) at Mantova. Even in his championship 2019 term the Lombardian sand delivered his worst weekend of the season with a 10-6. The first moto last weekend was slightly more worrying as Tony Cairoli maintained his trend of returning from a fair poor qualification (13th) to better race form (third) and stole a few more championship points over his Honda foe. Gajser's retaliating win therefore was an important reversal and two second moto crashes for Cairoli—the second breaking the Sicilian's nose—assisted the Slovenian with his championship goal as he grasped the red plate for the first time in 2020 with a meagre five-point advantage.
3. Gonna Be All White
Thomas Kjer Olsen arrived to Mantova last year as leader of the MX2 World Championship. He was #1 in the wake of Jorge Prado's absence at the previous round due to a shoulder injury. Prado came back to racing in Italy and Olsen had to play second fiddle again. The series ended that way. A year later and it was the Dane's turn to re-enter the limelight. Rockstar Energy Husqvarna MX2 team manager Rasmus Jorgensen had said in Faenza that he expected his rider to have fully shaken off the wrist, back and neck problems that had cast the pre-season title favourite out of the picture. Olsen was at last fit and went about constructing the high-level consistency that has been his calling card since 2017. A 2-4 and defiance of a so-so second moto start was another step back to normality for the racer who will vault into the factory IceOne MXGP team in 2021.
For once MX2 was not all about Red Bull KTM's Tom Vialle and Monster Energy Yamaha's Jago Geerts. In fact, Mantova represented the first time in 2020 that neither of the prime championship candidates appeared on the podium. Vialle holeshotted and ran away with the first moto but could not repeat the start and damaged his front wheel in the second, forcing the Frenchman to guide the 250 SX-F to the flag in 14th. Vialle still inflated his championship lead thanks to a sensitive Geerts who was dealing with a tender shoulder after a practice crash. The Belgian also went down several times and could do no better than ninth overall. "I don't want to use my shoulder as an excuse," he said. When Geerts was on the move in his preferred terrain then he gained positions and time at an impressive rate. Pulling as many points as Vialle this week will be key. The gap is currently at 30.
The fight for the second MX2 moto win was the action highlight of the day. Olsen's Husky teammate Jed Beaton and Geerts' Yamaha teammate Ben Watson were both ravenous for their first haul of 25 points; the desire and anxiety was evident in their body language and the way they attacked the sand, seemingly with full abandon. The gap was just one second at the flag in Beaton's favour: a small landmark for the Australian. Watson walked the podium for the first time in 2020 and for the first time since 2018. The gap in between had been filled with injury and a litany of fourth places, near-misses, and top five/six regularity. At a time when Britain is worryingly starved of Grand Prix representation, Watson's result was well-received; yet if he could have overtaken Beaton then a 6-1 would have meant the UK's first MX2 success in nearly five years.
4. Running the Risk
Mantova invited speed. The sand was typically shallow, hard, and rippled, similar in fact to the Kegums soil in Latvia. With some overzealous watering it was surprisingly slick in places and the gnarly bumps and knuckles were not kind to riders that momentarily lacked precision or extended their limits. The layout blended large jumps with slow and twisty sections plus some fast blasts, mainly on the incline switchbacks. Riders were quick and unanimous to describe it as sketchy. Evgeny Bobryshev's insanely spectacular crash (a jammed throttle seemed the only explanation, but the veteran said, "I got a kick before take-off") was a consequence. It's worth finding the video of the Russian's attempt to enter orbit. "That was 1 of my scariest crashes for sure, in the air I told f****k [sic]" he wrote on Instagram. "Bobby" was lucky to escape without injury.
The same could not be said of Rockstar Energy IceOne Husqvarna's Arminas Jasikonis. The Lithuanian crashed heavily from sixth place in the second moto and received immediate and serious trackside medical attention. Less than three weeks after Jeffrey Herlings needed to be airlifted to hospital with a head and neck injury, a helicopter was again whirling over MXGP. This morning, Husqvarna Motorcycles provided an update on AJ. According to the quote from Team Manager Antti Pyrhönen, "This is a very serious situation for Arminas and a very difficult time for his family and all involved in the team. After AJ was flown to hospital on Sunday night, he was placed in a medically induced coma because of the trauma he suffered to his brain. Really, there is not much else to say at this time – this is the situation, a situation that is very serious and difficult for everyone, and now we have to wait and stay positive. He has the best medical care around him, and we are in close contact with both the specialists at the hospital here in Italy but also in Innsbruck, Austria. Thank you to everyone who has expressed their concerns and wishes AJ all the best."
5. Quick Turnaround
For Wednesday, or the coming races, the Tazio Nuvolari layout could be changed. The split lanes and several jumps might be looked at and track prep can be refined but Mantova has traditionally presented a technical challenge that almost goads riders to take risks. In timed practice they were split by tenths and even hundredths on the chrono. Just 1.5 seconds separated the MXGP top 12 across a near-two-minute lap-time.
"It is a special kind of racetrack with some different lines and I just hit a square-edged bump," said Cairoli of his second moto spill that cost him the red plate.
"I didn't see the track as that dangerous but maybe when you are in the pack with lots of other riders—and the track is not that wide or big—maybe that makes it so," reasoned Prado. "Also, the square-edged bumps were tough to handle. We saw a couple of very big crashes and I hope people are in better condition than they looked. With my two injuries this year I see things with delicate eyes [now]," the 19-year-old added. "When I see a crash, I feel so bad because I know the pain and I know the feeling and I wouldn't wish it for anyone."
It all resets again for the Grand Prix Citta di Mantova in a matter of hours.