Jacksonville, FL
WW Ranch (Florida)
Lucas Oil AMA Pro Motocross Championship
Rockstar Energy Husqvarna's Zach Osborne is well aware he needed a big win at round seven of the Lucas Oil AMA Pro Motocross Championship, the GEICO WW Ranch National. Rookie Adam Cianciarulo was closing on him in points after a two-race win streak, but Osborne responded with a big 1-1 in Florida. He took the measure of Cianciarulo and Sexton in moto one, then held off a furious charge from Eli Tomac in moto two. Osborne talked about it with the media on Saturday night.
Racer X: Zach, how was your day? How do you feel heading into the final two rounds of the season?
Zach Osborne: Today was obviously really good. It was kind of what I had to do in the grand scheme of things to swing it back in my direction and make it happen. Last weekend was a huge disappointment, to have a weekend like that at a pivotal time in the championship and after a weekend off. So, it was nice to come out today and win.
You mentioned a shock change on the podium. A few weeks ago, when you were on the PulpMX Show, you talked about not really changing things. What brought that change on?
Just some stuff that the guys have been seeing and just with the tracks not being quite as deep and rough this year. It was something that I needed to do to just kind of calm the back of my bike down a little bit, with it not being as deep and it not pulling the bike down as much. It was just a little bit more dancy than what they wanted to see, so they thought that they had something for me. They sent it to me, and I tried it on Thursday, and it was super positive, so we went racing with it.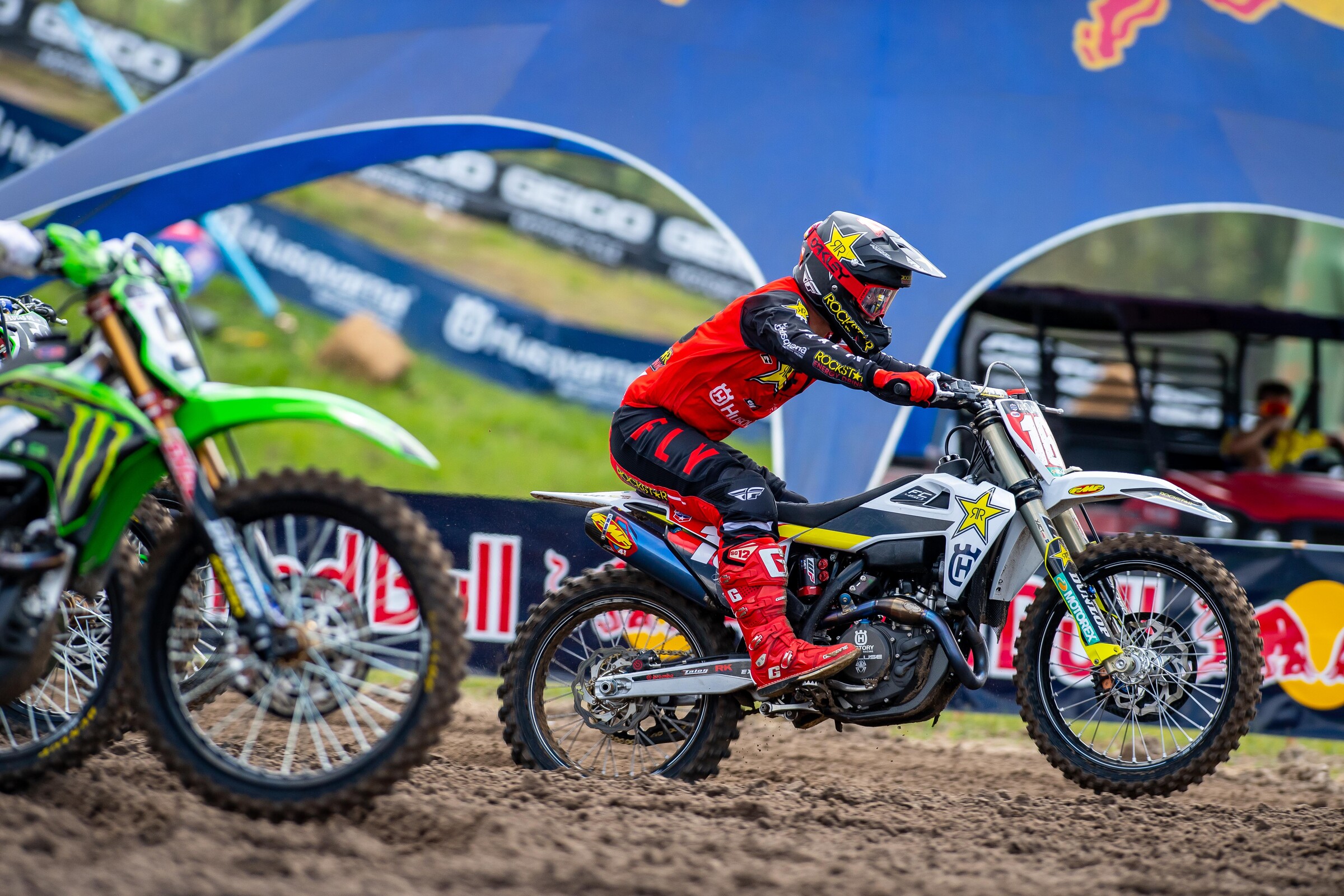 You mentioned on the podium about the bike kind of bouncing around, dancing beforehand. Watching this race, I thought a lot of the times your bike looked like even though you were winning, it looked like the bike was dancing around quite a bit. Was it just track conditions, or what was it? Am I just wrong about what I was seeing?
I think it was quite fast, like Marv said, and it was quite bumpy. Not really like gnarly rough, but just kind of choppy. So that tends to show in that way, if you will. I'm shorter so every bump is accentuated even more. So, to me, that's just kind of how it looks for me.
Zach, has your strategy changed to more of a defensive standpoint with only four motos left?
No. At one point a couple weeks ago I kind of was, but with what happened last week and then just kind of losing a bunch of points and now it's back to 29 or whatever. I'm not trying to send it to win motos, but at the same time I don't want to let any points get away that are there for the taking, so it's a little bit of both.
Because this was the first real hot round, did you have a strategy to try to keep some left in the tank so that you could charge the last eight minutes? That first moto you ended up charging and getting through a couple people to win and then finished second. The second moto with Tomac all over you, you kind of did the same thing. You had a second wind to push forward.
No. For us this is kind of what we ride in and what we train in. So, it was much the same feeling as what we have on a Tuesday at the track. There's not really a lot of saving any at the front of the 450 Class. You've got to be all in. Maybe I saved a little bit there when I saw Eli start to creep up, just to kind of have something left to fight with at the end, but realistically there's not much saving going on at the front.
All year you've been talking about how you're not thinking about the title. It's getting down to crunch time. Is it starting to creep in? Is the "I could possibly be a 450 Class Champion at the end of this year" starting to creep in?
Yeah. Today was a lot of pressure for me just because it was kind of a swing day whether it was going to go my way or a different way. There's two weeks left in the season, four motos, and I have a decent gap. So, it's not like management time yet, like I said earlier, but I'm definitely trying to keep a good gap going into the last race and just kind of have my stuff together.
In that first moto you made the move on both Adam and Chase on the same lap. So, was that a case of that moto just coming to you as it went on, or how would you reflect upon that?
Yeah. We were pretty hot and heavy there at the beginning, like the first 20 minutes. I knew that it was going to have to cool down at some point because I was already starting to feel it. I knew that they were as well. Then I started to see them get a little bit kind of sloppy or maybe a little bit tired. Then I would just kind of put the attack on. I really didn't think I was going to go around the outside of Chase like that because we had a little run-in last weekend, so I was a little nervous when I went to pass him. But I was able to make a pass. AC, I just got a run on him out of that back section going to the step-up and was able to make the pass. It kind of all unfolded in front of me and I was able to attack there at the end.
In the second moto, it was kind of the opposite where you had Eli coming onto you. You were able to respond and remain composed, I suppose, especially on that final lap. Were you aware that it was Eli? Was there any thought of letting him have it because you'd still get the overall, or is it a case of every point counts?
It was a little bit of both. I wasn't going to throw it away, but at the same time I wanted those three points bad. That's a big cushion, a big gap. For me it was important to hold him off. I could see him coming for like five laps. I knew he was on a roll. I knew what I needed to do to keep him behind me. He got really close there that one time because he took the inside of the split lane going after the mechanics area. I actually thought he had made the pass, but I kind of moved over on him and he didn't have the line. So, I was able to take it into the last lap. Then I think he made a mistake somewhere because I couldn't hear him there at the end, and then I was able to take the win.
After the disappointments of last week, how excited were you and the team after that second moto? It was a huge result.
Yeah, it was. Obviously, we were all bummed about last weekend. They were super bummed. They wanted me to come in and I did not see them. I feel like I'm one of the most aware people of the things that are going on around me when I'm riding, and somehow, I did not see them. So, to rebound and bounce back for the boys and win for myself as well was big today.
We've raced this track twice now. Zach, you and Marvin have both ridden it kind of quite often. Marvin, you were just there a few weeks ago. But the one thing about this place compared to, say, Thunder Valley or Millville or something like that, they changed the layout quite a bit. Is that something difficult for either of you to learn on race day because it's so different than the usual, maybe the last time you were there?
Zach: We don't go there often. It's like a three-hour drive for us. So, we were fortunate enough to go there a couple weeks ago and do a little bit of riding, and then we did the same before last year, but that's the only times we've been there. I went when I was running from a hurricane a couple years ago getting ready for Des Nations, but it's not like a frequent thing for us. I think sometimes when we go there there's a lot of obstacles, so they end up taking some stuff out and it kind of frees the track up for us. So, it's not really a huge adjustment on race day. The thing you're trying to emulate or replicate the most is the conditions. So, the last time we were there the other day it was super wet and muddy, so we didn't really get a lot of data, if you will, but it was still beneficial.
The first moto start, you had a pretty good jump out of the gate. Had a little bit of a gap on everybody. Then Adam reeled it back in. You guys were neck and neck going to the holeshot stripe. How was that for you? What a way to start the race because you know right there is the guy you have to race against.
We almost came together right at the line. That's when I knew it was kind of on. He was racy and I was feeling racy as well. We were just both trying to make something happen. So, it was nice to come away with that first moto win. My starts have been really good all season, so I'm happy with that. Starts are something that I've not always been as consistent as some of the other guys with, so to find some consistency with that is really awesome for me.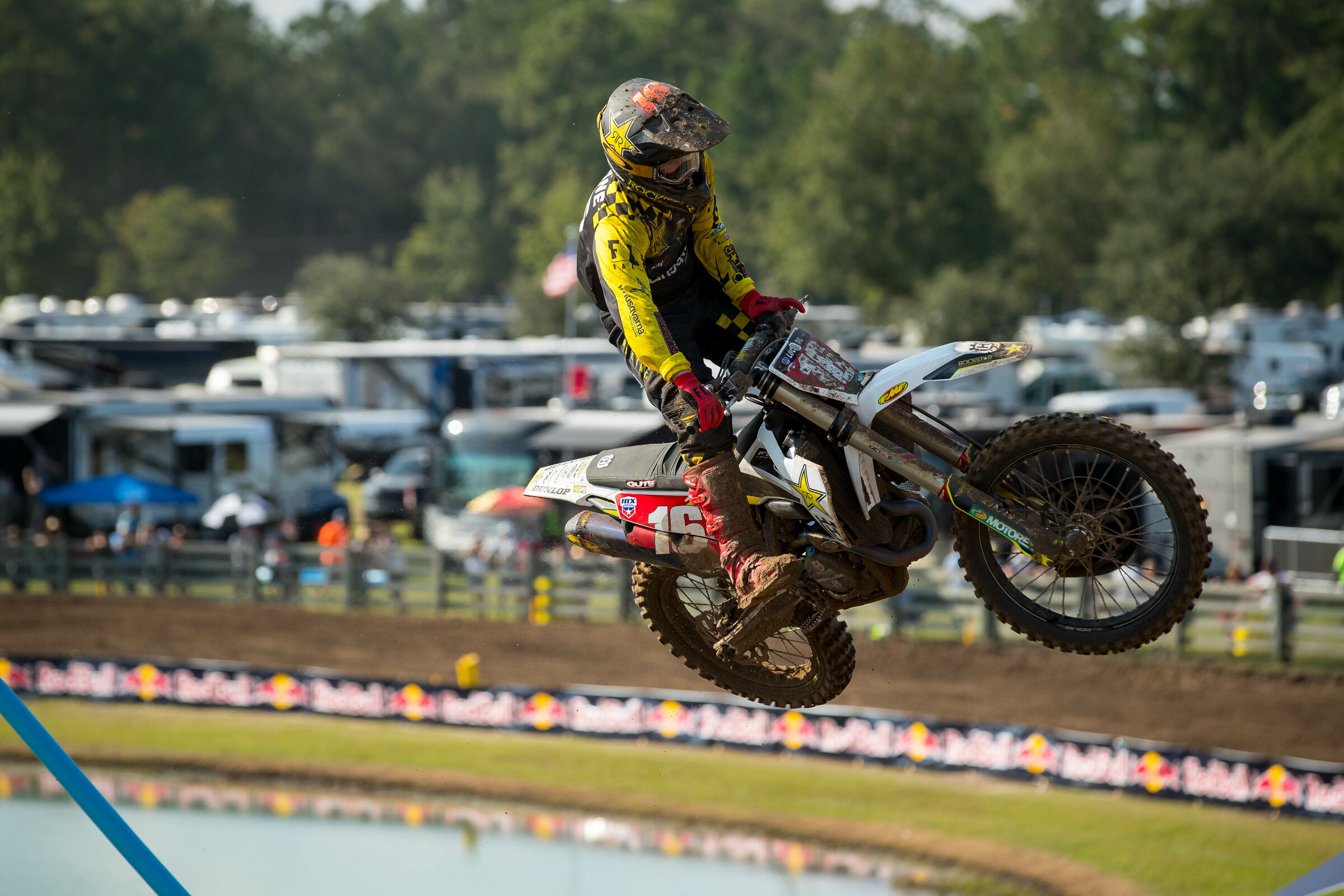 The first half of that first moto, AC and Sexton pulled away a little bit. Were you managing it? Were you worried they were getting away?
I was managing it for a while, and then we caught a pack of four lappers, and they went right by them and I caught them in the middle of the track where it's a little bit tighter. So, it was hard for me to navigate them as quickly as they did. Then they pulled what I thought was four or five seconds and I was like, oh man. They've broken the tow. It's going to be hard to get back to them. But then they started to make some small mistakes and I was able to reel it back. I felt like I kind of had some legs to go with there at the end and I was able to just kind of open the throttle and go to the front.
How do you stay within the moment in a moto like that? That was obviously huge for the championship because Adam had won the last two races and closed down the points. How do you focus on each lap and each section of the track and not think when you're behind, "Oh, man. What's this going to do for points?" And then when you get ahead, same thing?
That's the razor's edge that we ride. It's not something that you can manage lap to lap. I knew going there today that I needed to go out there and make a statement and win both motos if I could. I've only done that one time in my career, so I was feeling the pressure a little bit today to go out and make it happen. It's just one of those things where I would compare it to being a sniper or something. They just wait for that moment for a long, long time and then you go for it. So, that's kind of what I was doing in the first moto was just waiting on my moment and it came. It was this close to not coming because the lappers. It's hard actually, especially at the front of the 450 class to just pass someone. You almost have to come with a run and take that momentum and go by them. So, for me, once I got back to them, I had some decent speed going and I was able to make the pass and make it happen.
Same thing, when you win that moto that's big, as you said on the podium, Mr. Momentum starts to go back your way, but you've got to recover and make sure you replicate that in moto two, or you'll give those points right back. So how do you not celebrate too much, not take too much confidence from it and not get ahead of yourself?
Historically I'm better in the second motos. I've struggled a little bit here and there with arm pump, and the last couple weeks that's been a lot better for me. I struggled really bad at Indiana with seventh in the first moto. So, for me, once I got through the first moto, especially with the win I knew I would be fine. The second moto I just feel more open. I don't know if it's because I'm older or what, but it takes me a while to get my body opened up and going.
You can watch the 450 Class WW Ranch National post-race press conference archive or listen to the audio from the post-race press conference below (the 450 Class starts at the 23:31 mark).