NESC (New England Sports Committee) legend JoJo Keller came back to racing this past weekend at, of course, Southwick! The track put on a Vet Legends race over the weekend with many of the greats from that area throwing a leg over and handling some gate drops. Track operator Keith Johnson dragged Keller out to ride his Kawasaki. JoJo, a moto national winner at The 'Wick in 1980, is unable to caddy (his usual job) so he's back working for the shop that supported him when he was racing, Bettencourt's.
If you were around in the '80s, you'll remember JoJo as one of those classic New England legends and personalities—and a guy who could absolutely beat down some factory riders on the right day. I called up the man, the myth, the legend JoJo Keller to talk to him about his comeback!
Racer X: JoJo, you're back on the bike. I saw some photos from [Paul] Buckley. You got on the 'Wick. How was it?
JoJo Keller: It was great to be back. I couldn't believe I did it. Two months ago, if you asked me if I was ever going to ride again, I had no interest whatsoever. I've been working back at the shop. I didn't know how it would. I went ten years this time. Normally I used to be able to jump right back on and feel comfortable, but ever since I've been working at Bettencourt's again when I had to test ride a bike, I'd feel like I've never ridden before! But I went on Thursday. Felt pretty good. Then Friday rode Southwick. Felt pretty good. Then it got rough and I didn't feel so good. It ended up being a blast. Keith Johnson, I probably wouldn't have done it for many people, but he just asked me to come out and I heard the other guys were. You inspired me to lose a lot of weight seeing all the pictures of you, so I've lost like 70 or 80 pounds the last three or four months. So, I figured, what the heck? Let's give it a try. FXR hooked me up with some gear.
So, it was a Legends thing?
It was Northeast Vet Championship. He does it every year. I think it's been three or four years now. It's always a really, really good turnout. It's right at Southwick. Everyone was there this time. Only Doug Henry didn't race, I guess he crashed Friday and hurt his shoulder, so he couldn't come. But everyone else I know that races was pretty much there.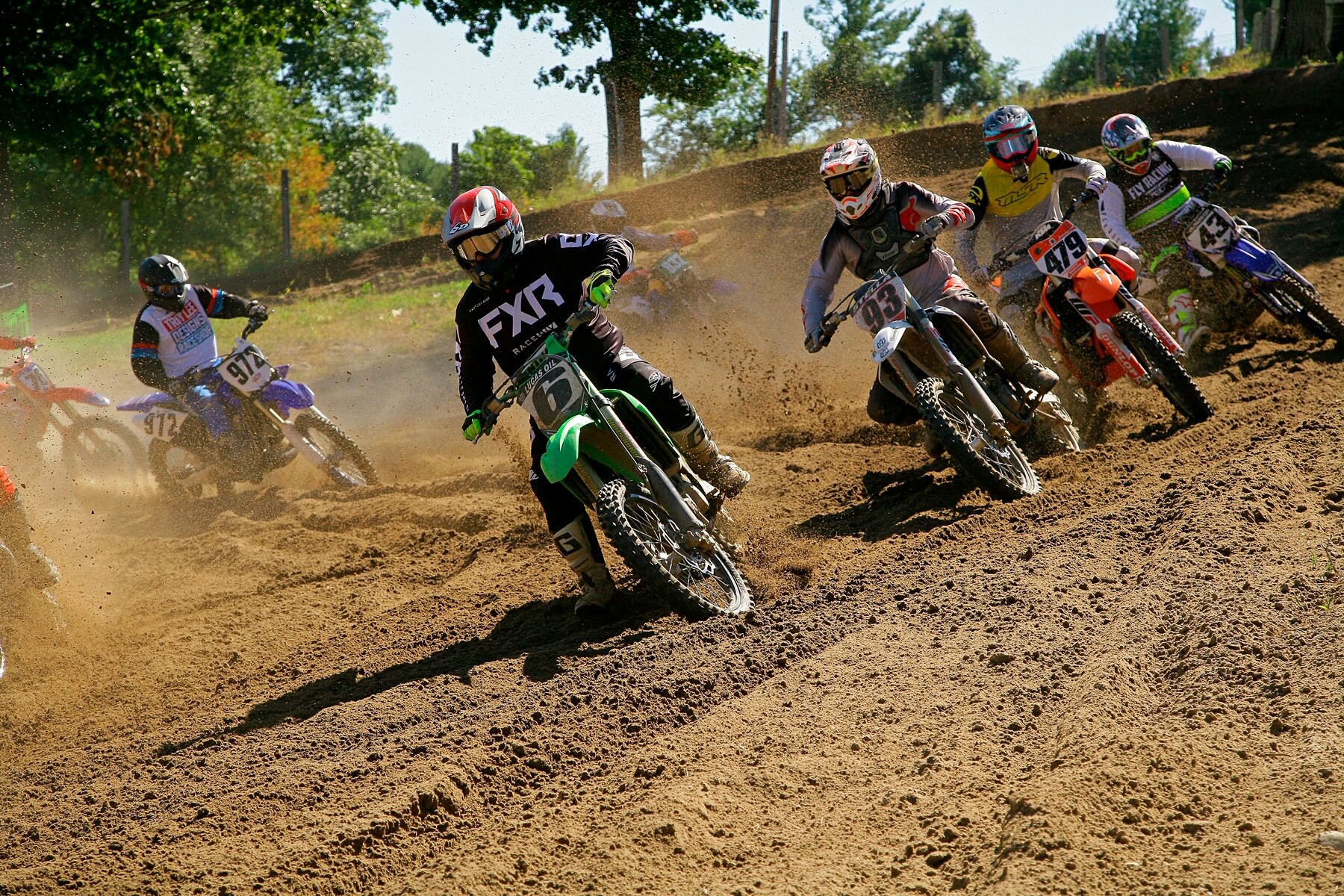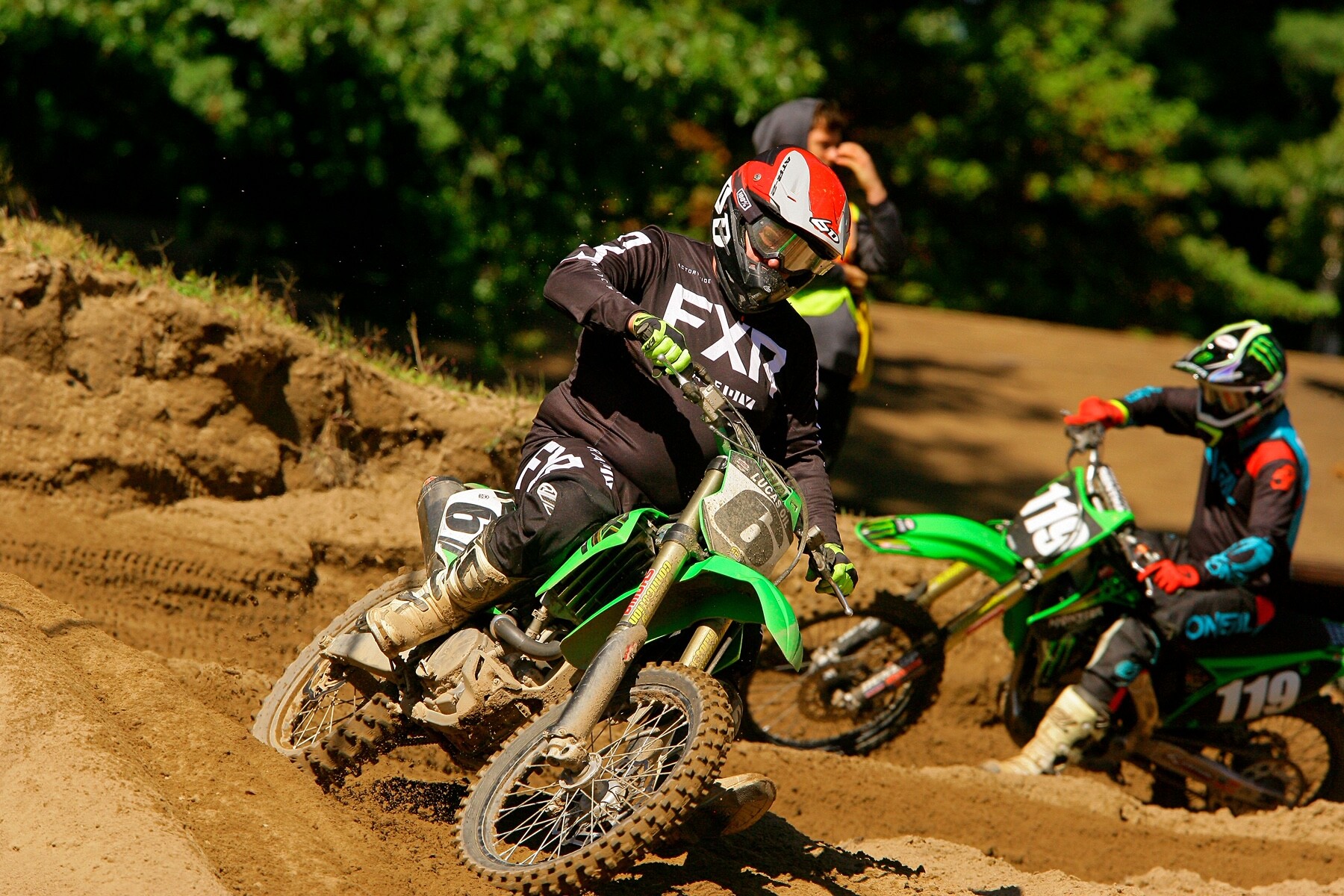 Did [John] Dowdy wax everybody?
Well, I hate to say it, but the race between Dowd, [Mike] Treadwell and Johnson looked somewhat like a professional wrestling match. Very exciting, but I've never seen so many amazing passes. They had some fun out there. Keith rode one class against the young kids, and he was really riding good at his age. He was keeping up with the experts in New England and everything so it's cool. The first time I've ever seen it. They were four-lap races. It's the first time I ever saw John Dowd tired. He started sitting down on the third lap. I didn't think that guy could get tired, but I guess everyone can.
How old are you now?
I'm 58. I'll be 59 soon. Hopefully, I can keep dreaming for the 60-vet championship!
So, one of the things with you obviously, you're so naturally talented on a bike. Everyone talks about all the things you've done, but maybe age is finally catching up to you a little bit, huh?
Oh, without question. I hate to say it, but I don't ride for that long. It's like, I need some time. I usually started out on minibikes, just trying to get the balance point. Then I'll move up to a little woods bike, go for some trails before I even think of getting on a motocross bike. I think I wasn't as naturally talented as just I loved riding so much, I rode all the time. I was pretty sharp.
It's awesome to be out there in the sand.
Yeah. I told Keith it's probably the best, one of the toughest tracks in America. It's an unbelievable experience. But if you were going there to have fun riding, that's not the place to go. For a guy like me [who hasn't been riding], everyone says, "Just go." I want to just be able to putt around. I didn't want to win, but I wanted to look halfway decent. That's hard to do at Southwick. Four laps, I couldn't find a speed that was slow enough that got me through the sand without looking like a squid. And if I went fast enough to get out of the sand, I felt unsafe. So, there was no in-between at that place. It's so rough. It's different than any other track.
What do you think about riding a four-stroke? How was that?
Boy oh boy. I had to go to Keith. I usually can tell what somebody's doing wrong or right and everything but I'm like, "What am I doing wrong?" He had a 2021 Kawi with just a pipe only on it. I was going into the corners like I always do in Southwick, grabbing the clutch, taking a handful and then letting the clutch out and the thing would just dig down. I've never ridden with my fingers off the clutch before, but he said, just trust it. Just don't use the clutch. I ride with two fingers on the clutch at all times. He says, "It's bad enough you're out of shape. You'll be surprised if you put your whole hand on the bar how much less tiring it is." That was the first thing I noticed. Every time I did that, I thought I was going to stall, but that tractor just kept going. I never rode bikes that idled or anything. The old Hondas, they said make sure you're not idling because you're going into corners it's going to stall…so I always had my hand on the clutch going into sandy corners. Didn't have to worry about that on a four-stroke. So, I actually learned something new.
I thought I was pretty good with sand, but four-strokes really make you ride it differently. They sure are great. It's by the far the fastest, most powerful motocrosser I've ridden. I couldn't believe the power. It was really mellow. It was like a tractor. However the rear shock, like I said Keith was helping me out, and I figured he's got Factory Connection on his bikes, and I figured he's a lot lighter than I am so he's going to have some pretty good dampening and stuff, but still even though I've lost that weight I'm still over 100 pounds heavier than him. So, let's just say my spring rate was a little low. My back felt a few of those bumps. I'm not complaining. It was a great opportunity.
It's great to see you on the bike. I think people probably loved it. I know that I looked at some of the comments and stuff and people thought it was awesome that you were out riding.
Yeah. It was really something special to me because you never know. Still to this day when someone asks for an autograph, it's my honor. I had a bunch of people from the old days bringing old Buckley photos and stuff to sign. So, it was pretty cool. When you're feeling better about yourself those things aren't bad. When I've been really down sometimes and everyone's telling you how much they love you and how great it was, if only you could see how it really is. But now I'm feeling really good. I really enjoyed the weekend with Keith and everyone at The 'Wick.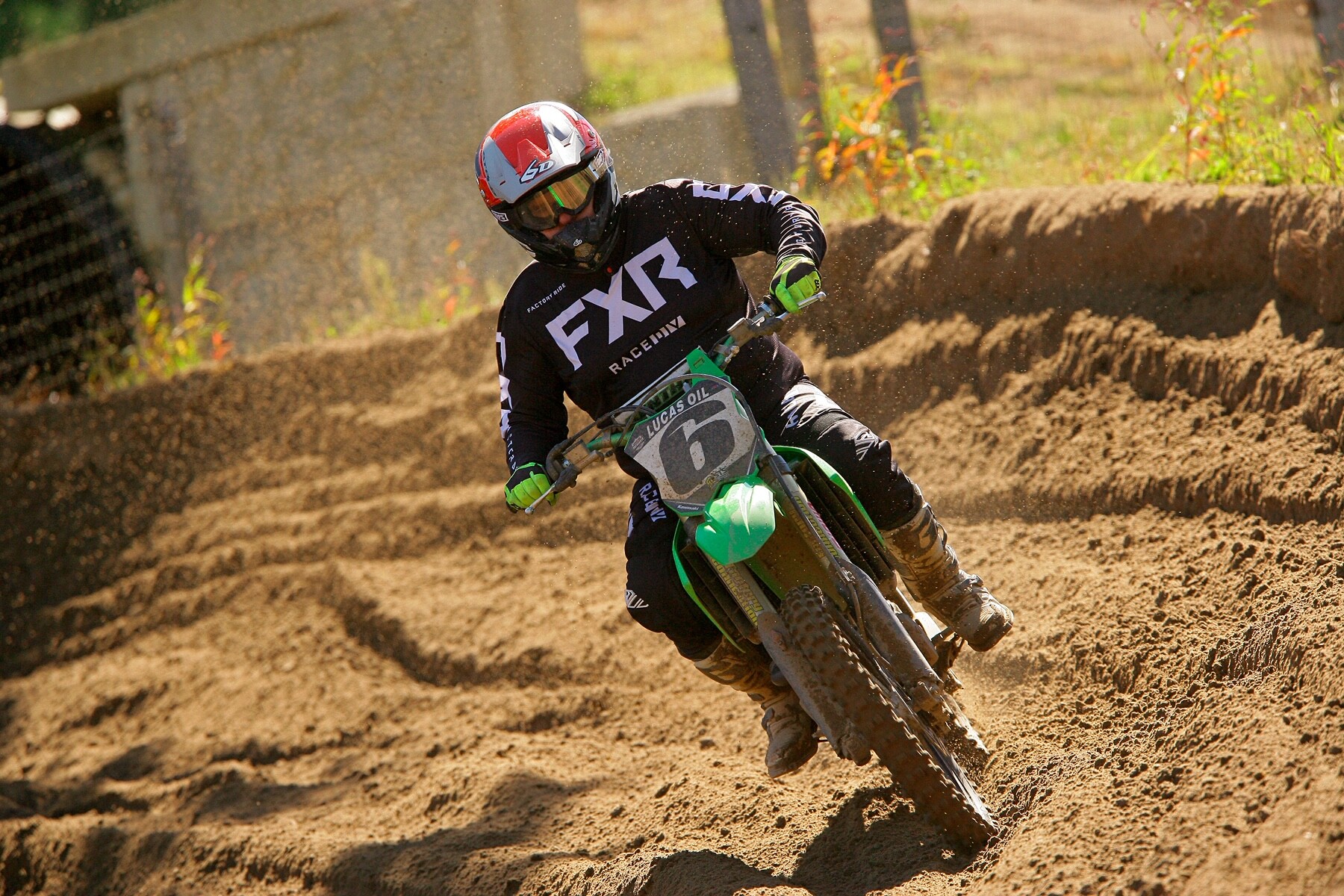 What's your favorite Southwick memory, for you? I can't even imagine how many times you've raced there. What stands out for you for Southwick and yourself?
Nothing even comes close to 1980. I was riding for Fox. For some reason how they used to schedule it, they went Hangtown, Saddleback, Southwick. So, I really struggled out there on the hard pack, but I had a really good bike from Fox, had a good deal. I went to the national and I knew I was fast. I usually could beat most of those guys at the winter series which really surprised me. Because when I first started, I was just riding as fast as I could. I had no idea. We didn't do lap times and stuff back then. So, I went out there for the national and I got a pretty bad start. I got through the first few laps, and then I got bounced around by some of the factory riders. Crashed like three times, and then finally got up and got a third, which most people would have been happy with, but I know it could have been so much better. So, the next moto I started behind [Kent] Howerton.
Howerton was a great sand rider.
Yeah. I blew by those guys and won the moto by like 30 seconds. So that was the most memorable thing. Seeing all the people. I remember it was drizzly, raining, miserable day. My mouth was full of dirt. I didn't take my goggles off. There was so much sand in my goggles bouncing up and down. I'll never forget the people lining the track. There were a lot of them. They were all standing up just chanting. I always knew I was pretty good, and I wanted to win there, but I was like, Wow, I just won a race! Like you, I was the biggest fan in the world. Growing up I wasn't a fast kid or anything and to win a national moto at my home track was the best thing by far. I won the national the second moto of 500 in '82 as well. So that was a great day, but that was bittersweet because I DNF'd the first moto. So, it was one of those DNF-1 for eighth overall or something.
And you should have won Washougal '85 overall. That was yours.
Oh, yeah. I should have won at Washougal. Woulda, coulda, shoulda. If I knew now what I did then. I tried. I got respect for those guys. I was never a dirty rider. I could run with the best in the world at times. So, I'm proud of that. Everyone's got their ups and downs. I had all those concussions and problems in the past, like we hear from the other guys. It's just this community, never give up. There were years where I was miserable, but right now I'm probably the happiest I've been. So, don't give up. Don't give up on life.
---
Images courtesy of Paul Buckley