Millville, MN
Spring Creek
Lucas Oil AMA Pro Motocross Championship
Monster Energy Kawasaki rookie Adam Cianciarulo has it rolling now, with a 1-1 day to top the THOR Spring Creek National, his second-straight overall after a 1-3 last time out at RedBud. Plus, due to bad races for Zach Osborne and Marvin Musquin, who were ahead of him in points, he's moved to second in the standings, just 15 back of Osborne.
Adam talked about all this with the media after the race.
Racer X: Adam, first ever 1-1, second consecutive win for you, and overall a good day on points for you, I believe you're now down 15. Want to run us through your day?
Adam Cianciarulo: Yeah, the day was good. Initially in practice I was a little thrown off. As I'm sure you'll hear other guy's say, the track was pretty flat. Which to me is okay. I like seeing a track's natural characteristic come out. Kind of reminds me of the early 2000s, where you're able to go in different areas of the track which I find to be kind of fun and good for passing, all that stuff. In both practices I felt really good. Just at a really good spot with myself and the bike right now. It makes it a lot of fun going out there and doing our best every time. Obviously another two great starts today. I don't think I got the official holeshot in the second moto, but I was able to just kind of make it happen in the first turn and go around the outside. Obviously, leading start to finish in both motos, a 1-1, that's not something I've done in the past even in the 250 Class. Even winning the championship in that division last year, it was something that I kind of wished I had accomplished, getting a 1-1. Now to do it in the premier class, it means a lot to me. I'm proud of the day, proud of the team.
AC, congratulations on your first 1-1. At the end of the season do you see yourself as champ? I know that first round, do you ever think about just statistically if I wouldn't have fallen down and gotten that 38th, I'd be the points leader right now?
The answer to your first question, I would say I think I'm capable of being a champion. I've obviously done it before in a different class, but I'm riding well. I don't see why I can't continue putting good performances in and getting good points. Maybe it shakes out, maybe it doesn't. I can kind of tie this into your second question. No, I don't think about really where I would be if I didn't DNF. I was trying my hardest at Loretta's and felt good and a mistake happened, and it happened. It's the same thing I'm going to do from here on out. Obviously points, I think I was 40 down or something coming into the day. So now it looks a little bit realistic compared to how it was before. Definitely something that you think about. I'm not going to say I'm not going to think about it. But my mindset can't change. You can't really think about the top of the mountain yet. We have three races to go, so just putting one foot in front of the other. Everybody's really going fast right now so we're going to have to keep ripping.
Where is all your confidence coming from? Today couldn't have gone any more perfect, with pretty much both holeshots and leading every lap.
Obviously, I had a great weekend at RedBud. I was able to get my first moto win. I think it just becomes more normal. Today I got out front and just instead of being like, holy crap, I'm in the lead, which is kind of how I was feeling at Ironman and just a little bit at RedBud. Now I just felt like I was riding a normal moto. It just becomes more normal as you get used to it. But I've always had the confidence in my ability. I know I can do it, but it's certainly easier once you get the ball rolling in the right direction. You start to think to yourself, "Why can't I do it again this moto? Why can't I do it again?" Just going to keep with that mindset for as long as I can.
Earlier in the season you talked about you didn't want to be the guy that washed the front end. You wanted to work on your consistency, and now that you're winning motos, has your though process, has the way you're going to proceed changed any? Are you over that mindset of, I don't want to make those little mistakes? Are you past that?
Yeah. Nobody wants to make those mistakes. I'm sure I've said that before. As soon as you tell yourself, "I don't want to do this," all you're doing is basically telling your mind to do that, essentially. So I never go out there with the mindset of, don't crash. That's a surefire way to crash. I pride myself in just giving my best effort every time I'm out there, and it doesn't always work out. Even with stuff that I've left out there on the table results-wise in the past because of little crashes and stuff, it's really not that hard for me to come to terms with it because I know I'm doing everything I can. I know I'm not lazy. I know I'm putting in the work during the week. I'm trying to get the most out of myself. It's easier now once you have the ball rolling a little bit and you prove to yourself over and over again that you can do it, and things just start to happen a little bit easier. It's as simple as that.
How pumped are you on your fitness after today? That first moto, Blake [Baggett] pulled a 2:03 out of his butt on like lap 15, and you responded with your two best laps of the whole race your last two laps. So you've got to be pumped on how your fitness is looking.
Yeah, I feel good for sure. Today wasn't the gnarliest day in the world with the track being pretty fast and the weather being just awesome. It was great out there. So it wasn't one of those crazy, gnarly days, but still it's tough to be out there out front, leading every lap, and having those guys on you. You definitely have to push hard. Heart rate is still up there, for sure. I think for me coming into the season I was a little bit behind the eight-ball with my back injury from supercross. I kind of progressively have been able to ramp up my cardio and my bike time during the week. So I'm definitely starting to see the gains from that perspective. It's nice to go out there and have the confidence that you can really put it down when you need to those last ten minutes. You can be as fast as you want for 20, 25 minutes and if you don't have the rest in the bad you're going to get fifth or sixth every time. Definitely was stoked I was able to keep Blake behind me. He was riding great today.
How are you feeling about these last three races? How do you feel about these last three with 15 points to make up?
I feel good about them. To be completely honest, on a 250 the WW Ranch type conditions weren't my favorite. I always felt being a little bit bigger, maybe it was just in my head but I was a little bit behind the eight-ball. But those are the conditions I ride in every day now and I feel way, way more comfortable on the bigger bike. Hopefully that translates well. Then as far as Colorado and Fox Raceway go, I wouldn't say Fox Raceway is my favorite track in the word, but I did well there last year. Thunder Valley is one of my favorite tracks in the world. Definitely think that we're in a good spot. Like I said earlier, not really thinking about points. Just going to go out there moto by moto. Hopefully keep getting some good starts and see what we can do.
You spoke after the first moto about kind of how well you feel in a situation where you're being pressured like Blake was most of that moto. What is it about that specific scenario that you feel gets the best out of you?
That's a good question. I'm reluctant to bring up anything from amateurs just because most of it doesn't apply. Since I was a kid, I've been fortunate enough to be in that position quite a bit, getting a good start and being out front and having guys behind me. I think it just comes from a lot of repetition of being in that situation. As weird as that sounds, I've always felt like a comfort with it, even when I first turned pro on a 250. Obviously now it's different. I've talked to you guys about this, like at Ironman, leading laps in the 450 race it's different. You have to get used to it. I feel like some of my best races as a pro have been when somebody's right on me. I just always feel kind of locked in and it just keeps me focused on what I'm doing. I'm not quite sure. Hopefully I can keep that trend rolling.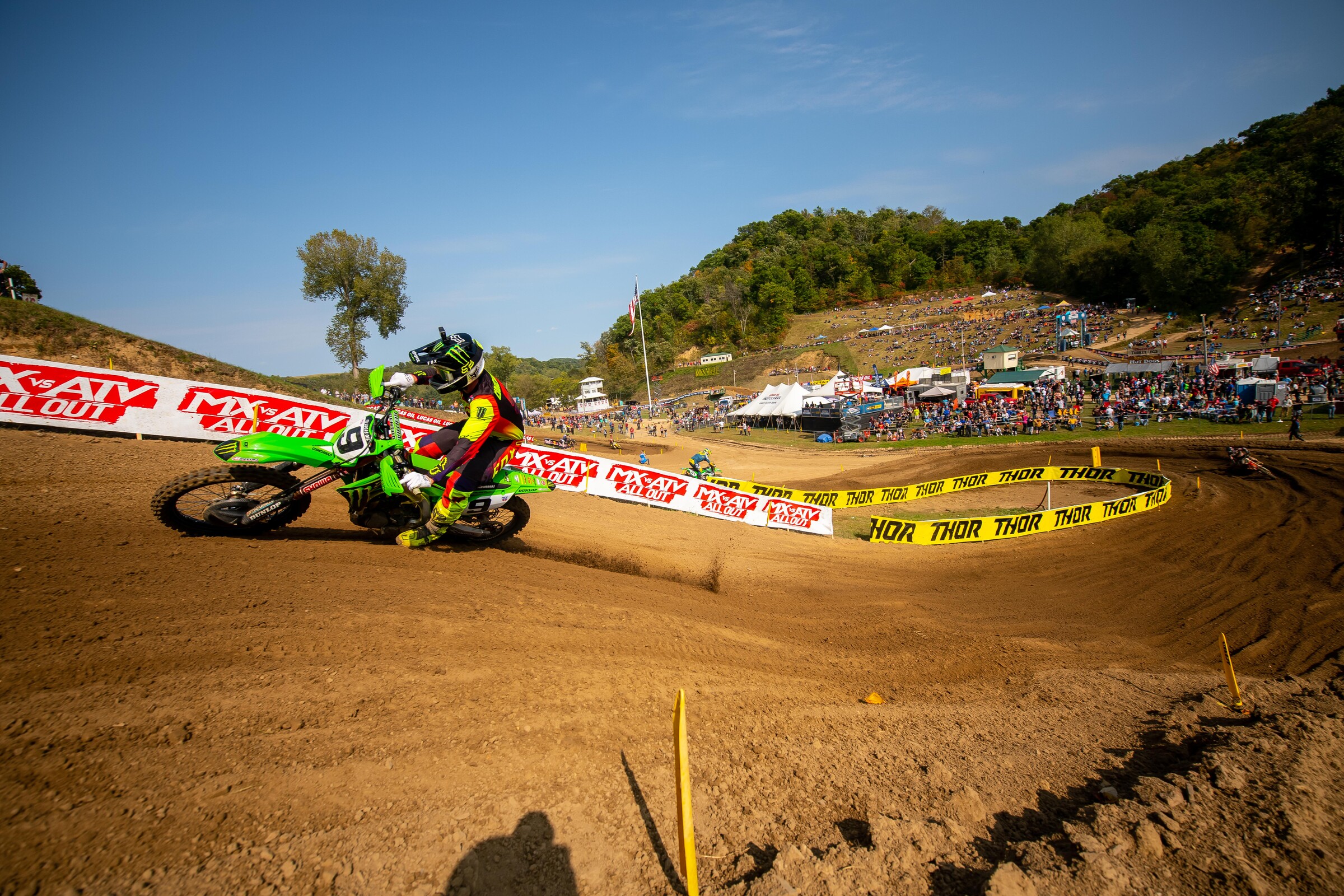 You obviously made up a lot of ground in the championship today. So, you mentioned that you didn't really notice when you went past, but you put Zach a lap down. How much does that change the dynamic for the championship? Do you think he'll be carrying a different mindset? I know you said yours will remain the same, but what do you think his will be like?
It's tough to say. I would hate to speak for Zach. I think before he had 30 points or something like that. I think it would be easy—not saying he was in that mindset at all, but it would be easy to start being a little bit more defensive. Even with a few rounds to go, I know from past experience myself and kind of feeling that way. Just not really hanging it out on the edge. But now with the points a little bit closer I'm sure he'll be a little bit more on the offense. I think everybody has bad races. It's a bummer that he had a flat tire, but stuff happens. It's never easy to win a championship, so I'm sure he'll bounce back and be right up there in the battle next weekend. He's a great rider, so looking forward to doing battle the rest of the year.
You've mentioned this a few times on the podium that you had a slump there in supercross and then at the beginning of the year crashing out of Loretta's. You're trying and things don't work, and then all of a sudden everything is rolling your way now. Can you describe Monday morning when you got to get up and go back to work, so to speak? Does it make it easier to put in the work, especially in an extra-long season like this, when now you've got wind in your sails?
Oh, yeah it does. The Monday morning drives to the track are the easiest thing in the world after a good weekend. I think to expand on that though, I was just kind of struggling for a while since I broke my collarbone at Dallas [Arlington] and then we had the whole COVID[-19] thing happen. Get all antsy for Salt Lake and I went out there and just absolutely destroyed myself like a half a lap into the race. Like, man! I put in so much work doing all this stuff, and the Loretta's thing as well, and you're just not seeing it happen. I kind of just had to develop a mindset over time, because we know that I've had to overcome some stuff, I have the mindset of, just, it's going to happen, it's going to happen. Keep doing the right things. Ultimately I believe in my ability. I know that's not the problem. So I just believe if I keep doing the right things that it's going to work out and I'm going to be where I'm supposed to be. So that's kind of what makes it, I wouldn't say it's easy during the week when it's not going your way, but it makes it easier for sure knowing that I believe I am on the right track, on the right program, and doing the right thing. There's a little bit of a sense of less emotion. It's not like a crazy high on Monday or vice versa when it goes bad.
When did you find out that Osborne and also Marv, who was second in points, had bad motos? You actually said on TV you didn't see Osborne when you lapped him, so when did you find that out and how did that make you feel? Were you able to keep that part in check, too?
I didn't see Zach. I didn't know what happened to him. I didn't know where anybody finished. I was full tunnel vision all day long. I didn't even read any jersey numbers out there. You normally check some jerseys when you're lapping some guys. I just wasn't seeing anything. I was just locked in. I think my mechanic or maybe my crew chief, Oscar, told me about the points are pretty close. I think I was 40 or something down going into the weekend, so it's not even something that you're thinking about at all. I had no idea where those guys finished until I was sitting under the tent before I went on the podium. So it's definitely nice to have a good day where you win the race and then in that department, going from where I'm pretty much out of it to I guess pretty much in it. It's a good feeling.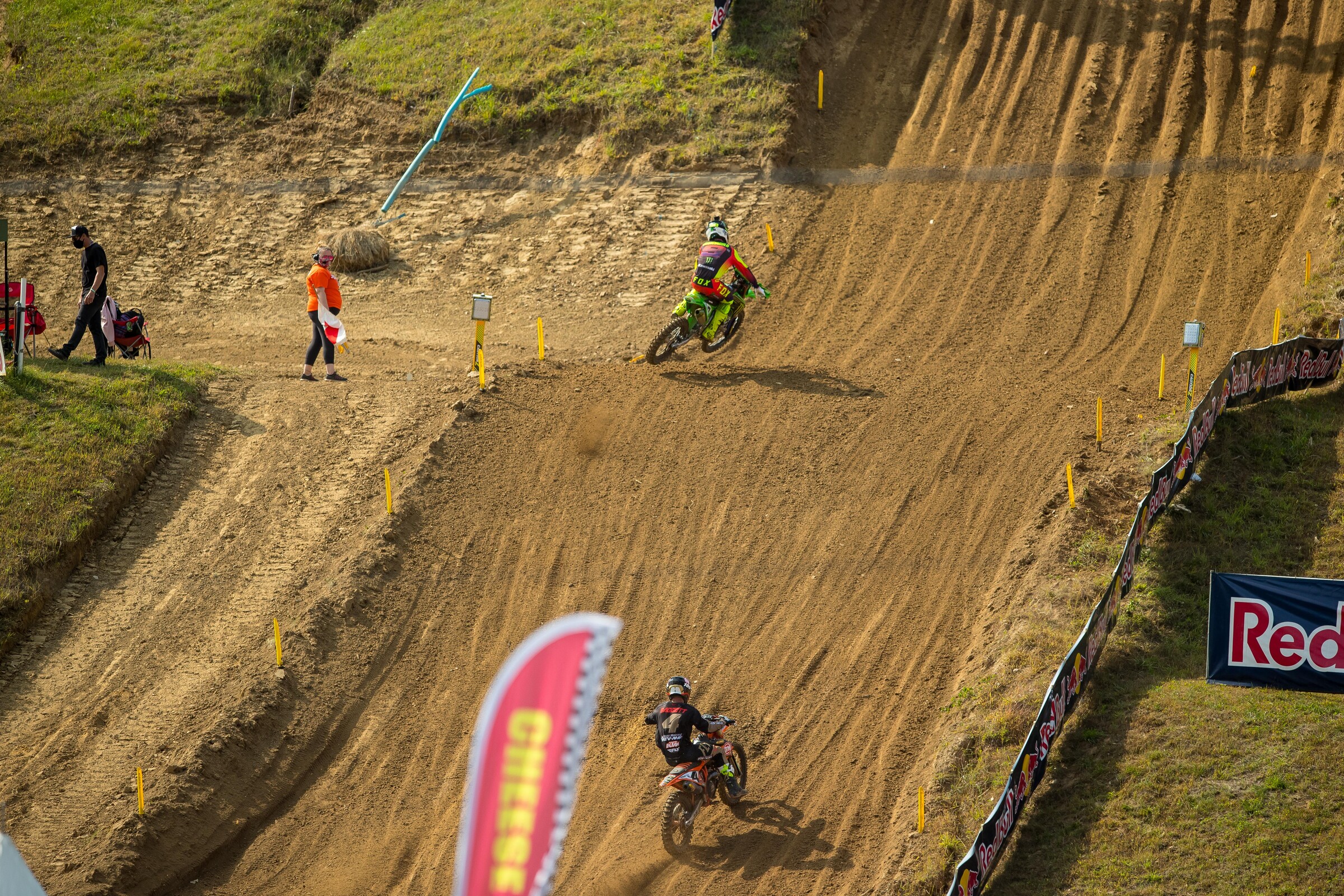 Do you have to, as you're saying, check that and try to not be too emotional about it? Obviously the last two races the way you've approached it have worked well.
Yeah. It was something that I had to keep in check at one point in my life and in my career, but at this point just from being around so many guys like [Ryan] Dungey and [Ryan] Villopoto and Ken [Roczen] and guys that are consistently winning races and kind of dominating, you see that level-headedness in them. That's just a way I've tried to teach myself to be. I get stoked. You guys know I get stoked. I'll throw some crazy fist pumps and yell and scream or whatever. But that's just me being excited and being passionate about it. It's not something that I dwell on whether it's good or bad for a long time after. I'm not waking up on Monday and high-fiving the person who makes my coffee at Starbucks. I try to fall back into the same routine and just try to keep an even keel.
This is a weirdo schedule. Is it bad because it's just longer, or would you enjoy it if this was the normal schedule? A big break between supercross and then race into the fall?
The weather has been great. For me, missing a few races before COVID and then missing most of the races in Salt Lake, I haven't raced as much as most of the guys so I'm still pretty fresh and enjoying going to the races every weekend. But at this point under normal circumstances, it would start to get a little bit stressful because we're looking at, assuming the races started on January 9th or whatever, we're looking at two weeks off the bike and then getting right back into training camp again. So I could see that being kind of a problem for some guys, including myself, if you had a full season under your belt. But I think everybody's different.
You can you can watch the archive of the 450 Class press conference or listen to the audio from the Spring Creek National post-race press conference below (the 450 Class starts at the 29:38 mark).