Millville, MN
Spring Creek
Lucas Oil AMA Pro Motocross Championship
Australian Jett Lawrence burst onto the U.S. scene in style last year. First, he turned heads at the 2019 AMA Amateur National Motocross Championship at Loretta Lynn's Ranch with both his riding on the track and his personality once his helmet came off and he was in front of a microphone. Immediately after his debut at the coveted amateur championship race, and once he turned 16-years-old, Lawrence made his pro debut at the final three rounds of the Lucas Oil AMA Pro Motocross Championship. In the three events he showed flashes of his protentional as he finished inside the top 15 overall in two out of his first three pro events.
Then Lawrence really made some noise earlier this year when he was challenging Dylan Ferrandis for the win on the final lap at the Anaheim 2 Supercross. We all know how that ended: the rookie made a last-ditch effort for the win that cost him, as he went over the bars hard resulting in a broken collarbone. Eventually the series was postponed due to COVID-19, then later resumed in Salt Lake City and Lawrence returned to racing after recovering fully. At the final two rounds, he ended his debut supercross season with two top-five finishes (with three total top five finishes of the six races he competed), including his first main event podium. He holeshot the 250SX East/West Showdown finale (after the restart) and was leading the race before dropping back a few positions (which eventually helped his teammate Chase Sexton claim the East Region title). This was another step in the right direction.
He would look to carry the momentum from supercross into his first full go of Pro Motocross in the adjusted nine-round, summer/fall schedule. Things went better than last year as he earned his first top-ten overall finish at the opener at Loretta Lynn's Ranch. But at the second round mudder, he suffered two mechanical issues that resulted in not finishing either moto. A combination of his inexperience and the GEICO Hondas having issues (of the five factory riders, only veteran Jeremy Martin was able to nurse his bike home through the finish line in both motos) resulted in a tough outing for Lawrence.
"As most people see I am a pretty fun, easy going person but honestly these walks from the track after slugging your guts out through the week and race day takes EVERYTHING in you to not smash your helmet on the ground or scream in frustration!" read his caption to a photo of him walking away from the track holding his helmet.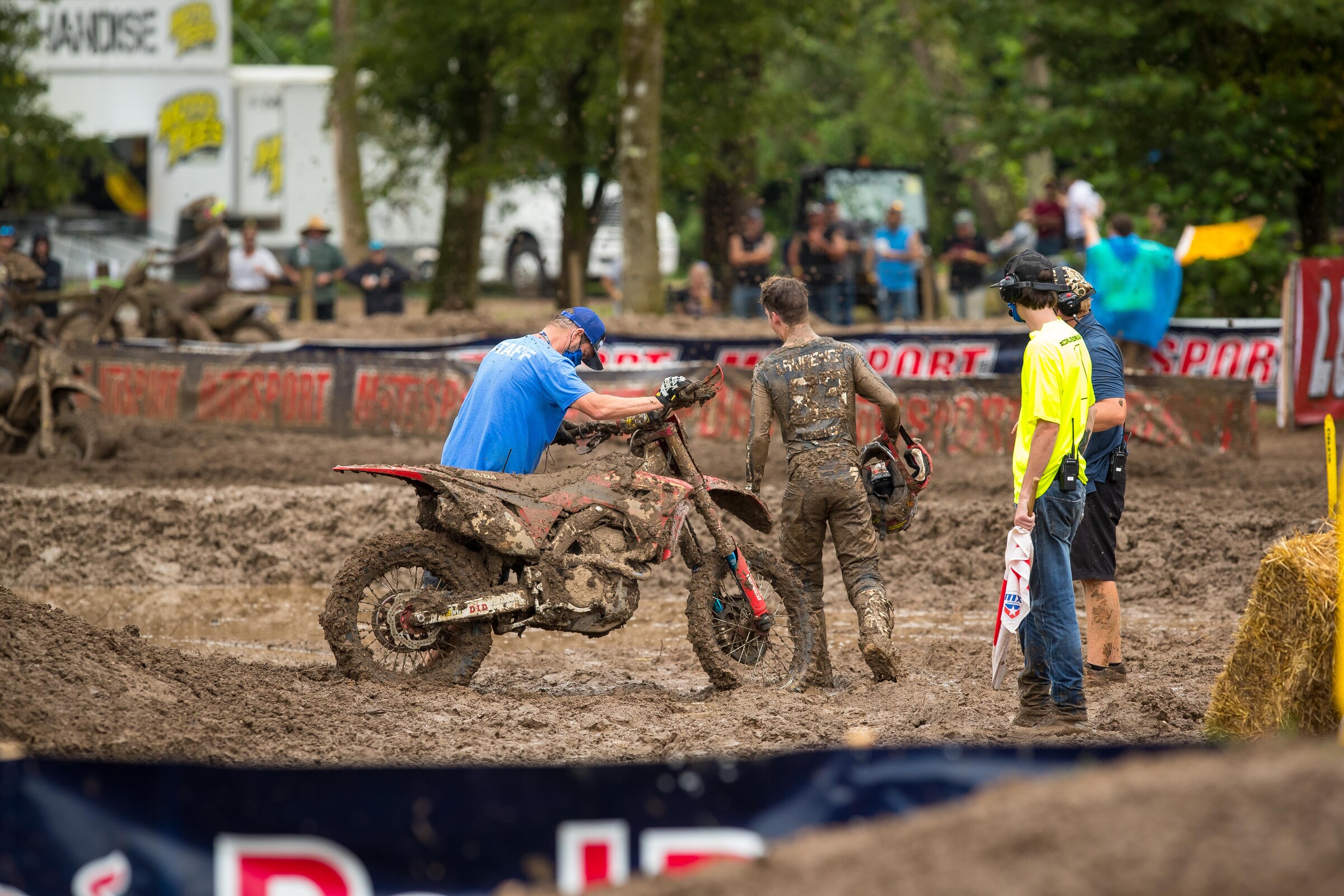 From there, Lawrence has rebounded well. At the third round at Ironman Raceway—the first and only national track he competed on in 2019 and he would revisit during the 2020 championship (aside from the Ranch)—he ran inside the top five through the entire motos before claiming 4-5 finishes for fifth overall in a solid result. But really his day was overshadowed by the guys ahead of him: J-Mart winning his first moto since 2018 and his second overall in two weeks' time, Dylan Ferrandis' ride in the second moto from dead last to third, Brandon Hartranft's first overall podium, and Justin Cooper's second place in the second moto (his best moto of the year to that point).
"I just wanted to get out two consistent races with no mistakes which I did pretty good," he said in a team statement after the race. "I just had a crash in the first race trying to pass for third, but it's definitely better than last weekend's race so I'm pretty happy with it. Really, I just need to get my passing down cause I could not pass even if my life depended on it!"
Then at the first RedBud, he was inside the top five again both motos. First moto he ran in third the entire race before he was edged out by Ty Masterpool for the final spot on the podium. In the second moto he completed the first lap in 15th before working his way through the pack each lap. He managed to finish eighth to take sixth overall on the day. By the second RedBud event in only four days, Lawrence put in another terrific first moto. He and Masterpool went at it again but this time he held off the #41 for the final podium spot, reversing the rolls from only days before. In the final moto in Michigan, Lawrence was putting together another great ride. After starting 10th, he was making a move on Masterpool for fourth place when the Monster Energy/Star Racing Yamaha rider went down right ahead of him, which collected him as well as he had nowhere to go.
The collision cost both riders: Jett missed out on his first overall podium and Ty more so as he will now miss this weekend's race in Minnesota with a swollen and bruised leg. But aside from a few minimal mistakes here and there, Jett has shown he's adjusted mentally to get the best out of each race, even if means backing it down some to take a lesser position. He has not gone all out and made that big costly mistake like he had in supercross. Granted, we have not seen him going for a race win yet this summer like he was against Ferrandis in California, but his consistency is continuing to improve each race, just as he said he was hoping to do.
In a social media post following the RedBud 2 National, Lawrence mentioned he was unable to make passes to move any higher than third. However, he mentioned on the PulpMX Show last week how his approach from the amateur to the pros has changed, specifically his tactics on maneuvering around the competition.
"You really had to plan your passes, where I struggled a bit because I was kinda doing more of an amateur pass and I would try and pass them in every single turn, which would screw me over," he told Steve Matthes.
Him being unable to make more passes at RedBud did not seem to be from lack of execution but more because of the strength of the veterans in the class such as J-Mart, RJ Hampshire, Ferrandis, Shane McElrath, and more.
But you can see Lawrence made significant improvements to his craft from our first glimpse of him last summer. His starts have progressed and his ability to maintain a pace inside the top-five has arrived as well, which have thus continued to improve his initial pro results.
"I'm starting to settle in now, everyone has their kind of place in the whole spiel, so I'm still trying to find my place," Lawrence said. "But I definitely feel like my place is in the top three or the top five. I'm definitely starting to feel good, I feel like I can still go faster. I'm still learning that stuff, so it's gonna be good."
Another year on the bike, another year on the team, another year of training on and off the bike, and another year of physical growth have all helped in the consistency game he's creating. Can he continue this forward trend on the track and upward trend on the results page? You'd have to imagine more moto podiums and even overall podiums will be in reach of the youngster soon. He'll have another crack at it again this weekend in Minnesota.